Last month, a Realme device with model number RMX2071 — believed to be the Realme X50 Pro 5G — has been spotted with a benchmark score of 574,985 in Antutu version 8. That's the highest rating we've seen… until now, that is.
(Update, February 24: The phone is official! Read Realme X50 Pro 5G announced with Snapdragon 865, 90Hz screen.)
It seems that the upcoming flagship phone has outdone itself. Realme chief marketing officer Chase Xu has shared the new test result of an X50 Pro with model number RMX2075, which we think is the global version of the handset. The score? It's 605,327.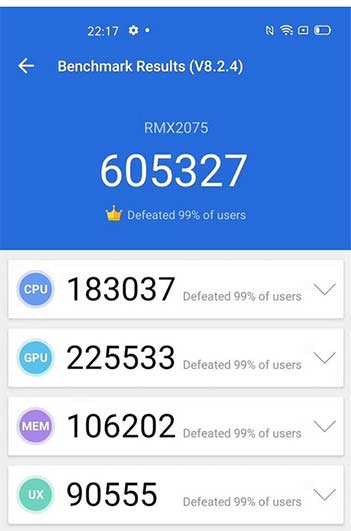 While Antutu scores, as with other synthetic-test ratings, don't necessarily reflect real-world performance, they still give you an idea of how a product performs.
SEE ALSO: How to watch the Realme X50 Pro 5G flagship phone launch
The Realme X50 Pro 5G's international launch is scheduled for tomorrow, February 24, at 5 p.m. Philippine time. The original plan was to hold an event at the Mobile World Congress or MWC 2020 in Barcelona, Spain. But because of the novel coronavirus outbreak, it will now be done online.
Offline or online, we're excited about the announcement. Realme smartphones have always been value-for-money devices, after all. So we believe that the Realme X50 Pro — just like the regular X50, the company's first 5G-ready handset — will make 5G phones accessible to consumers.
READ ALSO: Realme X50 5G hands-on review: Built with 5G and gaming in mind
The Realme X50 Pro 5G is confirmed to come with a Qualcomm Snapdragon 865 processor, a Super AMOLED screen with a high refresh rate of 90Hz, four rear cameras headlined by a 64-megapixel sensor, two selfie cameras, Android 10-based Realme UI, and 65-watt USB-C fast charging.
A screenshot of the X50 Pro's settings shows the unit boasts 12GB of LPDDR5 RAM and 256GB of native storage, though Realme might also introduce other memory configurations.
---