The world's first 5G gaming smartphones are official, and they seem to provide great value for money — at least on paper. Meet the Xiaomi-backed Black Shark 3 and Black Shark 3 Pro, which are co-developed with Tencent Games.
(Update, June 27: They're now available in the country! Read Black Shark 3, Black Shark 3 Pro priced in the Philippines.)
In China, the two models' pricing is as follows:
Black Shark 3

8GB/128GB: ¥3,499 (around 25,508 or $502)
12GB/128GB: ¥3,799 (P27,695 or $545)
12GB/256GB: ¥3,999 (P29,153 or $573)

Black Shark 3 Pro

8GB/256GB: ¥4,699 (P34,256 or $674)
12GB/256GB: ¥4,999 yuan (P36,443 or $717)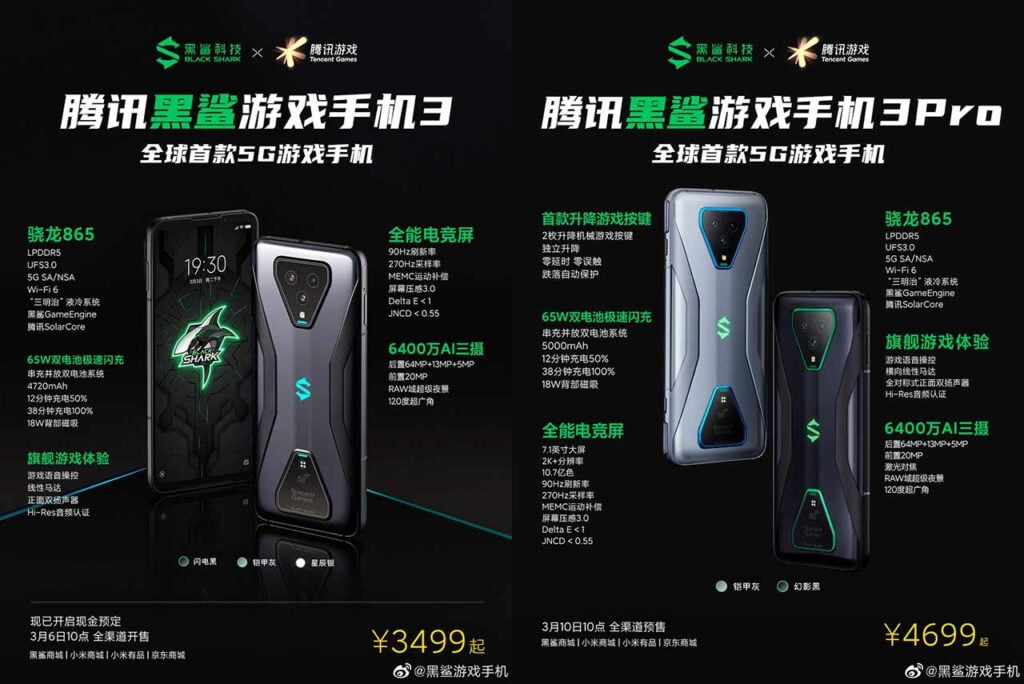 At the heart of the Black Shark 3 and Black Shark 3 Pro is a Qualcomm Snapdragon 865, which is arguably the most powerful chip today. For reference, Antutu's just-released list of fastest Android phones in China for February sees the Xiaomi Mi 10 and Mi 10 Pro Snapdragon 865 handsets leading other devices tested using the benchmark app.
For better heat dissipation, the two feature a dual-battery design and a cooling system that puts graphite-coated, 100mm liquid cooling units on each side of the motherboard. Components that usually heat up easily have been placed as far apart as possible, too.
SEE ALSO: Legion Gaming Phone, ROG Phone 3, and more confirmed with Snapdragon 865 and Xiaomi Black Shark 2, Black Shark 2 Pro: Prices, availability in the Philippines
The Black Shark 3 Pro's screen is bigger at 7.1 inches, but the displays on both smartphones have the same high refresh rate of 90Hz for smoother gameplay and less stuttering during high-motion sequences. They also boast the highest touch sampling rate at 270Hz and four pressure-sensitive areas for distinctive physical input for games.
However, expect better tactile feedback on the Pro variant, as it sports horizontal linear motors. The unit likewise gets physical shoulder buttons, with the keycap measuring 21mm long and the keystroke's actuation point set at 1.5mm. The company claims the Black Shark 3 Pro can withstand over a million clicks and more than 300,000 lifts.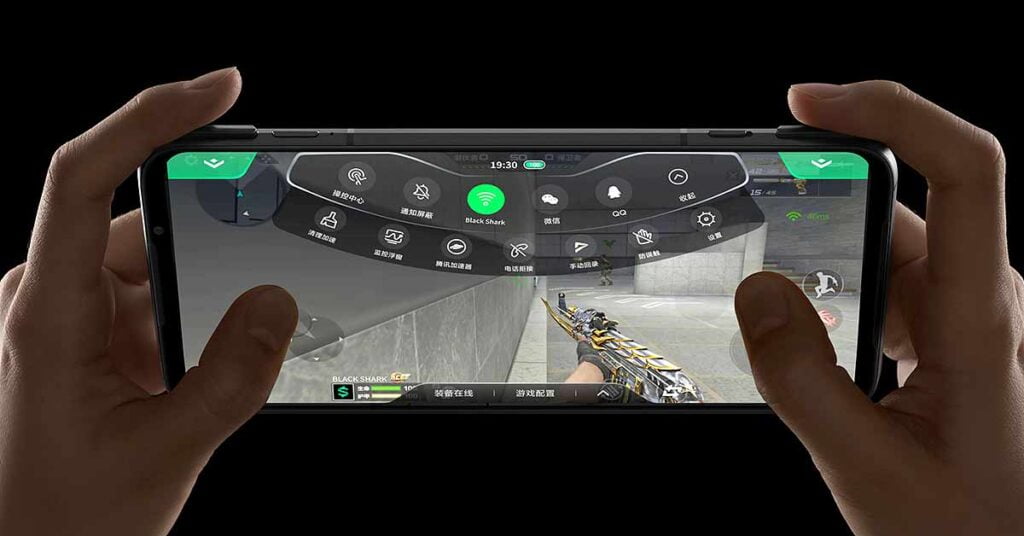 You can compare the specs of the two newly launched gaming phones below.
Black Shark 3 specs
6.7-inch AMOLED display, 2,400 x 1,080 pixel resolution, 19.5:9 aspect ratio, 90Hz refresh rate, HDR10+
Octa-core Qualcomm Snapdragon 865 processor
Adreno 650 GPU
8GB/12GB LPDDR5 RAM
128/256GB UFS 3.0 storage
Triple rear cameras: 64-megapixel main (f/1.8) + 13-megapixel ultra-wide (f/2.25) + 5-megapixel depth
20-megapixel front camera
Wi-Fi 6
5G support
Headphone jack
Voice-control feature for compatible games
4,720mAh battery with support for 65-watt fast wired charging, 38 minutes from 0% to 100%
Android 10-based Joy UI 11
Colors: Lightning Black, Armor Gray, Star Silver, and Bright Pink
Black Shark 3 Pro specs
7.1-inch AMOLED display, 3,120 x 1,440 pixel resolution, 20:9 aspect ratio 90Hz refresh rate, HDR10+
Octa-core Qualcomm Snapdragon 865 processor
Adreno 650 GPU
8GB/12GB LPDDR5 RAM
256GB UFS 3.0 storage
Triple rear cameras: 64-megapixel main (f/1.8) + 13-megapixel ultra-wide (f/2.25) + 5-megapixel depth
20-megapixel front camera
Headphone jack
Voice-control feature for compatible games
Wi-Fi 6
5G support
5,000mAh battery with support for 65-watt fast wired charging, 38 minutes from 0% to 100%
Android 10-based Joy UI 11
Colors: Phantom Black, Armor Gray
Black Shark 3 and Black Shark 3 Pro accessories
Prices, from first to last: ¥179 (P1,304 or $26); ¥199 (P1,450 or $29); and ¥499 (P3,632 or $72)
---