A new report by Counterpoint Research suggests that the smartphone market didn't decline as drastically as another company put it.
Specifically, the market-research firm disputes the report published by Strategy Analytics earlier this month. It notes that smartphone shipments in February 2020 fell 38% year-on-year due to the COVID-19 pandemic, which is forcing mass shutdowns on retail operations, both online and offline.
SEE ALSO: Apple, Samsung, Xiaomi phones dominate 2019 rankings
Strategy Analytics also listed the top 6 smartphone vendors worldwide for the said month, and in it, Xiaomi seized the third spot, leading Chinese rivals Huawei, OPPO, and Vivo, in that order.
In its market study for the same month, however, Counterpoint had Huawei well ahead of Xiaomi in global smartphone sales. On top of that, the market share of Huawei in the two reports vary significantly compared to the other brands'.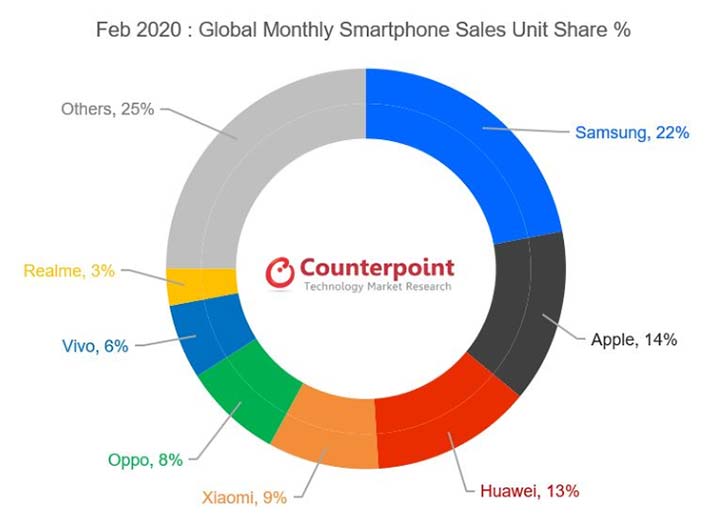 Meanwhile, shipments during February declined by only 14%, according to Counterpoint. The market-research firm said sales last month weakened "as consumers became cautious." In China, offline sales saw a steep decline of 50%, but was partially offset by the better performance of online stores. China is the world's largest mobile market.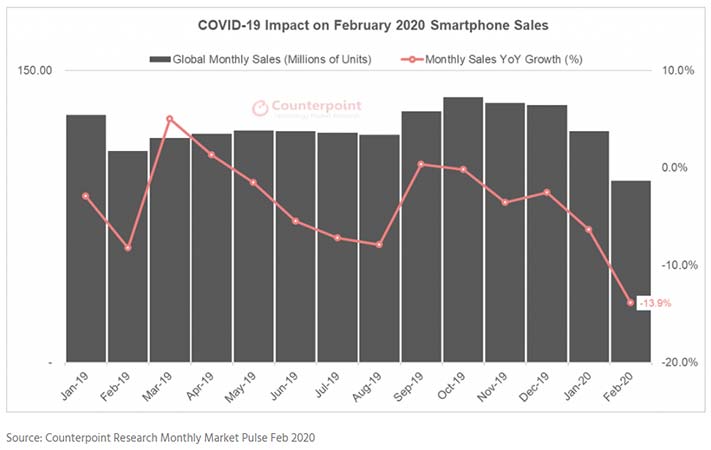 It's worth mentioning that February usually sees lower production from smartphone vendors, especially if it coincides with the the Chinese New Year holiday, as was the case this year. Counterpoint noted that February's sell-in shipments, which represent sales to distribution channels, were down 18% from a year ago, not as bad as had been initially feared.
Counterpoint says its monthly report is based on "accurate on-time data" gathered from "more than 60 countries from around the globe," including China, Taiwan, Korea, the United States, India, the United Kingdom, Argentina, and Hong Kong. China, India, and the U.S. are said to be the biggest smartphone markets in the world.
---