Entry-level phones have come a long way from just being budget-friendly. There has to be a compelling feature to make it stand out among the many choices available in its price bracket. Thankfully, phone manufacturers are working to give you more value for your money.
The Vivo Y19 is one such handset. The phone comes in a design we've seen in midrange and premium devices. At the same time, it comes with a massive battery designed to get you through a workday or even hours upon hours of gaming, watching shows and films, and browsing online. But what else does it have to offer? Find out in our long-term review below.
Price and availability
The Vivo Y19 is only available with 4GB RAM and a 128GB expandable storage model. But you can choose to get it in the light and bright Spring White or the more austere and classic Magnetic Black for P10,999 (around $217). Vivo sells the handset online through partners like Lazada, Shopee, and Argomall, or you can get it through its retail stores, kiosks, and authorized distributors — after the lockdown, of course.
Hardware
Vivo didn't break the mold when it designed the Y19. We've seen this glossy back, big-screened phone before. But we like handsets that look more expensive than they are. While made with polycarbonate, the Vivo Y19's rear features what the company calls "Shimmering Color Design" with a 3D curved glass-like design, which doesn't make it look like it's made of plastic. But since it is glossy, the Vivo Y19 is a fingerprint magnet, admittedly.
The feel of the Vivo Y19 is excellent; it's grippy despite its looks. And even with its 6.53-inch display and a slightly thicker body, you can hold it comfortably in one hand. But make no mistake, this is still a two-handed device.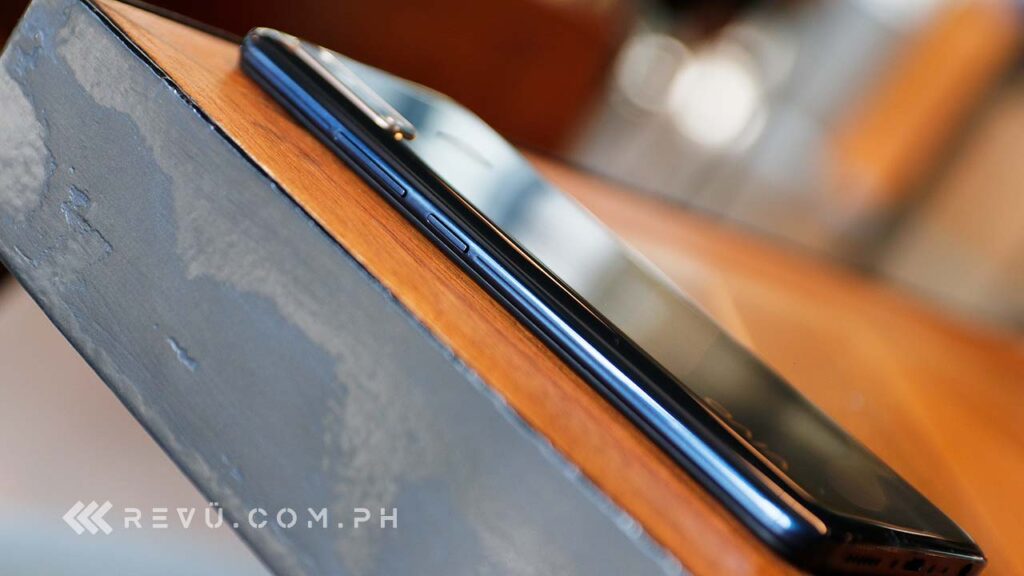 Vivo keeps its button layout with the Y19. The right side has the volume rocker on top of the power button; the left has the triple card slot for two SIMs and a microSD card; the bottom has a 3.5mm audio jack, a microphone, a microUSB port, and a single speaker.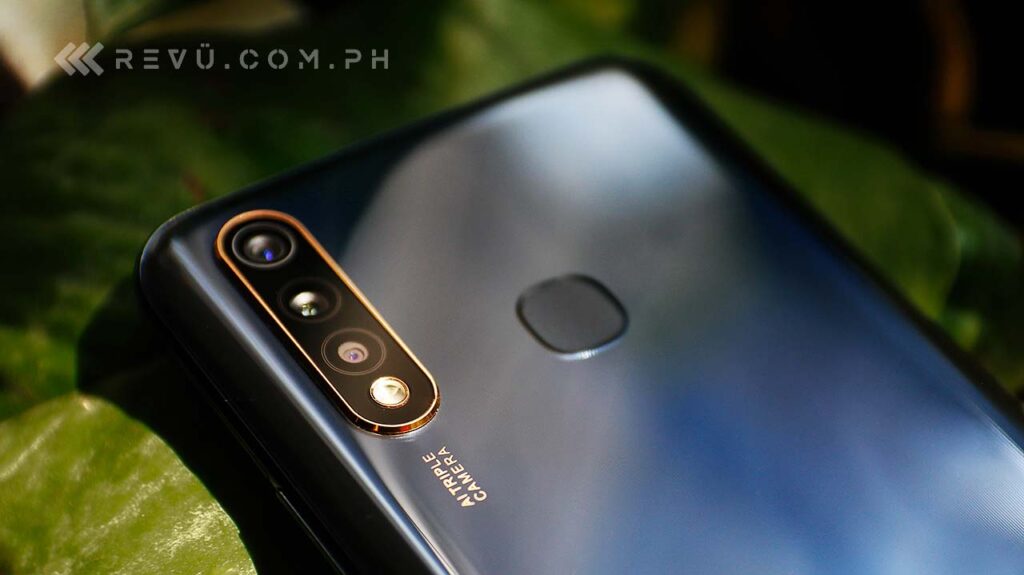 On the back, the Vivo Y19 has its triple-camera setup with flash housed on the upper left corner. With the Midnight Black model, its camera module is surrounded by a gold band and the words AI Triple Camera at the bottom. To the right of the camera, there's the fingerprint scanner. And then there's the Vivo logo.
The camera protrudes enough that it won't lay flat on the surface of a table. But if you use the included jelly case, it flattens the case.
Screen
The Vivo Y19 gives you a lot of screen to work with. Even with the waterdrop-style notch, you get a 6.53-inch display with a 2,340 x 1,080 resolution and 90.3% screen-to-body ratio. While there is a bit of a chin on this handset, the side bezels are almost non-existent. The top bezel is relatively thin, too, aside from where the selfie camera drops down at the center.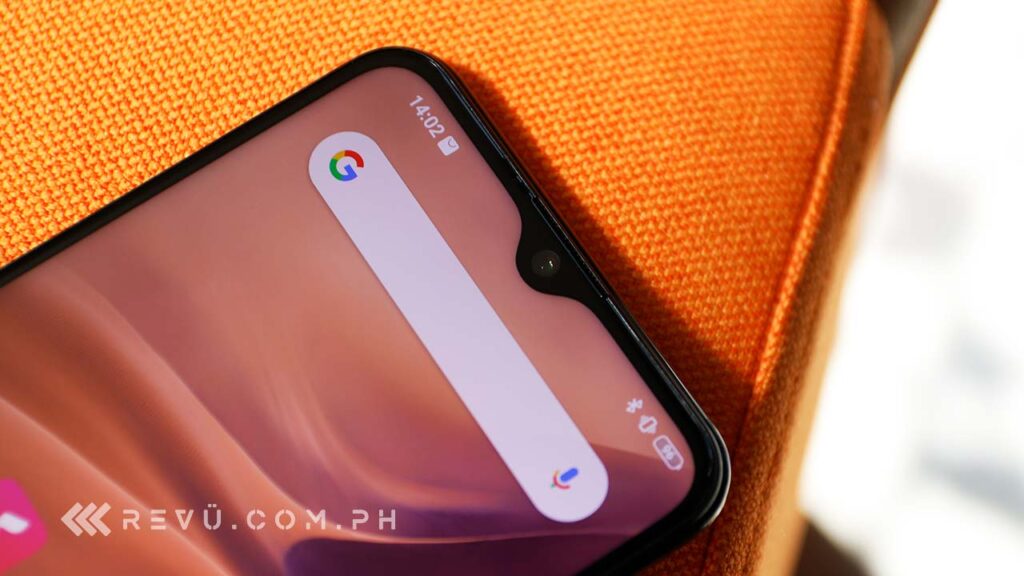 We appreciate Vivo for giving this a 1080p FHD+ screen. Its viewing angles are excellent, and the colors are great, too. It's usable when you're outdoors during a bright and sunny day, and it's dim enough if you're using it in a dark room. Unfortunately, still no HD-streaming support here for Netflix.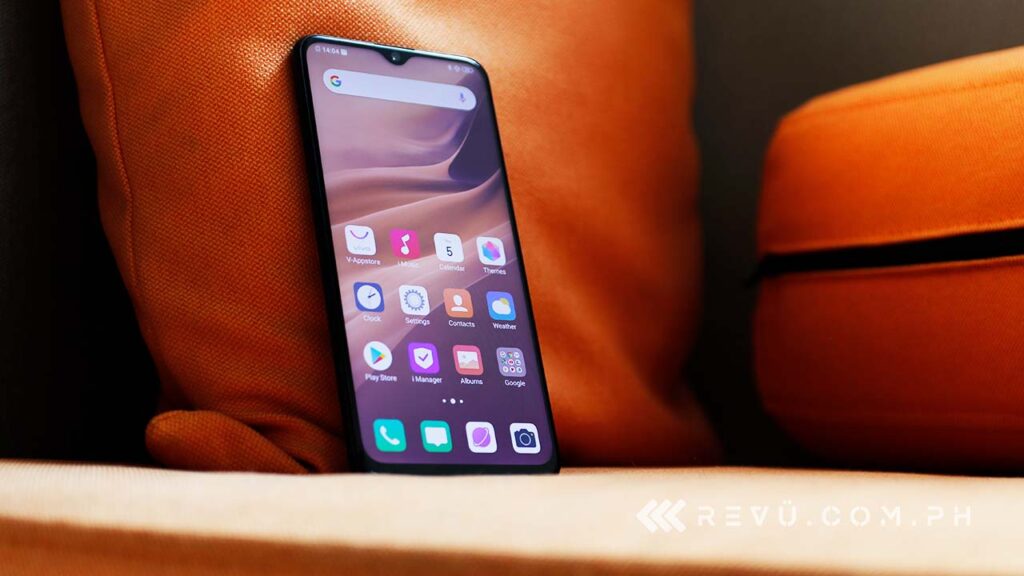 The company offers expected features like eye protection, which can automatically or manually adjust your screen from cool to warm to relieve eye fatigue; scheduled dark mode; and auto-brightness.
If you like tinkering with the color temperature, the Vivo Y19 only offers a simple slider than you can manipulate to go from cooler to warmer. As for being able to use the area around the notch, you have the option to adjust this on a per-app basis, if you want.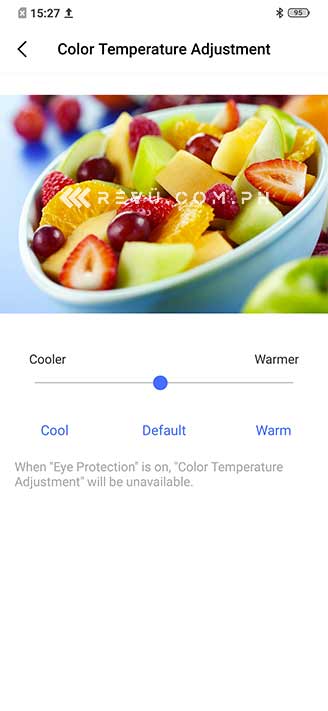 Performance
The Y19 works as well as you'd expect it to for a daily driver. Vivo packs in a MediaTek Helio P65 octa-core processor with 4GB of RAM, 128GB of expandable storage. We appreciate that this device comes with a separate microSD slot on top of two SIM card slots. It isn't running on Android 10, unfortunately. But it's still a pretty zippy phone.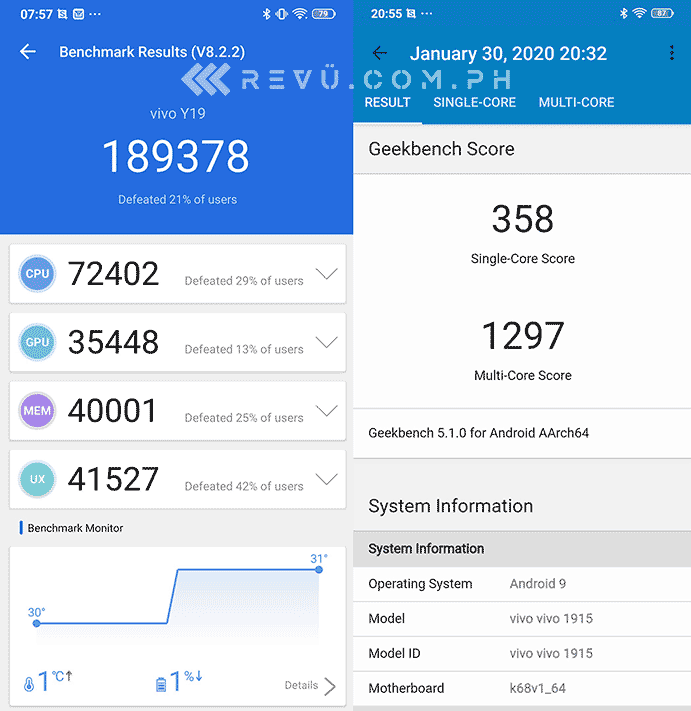 Whether we needed the device to type up a quick story, post on social media, watch videos, answer emails, or game for a bit, the Vivo Y19 took those activities in stride. The phone didn't crash on us when we were using it. It wasn't prone to overheating either. We were able to play Asphalt 9 for an hour or two straight without any issues, even if we had its settings maxed out.
Customizability has always been one of the strengths of Android phones, and Vivo brings its spin by adding some useful features we've come to appreciate.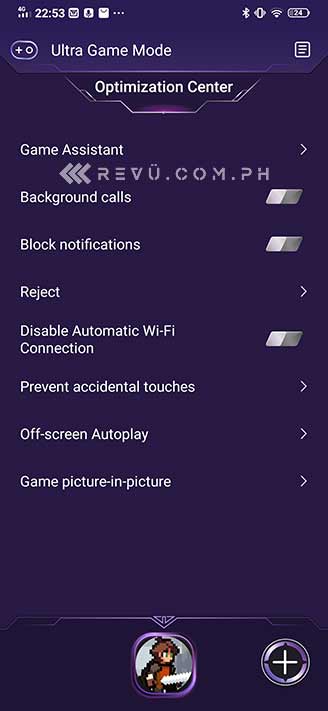 Ultra Game mode helps with things like blocking notifications and messages, preventing accidental touches, and disabling automatic Wi-Fi connection, so you can play for hours and hours on end without interruption.
And with its massive battery, it allows you to do just that. We didn't get to test it, but there's a Voice Changer feature, too, which you can use in games when chatting with your teammates. It adds a bit of fun while also gives you an extra layer of security if you want to mask your voice.
With the Vivo Y19's big battery, you can play for hours and hours on end without interruption
The Vivo Y19 offers intuitive navigation gestures with a few options that specify what action it triggers when you swipe on a specific portion of the screen. For example, one option lets you swipe from the left and right side of the display to go back to the previous screen, which can also be triggered if you swipe from the bottom right of the screen.
In the same option, you can swipe from the bottom center to return to the home screen, and swipe from the bottom left to bring out the Shortcut Center. Now, if you'd prefer to use the standard navigation keys, there's that option, too.
SEE ALSO: Vivo V19 with punch-hole screen, 4 rear cameras now official in Indonesia
There are a lot more accessibility features available that will make using the Vivo Y19 easier to use. There are "air gestures," where one of them lets you hover your hand over your phone to unlock it. It's not the safest method, but something you might want to use when you're home alone. It's also reminiscent of what you can do with the Google Pixel 4 and old LG phones that offered gesture-based operations.
Speaking of security, the Vivo Y19 offers both fingerprint and face unlock. Both respond quickly and without any issues. Face unlock is still usable, even in a dark room. But we continue to choose the former over the latter. Even Vivo will caution that face unlock is less secure. These security features can also be used for app encryption if you need that.
Camera
Vivo includes a total of four cameras with the Y19. There's a triple-camera setup at the back with a 16-megapixel primary sensor, an 8-megapixel wide-angle lens, and a 2-megapixel macro camera. In front, there's a 16-megapixel selfie shooter.
Under the right conditions, the Vivo Y19 can deliver you great, social media-worthy pictures. But there are times when its AI technology gets a bit too aggressive with "improving" the photos that it amplifies the flaws somehow. It's also not the best camera to have around when you're shooting in low light.
The colors can be accurate at times, but you get moments when pictures are either under or overexposed. It struggles with backlit images when there's a subject in front. And if you have HDR on, that's also a bit of a gamble. HDR attempts to brighten the image, but it highlights the flaws of the images at the same time.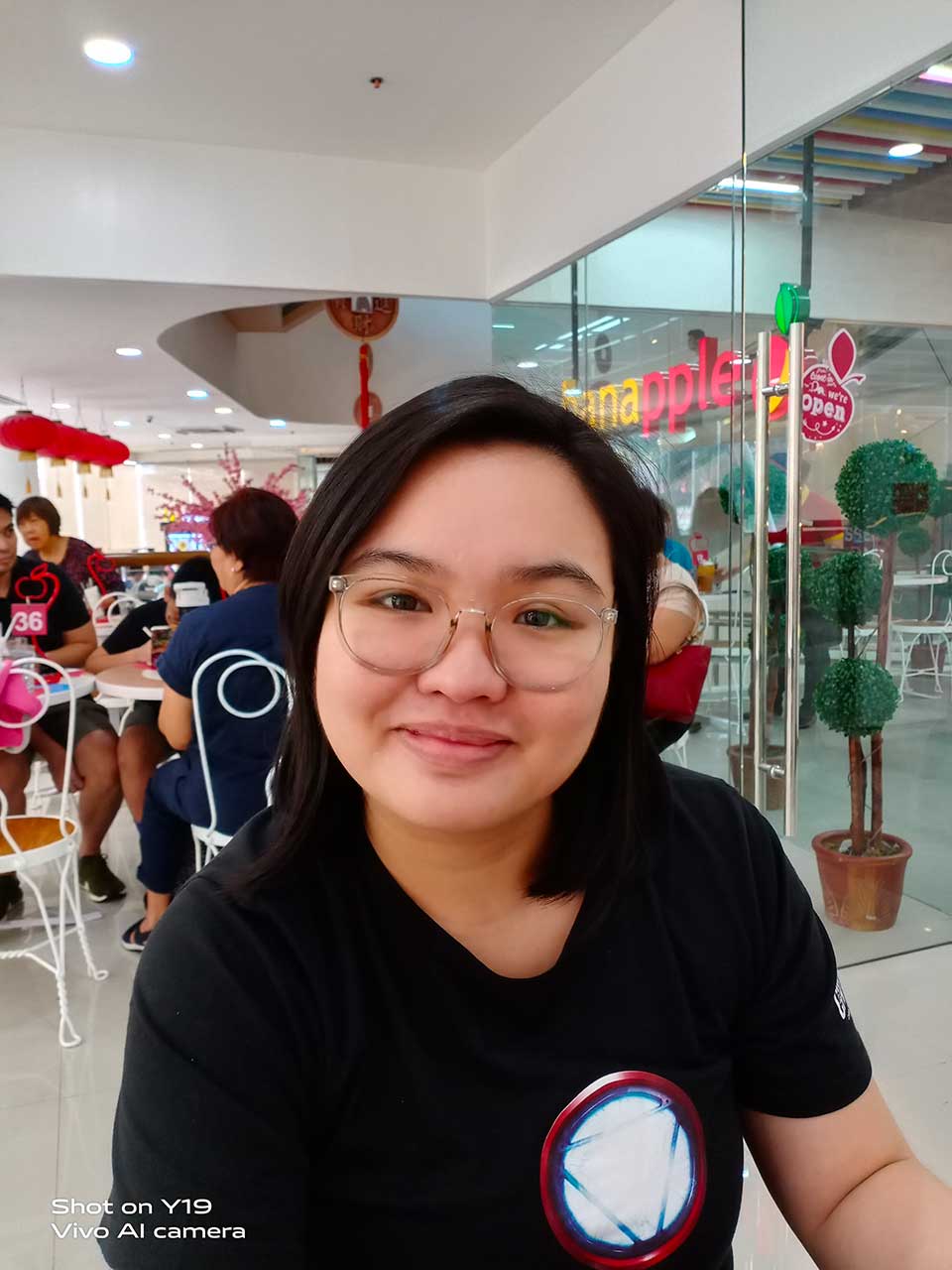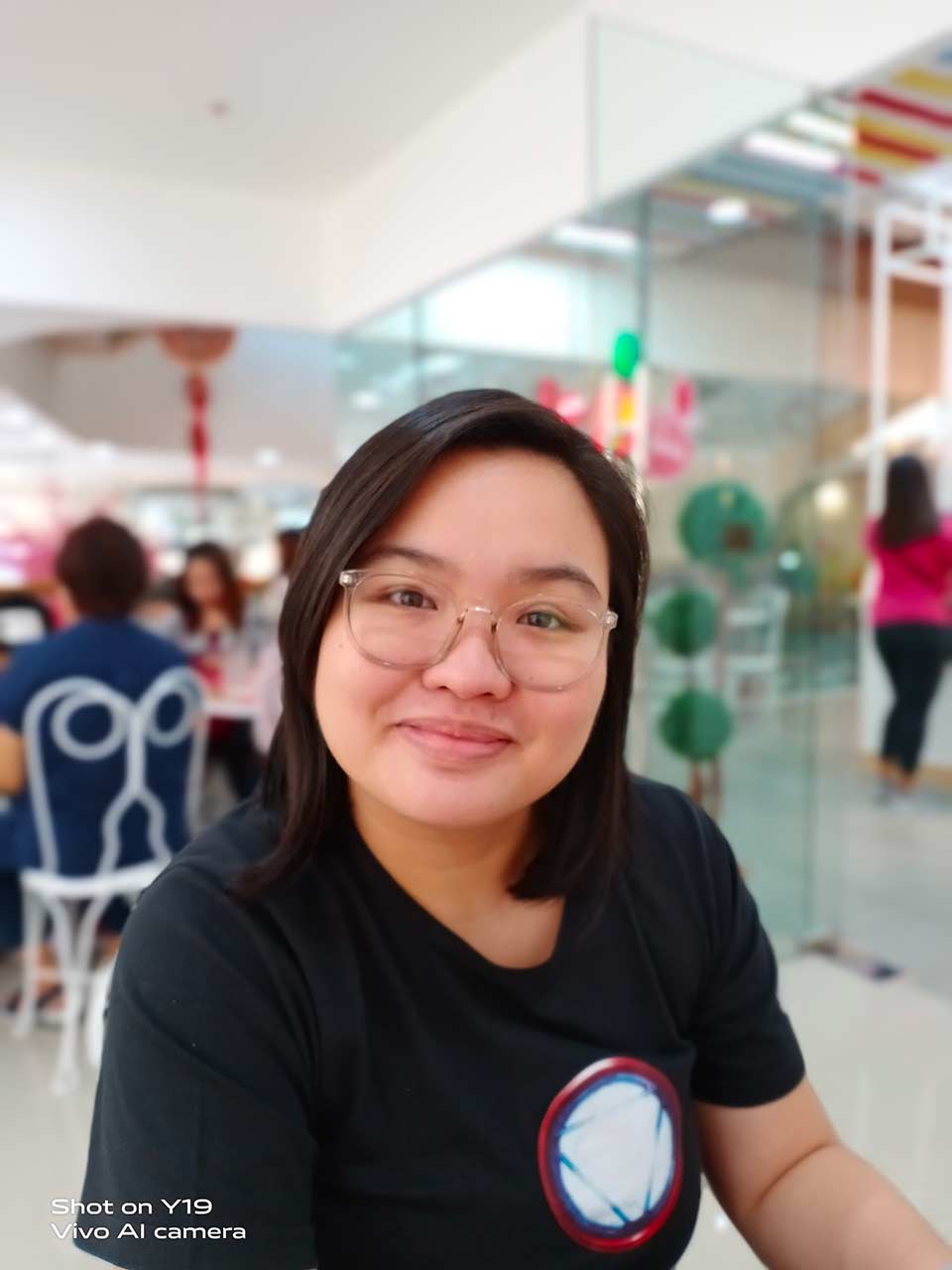 Auto mode vs Portrait mode
Photos shot in portrait mode are hit-or-miss affairs. Sometimes in the attempt to sharpen the image and boost colors, the resulting picture comes out with details too harsh.
Those shots in bokeh mode find it hard to isolate the subject from the background that it will blur areas around the subject it shouldn't. It's best to stick with auto mode or try your hand with the pro mode in the camera app.
1x shots vs ultra-wide pictures
It's a lot of fun to use the ultra-wide mode in the Vivo Y19, but you will notice how the picture quality drops in this mode. It is best used during a bright day or when you're in a well-lit room.
Its macro mode struggled more than it should've with focusing on a subject. It's not a mode we found ourselves going back to in testing.
Other pictures taken with the Vivo Y19
Just like its rear cameras, the selfie shooter leaves a lot to be desired if you aren't in ideal lighting. But if you find yourself in an adequately lit room, you can get some flattering selfies. Portrait mode smoothens out your complexion enough while still making it look natural. You can do more detailed beauty-related editing if you want those. Vivo also has what it calls a Pose Master feature, which can help boost your posing game if you need it.
Sample selfies
Shooting videos are capped at 1080p, and there doesn't seem to any form of stabilization available. So, you'll need a steady hand or a gimbal to help take stable clips. It does let you shoot in ultra-wide if you want that option. There's also slow-motion available, but that's only available in 720p.
Battery
The most significant selling point for the Vivo Y19 is its big 5,000mAh battery. It can quickly get you through a hectic day out and about plus the first half of the second day easily. If you aren't glued to your phone, you can even get two days out of it. As for its benchmark score, it gets a solid 10 hours and 37 minutes from PCMark.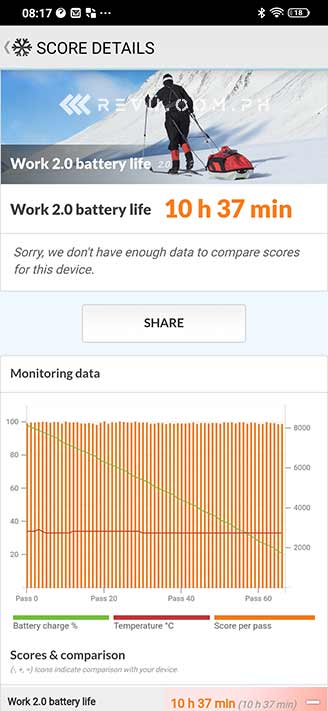 The downside to a big battery is the long charging time, especially if charging is done via microUSB, which the Vivo Y19 has. But the good thing with this handset is it comes with 18-watt Vivo's dual-engine fast charging technology. You will need to use the included charger. We're able to charge from zero to full in under two hours.
Another great thing about this phone is it offers 5-watt reverse charging, which turns Vivo Y19 into a power bank. However, you will need to buy a separate OTG cable for this.
Final thoughts
The Vivo Y19 exists for a simple reason. It's a big, affordable smartphone with a big battery. It is designed to go the extra mile for the on-the-go, budget-conscious user. If having a so-so camera is an okay compromise for you, then this smartphone can, at the very least, meet expectations when it comes to the other essential features you might need.
Vivo Y19 specs
6.53-inch FHD+ LCD display, 2,340 x 1,080 resolution
MediaTek Helio P65 processor
4GB RAM
128GB storage
Triple rear cameras: 16MP, f/1.8, 8MP (ultra wide), f/2.2, 2MP, f/2.4
16MP, f/2.0 front camera
Fingerprint reader (rear-mounted)
5,000mAh battery with 18-watt fast charging
Funtouch OS 9.2 based on Android 9.0 Pie
---