The Redmi K30 family is growing. The former Xiaomi sub-brand has just announced on Chinese social media platform Weibo that there's another K30 model coming soon. Like in three days.
According to Redmi, it will hold an online launch May 11 for the Redmi K30 Pro 5G Speed Edition. Or Redmi K30 Pro 5G Extreme Edition. Or Redmi K30 Pro 5G Ultimate Edition. Or whatever they'll call it in English, if it does get released globally, in markets like the Philippines.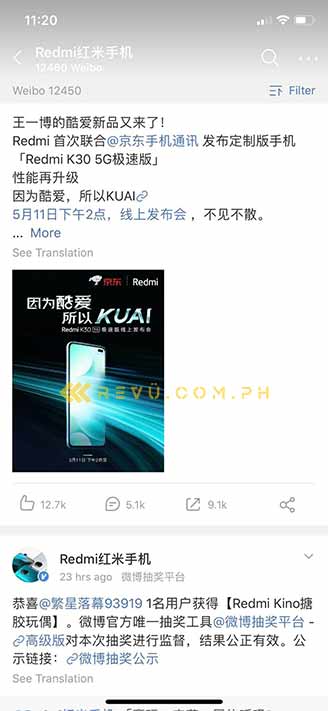 To say that we're excited is an understatement because it's a smartphone that is powered by a still-unannounced Qualcomm Snapdragon 768G processor. Could this be the first handset to use the said chip?
Most likely because the launch is just a few days away from now, plus the availability in China is already scheduled for May 14, according to the product listing on Chinese ecommerce site JD.com.
SEE ALSO: Affordable Redmi K30 Pro, K30 Pro Zoom Edition with SD 865 launched and Launched: Redmi K30 models headlined by cheapest 5G phone
The Redmi K30 Pro 5G Speed Edition shares the same screen design as the other Redmi K30 models, a look that sees the dual front camera placed on the right side of the device. We just don't know what sensors it's using. However, the retailer's app has already revealed that it will come with a 64-megapixel quad camera on the back. The other sensors are for ultra-wide, bokeh, and macro shots.
There's a 120Hz refresh rate for the display; 6GB of RAM; 128GB of storage; a battery that's at least 4,500mAh and charges over a UBS Type-C port; a side-mounted fingerprint sensor; a 3.5mm headphone jack; an infrared sensor; and Android 10. The rest will probably get confirmed at the launch of the Redmi K30 Pro 5G Speed Edition itself.
---