We think the Huawei P40 Pro is one of the best Android handsets today — easily the best Huawei smartphone out there, bar none.
It's the closest mobile device we've used to a dedicated camera with multiple lenses you can switch on the fly to get the results you want. Even its leading position on camera-rating site DxOMark says as much.
But there's also one thing we've realized all the more after weeks of using the Huawei P40 Pro without Google Mobile Services — this after a refresh, erasing everything from it, including the Google apps and services we installed on the phone. We are indeed getting used to a life without Google.
SEE ALSO: Huawei P40 Pro review: Return of the king and Huawei P40 Pro vs Samsung Galaxy S20 Ultra: Ultimate flagship showdown
For the uninitiated, this would entail transitioning from core Google apps, such as Chrome, Gmail, and Play Store, to similar apps listed on Huawei's own AppGallery app store and other digital storefronts.
It would also mean relying on Huawei Mobile Services or HMS, which is a set of apps and services made specifically for Huawei's growing ecosystem of devices. Though if you already own one of the more recent Huawei phones or tablets, you'd probably know what we're talking about, as HMS has always been a staple of the company's mobile offerings — and it always will be.
Having control over the software that operates on its devices could allow Huawei to achieve more with less in the future. Think how Apple is able to get the best performance out of its products running its own software
This setup, while not perfect, should actually be more favorable to consumers moving forward because Huawei makes some of the best Android hardware on the market. Having control over the software that operates on its devices could allow the company to achieve more with less in the future.
Think how Apple is able to get the best performance out of its products running its own software. Of course, we're not saying that Huawei should move away from Google for good, but if you're asking whether we think the Huawei P40 Pro can stand on its own — minus the Play Store and all the other Google apps we've grown accustomed to using — the answer is a solid yes.
Covering the basics
This one is pretty straightforward. Basic applications include the phone's web browser, email client, and essential communication apps, and as expected, all these are covered by the Huawei P40 Pro's preloaded software bundle, so you don't need to install anything else from the AppGallery and other app stores.
There's the aptly named Huawei Browser for browsing the web; the Email app, which works with different platforms, like Google, Yahoo, and Exchange; and the newly announced Huawei MeeTime messaging and video-chat app for communicating online with other MeeTime users. The latter could prove most useful during the COVID-19-related enhanced community quarantine period in Luzon and many other parts of the Philippines.
We found Huawei's new chat app to be fairly easy to figure out and works great across different form factors. It also offers a bunch of advanced features, including beauty filters, a scene-brightening feature for use in dark or dimly lit spaces, and the ability to share a device's screen with the person at the other end of the call.
READ ALSO: Huawei MeeTime in action & how to access it for after-sales support
However, you need an EMUI 10.1 phone or tablet like the Huawei P40 Pro to use MeeTime, as well as an active SIM card in the device to register. It is also essential to log in with a Huawei ID before using the app. After registration, you can still make and receive MeeTime calls even without a SIM card in place or while in airplane mode.
Of course, video calls on MeeTime look sharp and well-detailed on the P40 Pro's 6.58-inch OLED screen, particularly when you're using 5G data, which the phone supports.
5G is the new standard for faster and more stable network communications, and it is currently being rolled out in different countries including the Philippines. With 5G, not only will your browsing and download speeds improve significantly, it will also make video calls look and sound better.These steps will guide you on how to set up MeeTime on your device and use it to make an outgoing call:
Launch the Phone app on your Huawei P40 Pro's home screen.
Tap on the MeeTime button at the bottom bar.
Log in using your Huawei ID and assign an outgoing number for MeeTime to use.
Find a contact or manually type in a phone number to call.
Choose between voice and video.
Or you can watch this.
How Huawei MeeTime works. You may also watch this on our Facebook page
Again, the person you're calling needs to have a compatible device with a registered MeeTime number in order for the call to connect.
With regard to other chat apps, Facebook Messenger, Viber, and WeChat all installed without issues on our unit. Those last two you can get from the Huawei AppGallery, while Messenger can be downloaded via a third-party app store. We recommend the Amazon Appstore, APKPure, and APKMonk.
Popular social apps — Facebook, Instagram, TikTok, and Twitter, to name a few — can also be downloaded from those storefronts. They'll work without a hitch. All the functionalities are included; we haven't encountered any serious issues to date.
Stay and play
We found plenty of popular mobile games that are perfectly playable on the Huawei P40 Pro, such as Mobile Legends, Fortnite, Call of Duty Mobile, PUBG Mobile, and Black Desert Online, without combing through several app stores.
If you're a fan of the Naruto or Boruto anime and manga series, you'll probably enjoy the MMORPG adaptation of Naruto Shippuden, Naruto: Slugfest, which recently launched on the Huawei AppGallery.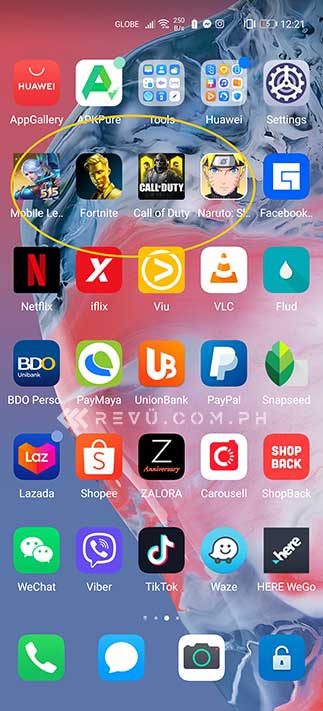 The faithful, anime-style graphics look great on the P40 Pro's gorgeous and large 90Hz OLED display, and the game runs flawlessly, thanks to the flagship HiSilicon Kirin 990 5G chipset inside the phone. We love how the Huawei P40 Pro's generous 4,200mAh battery can easily handle sufficient hours of gaming, even on data.
If you'd rather just sit and watch livestreams of others playing video games on Twitch or Facebook Gaming, you can do that on the P40 Pro as well. Both apps should install without problems.
Quarantine and chill
Hooked to any Netflix show? You don't have to cancel your subscription; we can confirm that the Huawei P40 Pro can run Netflix just fine even without access to the Play Store or any Google app. Just make sure you install a compatible version of the Netflix app on your phone (we recommend version 3.16.6), and then update it using APKPure or another similar application to get the latest features and improved layout.
The Huawei P40 Pro can run Netflix fine even without access to the Play Store or any Google app. Just make sure you install a compatible version of the Netflix app on your phone (we recommend version 3.16.6)
If you can't find what you're looking for on Netflix, there are other options, like iflix and Viu. Both offer plenty of content, with free, ad-supported tiers on top of paid pricing models that unlock all content and features available in the app, and they're on the AppGallery, too.
You can likewise watch YouTube videos on the Huawei P40 Pro's web browser, although you'll miss out on some app-specific functions. Alternatively, there's an app called YouTube Vanced, which has gained popularity lately and is similar to the official YouTube app in terms of how it looks and how it works.
SEE ALSO: How to sign up for EMUI 10.1 beta on your Huawei device
But us? We actually prefer using the browser version because it lets us log in to our YouTube Premium account and watch videos without any annoying ads.
For offline viewing, we've installed the mobile version of VLC Player on our unit, as it's one of the most powerful multimedia players available for mobile devices. It supports most, if not all, common file types, and it can stream video and audio files from the app to a monitor or TV.
Online shopping and banking
Our current situation shows how online shopping has become an essential tool for consumers and business owners. Most of the shopping we do now is through digital platforms such as Lazada and Shopee, which both work well on the Huawei P40 Pro.
Other platforms like Zalora and Carousell also run just as fine. If you have a ShopBack account, which lets you earn real cashback for online purchases, you can install the ShopBack app on the P40 Pro, but you'll need to sign in using your email address or Facebook ID.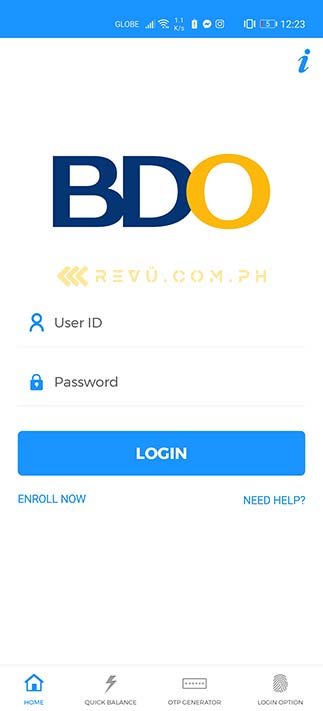 And it's great that we haven't encountered any issues with the BDO, GCash, PayMaya, and PayPal apps for Android. They're important to us because we use them to pay for food and other essential items we order from stores that have already partially opened. We avoid shops that only accept COD or cash on delivery as a form of payment.
A BPI user? Well, you can access your account through the Huawei P40 Pro's web browser. No sweat. The only thing you'll have to worry about is if the bank itself is not undergoing system maintenance.
Photo editing on a camera powerhouse
Yes, the Huawei P40 Pro has currently the best set of smartphone cameras on the market. We're not surprised one bit. The Huawei P series has always been about delivering the best camera specs and features to a smartphone, and true to its roots, the company's latest flagship does elevate mobile photography to greater heights.
On the back, the Huawei P40 Pro has four cameras. It uses a new 50-megapixel sensor on the primary shooter; 40 megapixels for the ultra wide; 12 megapixels for the periscope telephoto with 5x optical zoom and up to 50x digital zoom; and a ToF sensor to assist when shooting in Portrait mode.
This phone is phenomenal for stills as well as video, and even low-light shots look striking without switching to Night mode.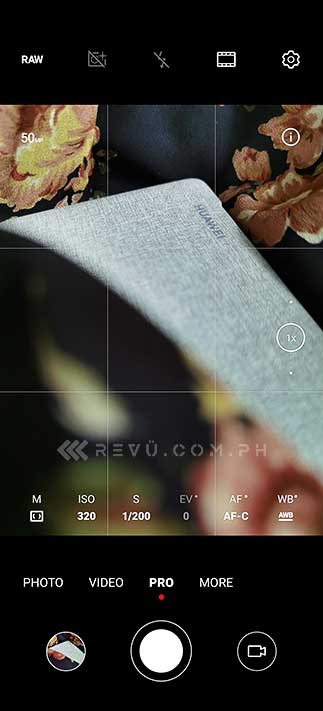 In addition to plenty of preset modes, including Portrait and Aperture, you can also shoot RAW photos when using Pro mode in the camera app, which will allow for editing with the highest quality after taking the pictures.
And when it comes to fiddling with RAW images in the photo gallery, we use Snapseed and the mobile edition of Adobe's Lightroom a lot. Both are powerful tools that are free and easy to use, and you'll be able to install them without problems on the P40 Pro.
No Maps, no problem
You're probably working from home now, but if you drive your own car to work or drive for a rideshare company like Grab, you'll be pleased to hear that Huawei offers some great options for navigation and maps applications on the AppGallery.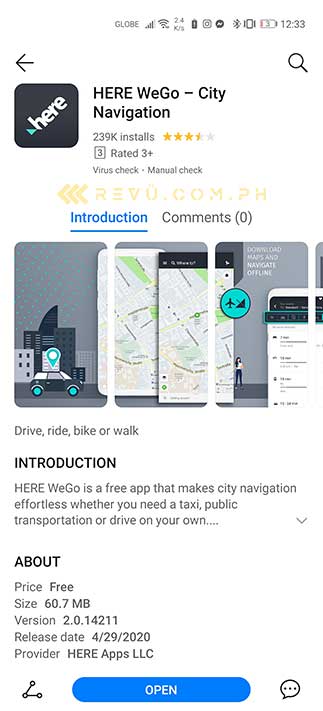 The most popular software in this category is arguably Waze, but Here WeGo and Maps.Me are pretty great choices as well. Both have a nice interface and offer offline search and navigation with voice guidance to help visually impaired users navigate their way around the city.
Life without Google is possible
Huawei may be marketing the P40 Pro as a camera-first smartphone — a tool with "visionary photography" in mind — but to us, it's a lot of things. Equally important is how it has become a showcase of a maturing app store in the Huawei AppGallery.
The company still has its work cut out for them. However, we're already pleased with what Huawei has achieved in so short a time. AppGallery is the third-largest app store and continues to grow, with over 1.3 million developers onboard and more than 400 million monthly active users around the world.
Just as we embraced Google when we bought phones such as the Nexus One when it was starting out, we also kept an open mind about Google-free Huawei devices such as the Huawei P40 Pro. And you know what? There is indeed room for an ecosystem other than Google's
Just as we embraced Google, along with its ecosystem, when we bought phones such as the Nexus One when it was starting out, we also kept an open mind about Google-free Huawei devices such as the Huawei P40 Pro. And you know what? There is indeed room for an ecosystem other than Google's.
Priced at P50,990 (around $1,009) unlocked or off-contract, the Huawei P40 Pro is now available in the Philippines in Blush Gold, Deep Sea Blue, and Silver Frost colors. You can also get it with a data plan from Globe Telecom, whose 5G network is supported on the phone.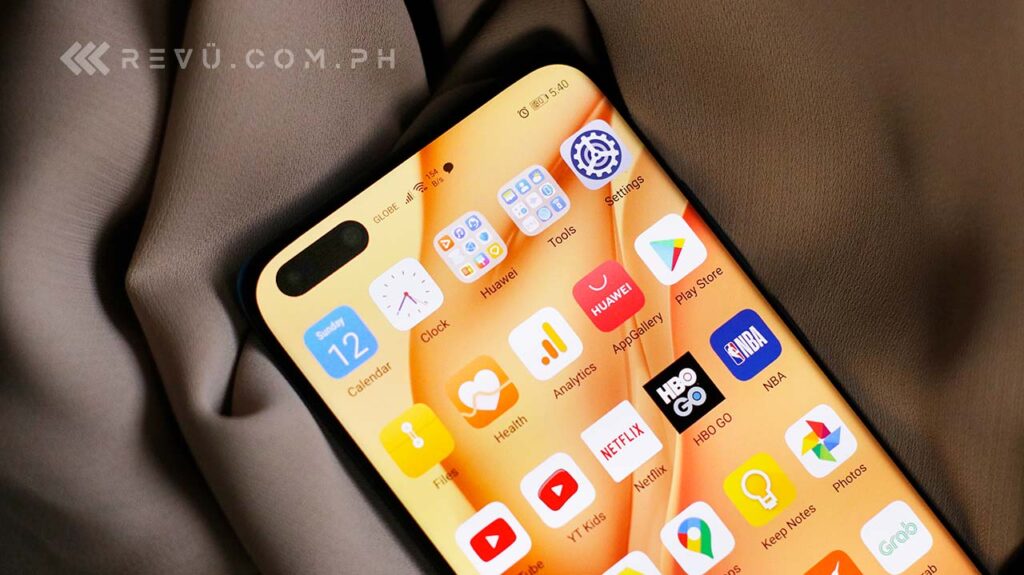 ---