Guess what? We got an email from Samsung Electronics Philippines about the local preorder details of its next flagship series at exactly 2:18 p.m.
(Update, August 5: And the series has been launched! Read Unpacked: Samsung Galaxy Note 20, Galaxy Note 20 Ultra. Prices, specs here.)
Understand that this is a blind pre-purchase, as the smartphones will still be launched worldwide August 5th. So no information on the specs, prices, and freebies are out yet.
The names of the devices are not even mentioned in the email. You'll only see Option A, Option B, and Option C in the message. But we're already expecting them to be the 8GB/256GB Samsung Galaxy Note 20, 12GB/256GB Samsung Galaxy Note 20 Ultra, and 12GB/512GB Samsung Galaxy Note 20 Ultra. At least based on the leaks we've seen so far.
SEE ALSO: Samsung Galaxy Note 20 Ultra hands-on surfaces ahead of Aug 5 launch
The preorder period starts today, July 24, and ends August 2. Each model comes with a "surprise gift" plus an additional VIP freebie worth P2,199 (around $45), a UV sterilizer with wireless charging.
Those who got a link and already have or have created a Samsung account may already choose their preferred Galaxy Note 20 series model and pre-purchase bundle. You can read the preorder mechanics below.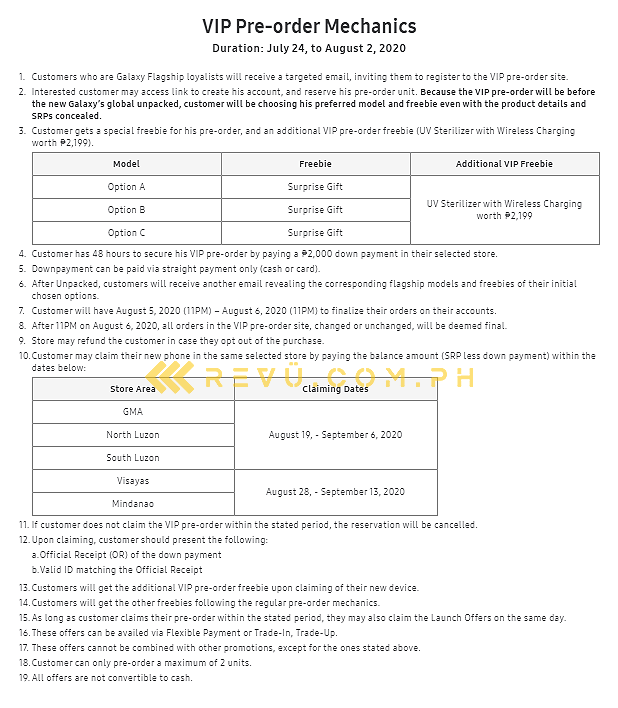 You can still update or cancel your order after submitting it as long as it's done by August 2. But — and you need to take note of this — updating is subject to availability and cancellations done after making the down payment will require a visit to the store where you reserved your Samsung Galaxy Note 20 or Samsung Galaxy Note 20 Ultra in order for the company to start the refund process.
The company says that "after the preorder period, you will only have August 5, 11 p.m., to August 6, 11 p.m., to update and finalize your preorders.
Alleged Samsung Galaxy Note 20 and Samsung Galaxy Note 20 Ultra specs
---