The cat is finally out of the bag. At its virtual Unpacked 2020 event, Samsung launched the new Galaxy Note 20 lineup and other products. Read on below to find out more about Samsung's latest flagships.

Two new Galaxies to explore
There are two variants of the series: the Samsung Galaxy Note 20 and the top-end Samsung Galaxy Note 20 Ultra. The Korean giant says the latter is for Galaxy Note users who are familiar with what the line offers — a giant, curvy screen; top-of-the-line internals; and, of course, the signature S-Pen stylus with all the bells and whistles the Korean hardware maker can cram in this generation.
The vanilla version is aimed at those who are upgrading to the Note series, hence the flat and slower OLED and watered-down features. It also gets a lower price tag to make it more appealing to those coming from a midrange device.
SEE ALSO: Samsung Galaxy Tab S7, Galaxy Tab S7 Plus with Snapdragon 865 Plus coming to the Philippines
The most notable physical difference between the two is the screen. The standard edition doesn't have the curves of the Ultra. It's a tad bit smaller, too. Both have an IP68 rating for water and dust resistance as well as an S-Pen stylus coupled with Samsung's software suite. They also support the new wireless DeX mode for power users who want to get stuff done on a larger external screen sans a dongle.
Samsung Galaxy Note 20 series price, preorder, and availability details in the Philippines
They will vary from market to market, but local prices for the Galaxy Note 20 and Galaxy Note 20 Ultra are as follows:
Samsung Galaxy Note 20 (5G) 8GB/256GB: P53,990 (around $1,102)

In the United States: $999.99

Samsung Galaxy Note 20 Ultra (4G only) 8GB/256GB: P67,990 ($1,388)
Samsung Galaxy Note 20 Ultra (5G) 12GB/256GB: P72,990 ($1,490)
Preorders are now live in the Philippines, with the first day of sale scheduled for August 21, except in Visayas and Mindanao. Those who live outside of Luzon can get their hands on the Galaxy Note 20 series from August 28.
Customers who preorder the Galaxy Note 20 Ultra 5G will get a free Samsung 34 sqm air purifier worth P16,995 ($347). On the other hand, those who preorder the 4G variant of the Ultra will receive a free pair of Galaxy Buds Live wireless earphones or an e-store voucher worth P7,500 ($153). Early adopters of the Galaxy Note 20 are entitled to a pair of Galaxy Buds Plus or a voucher worth P5,000 ($102).
Samsung Galaxy Note 20 Ultra
Let's start with the more exciting of the duo, the Samsung Galaxy Note 20 Ultra. It's a large phone, a lot like the Samsung Galaxy S20 Ultra, but curvier along the edges to make it easier to use. This is a two-handed device for most people, although Galaxy Note owners already know that going in.
You get a 6.9-inch Dynamic AMOLED screen with a 3,200 x 1,440 resolution, a 120Hz refresh rate, and a 240Hz touch-sampling rate for less input lag. It's also the first smartphone in the world to adopt Corning Gorilla Glass Victus, which is a lot more durable than previous generations and offers a drop resistance of up to 1.6 meters (5.25 feet). That's good to know because the Ultra has slippery glass on both sides.
Samsung says the panel here is 25% brighter than its previous flagship offerings. The display also sports a tiny punch hole in the upper-middle portion of the panel for a single 10-megapixel camera with dual-pixel phase detection for faster auto-focus.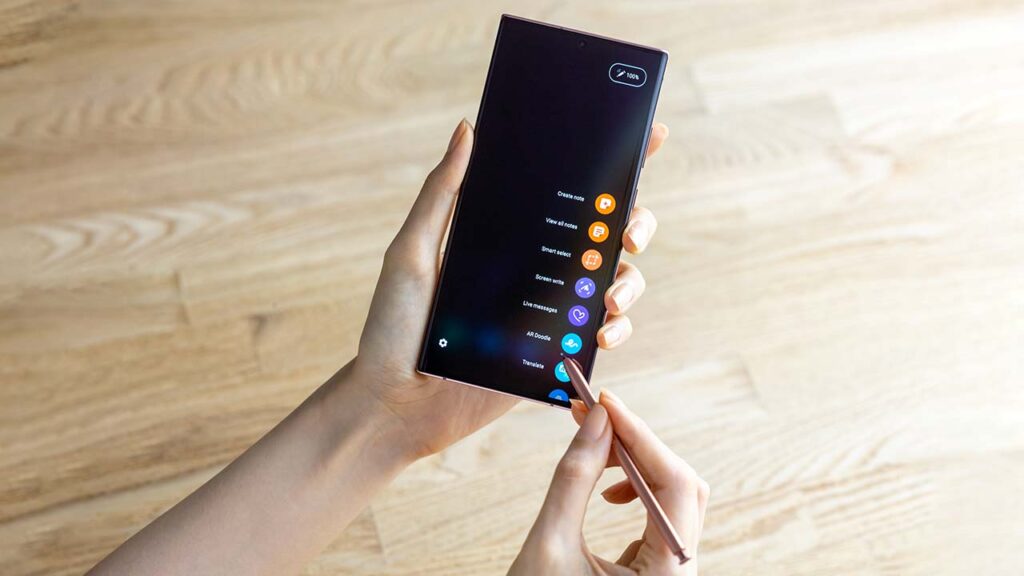 At the back, the Samsung Galaxy Note 20 Ultra has a triple-lens setup consisting of a 108-megapixel primary sensor, a 12-megapixel telephoto camera with 5x optical zoom and up to 50x digital zoom, and another 12-megapixel camera for landscapes and ultra-wide shots. There's a laser auto-focus sensor on the rear as well for quick and reliable focus tracking of moving objects.
The main camera can record up to 8K video at 24 fps and up to an aspect ratio of 21:9 if you want to add a more cinematic feel to your home videos. Samsung also introduces a pro mode for video, which, among other things, allows you to use the Galaxy Buds as an external mic for recording audio.
As for the internals, the Ultra is powered by Samsung's own Exynos 990, a chipset that should be familiar to Galaxy S20 series users, as it is the same processor that we got in the mainstream flagship lineup.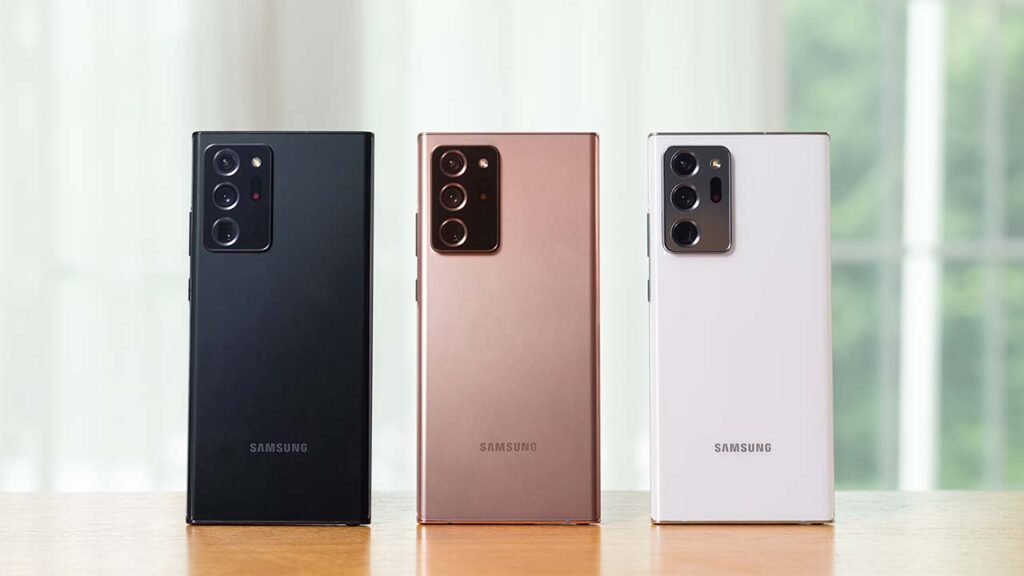 Unfortunately, no Qualcomm Snapdragon 865 Plus for the Note 20 in the Philippines. It's a head-scratcher since the Exynos 990 isn't the fastest chip Samsung has at its disposal right now, and it's especially concerning when you consider that the newly announced Galaxy Tab S7 and Galaxy Tab S7 Plus tablets will arrive with Qualcomm's 865 series in Philippines.
It's also worth mentioning that only the 12GB RAM model of the Ultra supports 5G networks. The Exynos 990 packs an external 5G modem, so support for the next-gen wireless standard doesn't come standard, unlike with other flagship chipsets from Qualcomm, MediaTek, and HiSilicon. The battery is rated at 4,500mAh and supports fast charging up to 25 watts.
As for the S-Pen, the stylus should feel more intuitive to use than ever before, thanks to the Ultra's 9 ms-latency screen. For better context, the Samsung Galaxy Note 10 has a latency of 42 milliseconds when interacting with the S-Pen. Besides that, you get a more user-friendly Samsung Notes app and a bunch of cross-platform features on Windows 10 devices.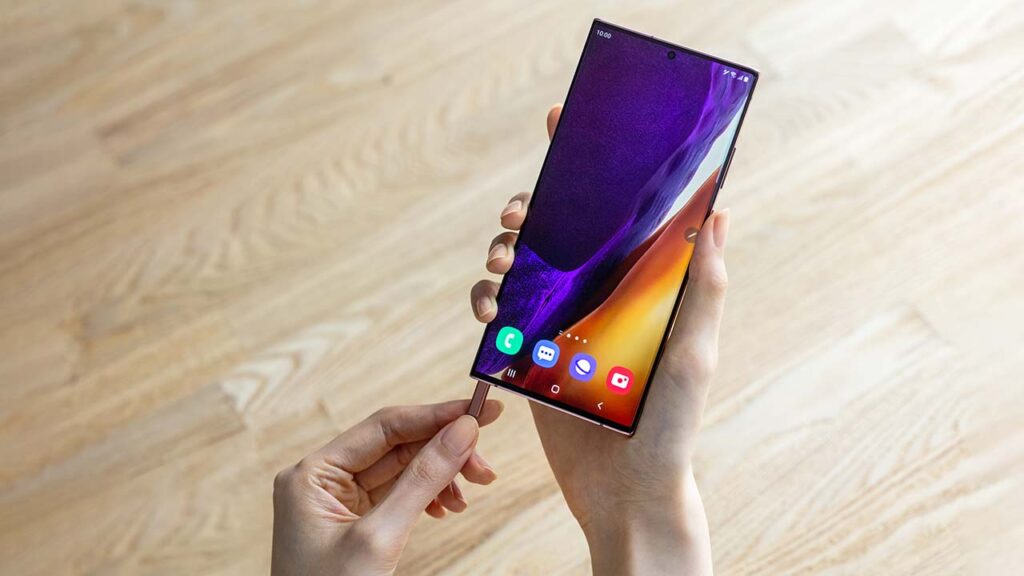 Samsung Galaxy Note 20
The cheaper Note of the duo, the Samsung Galaxy Note 20 features a 6.7-inch Dynamic AMOLED screen with an FHD+ resolution and a 60Hz refresh rate. It also incorporates the new Gorilla Glass, so it should be able to survive fall damage from a reasonable height. It has an input lag of 26 ms when using the S-Pen, which is still better than last year's Note flagship.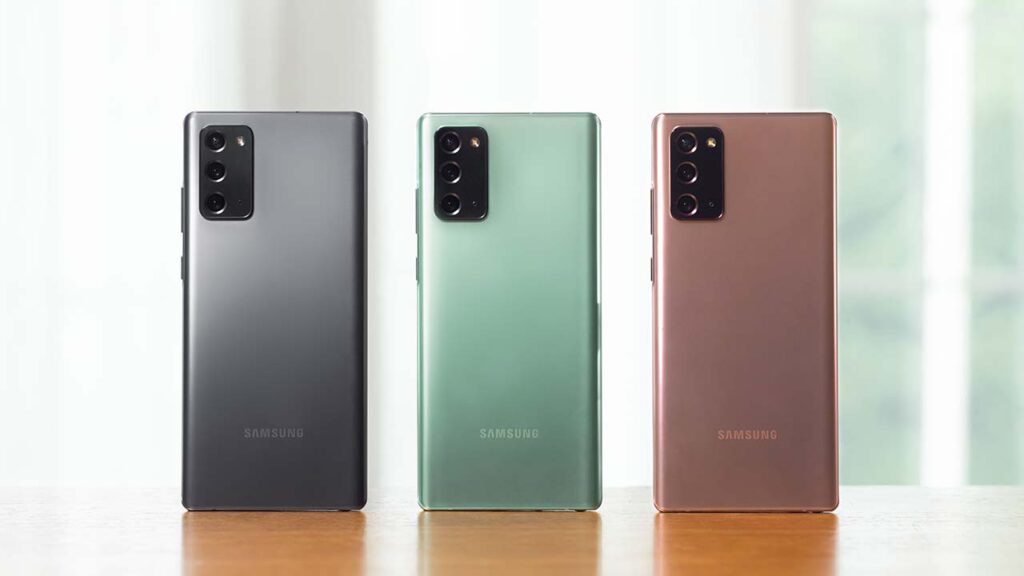 The back-facing camera setup sports two 12-megapixel cameras and a 64-megapixel zoom camera with 3x optical zoom and up to 30x when enhanced digitally. The 10-megapixel camera on the front is the same as the one on the Samsung Galaxy Note 20 Ultra. The Galaxy Note 20 runs Android 10-based One UI on an Exynos 990 SoC as well, but the battery is smaller at 4,300mAh. The regular Note 20 variant sold in the Philippines supports 5G networks.
Here's a side-by-side specs comparison between the Samsung Galaxy Note 20 and Galaxy Note 20 Ultra to give you a better sense of how the Note 20 compares with the higher-end model.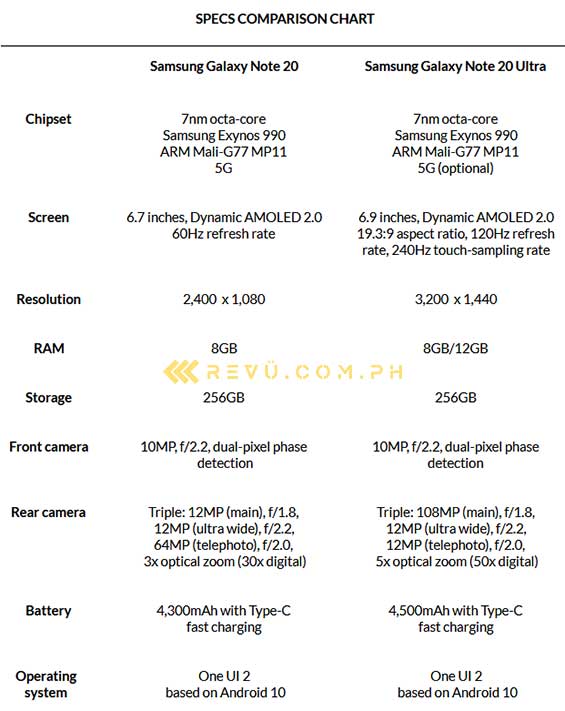 Samsung Unpacked 2020 livestream, in case you missed it
Press release of the Samsung Galaxy Note 20 and Samsung Galaxy Note 20 Ultra launch
---