Realme has announced the successor to the C2 2020 in the Philippines, following the local launch of the Realme C11. The C11 boasts a larger LCD, faster specs, and longer battery life than its predecessor — and at a lower cost at launch, too.

On paper, it sure looks like a win-win unless you've sworn off all handsets with big displays that require two hands to operate. But is it really as good as it seems? Should you get it if you're in the market for a starter smartphone to replace your old one or upgrade from a feature phone? Read our full review of the Realme C11 to find out.
Price and availability
In the Philippines, the Realme C11 is priced at P4,990, or roughly $100 converted, for the 2GB RAM and 32GB storage model. The version we tested for this review has a memory configuration of 3GB/32GB, but it won't be sold here.
The Realme C11 is available in Mint Green and Pepper Grey colors. You can buy it now from the company's official store on Shopee at P400 ($8) off the suggested retail price when you use the code GADGETZONE8. But it will be released nationwide starting tomorrow, July 24.
As part of its corporate-social responsibility efforts in the Philippines, Realme will donate C11 units to the Young Focus Foundation for children in need of smartphones for distance learning.
Hardware
The Realme C11 isn't just pretty to look at. It's also pretty large in size, sporting a 6.5-inch LCD screen with reasonably slim bezels and a waterdrop notch at the top that incorporates the selfie camera. The housing is made of plastic and has a lightly textured surface as well as a special coating on top, resulting in a more visibly prominent sheen.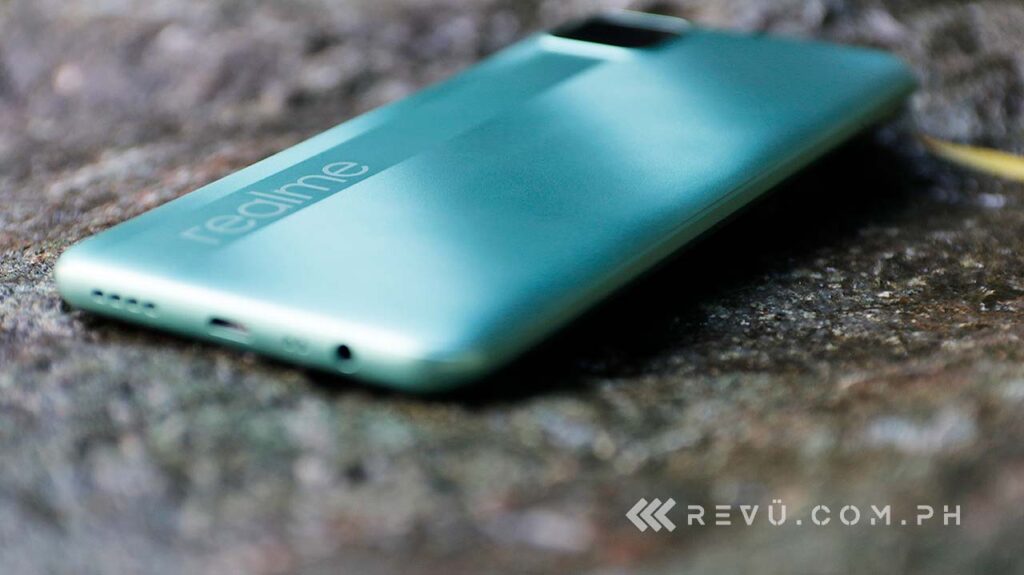 Another interesting detail is the smooth vertical band that drops from the rear-camera module down to the Realme logo at the bottom of the panel. The finish makes the back more resistant to fingerprints and grime. It manages to hide small scratches and dings on the backplate as well.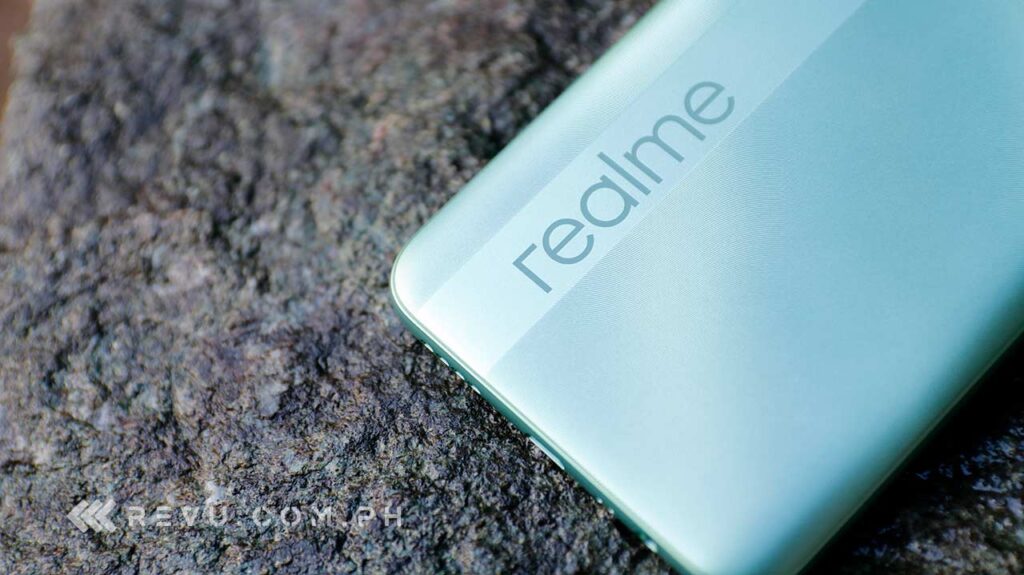 Coming in at 196 grams, there's some heft to this device, but not enough to make it cumbersome to use as a daily driver. The width of the unit doesn't hit the sweet spot in terms of ergonomics and functionality. But the larger screen should prove to be more beneficial to more users (who don't mind big-screen phones anyway), so we totally understand why Realme opted for adding screen real estate at the expense of usability.
You'll probably need two hands to use the C11 effectively. It's not a big deal at all, and there are other handsets at this price point that are slightly bigger. You just have to know that before committing to this device.
SEE ALSO: Realme C15 with 6,000mAh battery launching July 28 in Indonesia
The standard 3.5mm headphone socket, microUSB port, and speaker grill are located at the bottom. For sharing audio between multiple people, the C11 brings Dual-Mode Audio for wired and wireless listening. You can enable it by going to the Settings app, then tapping Realme Lab. This will allow you to plug in a pair of wired headphones and connect a Bluetooth device to the phone at the same time.
What's in the box
Realme C11
10-watt charger
MicroUSB cable
SIM-eject tool
User guide
Warranty card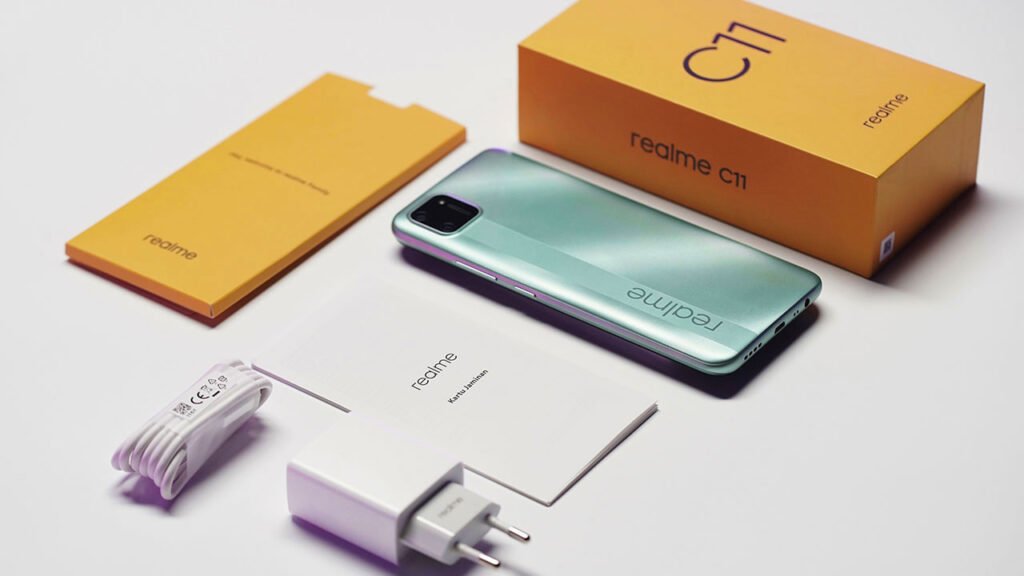 Screen
The Realme C11 features an LCD touch display with 1,600 x 720 resolution and a taller-than-usual 20:9 aspect ratio. It has a small waterdrop notch at the top for the selfie camera as well as reasonable bezel size. According to Realme, the phone boasts a screen-to-body ratio of 88.7%, which is quite high especially considering the C11's budget-friendly price tag.
At 6.5 inches across, the large screen on the C11 is great for media consumption, and the notch doesn't get in the way too often. The display quality is surprisingly good, too, given its entry-level status.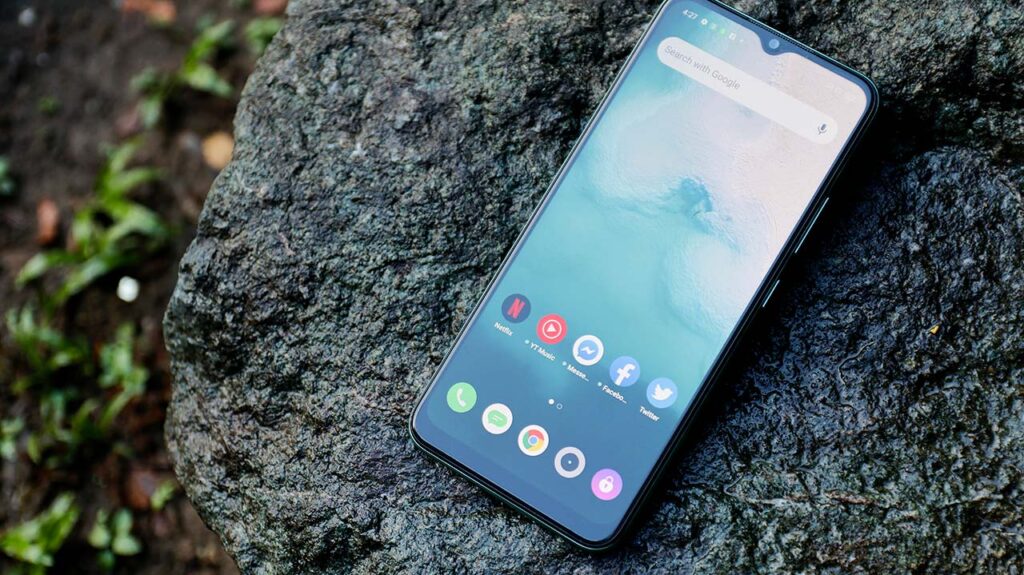 Color reproduction is better than average; the viewing angles are consistent; and even the saturation and contrast as well as black levels are decent enough for streaming content and 3D games. As is usually the case with most budget handsets, though, the peak brightness leaves a lot to be desired, specifically for outdoor use under the sun.
For watching TV series and movies on the go on Netflix and other similar services with copyrighted content, the Realme C11 arrives with Google's Widevine L3 certification out of the box. This means the phone can only stream at up to SD (read: non-HD) resolution, which is unfortunate considering the overall quality of the panel on offer here.
Cameras
For taking pictures, the Realme C11 is equipped with dual rear-facing cameras positioned within a squarish module and a single front camera that takes care of selfies and video calls.
The camera on the front also supports software-backed face unlock, which is useful, as there's no fingerprint sensor to be found on the back or side of the device. You can shoot portrait selfies with it as well.
Just a few selfies, with last shot in Portrait mode
It has a 5-megapixel sensor and f/2.4 aperture lens, so performance is bound to be inferior than what the main camera on the back can do. Nonetheless, it should be fine for casual selfies and the occasional video chat at work or school as long as there's enough light around.
Compilation of raw videos captured on the Realme C11
The rear camera is 13 megapixels and accompanied by a 2-megapixel depth sensor for snapping better portraits with more effective-looking blurred backgrounds. It has f/2.2 lens offering up to 4x digital zoom, while the secondary sensor sits behind f/2.4 optics.
The lack of additional cameras on the rear means the native camera app is fairly straightforward. In addition to Portrait, Video, and the default Photo mode, you quick toggles for HDR, timelapse video, and panorama, which can be used in the absence of an ultra-wide-angle lens. Chroma Boost, on the other hand, enhances the dynamic range of images and makes colors look more alive and vibrant.
[sciba leftsrc="https://www.revu.com.ph/wp-content/uploads/2020/07/Realme-C11-sample-picture-Revu-Philippines_chroma-boost-not-enabled.jpg" leftlabel="Auto" rightsrc="https://www.revu.com.ph/wp-content/uploads/2020/07/Realme-C11-sample-picture-Revu-Philippines_chroma-boost-enabled.jpg" rightlabel="Chroma Boost enabled" mode="horizontal" width=""]

Auto vs Chroma Boost
You won't find a dedicated toggle for handheld low-light shots, but thankfully, there is Expert mode for avid photographers who know their way around basic camera settings like ISO, shutter speed, and white balance.
And although the C11 is a bargain-basement phone that isn't purposely built for stunning pictures much like how some high-end smartphones are, that's not to say it isn't capable of delivering excellent results, as our photos show. You can also use third-party apps like Snapseed and Adobe Lightroom to edit images and make them really pop.
Check out these pictures we shot using manual settings. We also included some edited photos to give you an idea what the Realme C11 is truly capable of.
All taken in Expert mode
Here are a couple of macro shots taken using the 2x and 4x zoom presets. Expert mode lets you zoom in and out on objects as well, giving you more ways to shoot.
1x vs 2x zoom (vs 4x zoom for the last set)
Performance
Under the hood, the Realme C11 gets the latest MediaTek Helio G35 chipset — and it's one of the first phones on the market to use the chip alongside Xiaomi's recently announced Redmi 9C. The Helio G35, like its slightly downgraded sibling, the Helio G25, features a 12nm design with eight Cortex-A53 cores and IMG PowerVR GE8320 graphics.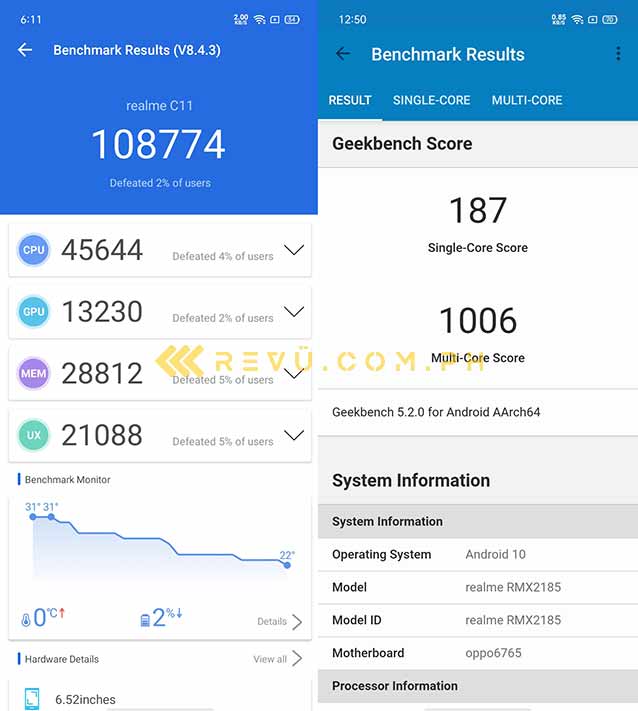 MediaTek says the G35's intelligent, dynamic CPU, GPU, and memory management algorithms ensure sustained peak performance and longer gameplay while keeping the battery drain in check. We didn't do any thermal testing to confirm this, although we did notice that the phone doesn't heat up considerably even after playing Mobile Legends for an hour while plugged in.
Gameplay: NBA 2K20, Mobile Legends: Bang Bang (3:00 mark), and Call of Duty: Mobile (6:00 mark)
Games like Mobile Legends and Call of Duty: Mobile will run fine at low to medium settings. Our gameplay on Call of Duty consistently hits above 30 fps when the frame rate was set to High. The same cannot be said about Mobile Legends even after HFR or High Frame Rate mode was enabled.
Outside of gaming, the C11 delivers a satisfying and responsive experience on the Android 10-based Realme UI software. And you won't lose your progress in apps often after switching to another or going back to the home screen. Despite its low price, the C11 felt surprisingly fine as our daily driver for a couple of weeks.
Battery life and charging
The Realme C11 has a hefty 5,000mAh battery backup that is said to provide a standby time of up to 40 days. Power is supplied via microUSB at a max rate of 10 watts, which isn't too slow especially given the price. You won't find fast charging here, so expect a full charging time of around 3 hours coming from a completely drained battery.
Unless you are a very heavy user, you're probably not going to recharge the phone daily anyway, so it's fine. We usually get about two days of use in a single charging cycle. It's likely that you will, too, if you're not always browsing the web over 4G data or gaming with the brightness set above 75%.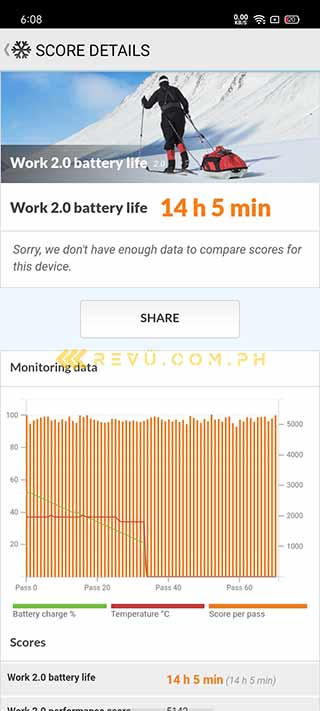 In the PCMark battery test, our review unit logged 14 hours and 5 minutes, which is a respectable figure among devices with an equally sizable battery. Take note that this is for the 3GB RAM version of the C11, and having more RAM tends to drain the phone faster.
Final thoughts
The Realme C11 is a terrific starter smartphone that covers most of the basics and covers them well. Almost everything about this handset, especially its design, punches above its weight class. Throughout our use, we sometimes forgot how much more affordable it is compared to most other phones — and that's a compliment. If you can forgive a few flaws here and there, the C11 really doesn't look or feel like a cheap phone at times.
Realme has made a name for itself as a value-first technology — and now lifestyle-tech — company, and looking at the C11 as a whole, it surely doesn't fall far from the tree. We highly recommend this to anyone looking to upgrade from a feature phone or Realme's C1 or C2 2020.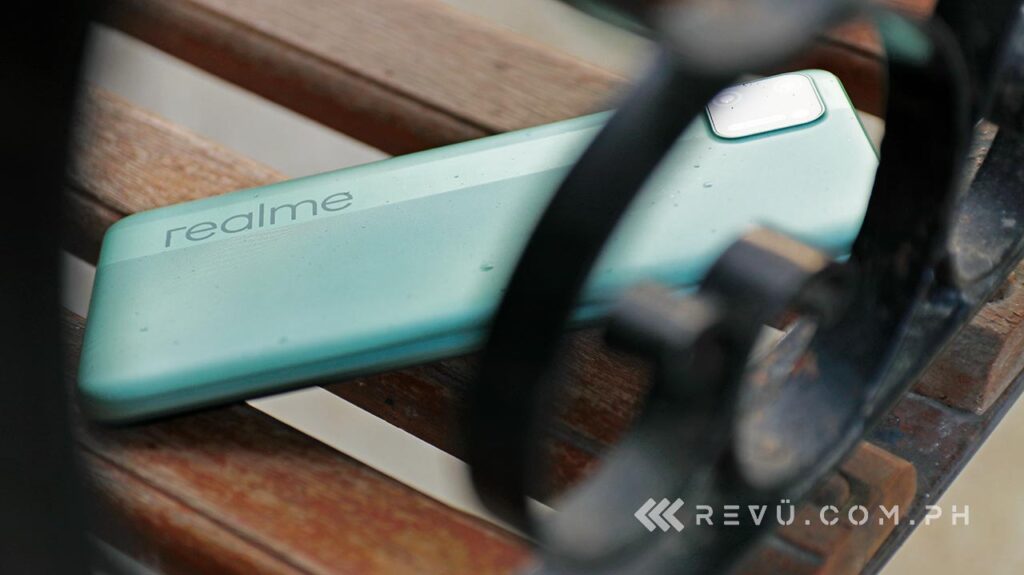 Realme C11 specs
6.5-inch waterdrop HD+ LCD display
MediaTek Helio G35 processor
2GB RAM
32GB expandable storage, up to 256GB
Dual 13-megapixel (main), 2-megapixel (depth) rear cameras
5-megapixel front camera
5,000mAh battery with reverse charging
Realme UI based on Android 10
Colors: Mint Green, Pepper Grey
---