The Huawei FreeBuds 3i are the new, cheaper alternative to last year's FreeBuds 3. And while a lower price means some compromises have been made, it's not all bad. These true-wireless, in-ear earphones have more to offer than you can expect, and we're here to find that out and share with you.
Price and availability
Available in Carbon Black and Ceramic White, the FreeBuds 3i are priced at P5,990 (around $122) in the Philippines, which is P3,000 ($61) less than the FreeBuds 3's launch price. They're sold through Huawei authorized retailers and the company's official Lazada store.
Hardware
Let's get it out of the way: You would know where Huawei takes inspiration from when you first look at the Huawei FreeBuds 3i. Yes, they look a lot like the Apple AirPods Pro with an in-ear design and silicone tips that help create a better seal and passively block out environmental noise.
The inspiration goes beyond the design, too, as the FreeBuds 3i offer active noise cancellation and a multi-microphone setup. It positions these wireless earbuds as an Android alternative, and one that's more budget-friendly.
The differences are noticeable if you pay closer attention. The stems on the FreeBuds 3i are longer, and there aren't any mesh coverings on the outward mic.
Now, if we think about the merits. The FreeBuds 3i feel well-made. There's no mistaking that the earbuds are made of plastic. But they feel well built. Both the earphones and the case feature shiny, white material. The tips of the earbuds have this chrome-like effect that might not appeal to everyone.
And despite their sheen, they don't really attract any smudges. The entire accessory is lightweight, too. The earbuds weigh 5.5g apiece, while the pill-shaped charging case comes in at 51g. They can easily fit into a pocket or a small handbag.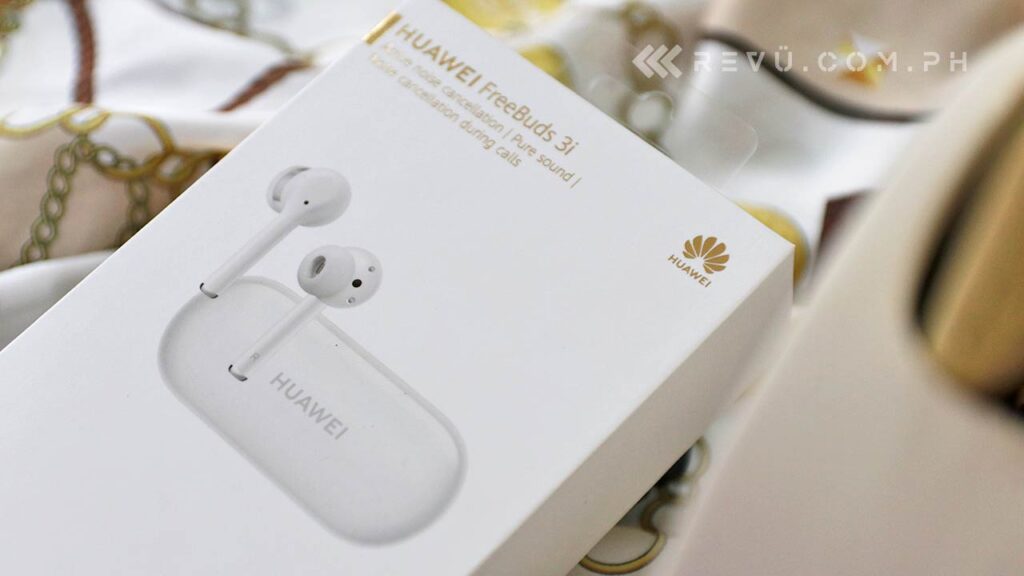 What's in the box
Earbuds
Ear tips (L, M, S, XS)
Charging case
USB-C cable
Quick start guide
Safety information
Warranty card
The Huawei FreeBuds 3i earphones come with an ergonomic, cone-shaped main body and four different silicone tip sizes (extra small, small, medium, and large), allowing you to find the best fit, help dampen background noise, and boost audio quality. They offer touch control on each earbud to help with music playback, summoning your device's virtual assistant, or activating ANC and Awareness Mode. (We'll discuss this further later.)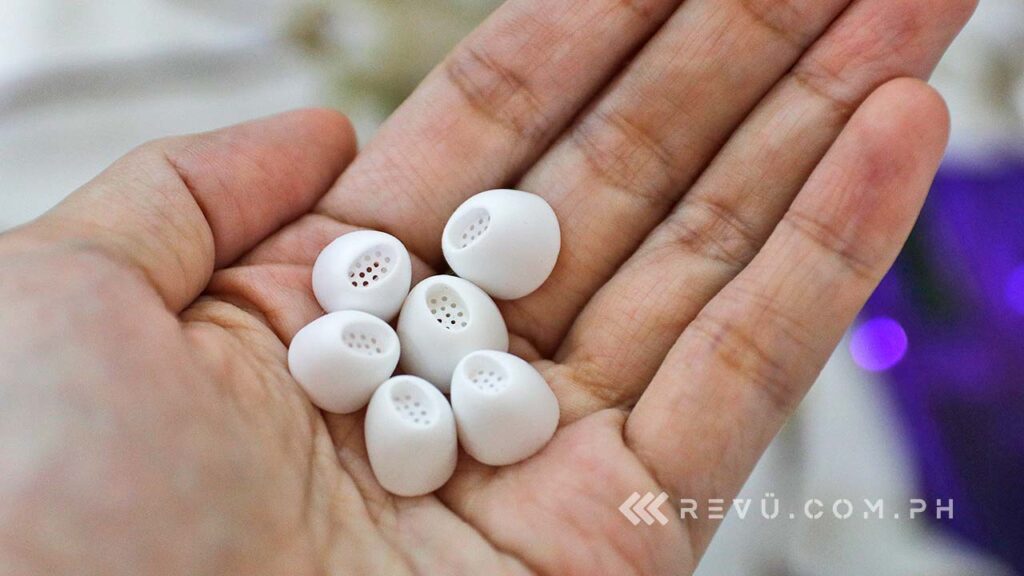 Since they're meant to fit into your ear canals, the FreeBuds 3i don't fall out easily. They can loosen up a bit when you work out, but they're easy to secure again. However, it's not a pair you can take swimming with you, even if the accessory does offer IPX4 splash resistance.
With the almost-negligible weight, we tend to forget we have them on. We were even comfortable enough to take a nap with the Huawei FreeBuds 3i on. It started to get a bit uncomfortable for us at around three hours or so. But that reminded us to take these buds off and give our ears and hearing a break. Around this time, the earphones ran out of battery anyway.
We got around three hours and 15 minutes on average switching between ANC and Awareness Mode. That result is just slightly below Huawei's estimate of three hours and 30 minutes of playback. We got a total of around 12 hours of playback or so before we needed to charge the earphones and the charging case. That result is also around two hours and a half below Huawei's estimated playback time.
We got a total of around 12 hours of playback or so before we needed to charge the earphones and the charging case
For those who would use the FreeBuds 3i for calls, Huawei claims around two and a half hours of talk time on one charge or 10 and a half with the charging case.
Using its charging case, you can get three full charges and an extra charge that reaches around 50% before needing to charge the case.
The Huawei FreeBuds 3i don't have the longest playback time, but at least you can top up the earphones with the charging case in under 30 minutes. Charging the case with the earbuds in it takes around an hour and a half to get to 100%. Each earbud has a 37mAh battery, while the charging case has a 410mAh battery.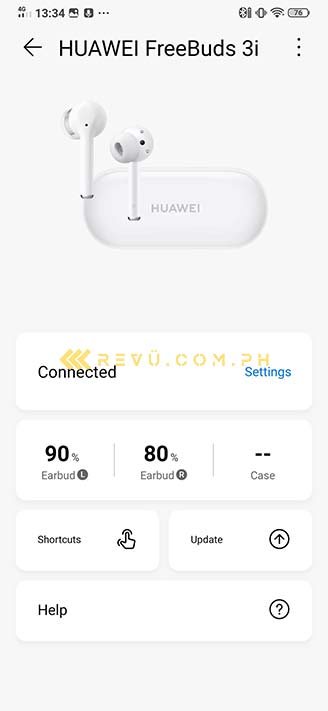 The one way to get detailed battery information is through the Huawei AI Life app (more about this later). Without it, the only physical markers are the three-color LED lights inside the case and in front of it, which shows green for good battery life, amber around halfway through, and red reminding you to charge. Charging the case can only be done through wired USB-C. There is no wireless charging option here.
Setup and operation
The Huawei FreeBuds 3i earbuds work with any Bluetooth-enabled device. But, as expected, they work best with Huawei devices, especially those running on EMUI 10 or later. They offer "Pop-Open" support with compatible Huawei gadgets, meaning you just need to open the earphones' case to connect to your device. It's similar to what the AirPods can do with Apple devices.
Even without a Huawei device, pairing is a simple task, too. Make sure the earbuds are secure in the case. You'll hear and feel the satisfying click of the magnets when you place them correctly. Open the charging case, and press the physical button at the back for two seconds. An LED light inside the case will blink white to indicate that you can pair with another Bluetooth-ready gadget.
However, they don't support Bluetooth multipoint, which lets you connect to multiple devices at once. They will only sync with one gadget at a time. But they will connect automatically once you open the case and a nearby paired device's Bluetooth is enabled.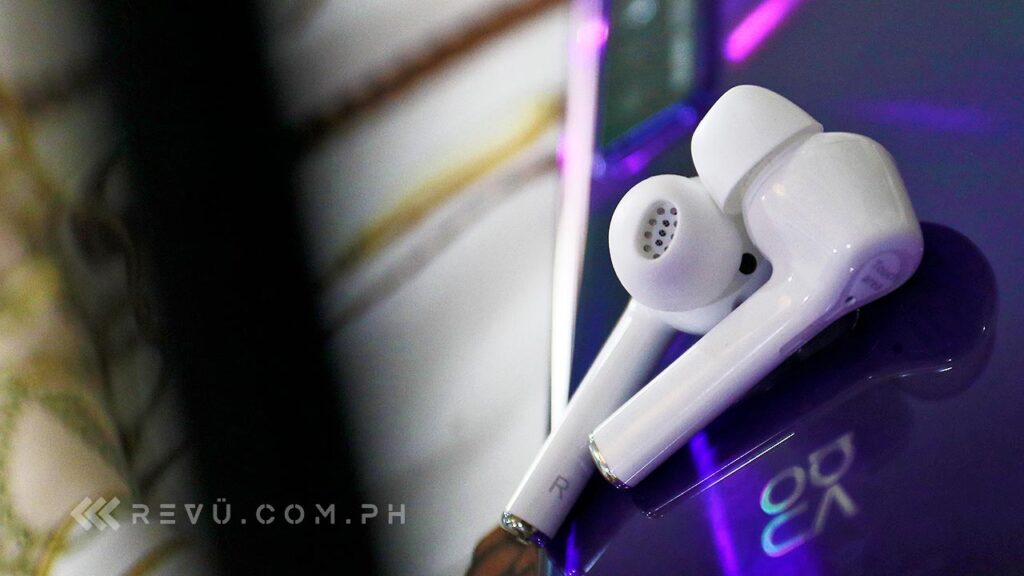 The Huawei FreeBuds 3i use Bluetooth 5.0 and standard Bluetooth transmission practices, which means information is sent to a primary earbud and then relayed to the secondary one. We encountered some issues when only one earbud would drop its connection, and that's because of this practice. But it happened rarely, so it wasn't really a cause for concern.
The earphones disconnected a few with our non-Huawei Android device — a Vivo V15 — at the start. After a few recharges, though, the disconnection lessened significantly. They still did, but rarely. We didn't encounter the same problem using them with an old Honor 10 handset and a Lenovo Yoga Book laptop.
This pair supports SBC and AAC codecs. SBC is considered the most basic Bluetooth codec, which means it sacrifices audio quality for lower data transfer. As for AAC, it's a more advanced codec that allows for improved sound quality. But this codec is more suited for Apple devices.
The Huawei FreeBuds 3i handled us walking around different rooms that share relatively thin walls
The FreeBuds 3i handled us walking around different rooms that share relatively thin walls. And if we did get out of range, they would reconnect automatically when we returned.
Wear detection worked seamlessly with these earphones. You will hear a chime when you put them in, reminding you that you're connected. When you take one of the earbuds off, they will automatically pause what you're playing. When you put them back in, you'll need to double-tap on one of the buds to start them up again (or just use the gadget source's play button). The Huawei FreeBuds 3i also chime a specific earbud when it is low on battery.
As we've mentioned, there are capacitive touch sensors at the back of each earbud. These are customizable, but offer two simple gestures: double-tap and touch-and-hold. It makes sense to simplify the gestures since you don't have a lot of space to work with, plus it lessens the possibility of accidental touches. The sensors are responsive to touch and didn't cause us any issues during our test. It even worked when we were connected to our laptop instead of to our handsets.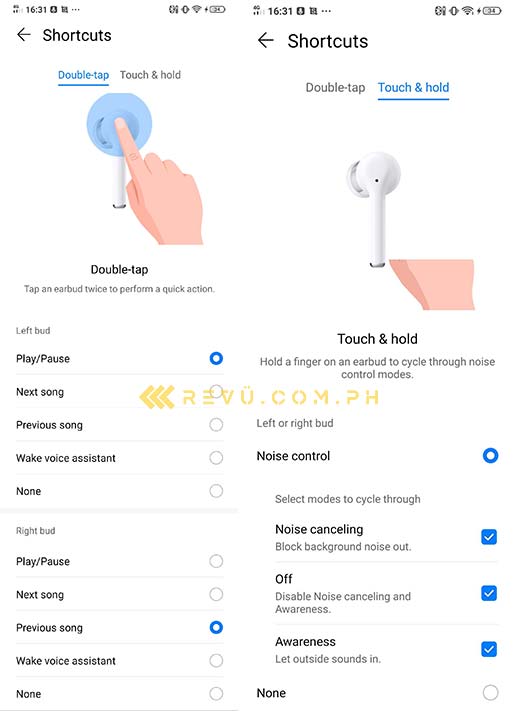 Out of the box, double-tap lets you play and pause the track. The touch-and-hold needs to be activated using the Huawei AI Life. The app enables you to customize both gestures. Double-tap can be customized to play the next or previous song, wake the phone's virtual assistant, or not do anything. The right and the left earbud can be used for different functions. Meanwhile, touch-and-hold can be configured to cycle through activating ANC, Awareness, or turning both off. There's an option to not use this gesture as well.
The Huawei FreeBuds 3i offer an Awareness Mode, which is similar to the Transparency Mode on the Apple AirPods Pro. It lets outside sound in, so you can hear what's going on around you. The feature is useful when you're using the FreeBuds 3i outdoors, and you need to be aware of your surroundings.
SEE ALSO: Huawei overtakes Samsung as biggest smartphone brand in Q2 2020
The caveats for the Huawei AI Life app is it only works on Android devices, which means iPhone users who want a pair of FreeBuds 3i will need to get their hands on an Android handset. The app is also the only way to update the earphones' firmware, so it's essential to have it.
We were pretty satisfied with the feature set of the FreeBuds 3i. What is missing is an on-device volume control. We wished it supported a gesture for it. While noise-canceling can create a reasonably consistent listening environment, volume levels vary from song to song. And when you're wearing wireless earbuds, more often than not, the source device isn't immediately on hand. The workaround would be to instruct your voice assistant to switch the volume for you.
We also wished there were an equalizer to help customize the sound, depending on the type of audio. For now, you're going to have to rely on the settings available on your source device.
Sound
The Huawei FreeBuds 3i's 10mm driver is smaller than the FreeBuds 3's 14.2mm one. But that doesn't mean you can't get a decent sound out of the former. With their design and ANC's help, these earbuds have a better seal, which means sound comes out louder and more precise without much environmental noise. You don't even have to max out the volume to hear the songs, podcasts, or videos you're playing, which is good for your hearing.
The audio quality of the FreeBuds 3i is as you expect at its price range. It's okay, but not great. Bass is undercooked, but the mids and highs are pretty clear. If you care about accurate reproduction, these earbuds will fall short. For the average listener who isn't concerned about bass quality, these faults can be forgiven. The FreeBuds 3i don't suffer from any crackles or annoying hisses, even at louder volumes. And they can get plenty loud.
ANC and call noise cancellation help give better value to the Huawei FreeBuds 3i. ANC can lower overall background noise by up to 32dB, which means it can keep out low, monotone noises like the humming of airplane cabin or car engines.
The product video showcases the Active Noise Cancellation and Call Noise Reduction features, which help give better value to the Huawei FreeBuds 3i
Since we can't travel freely these days, we settled with testing them out with other background sounds. They work well with the hum of a car engine we heard next door and a bit of traffic noise outside. But don't expect a complete shutout of outside noise. They muzzle enough to allow you to concentrate on what you're listening to and keep distractions out if you need to focus on your task.
Huawei equipped the FreeBuds 3i with two outward-facing microphones, and one inward-facing one to pick up noise and improve call quality. These earphones' call noise cancellation lived up to its promise most of the time we've used it. Those we were talking to could hear us clearly most of the time, even with an electric fan facing our direction.
The only trouble we faced was when we tried taking a Facebook video call on our laptop. We were told the sound from our end came out a bit tinny. But this might be an issue with the computer and not the Huawei FreeBuds 3i.
Final thoughts
The Huawei FreeBuds 3i earphones promise good value with an accessible price tag. It's not often you get a pair of true-wireless earphones with active noise cancellation at its price range.
Do they offer the best sound? They don't. But if you're looking for an all-rounder for your Android device, the FreeBuds 3i is one of your best budget options. (If you're on iOS and want a pair, make sure you have an extra Android-based gadget on hand.)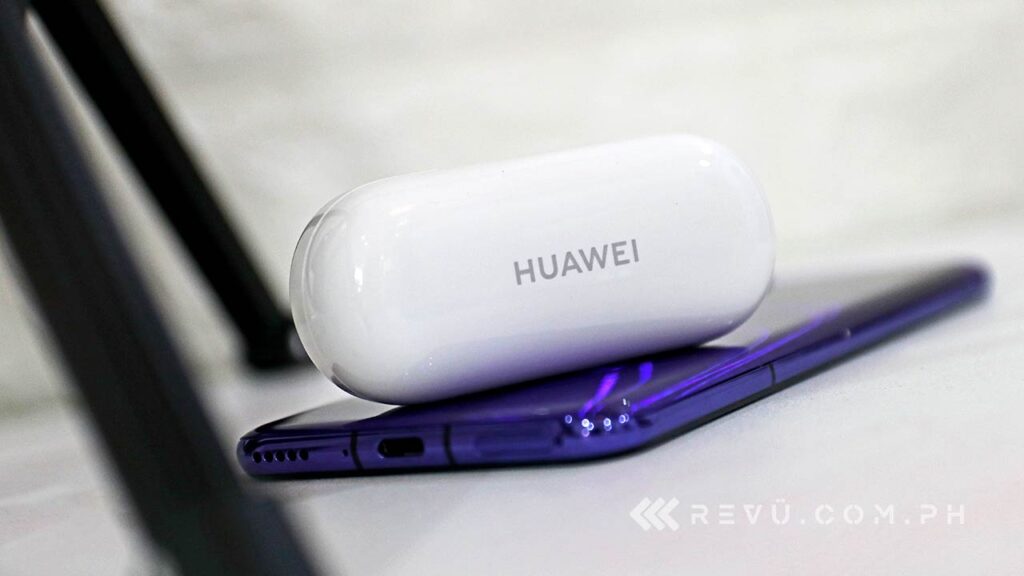 ---