Realme navigates the budget-handset space quite well. The smartphone maker manages to find the balance between decent specs and affordability time and time again. With the Realme C15, it offers a total of five cameras (quad setup at the back + single selfie shooter), a big display, and a large battery.
On paper, it has the potential to be another bargain hit. Is this another winning starter smartphone from the brand? Read below to find out our thoughts on the Realme C15.
Price and availability
Realme Philippines offers the C15 in two variants with either 3GB of RAM or 4GB of RAM and 64GB of expandable storage. The 3GB variant retails for P6,490 (around $133), while the 4GB model costs P6,990 ($144).
Available in Marine Blue and Seagull Silver colors, the Realme C15 is now on sale online, on Lazada Philippines, with the ecommerce site exclusively offering the limited-edition PH Squad Edition Box for the 3GB/64GB variant, too.
Starting tomorrow, August 21, the smartphone will be sold at offline stores nationwide.
Hardware
Realme introduces a new look with the C15. Called Geometric Gradient Design, the company describes it as a trapezoid that "divides the back cover into three areas with different angles of lines bringing out the colors with different gradation." It brings a unique texture that doesn't make it susceptible to fingerprints sticking on the handset. The Realme C15 also brings a bit of personality into the entry-level segment.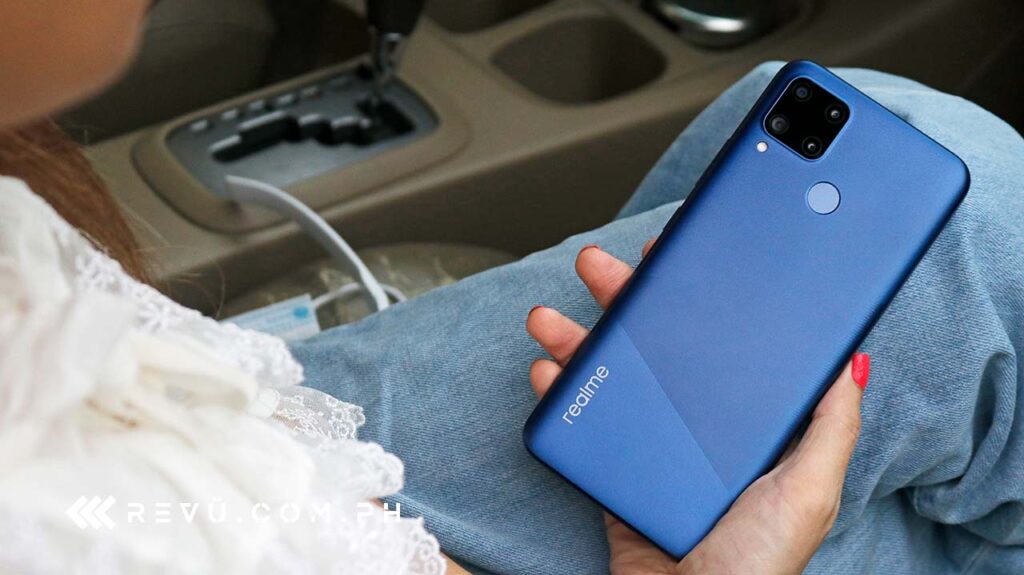 Besides the eye-catching pattern, the back of the smartphone houses a squircle camera module, fingerprint sensor, and Realme's logo. The quad-camera setup resembles the one on the Realme C11. But this time, the vertical band is gone and replaced with the new design.
The right side has the volume rocker on top of the power/lock button. The left houses the three-card slot for two nano-SIM cards and one microSD card. The bottom has the 3.5mm audio jack, microUSB port, and speaker. The device has a slightly thick chin in front, but it has a small waterdrop notch, leaving you with a lot of screen to work with.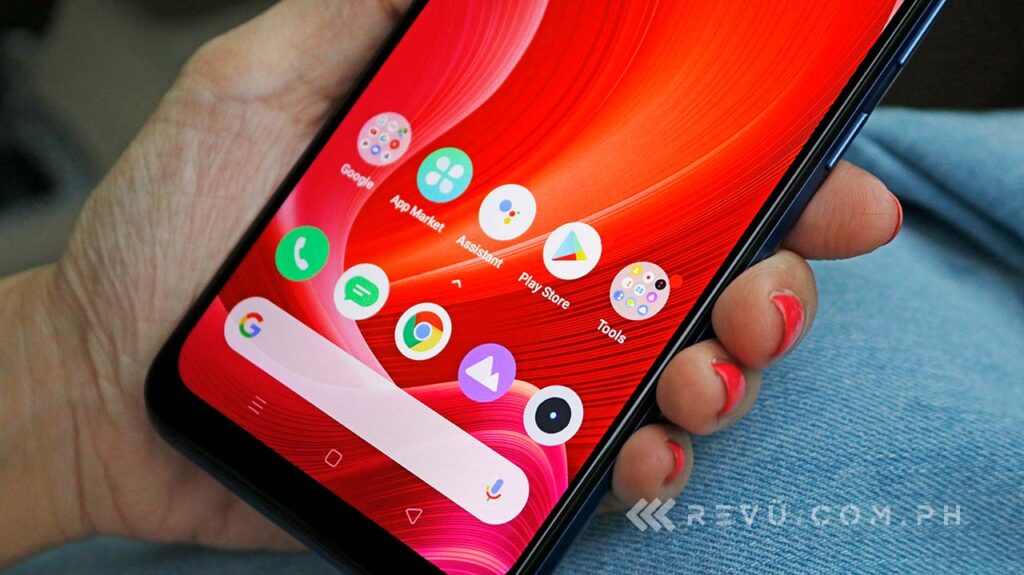 Phones with big batteries usually feel brick-like. And the Realme C15 is no exception. But it feels somewhat more manageable. There is a heft to it, but it's not that heavy that you can't hold it in one hand. While it offers a better grip with its textured back, it's still a bit slippery. Using this unit still requires two hands most of the time.
We appreciate that Realme included a fingerprint sensor on the C15. It's not the fastest one we've used, but it's mostly reliable. The C15 offers face unlock, too, giving you more options to keep it secure.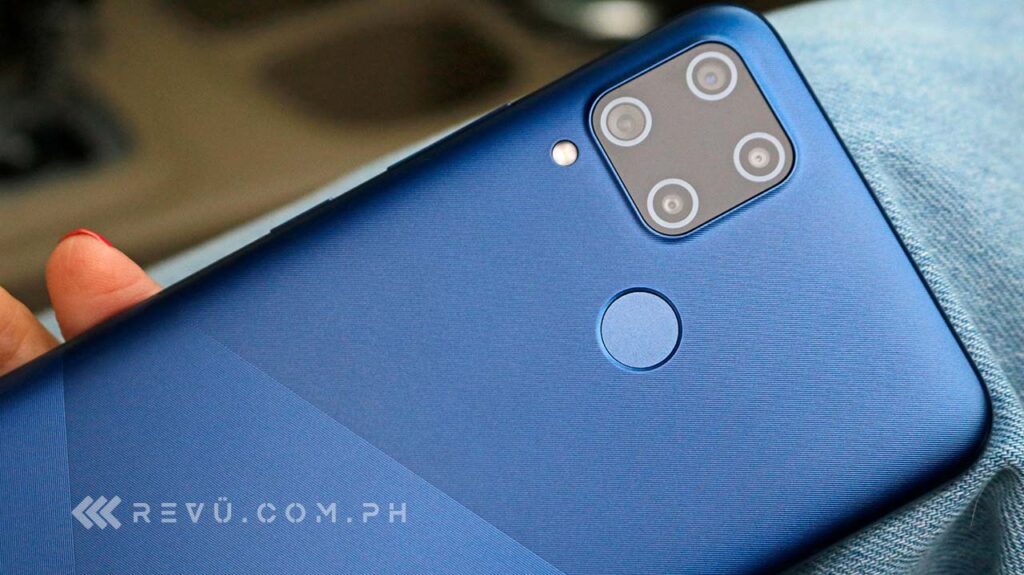 Audio coming out of the speaker isn't the loudest, either. And with its position at the bottom of the phone, you'll be prone to covering it when playing games in landscape. It doesn't sound terrible, but it's more of a device to use earphones with. There aren't any headphones included in the box, so you'll have to use what you already have.
The company also doesn't equip the Realme C15 with a silicone case out of the box. At its price point, though, we aren't surprised that it doesn't come with one.
What's in the box
Realme C15
Wall charger
MicroUSB cable
Info booklet with warranty card
Quick guide
SIM-eject tool
Screen protection film
Screen
The Realme C15 gives you a lot of screen real estate to appreciate with its 6.5-inch HD+ display. It comes with an 88.7% screen-to-body ratio, 20:9 aspect ratio, and 1,600 x 720 resolution.
Realme calls the notch attached to the C15 a "mini-drop," which takes up as little space as possible on top of the screen. The company said it used "a newly upgraded stack process" that drew parts closer to each other, allowing Realme to reduce the size of the notch.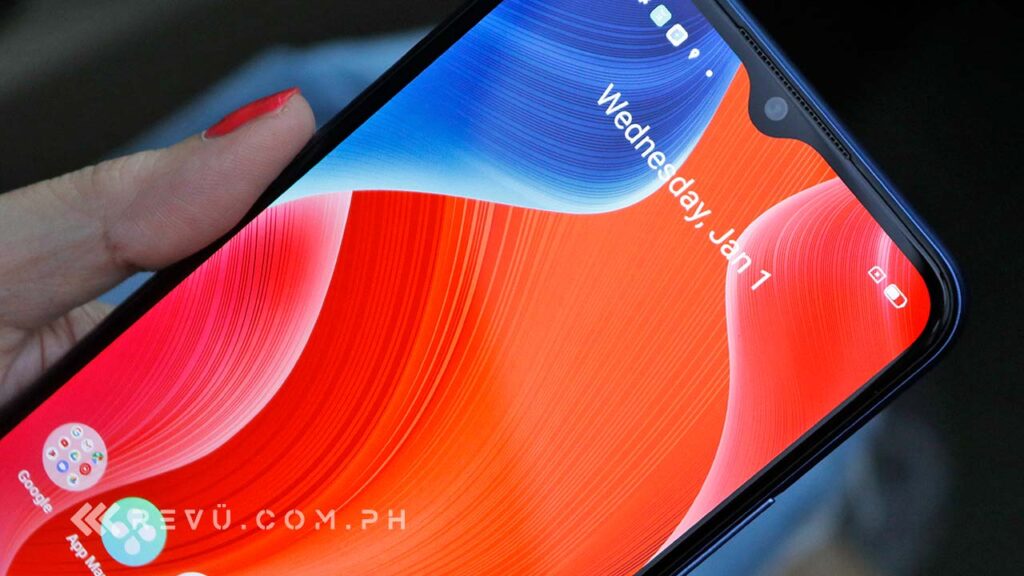 And with the smaller notch, it didn't disrupt our use of the phone. We got to see more of what we were watching or playing. And using split-screen on the Realme C15 is a pleasant experience.
Make no mistake that it is a panel for a budget phone. It's not the brightest or crispest screen out there. Under the sun, the display is legible, but it struggles against glare. Netflix doesn't offer HD streaming here, either.
Realme does offer features like system-wide dark mode and eye comfort to help protect you from eye strain.
Camera
The Realme C15 marks another first for the C series by having a quad-camera setup, which is uncommon for the price segment. This handset comes with a 13-megapixel main camera with f/2.2 aperture; an 8-megapixel ultra-wide-angle lens with 119 degrees field of view and f/2.25 aperture; a 2-megapixel black-and-white sensor with f/2.4 aperture; and a 2-megapixel retro camera with f/2.4 aperture.
The primary lens comes with a large aperture to allow more light to come in. It makes it easier to brighten pictures taken during the day. We get good detail out of the shots. There's the tendency to overblow the highlights, so be careful of that. If your photos need an extra boost and you don't want to bother with Pro mode, the Realme C15 also offers Chroma Boost. Sometimes the difference is immediately identifiable; other times, you'll hardly notice the difference.
[sciba leftsrc="https://www.revu.com.ph/wp-content/uploads/2020/08/Realme-C15-sample-picture-in-review-by-Revu-Philippines_flower-auto-mode.jpg" leftlabel="Auto" rightsrc="https://www.revu.com.ph/wp-content/uploads/2020/08/Realme-C15-sample-picture-in-review-by-Revu-Philippines_flower-chroma-boost-on.jpg" rightlabel="Chroma Boost enabled" mode="horizontal" width=""]

Chroma Boost off vs Chroma Boost on
Focusing isn't much of an issue here. If you're curious about the zoom capabilities on the Realme C15, it's as well as you'd expect from an entry-level phone. It goes as far as 4x.
Now, if you want to take wider images, the Realme C15 lets you do so with the ultra-wide-angle camera. With some software magic, edge distortion isn't a problem. Don't expect the images to have more detail than those shot with the primary camera. It's best used in well-lit areas, too.
1st set: Ultra-wide, 1x, 2x zoom, 4x zoom. 2nd set: 1x, 2x zoom. 3rd set: Ultra-wide, 1x
We'll be honest and say we still aren't sure what the retro camera brings to the table. But Realme claims that the lens, along with the B&W sensor, helps produce more artistic portraits.
In our review guide, Realme explains it: "These two lenses could reproduce portraits in black and white with higher exposure and enhanced contrast between light and dark parts of the images. In the Portrait mode, exposure, color temperature, hue, and other parameters are repeatedly fine adjusted. In conjunction with the simulation of master portrait works, photos are tuned to retro-film style with wide applicability, adding texture to the final portrait-style photos."
Auto vs Portrait
As for videos, you can record in 30 frames per second in either 720p or 1080p. There doesn't seem to be any stabilization on board, so you'll need a tripod or gimbal if you want to record steady clips.
[sciba leftsrc="https://www.revu.com.ph/wp-content/uploads/2020/08/Realme-C15-sample-picture-in-review-by-Revu-Philippines_night-auto-mode.jpg" leftlabel="Auto" rightsrc="https://www.revu.com.ph/wp-content/uploads/2020/08/Realme-C15-sample-picture-in-review-by-Revu-Philippines_night-night-mode.jpg" rightlabel="Night Mode enabled" mode="horizontal" width=""]

Auto mode vs Night mode
It's nice to see Night Mode in a budget device. While the promise is for brighter and clearer photos, we noticed that since it would try to get rid of the grain, the pictures become darker.
Other sample pictures captured on the Realme C15's rear-camera system
With the front camera, we get clear selfies that are a bit on the softer side, even when you don't have the beautification filter on. It gives off a bit of a dreamy look to your photos. Selfie portraits are pretty much hit-or-miss, with the camera blurring out bits of hair inconsistently.
Auto, with beauty filter, Auto, Portrait
And one more selfie, posted in our Instagram account August 18th. This one was taken in Portrait mode
Performance
The Realme C15 runs on the budget-gaming-focused MediaTek Helio G35. It is an eight-core 12nm chip that clocks up to 2.3GHz and adopts the Cortex A53 structure. It runs on the same processor as the recently launched Realme C11.
It works well for typical smartphone users as it can handle most of the widely used mid-to-heavy apps and games. Don't expect this handset to be groundbreaking. At the very least, you can play a lot of the popular games in mid- or high-quality settings without wanting to pull your hair out of frustration.
The Realme C15 can handle a lot of the popular games in mid- or high-quality settings
We were able to play Asphalt 9 in high visual quality settings without trouble. It heated up once while we were well into playing a couple of hours of Cooking Battle. But for the most part, it ran the applications we needed it to, from social media apps, email clients, streaming apps, and the like.
It's not the speediest smartphone, and benchmark scores might reflect that. But its real-life use has proven enough for casual use. First-time smartphone owners will get more than enough power out of the Realme C15.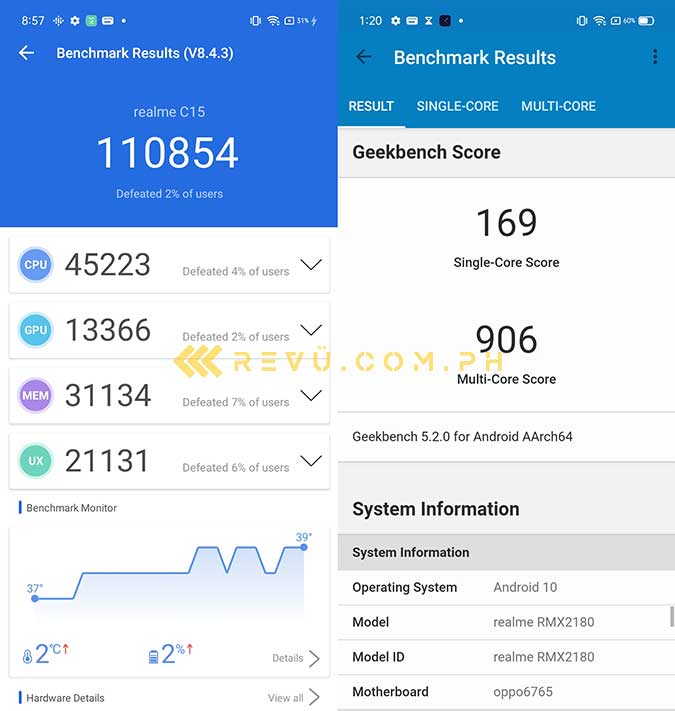 Realme does help improve the performance of this handset, though. It offers better performing LPDDR4X RAM. Compared with LPDDR3, graphic performance is enhanced by 20% and RAM performance by 100%.
And to help provide its users a closer-to-stock-Android experience, the Realme C15 is skinned by the Realme UI based on Android 10. There aren't too many unnecessary preinstalled applications on the phone, and most of the default apps are Google apps, which will help those reliant on Google's ecosystem.
Regarding connectivity, the Realme C15 supports VoLTE, 2.4G Wi-Fi, and Bluetooth 5.0, which we expect at the very least from a 2020 device.
SEE ALSO: New Realme C12 is like the Realme C15. How do they differ?
The C15 comes with the useful Dual Mode Music Share feature, which makes it easier to share songs and even videos on the phone. It can connect to wireless earbuds and wired earphones simultaneously, allowing you to hear the same song and video played from the same device. It even works when one user is taking a call through Bluetooth and the other is listening to music through the same phone.
This handset also supports the Realme UI's Personal Information Protection function, which provides empty information pages when apps request access to your personal information. The feature ensures your call history, messages, and contacts are kept private.
Battery
Battery performance is where the Realme C15 really shines. If being able to go through long periods without needing to charge is important to you, this phone is for you. With a massive 6,000mAh battery, we could already predict that the Realme C15 can last you a long time. When we ran the PCMark battery test on it, we achieved a total of 20 hours and 34 minutes, which is impressive.
We checked in around the 10-hour mark while we tried to run down the battery, and we were still at 45%. We were using the phone most of the time since we took it off the charger for everything from hours of gaming, watching videos, listening to music, and answering emails. If you're a bit more prudent, we're sure you can use the Realme C15 for two straight days without charging. The company promises a super-long 57-day standby with this handset, after all.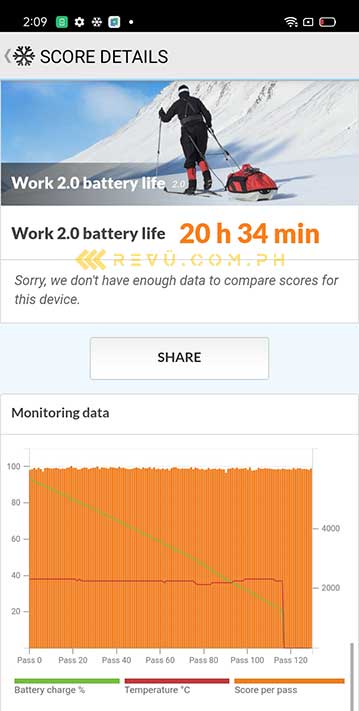 According to Realme's testing, you can get 28 hours of YouTube, 10 hours of PUBG, 60 hours of Spotify, 23 hours of Instagram, and 46 hours of phone calls from the C15. And we won't be surprised if you achieve these results.
You can stretch battery life further with the help of software optimization. The Realme C15 comes equipped with App Quick Freeze and Screen Battery Optimization. App Quick Freeze can smartly freeze less frequently used apps to idle background-app power usage. Screen Battery Optimization can slightly lower some display effects automatically to increase battery endurance.
The Realme C15 also offers Sleep Standby Optimization, which lets the phone save more battery when not in use. The handset has the usual Power Saving Modes, which can lower the screen brightness, shorten auto screen-off time to 15 seconds, and disable background sync to lengthen battery life.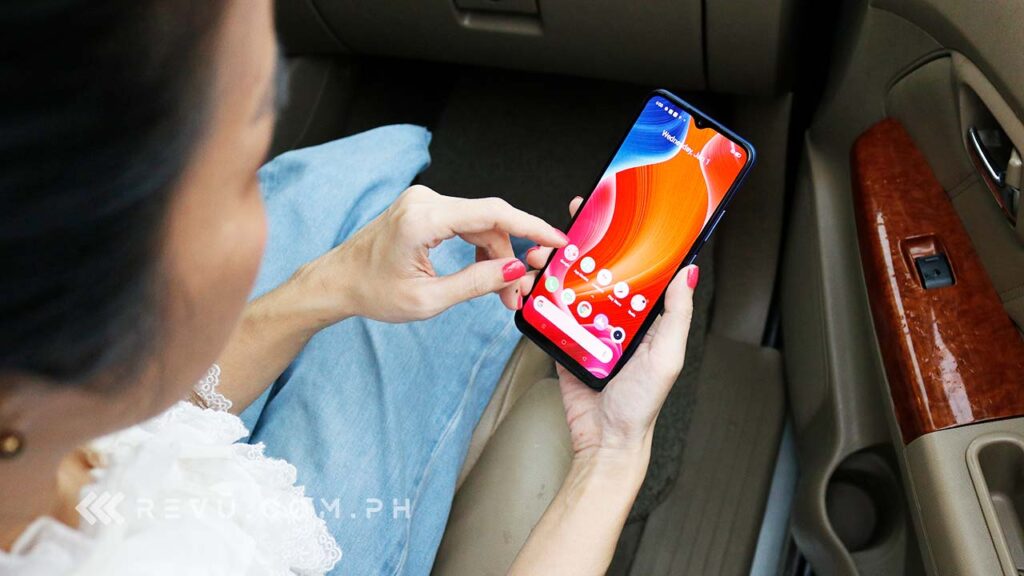 With its battery capacity, it is not surprising that it takes us around four hours to charge the Realme C15 fully. While the phone comes with an 18-watt charger, it still uses microUSB, which has slower charging speeds. Realme promises to get you up to 25% in just 30 minutes of charging, but we fell short at around 20%. It's not bad, but the Realme C15 is the type of phone you leave alone to charge.
Slow charging time aside, the phone does support reverse charging, effectively making it like a power bank, too. This feature will come in handy when you don't have any other power sources with you. Of course, you'll need to buy the proper adapters, which doesn't come with the phone.
Final thoughts
The Realme C15 is a reliable and sturdy starter smartphone. It delivers as well as it can, given its price constraints. Realme squeezes out as much as it can from the C15, but it does not pretend to be anything other than a budget device. If you need a handset that can last you a day or two and don't require too much from it, the Realme C15 is for you.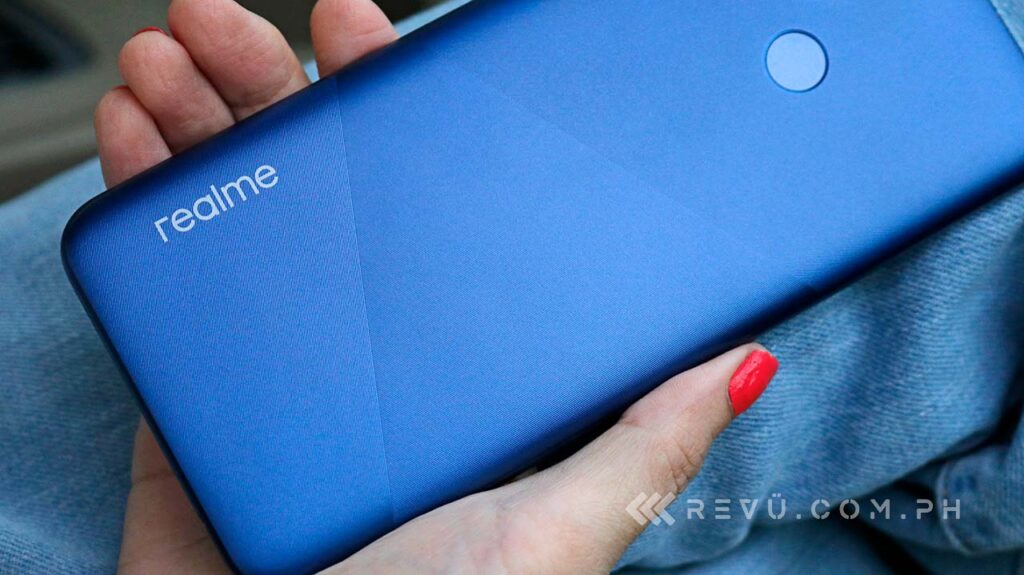 Realme C15 specs
6.5-inch waterdrop HD+ LCD display, 88.7% screen-to-body ratio, Corning Gorilla Glass
MediaTek Helio G35 processor
3GB/4GB RAM, LPDDR4X
64GB/128GB storage
Quad 13-megapixel main (f/2.2), 8-megapixel ultra-wide-angle (119 degrees field of view, f/2.25), 2-megapixel black and white (f/2.4), and 2-megapixel retro (f/2.4) rear cameras
8-megapixel front camera
6,000mAh battery with reverse charging, 18-watt Quick Charge
Fingerprint sensor (rear-mounted)
3.5mm headphone jack
Realme UI based on Android 10
Colors: Seagull Silver, Marine Blue
---