One of the things we realized in our current situation now, quarantined and forced to spend a lot more time at our home office, is how much we rely on our smartphones not just for the most up-to-date information, but for entertainment as well. And on the gaming front, mobile has been our go-to option.
This despite owning a couple of Nintendo Switch consoles and a PC that can play most modern games at decent frame rates. Throughout the time we have spent holed up in one place during the Luzon-wide lockdown, we found ourselves gaming on our Huawei Nova 7 SE 5G more often than on any other platform.
The Nova 7 SE, if you're not familiar, is the latest midrange phone from Huawei and boasts impressive specs, including the 5G-enabled HiSilicon Kirin 820 chipset and a 64-megapixel main camera, which is the highest we've seen on a Huawei phone yet. It has a 6.5-inch full-screen LCD with a punch hole for the selfie camera. It packs a 4,000mAh battery, too, with support for flagship-grade, 40-watt fast charging baked into the hardware.
SEE ALSO: Huawei Nova 7 SE 5G vs Samsung Galaxy A71: Cosmic showdown between top midrange phones
All this for just P17,999, or around $370 converted, at local retail, making the Huawei Nova 7 SE the most affordable phone in the Philippines that can connect to 5G networks for super-fast downloads and much lower latency when playing online games.
Which brings us to this point: If you already own a Huawei Nova 7 SE, or if you're looking to get it sometime soon, you might be wondering what are some apps and graphically impressive games you can install on your device. Below, we list our personal favorites, which you can download for free from the Huawei AppGallery on your Nova 7 SE 5G and other Huawei handsets you may already own.
Or if you want to skip to the good stuff now, check out our gameplay video showcasing the games we mentioned here.
Gaming-test video: PUBG Mobile, Mobile Legends: Bang Bang (5:00 mark), and Black Desert Mobile (10:00 mark)
Speedtest by Ookla
There are a lot of apps that can test your internet speed in real time, and one of the most popular options out there for Android devices is the Speedtest app by Ookla. You may have already heard about the company since it is often used and referenced as a source by local internet service providers, including Globe Telecom, Smart Communications, and PLDT.
We usually run Speedtest to check for irregularities on our home network, but we also use it to test 5G speeds where available. We last used it for a 5G speed-test article featuring the Nova 7 SE. You can check the results in the video below, or you can see more tests as well as our impressions in this article.
5G speed test on the Huawei Nova 7 SE
The bottomline is this: 5G speeds are much faster than what we normally get on our 4G devices. Our Nova 7 SE hit 200Mbps, which is two times faster than our fiber-based broadband, and yet it's only scraping the surface in terms of what 5G can theoretically deliver. On top of that, 5G connections offer lower latency that's important for online games that reward precision and quick reactions.
With 5G, digital experiences will be transformed, as things like streaming media and video conferencing will be sharper and buffer-free. You'll also enjoy seamless interactions when using certain apps on your device as well as cloud gaming on the go.
Speedtest is free to use and ad-supported, but you can pay for a premium subscription to remove ads and use the in-built VPN service without a time limit attached to it. Exact pricing varies depending on your region.
Antutu Benchmark
One of the most popular tools for mobile devices, Antutu is our de facto benchmark app. Perhaps the same can be said for many tech reviewers as well. Its developer also publishes monthly rankings on its website to give consumers an idea of where a particular device stands in terms of overall performance.
Getting a high Antutu score is synonymous with fast specs and equally speedy performance, and the Kirin 820-based Huawei Nova 7 SE 5G delivers both impressive scores and the speed to match. Our review sample even managed to outscore the P30, which is powered by last year's flagship Kirin 980 processor. And compared to many other phones sitting in the midrange category or higher, the Nova 7 SE outmatched its competition in the recent Antutu rankings.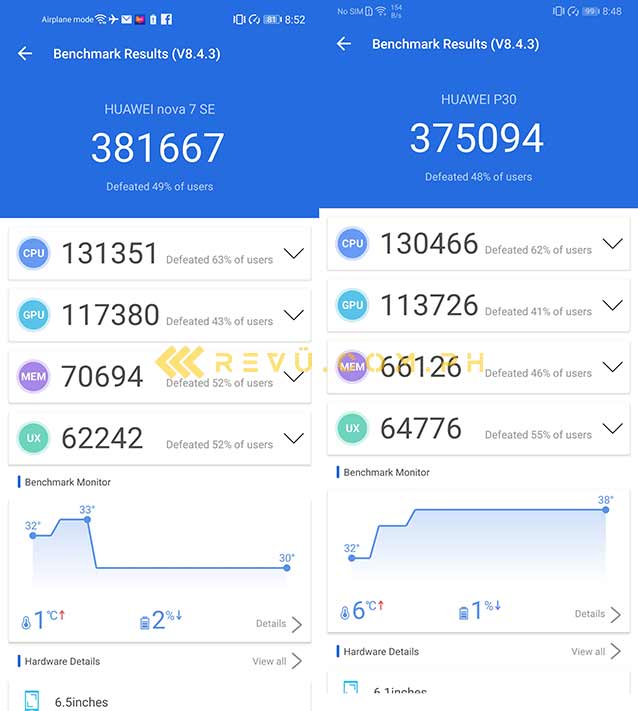 Free Fire
For those not familiar or new to the genre, Free Fire is an online battle-royale game much in the same vein as PUBG Mobile and, to an extent, Fortnite. It is published by Garena, which operates League of Legends, Call of Duty: Mobile, and Arena of Valor. The objective here is to loot, survive, and be the last player or team standing, using a huge variety of weapons and vehicles at your disposal.
The action can get hectic fast, but is also a lot of fun especially if you're playing with friends, and the Huawei Nova 7 SE 5G runs the game at consistently fast frame rates to keep up with player movement. While not the prettiest game around, the graphics look really good at high settings, which the phone supports.
Free Fire is free to play, although you can spend real money to get exclusive skins, costumes, and other cosmetic upgrades for your weapons. The game boasts a fairly large player base as well, so matchmaking isn't going to be a challenge for pick-up-and-play PvP.
Testing another set of games on the Huawei Nova 7 SE 5G: Free Fire, Creative Destruction (3:00), Mobile Legends: Bang Bang (6:00 mark), and Asphalt 9 (9:00 mark)
Creative Destruction
Published by NetEase, Creative Destruction is a sandbox survival game that can also be described as a fun Fortnite clone for mobile gamers. Between the building mechanics and off-beat character and weapon models, the similarities to one of the most influential games of the past decade are obvious (and probably intentional).
Gameplay is buttery smooth and satisfying on the Nova 7 SE, thanks to Huawei's in-house Kirin 820 coupled with a powerful six-core Mali-G57 GPU with support for GPU Turbo and Kirin Gaming+ 2.0 to make gameplay as fluid and responsive as possible.
Asphalt 9
One of our favorite games on Android, Asphalt 9 is an arcade racer that combines fast-paced, approachable gameplay and great-looking visuals with simplistic controls. More crucially, it runs smoothly on the Huawei Nova 7 SE 5G even when competing against other players in live multiplayer matches.
What's also great about Asphalt 9 is that due to the short length of the races, you can play it in almost any environment — during lunch breaks at work, while commuting on public transport, or while just sitting down and waiting for someone to arrive. You only need a couple of minutes to finish a race.
Like most other apps on this list, Asphalt 9 is free, but actual money can be spent to speed up your progress and unlock exclusive cars and upgrades.
AppGallery and Petal Search for your favorite apps
Again, all the apps listed above are available to download without any pay wall on Huawei's AppGallery. The AppGallery is currently the world's third-largest app-distribution platform, with over 400 million monthly active users worldwide. It saw 210 billion downloads in 2019.
Foodpanda, Zoom, Viber, Lazada, and GCash are just among a few of the essential software you can get from the AppGallery. There are a lot more we haven't mentioned here and in our past articles.
If you're having trouble finding your favorite applications online, you can download and install Huawei's new Petal Search app from the AppGallery to make your life much easier. Once installed, this will allow you to place a widget on the homescreen to act as a search bar for Android apps you can download from third-party sources. It's your gateway to millions of applications.
Petal Search is yet another proof that Huawei has gone the extra mile to make it as convenient as possible for users to install apps on their devices. And just in case it's not on your home screen, you can add the Petal Search widget by simply pinching the home screen and scrolling the Widgets tab to place it on your default page.
Petal Search is yet another proof that Huawei has gone the extra mile to make it as convenient as possible for users to install apps on their devices. Read more about it in How to easily install, update apps on the Huawei P40 Pro Plus, other newer Huawei units using the new Petal Search widget
Huawei estimates that over 90% of the popular apps for Android are fully compatible with its devices. Popular ones like Netflix, Facebook, Messenger, Instagram, and Twitter can all be installed on the Nova 7 SE without any issues as well, while action-intensive multiplayer games such as Mobile Legends and Black Desert Online will run at max or high settings at smooth frame rates.
For online entrepreneurs, there's Kumu, Viber, and Instagram, which have become the go-to platforms for many Filipinos who are looking to buy or sell goods and services online. GCash, PayMaya, and other cashless-payment platforms are available to download on the Nova 7 SE as well. Meanwhile, to facilitate distance learning, students can install Zoom for Android to join online classes and complete assignments.
Huawei estimates that over 90% of the popular apps for Android are fully compatible with its devices. Apps like Netflix, Facebook, Messenger, Instagram, Twitter, Kumu, Viber, GCash, PayMaya, and Zoom can all be installed without any issues
If you encounter any problems, you can always call Huawei's hotline or chat with a customer service representative via the Huawei Support app.
The Huawei Nova 7 SE 5G is now available online and offline in the Philippines at various retailers and Huawei partner stores. It's already one of the best midrange phones on the market today and it will get even more compelling once 5G networks are widely rolled out in several key locations in the country this year.
Huawei Nova 7 SE 5G specs
6.5-inch LCD with punch-hole display, 2,400 x 1,080 resolution (20:9), 60Hz
Octa-core HiSilicon Kirin 820 processor with dual-mode (SA/NSA) 5G
8GB RAM
128GB storage
Quad 64-megapixel, f/1.8 (main), 8-megapixel, f/2.4 (ultra wide), 2-megapixel, f/2.4 (macro), 2-megapixel, f/2.4 (depth) rear cameras
16-megapixel, f/2.0 front camera
Fingerprint reader (side-mounted)
4,000mAh battery with 40-watt fast charging
EMUI 10.1 based on Android 10, Huawei Mobile Services, AppGallery
Colors: Space Silver, Crush Green, and Midsummer Purple
---