The Huawei Nova 7 SE 5G is the most affordable 5G phone we've seen in the Philippines so far, with a suggested retail price of P19,990, or around $407 converted (now P17,999 or 370). Huawei says the midranger is a 5G device aimed at the youth — and we certainly can't argue with that given its aggressive pricing and trendy design.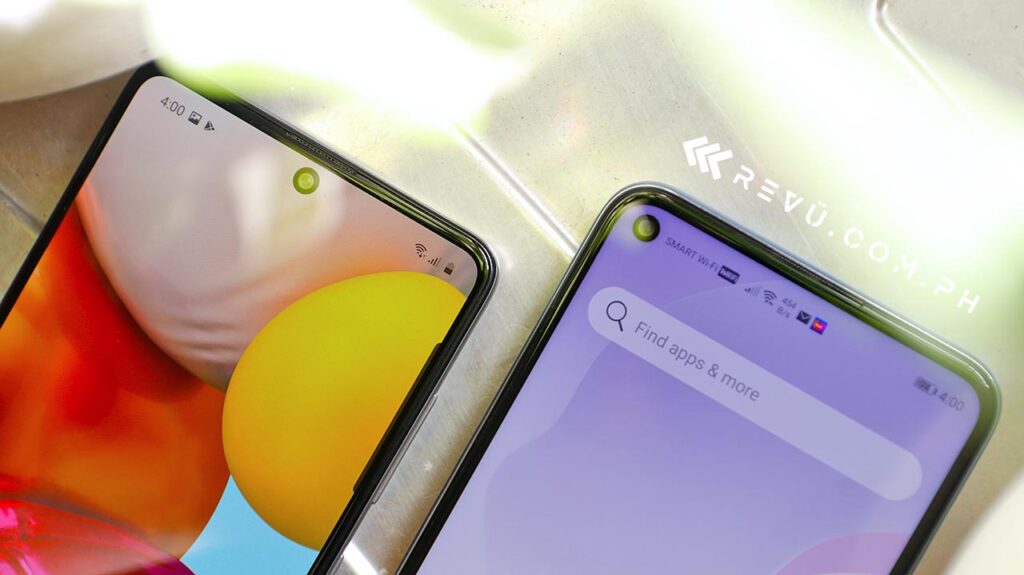 It's feature-packed, sporting quad cameras at the back with a 64-megapixel sensor, a 6.5-inch full-view screen with a single camera hole, the latest HiSilicon Kirin 820 chipset that runs Android 10-based EMUI 10.1, and an all-day battery with 40-watt fast charging built-in.
But how does it compare with Samsung's most formidable midrange offering in the same price bracket — the P22,990 ($468) Samsung Galaxy A71? Can a cheaper Nova edge out a more expensive Galaxy? Which one should you go for? Here's a comparison to help you decide.
Hardware
Both smartphones have a plastic back and frame and feature interesting design choices for their glossy rear panels. The Huawei Nova 7 SE 5G is available in a Space Silver variant with gradient coloring showing hues of blue, silver, and pink. It also comes in a Midsummer Purple color, which flaunts a captivating 3D design featuring the Nova logo running across the back panel.
The Samsung Galaxy A71 is less fancy and offered in Prism Silver and Prism Blue colors in the Philippines. The names are the result of the subtle prism-light effect you see on the rear when light bounces off it at the right angle.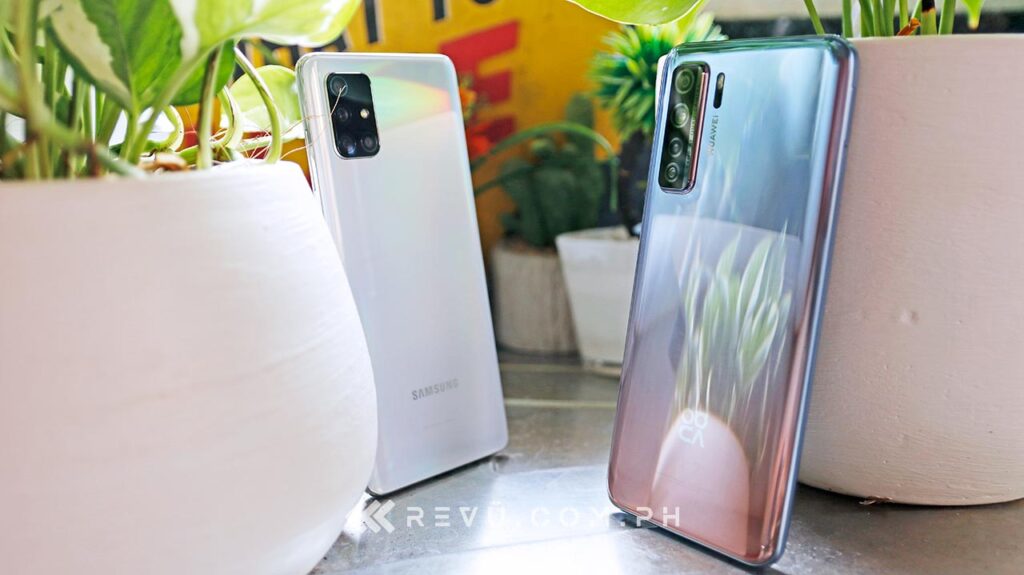 We find the Nova 7 SE to be more attractive, though, especially the Space Silver unit we used in this comparison. And while some may find the Midsummer Purple to be much louder aesthetics-wise, it's one of the few phones on the local market that arrives in a purple color, which smartphone makers don't use as often as we think they should.
In terms of size and weight, both are about the same, although the Nova surprisingly weighs more than the Galaxy despite the latter having a bigger screen and a higher battery capacity. Neither phone is built for comfortable one-handed use.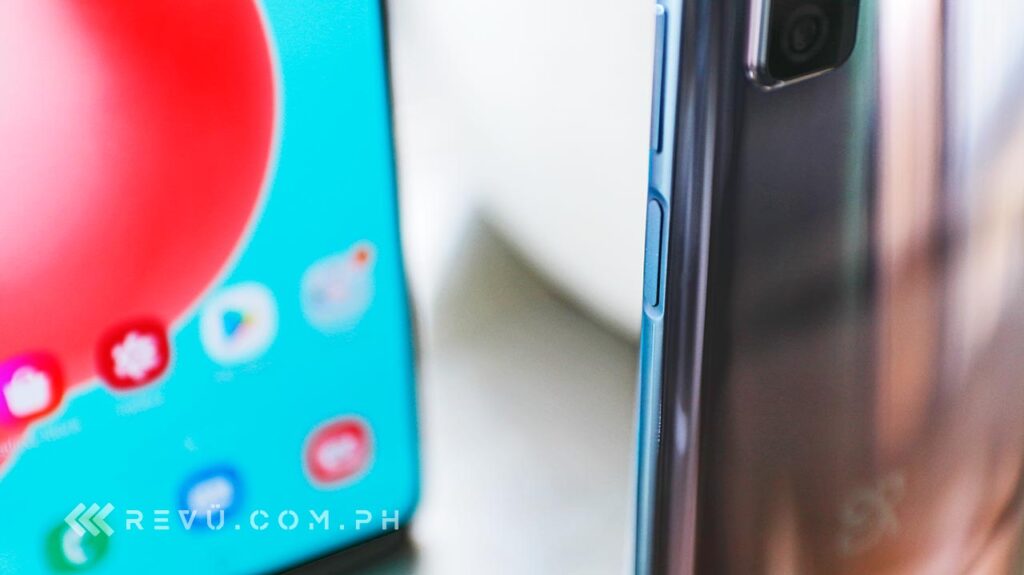 However, when it comes to unlocking using the fingerprint scanner, the Huawei Nova 7 SE 5G should be easier to unlock for righties, as its physical fingerprint sensor is built into the power/lock button along the right side. The Samsung Galaxy A71, owing to its Super AMOLED display, integrates an under-display sensor for fingerprint unlock, which has its own pros and cons, but certainly isn't as fast or accurate as Huawei's physical solution.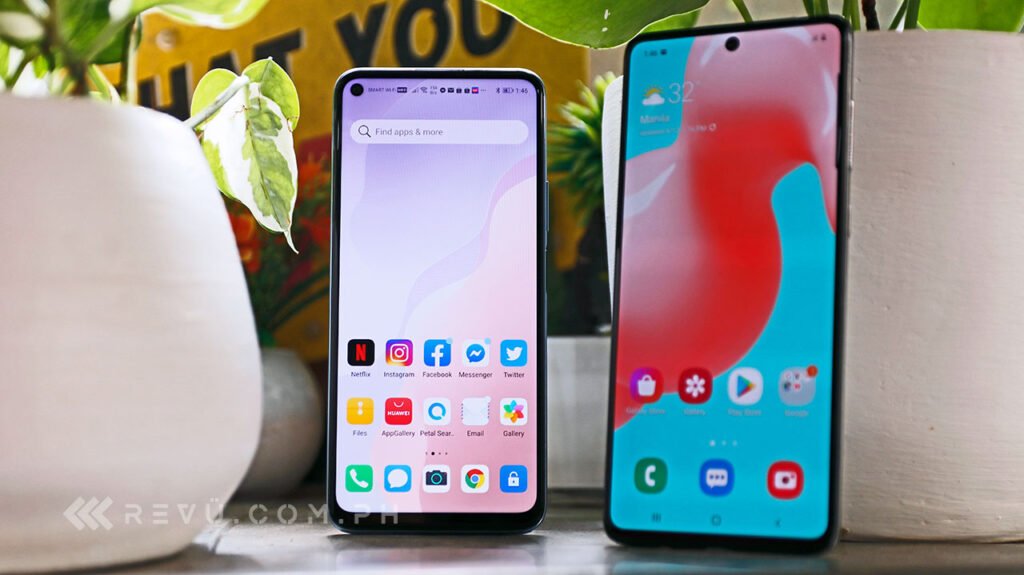 The Nova packs a 6.5-inch, 2,400 x 1,080 LCD screen with a punch hole on the upper-left side. The Galaxy has a Super AMOLED panel with a similar punch-hole design, except the camera hole is located in the upper-middle part of the device. It's more vibrant than what the Huawei phone uses, plus the black levels are much deeper, too. Both panels offer good color reproduction and consistently solid viewing angles.
Camera
The Huawei Nova 7 SE 5G and Samsung Galaxy A71 have quad cameras at the back and a single front-facing camera in a punch hole. Additionally, they are outfitted with a 64-megapixel main camera with f/1.8 aperture lens, as well as dedicated lenses for ultra wide, macro, and portrait.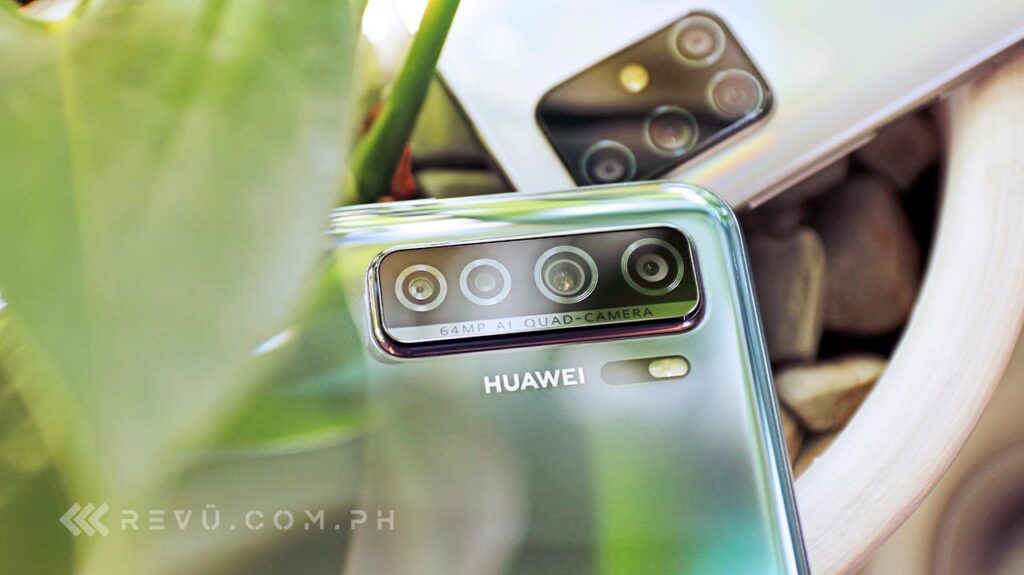 Huawei has established itself as a smartphone-camera powerhouse in recent years, so it's not surprising that when it comes to stills, the Nova 7 SE is the better shooter. The gap actually widens in low light, where Huawei's software-based Night mode allows the handset to take brighter and more detailed pictures.
For selfies, the 32-megapixel camera on the A71 is sharper than the Nova's 16 megapixels, but that doesn't necessarily translate to higher-quality shots, particularly in dimly lit environments. The Huawei also captures better portrait selfies, with accurate separation of the foreground subject and good background blurring.
Pictures shot on the Huawei Nova 7 SE 5G vs those taken with the Samsung Galaxy A71: 1) 2x (macro/macro style); 2) auto, 1x; 3) ultra-wide; 4) auto; 5) night shot in auto mode (this is where the disparity is glaring); 6) night shot in night mode; 7) pro, 1x; 8) pro, 2x; 9) pro, 5x; and 10) selfie
Performance and 5G
The Huawei Nova 7 SE 5G uses a HiSilicon Kirin 820 chipset — the first to do so on the local market. It's also the first midrange chip from Huawei that integrates a dual-mode 5G modem, so you get some future-proofing if network connectivity is important to you as it is to us when we're out and about. 5G is the next-gen standard for wireless networks and is said to be up to 10x faster than 4G.
With a 5G signal, you can browse the internet at fiber-based-broadband speeds; download and stream games, videos, and other content at the highest quality available; and play online multiplayer games with little to no lag. The Nova 7 SE 5G is compatible with the 5G infrastructure adopted by local telco giants Globe Telecom and Smart Communications — and it's the most affordable device to do so.
READ ALSO: Testing 5G on Globe's network: The future is here and Tested: Smart 5G network on the Philippines' most affordable 5G phone
We're already getting a 5G signal courtesy of Globe and Smart in select areas around Metro Manila, and more 5G areas will go live in the coming months as both telcos continue their rollout plans. And once 5G is available in your area, you don't need a new SIM card — and mobile number — to enjoy 5G speeds on the Nova 7 SE; your existing SIM will do just fine.
Samsung's Galaxy A71 packs a Qualcomm Snapdragon 730G. While it's a decent chip for most smartphone tasks, including gaming, it doesn't offer 5G. It's a lot less powerful than the Kirin 720, too, as shown in our benchmark tests.
Both devices ship with 8GB RAM and 128GB of storage and provide external memory support. You'll need to buy an NM SD card for the Nova to enjoy additional storage.
On the software front, the Huawei Nova 7 SE 5G arrives with EMUI 10.1 based on the latest Android 10 operating system. It doesn't have Google apps and services preinstalled, unlike the Samsung Galaxy A71. Some Google apps like Gmail and YouTube can't be installed on the phone, but you can still access your Gmail and YouTube accounts via Huawei's own Email and Browser apps, respectively. Google Drive and Google Photos are also accessible via a browser, so you don't need to have the apps installed to access your files.
SEE ALSO: How to easily install, update apps on newer Huawei devices, including the Huawei P40 Pro Plus using the new Petal Search widget
You can still install many of the most popular apps for Android on the Nova 7 SE by downloading them from Huawei's AppGallery, now the third-largest app-distribution platform with over 400 million monthly active users worldwide. If an app is not listed on it, there's a good chance you'll find it by using Huawei's Petal Search widget, which you can download from the AppGallery and works like a search engine for Android applications.
We wrote about this topic quite a lot in the past, but the bottom line is that you can still have a smartphone life without Google by downloading apps through a platform such as AppGallery or finding alternatives wherever possible.
Battery life and charging
The Huawei Nova 7 SE 5G incorporates a 4,000mAh battery backup, whereas the Samsung Galaxy A71 is powered by a slightly larger 4,500mAh cell. Both phones have a USB-C interface at the bottom for fast charging and file transfer.
Battery life is pretty good for both devices, enough for a full workday without enabling battery-saving features and making quick trips to the power outlet. Naturally, using 5G data will drain the Nova 7 SE's battery faster. The same can be said about the Galaxy A71 when Always-On Display is running all the time or scheduled.
In the PCMark battery test, the Huawei handset lasted 14 hours and 16 minutes compared with the Samsung, which logged 13 hours and 37 minutes before the battery hit 20%.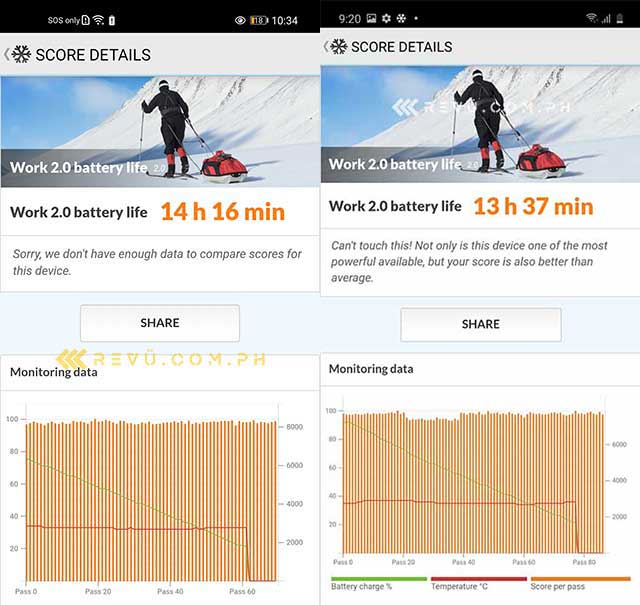 As far as top-ups go, however, it's the Nova 7 SE 5G that has the upper hand — and by a huge margin. This is thanks to Huawei's 40-watt SuperCharge standard, which the unit adopts from the company's flagships, including the Huawei P40, P40 Pro, and P40 Pro Plus. This allows the Nova 7 SE to go from zero to 70% in just 30 minutes, while a full charge usually takes about an hour.
The Samsung Galaxy A71 supports up to 25-watt charging using the included power brick. With the charger, we get from zero to full in an hour and a half. It's not too long, but it is considerably longer than what the Nova is normally capable of.
Which phone do we recommend?
Both the Huawei Nova 7 SE 5G and Samsung Galaxy A71 offer excellent value for money in the segment, with some real plusses in the display, camera, and performance departments. The latter delivers a superior viewing experience overall as well as fingerprint unlocking via a biometric sensor under the display, but the rest of the hardware falls short of what the main competition brings to the table.
Not only is the Nova 7 SE a better-performing device for everyday tasks and gaming, it's a step ahead as a camera phone as well.
Then there's the addition of 5G, which makes it future-proof, as telcos around the world like Globe and Smart upgrade their networks while assuring compatibility with existing 3G and 4G standards. With 5G, the Nova 7 SE can take advantage of broadband-like mobile speeds up to 10x faster than 4G.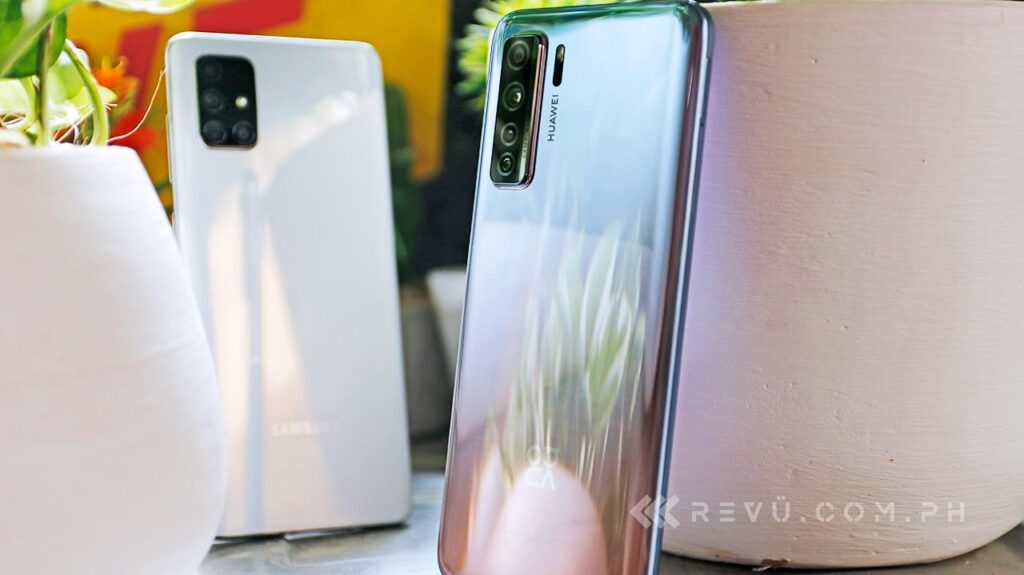 Huawei's most affordable 5G phone is also cheaper than the Samsung Galaxy A71; it's priced at P19,990 ($407) in the Philippines. By contrast, the midrange Samsung holds the same suggested retail price it held when it launched a few months ago — a higher price tag of P22,990 ($468).
Huawei has done it again here, edging out its closest rival in many metrics and at a more wallet-friendly price point. The Nova 7 SE 5G is an excellent phone to go for if you don't have the budget to purchase a Huawei flagship. There's also the Huawei Nova 7 5G, which is priced slightly higher than the Nova 7 SE 5G, but offers better specs, including a faster HiSilicon Kirin 985 chipset, an OLED display with a fingerprint reader underneath, and a telephoto camera offering up to 20x zoom.
Huawei Nova 7 SE 5G specs
6.5-inch LCD with punch-hole display, 2,400 x 1,080 resolution (20:9), 60Hz
Octa-core HiSilicon Kirin 820 processor with dual-mode (SA/NSA) 5G
8GB RAM
128GB/256GB storage
Quad 64-megapixel, f/1.8 (main), 8-megapixel, f/2.4 (ultra wide), 2-megapixel, f/2.4 (macro), 2-megapixel, f/2.4 (depth) rear cameras
16-megapixel, f/2.0 front camera
Fingerprint reader (side-mounted)
4,000mAh battery with 40-watt fast charging
EMUI 10.1 based on Android 10, Huawei Mobile Services, AppGallery
Colors: Space Silver and Crush Green
Samsung Galaxy A71 specs
6.7-inch FHD+ 2,400 x 1,080 Super AMOLED screen
Qualcomm Snapdragon 730G octa-core processor
8GB RAM
128GB storage
Quad 64MP (main), 12MP (ultra-wide), 5MP (macro), 5MP (depth) rear cameras
32MP (main) front camera
Fingerprint sensor (under-screen)
4,500mAh battery with 25-watt USB-C fast charging
One UI 2.0 based on Android 10
---