The 2020 NBA Playoffs is currently playing in Orlando, Florida, despite the situation the COVID-19 pandemic has created for sports. That hasn't stopped 2K from publishing its super team of sports titles, including NBA 2K21 for PC and console.
This year's iteration should prove interesting, as the real-life NBA bubble in Disney World has resulted in another dynamic for the world's most popular professional basketball league. It certainly doesn't help that the league stopped play for months, throwing the season's momentum and fluidity out of the window.
In the Philippines, the standard edition of NBA 2K21 for the Nintendo Switch is out now for P3,190 or around $66 converted. The NBA 2K21 Mamba Forever Edition — which features a custom cover and includes 100,000 virtual currency, MyTeam packs, and other digital items — is priced at P5,390 ($111).
SEE ALSO: Watch: We play 16 games on the ASUS ROG Phone 3 gaming phone
NBA 2K21 attempts to create an oasis for a return to normal affairs, which may prove to be enticing for casual and hardcore hoops fans alike. The NBA can't return to normal yet, but hey, at least we can play basketball as our favorite athletes in packed digital arenas and spend virtual currency to no end. Actually, scratch that last bit. Grinding through different game modes to earn NBA 2K21's currency is no fun, although it seems that 2K has pared back a bit on the microtransactions and pay-to-win mechanics this year.
The Nintendo Switch, which has surged in popularity during the pandemic, is particularly interesting because of the hardware's portability and versatility that make it an excellent platform for casual and family gaming, as well as for hardcore gaming sessions for those who are looking to get the most out of the single-player and online MyCareer mode.
That being said, does the Switch release drop the ball in the face of unprecedented opportunity, or is it a between-the-legs slam off the side of the backboard that gets the crowd off its feet and into the air?
Read our review of NBA 2K21 for the Nintendo Switch to find out. But before we talk about the good stuff, it's worth mentioning here that we reviewed the game on the Nintendo Switch Lite, which is a more portable version of the regular Switch and lacks the ability to output video on external screens. We have yet to play the Switch release on a TV or monitor. So if you decide to pick up the game on Nintendo's platform for living room play, your experience could vary.
NBA 2K21 on the Nintendo Switch Lite: Actual gameplay video
New faces, different places
As with any NBA 2K game in recent memory, NBA 2K21 looks undeniably good — even on the Switch Lite, despite its limited hardware. The presentation this year is also more polished than what we saw from the previous iteration, although we noticed that many of the overlays and graphics, such as the player faces and uniforms, were recycled or upcycled. This makes sense considering NBA 2K's annual release cycle, not to mention NBA 2K21 is also a next-gen title, which, we assume, split the development team into groups.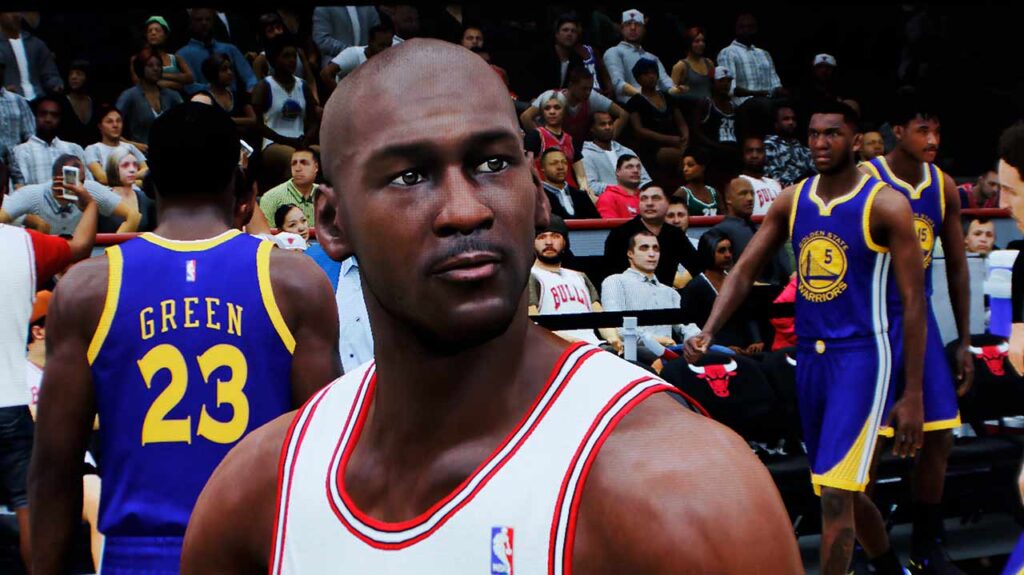 In general, faces in NBA 2K21 will look familiar to those who played last year's installment. However, most of them are done well, so newcomers to the franchise will definitely appreciate how closely they resemble their real-life counterparts. NBA 2K21 is easily one of the best-looking games we've played on the Switch so far. It's also great that the graphics don't look fuzzy, though the Lite's small-ish screen has to take credit for this as well.
The audio presentation is, as usual, solid. The game features voices from actual NBA players, coaches, and broadcast personnel, as well as voice acting from talented actors, such as Michael K. Williams (The Wire), Jesse Williams (Grey's Anatomy), and Djimon Hounsou (Blood Diamond).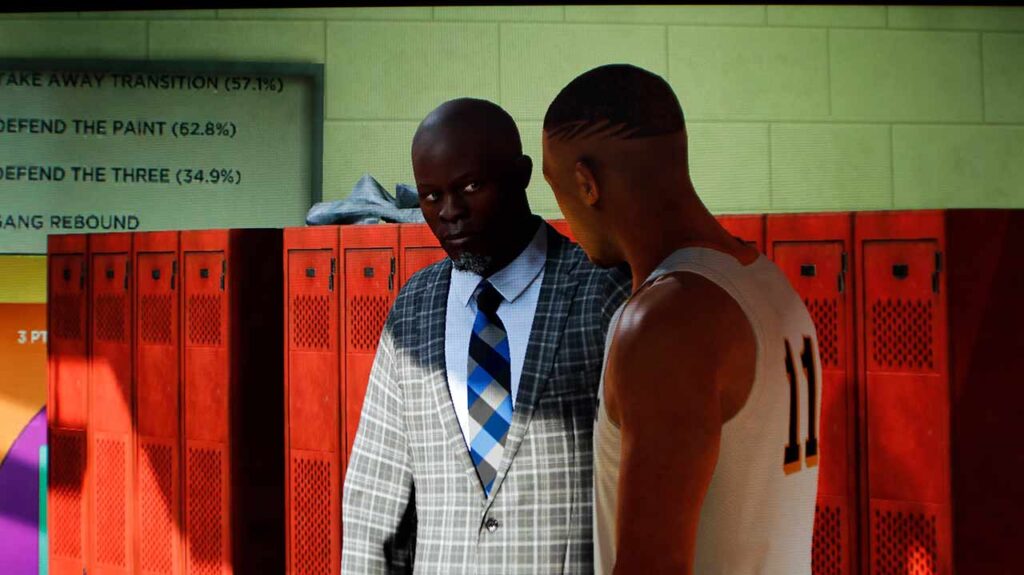 The soundtrack this year includes music from several popular artists and, interestingly, NBA 2K21 cover athlete and Portland Trailblazers superstar Damian Lillard. As was the case with the previous installment, the soundtrack for NBA 2K21 will be updated with fresh music as the year progresses.
The on-court action remains as fluid as ever, perhaps a little more so than usual. There are also several new shooting animations, including James Harden's one-foot running fadeaway. For those who play MyCareer/Neighborhood, there are over 40 new Park Jump Shot Landings to pull off when a player hits from long distance.
About the only time the performance really stutters is during cutscenes in MyCareer mode and in-match interviews that normally occur at the midway point of a game. The lag in MyCareer is unfortunate because it makes the cutscenes — which are, of course, essential to the story — almost unwatchable. We admittedly skipped a few of them, as the low-frame-rate sequences were just painful to watch unfold.
Another thing we'd like to point out about performance is that NBA 2K21, similar to previous iterations, eats battery power voraciously enough that it will be impossible to finish a few matches at 8-minute quarters without plugging in the power cord. So if you're looking to play on the go more often than not, you should have a power bank in your daily carry.
NBA 2K21, similar to previous iterations, eats battery power voraciously enough
The default rosters, as expected, are accurate at the time of the game's release and will be regularly updated throughout the season to reflect the latest signings and trades. Similar to NBA 2K20, the latest installment in the series features all 12 WNBA teams, complete with uniforms for home and away games and recognizable face scans. Even the broadcast team is different for WNBA matches.
You also get 67 classic teams with new additions, including the 18-19 Toronto Raptors, 16-17 Golden State Warriors, and the 2012 USA Basketball led by LeBron James and Kobe Bryant.
The game modes this year are mostly the same as last year's. There's MyCareer, Neighborhood with a new beachfront setting, MyTeam, MyGM/MyLeague, and Play Now, where you can jump into an exhibition game against an AI or a friend online via Nintendo Online or local play.
Authentic feels, but…
As is the case with every release, the gameplay of NBA 2K21 is its main attraction. You won't find close-to-authentic NBA action anywhere else. And this is true for every platform, not just on the Switch. However, playing the game on the console's built-in display might be a problem for some. The text size isn't Switch-friendly either. Those issues can quickly be remedied by connecting to an external monitor or a TV, but, unfortunately, the Switch Lite doesn't offer that option.

The on-court action in NBA 2K21. You can even challenge calls, which could make the difference between winning and losing a closely contested game
And it's not just about the font or its size on the screen. Shooting in NBA 2K is largely determined by proper timing. Releasing a jump shot or layup when you reach the perfect release window on the shot meter scores points, but the Switch's screen size makes timing the release a bit more difficult than it needs to be.
NBA 2K21 puts a bigger emphasis on accuracy this time around, with the introduction of a new shooting mechanic for the right thumbstick. Personally, we think this makes shooting with the thumbstick more difficult for Switch players who are already dealing with limited screen space on their consoles.
READ ALSO: Lenovo Legion Phone Duel gaming phone coming to the Philippines
We're not pros or experts at the game, but despite putting in hundreds of hours in previous games in the series, our first few matches with Steph Curry and the Golden State Warriors had laughable shooting percentages across the board on All-Star difficulty.
Predictably, 2K has released a hotfix across systems to address the shooting woes, although some of our frustrations haven't been eased by the shooting patch. Look, we understand that raining threes as Damian Lillard or Steph Curry shouldn't be automatic in virtual basketball games, but it shouldn't require a lot of skill and luck either.
Newcomers to the franchise better prepare to cut themselves repeatedly on NBA 2K21's sharp difficulty curve, even when playing at the lowest difficulty level (Rookie)
Newcomers to the franchise better prepare to cut themselves repeatedly on NBA 2K21's sharp difficulty curve, even when playing at the lowest difficulty level (Rookie). On the plus side, though, at least they will learn early on that even on a virtual court, moving the ball and finding open teammates for easy points are the foundations of a good offense.
On defense, the game still feels like the offensive side has the upper hand, but not to the point of feeling handicapped every possession. To 2K's credit, this cat-and-mouse aspect of NBA 2K21 is more balanced and rewarding across positions.
With the changes in the shooting mechanics, playing defense feels better in this year's edition of the game, especially online where most players are looking to score from deep as opposed to packing the paint and trying to get higher-percentage buckets. This will help make tall players seem much more valuable on defense as well as on offense than in previous games in which the center and forward positions were grossly underutilized.
Welcome to the pros
We played a lot of MyCareer these past few days, and we have some good things to take away from the experience. If you don't know, MyCareer is like the single-player campaign mode of NBA 2K and features real actors and a sense of narrative.
This year, the story centers on Junior, a natural talent who navigates the challenges of trying to make it to the NBA under the shadow of his late father, who was a legend on the court. Junior's journey takes him through high school, then college, and into the NBA. It's mostly fun stuff, predictable yet still fun. The story is solid, thanks in large part to the voice acting and clocks in at a few hours depending on how many games you play as an amateur.
Of course, you can skip all the cutscenes and make the leap to the pro ranks wearing your favorite team's uniform. However, unless you're willing to spend a ton of real money on 2K's virtual currency to up your stats, you won't be much of a help to your team with your low attributes and lack of badges. The progression system in this year's MyCareer feels more natural and meaningful, and this gives players some incentive to actually play games to earn upgrade points rather than paying for them upfront.
The progression system in this year's MyCareer gives players some incentive to actually play games to earn upgrade points rather than paying for them upfront
While we enjoyed our time in MyCareer, the beach-themed Neighborhood virtual world, where players can use their MyCareer avatars to play pickup games against other Switch users, is largely empty. This is not the case on other systems, so it probably has a lot to do with the amount of people who play on the Switch.
Throughout our review of NBA 2K21, we haven't played a single game on 2K Beach. Not one. And that's absurd for a game that relies so much on a thriving community of players to stay relevant.
Final thoughts
Despite the missteps and lack of online play (though this one's not on the developers), NBA 2K21 on the Nintendo Switch is mostly a satisfying upgrade over what came immediately before. If you own NBA 2K20, we'd completely understand if you skip the latest installment, especially with the next-gen version releasing this holiday season.
If you haven't played the previous game and are looking to get your sports fix on Nintendo's portable platform, NBA 2K21 is a compelling choice. Just don't expect to lose sleep playing online matches.
---