The first batch of Apple iPhone 12 series orders have started arriving in stores around the world for people who preordered the iPhone 12 and iPhone 12 Pro (the iPhone 12 mini and iPhone 12 Pro Max are scheduled to hit retailers beginning November 13).

(Update, November 30: We have the preorder and availability dates for the Philippine market!)

(Update, November 6: Click on this for the iPhone 12 series' official pricing in the Philippines!)

(Update, October 30: Check out our unboxing, initial camera samples, and first impressions!)
As usual, the Philippines isn't included in the initial list of countries getting their hands on Apple's shiny new devices, but that doesn't mean they're not available here — at least unofficially.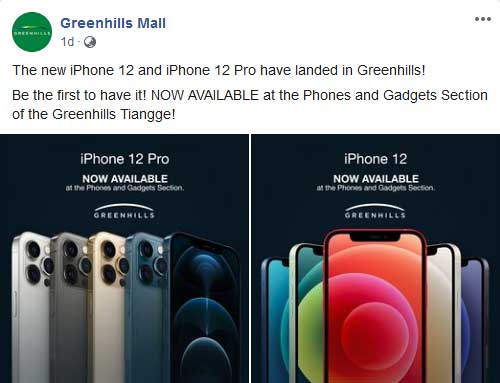 In fact, Greenhills Mall, long a go-to spot for Apple devices and other popular consumer electronics, recently advertised on its official Facebook page that the iPhone 12 and iPhone 12 Pro are now available from a number of vendors. We asked around and found that the prices vary between retailers, so you may want to scour the mall to find the best deals — while wearing a mask and maintaining social distancing at all times, of course.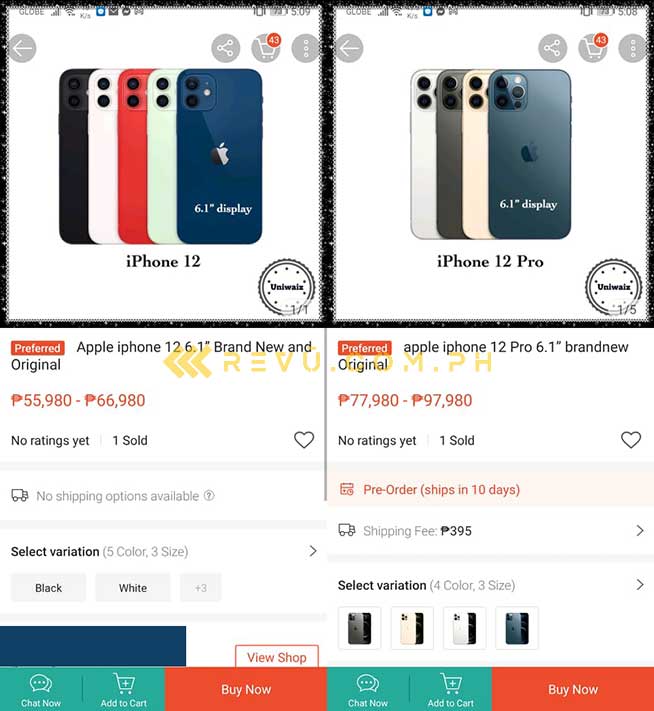 Alternatively, you can go online and purchase an Apple iPhone 12 or iPhone 12 Pro from a gray-market source on Shopee Philippines. Spoiler alert: You'll find lower prices for the iPhone 12 at the Greenhills Mall, while the better iPhone 12 Pro deals are on Shopee. Unfortunately, for reasons that probably have to do with Apple's brand store on Lazada, there are no unofficial iPhone 12 listings on the ecommerce platform.
At press time, the prices look like this:
Greenhills Mall (lowest listed prices)

Apple iPhone 12

64GB: P54,500
128GB: P57,500
256GB: P65,000

Apple iPhone 12 Pro

128GB: P73,000
256GB: P90,000
512GB: P91,000

Shopee (lowest listed prices)

Apple iPhone 12

64GB: P55,980
128GB: P59,980
256GB: P66,980

Apple iPhone 12 Pro

128GB: P77,980
256GB: P85,980
512GB: P97,980
Again, these are from unauthorized sources. The Apple iPhone 12 series hasn't been launched here yet. It's expected to go official in the Philippines in November. Most of the units sold here are either from Hong Kong or China, so they have two SIM-card slots, as opposed to a single-card tray. Another thing worth noting is that we haven't tried 5G on our unit, but we believe it's compatible with local 5G networks.
Finally, if you're getting an iPhone 12 series phone from Greenhills Mall, Shopee, or someone else, be sure to clear warranty concerns first and put them into writing. An official receipt would be nice as well. We're saying this because warranty claims for gray-market devices in general can be a problem later on. So avoid them as much as you can, unless you're also willing to roll the dice for content's sake, like us.
We rolled the dice and took a bite of this Apple :p
Apple iPhone 12 specs
6.1-inch Super Retina XDR OLED screen, 2,532 x 1,170 resolution, HDR and True Tone support
Ceramic Shield glass front
Apple A14 Bionic with 5G (5nm)
64GB/128GB/256GB
Dual 12-megapixel, f/1.6 (main), 12-megapixel, f/2.4 (ultra-wide) rear cameras, digital zoom up to 5x, 4K at 60 fps/HDR at 30 fps
12-megapixel, f/2.2 front camera
Face ID (front camera system)
Up to 15 hours video playback
MagSafe wireless charging up to 15 watts
Qi wireless charging up to 7.5 watts
Wired fast charging up to 20 watts
IP68 rating for maximum depth of 6 meters up to 30 minutes
iOS 14
Colors: Black, White, Product RED, Green, Blue
Apple iPhone 12 Pro specs
6.1-inch Super Retina XDR OLED screen, 2,532 x 1,170 resolution, HDR and True Tone support
Ceramic Shield glass front
Apple A14 Bionic with 5G (5nm)
128GB/256GB/512GB
Triple 12-megapixel, f/1.6 (main), 12-megapixel, f/2.4 (ultra-wide), and 12-megapixel, f/2.0 (telephoto) rear cameras, optical zoom up to 4x, digital zoom up to 10x, 4K at 60 fps/HDR at 60 fps
LiDAR scanner
12-megapixel, f/2.2 front camera
Face ID (front camera system)
Up to 17 hours video playback
MagSafe wireless charging up to 15 watts
Qi wireless charging up to 7.5 watts
Wired fast charging up to 20 watts
IP68 rating for maximum depth of 6 meters up to 30 minutes
iOS 14
Colors: Silver, Graphite, Gold, Pacific Blue
---