The Vivo V20 series comes just a few months after the launch of the V19 lineup, which got its Philippine release delayed because of COVID-19. It's another midrange set that promises an excellent overall smartphone experience.
The subject of this review is the "most basic" of the brood. The Vivo V20 SE doesn't have many of the specs offered on the Vivo V20 and V20 Pro 5G, but a quick spec read shows it isn't going to be a slouch.
Its pocketability and selfie-taking capabilities are the main draws for the phone. But what else does it have to offer? Read on for our full review of the Vivo V20 SE (don't ask us what SE stands for; we don't know).
Price and availability
In the Philippines, the Vivo V20 SE is priced at P15,999 (around $331) for the 8GB RAM + 128GB storage model. You can get it in Oxygen Blue and Gravity Black. Those who preorder the phone till October 29 receive a 12-month warranty, a six-month screen warranty, and a free 10,000mAh power bank. Shipping starts October 30.
Hardware
There's something very familiar about the Vivo V20 SE's design. If you're racking your brain thinking about what it reminds you of, well, it looks pretty much like the pricier Vivo X50. It even has somewhat-similar colorways. It has hints of opal when light hits the plastic back. While glossy matte does attract smudges, these are pretty easy to wipe away.
Vivo boasts about how lightweight this handset is, coming in at only 7.83mm and 171g. It fits comfortably in one hand. While that thinness doesn't consider the camera bump, you aren't exactly holding the phone from that position. It can easily fit into a small purse.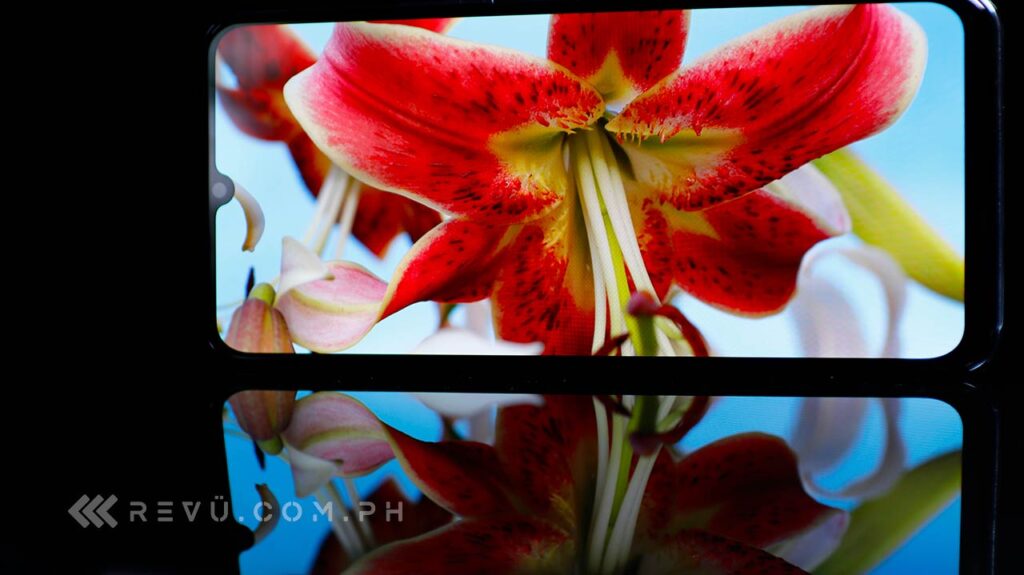 The front of the phone is flat. The waterdrop notch occupies a tiny portion of the phone's top center, allowing you to appreciate and use this display without much of an interruption. By default, most apps don't touch the upper portion, so that won't disrupt your usage. On top of the camera is the thin strip for the earpiece. As with other midrange handsets, it has a pretty chubby chin and slim, barely noticeable side bezels.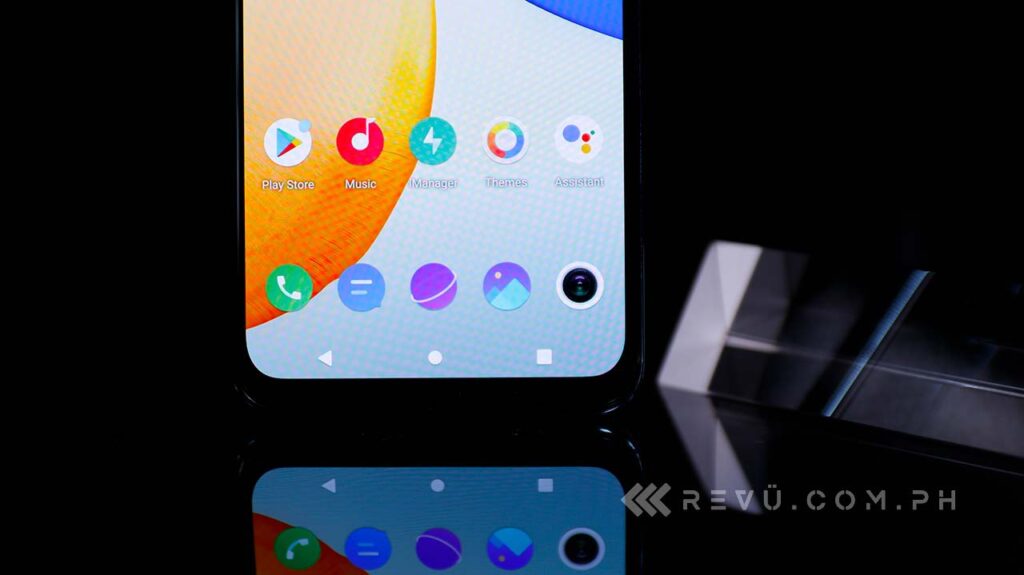 The handset's right side has both the volume rocker and the power button in colors blended into the metallic frame. With the back of the phone curving into the sides, the dual-SIM + microSD card tray is at the top of the phone alongside a second mic.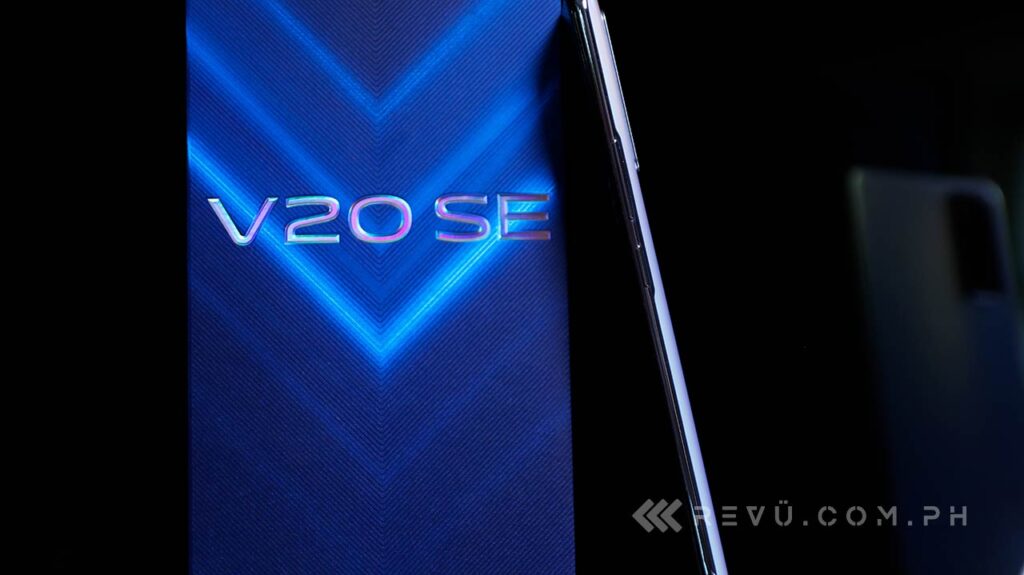 There's a 3.5mm audio jack, USB-C port, mic port, and speaker grille at the bottom. As usual, Vivo keeps things simple for the back of the phone. There's the rectangular camera module at the top left and the Vivo logo at the device's bottom left.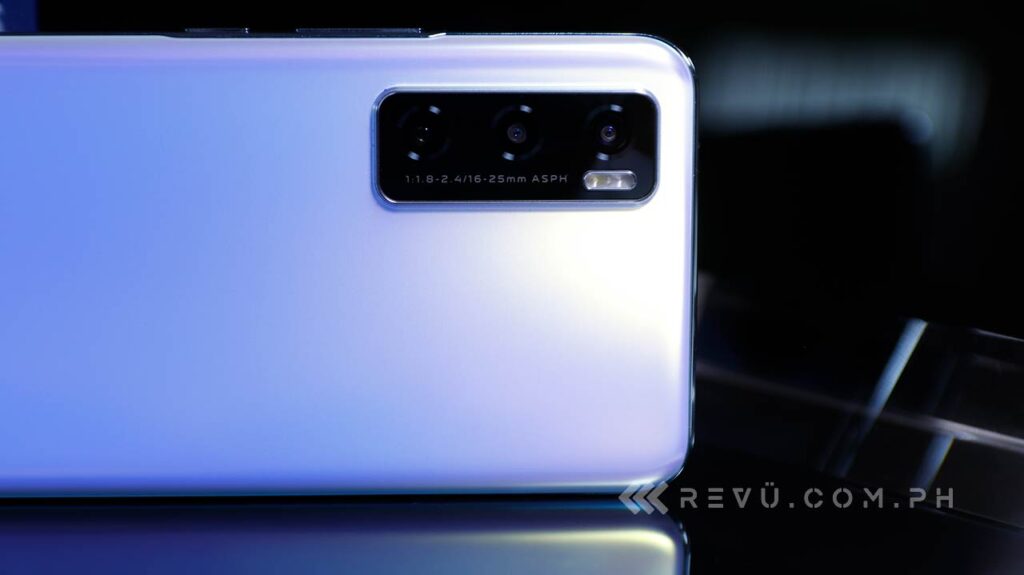 If you're looking for a fingerprint reader, Vivo opted for an under-display one. It worked well combined with face unlock. There weren't any issues with either security options throughout our test. Face unlock worked for us even in dark rooms, while the fingerprint sensor is useful, particularly when we were outside wearing face masks.
Like other newer Vivo phones, the V20 SE comes with ear-customized sound effects for headphones. It's a feature we recommend you tinker around with. While there are sound profiles split by age, try creating one and select Precision mode if you have the time. There's an immediate difference in sound quality. Music comes out crisper and louder since it's tuned to your hearing. It works with both wired and Bluetooth headphones or earphones.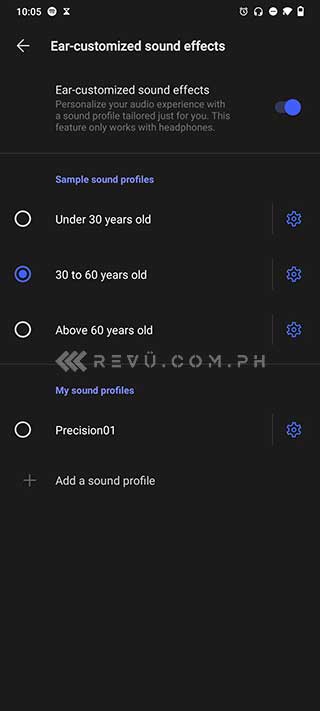 While other manufacturers have started to take out accessories included with its devices, the Vivo V20 SE still has both its charging accessories and wired earphones. They're not the most comfortable ones to use for extended use, but they sound decent, especially if you create your sound profile.
It's a better experience than listening through the bottom-firing speaker. While audio comes out okay, even if you push the volume to the max, it's just not as loud as we want it to be.
What's in the box
Vivo V20 SE
Earphones
Documentation
Type-C to USB Cable
USB Power Adapter
SIM Ejector
Protective Case
Protective Film (applied)
Screen
The Vivo V20 SE has a 6.44-inch AMOLED screen with a 2,400 x 1,080 resolution, a 20:9 aspect ratio, and the standard 60Hz refresh rate. The phone's slimness and compactness make it feel smaller than it is, but then you get a pretty sizable display. We're admittedly missing a 90Hz refresh rate here since we've seen cheaper phones with it. Vivo seems to be sticking with keeping that option available for its more premium handsets.
The V20 SE's display is plenty bright. You get decent viewing angles, excellent and vibrant colors, and adequate brightness. As expected, you'll struggle outdoors when the sun is high and bright, but it's still usable.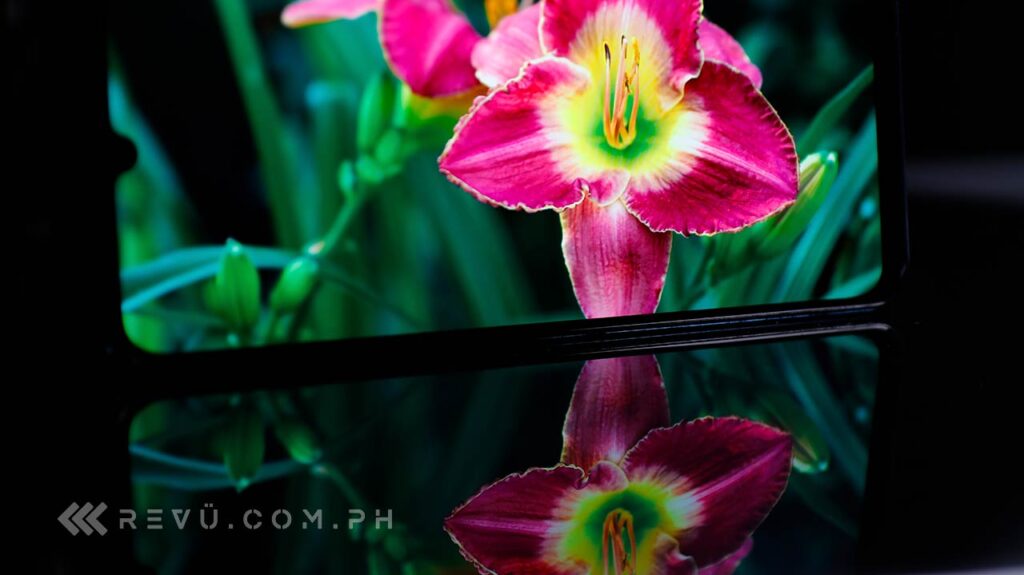 If you like having an Always-On Display option, Vivo offers it with this handset. There's also eye-protection features for those who stay glued to their smartphones and forget to take care of their eye health.
The Vivo V20 SE receives the Widevine L1 certification, which means streaming apps like Netflix and Amazon Prime Video lets you stream in full-HD resolution.
Camera
Vivo equips the V20 SE with a triple camera setup on the back and a solitary selfie camera. The front-facing camera has a pretty high megapixel count with its 32-megapixel f/2.0 shooter. It isn't surprising that the brand is promoting this smartphone's selfie-taking capabilities.
The V20 SE delivers detailed, flattering selfies, which you can enhance with Face Beauty and filters. Face Beauty is accessible through Portrait mode, where you can also toggle Bokeh mode to put you front and center. If posing is awkward to you, Vivo also adds a guide for poses in Portrait mode.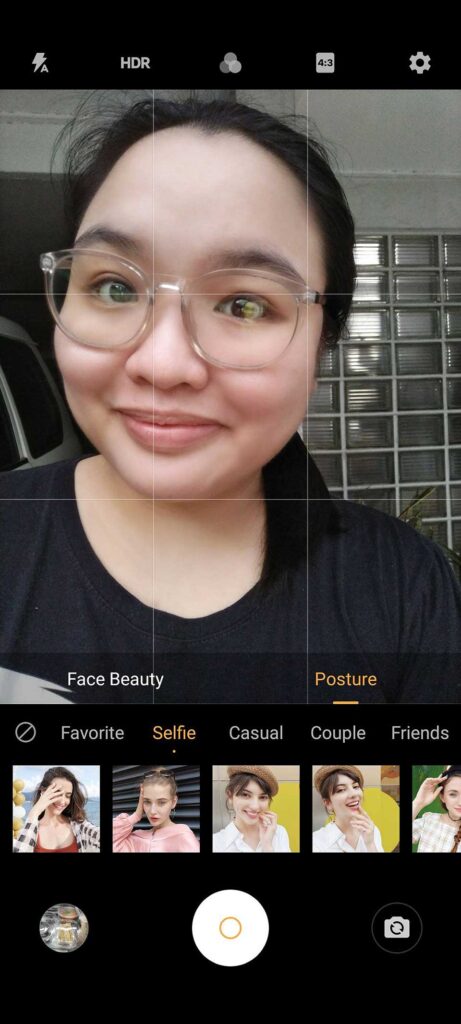 It doesn't just deliver during the day; when it's dark out, you can take advantage of the Night mode. There's an Auto Fill Light feature that amps up the screen's brightness, so the focus is on your face without washing you out. Without it, some software magic still manages to brighten dark spots in the photo and reduce overexposure of highlights to get decent nighttime selfies.
There will understandably be a bit of grain. We used it out in the yard early in the evening, and the picture turned out brighter than we expected. Vivo even lets you use Face Beauty effects in Night mode.
Selfies shot on the Vivo V20 SE: 1) Auto; 2) Portrait with Beauty; 3) Portrait with Beauty and Bokeh; 4) Auto; 5) Portrait; 6) Night mode; 7) Night mode with Beauty; 8) Night mode with Selfie Fill Light
There is no eye auto-focus here for selfie videos, like with the standard V20 and V20 Pro. But even if you take videos in motion, they aren't as shaky as we expected. The maximum video resolution for the front camera is 1080p.
The rear shooters offer even more flexibility when it comes to your photos. The Vivo V20 SE comes equipped with a 48-megapixel main camera paired with an 8-megapixel ultra-wide/macro lens and a 2-megapixel depth sensor. It offers settings like Photo (Auto mode), Night, Portrait, Super Wide-Angle, Bokeh, Super Macro, Video, Pano, Live Photo, Slo-mo, Time-lapse, Pro, AR Stickers, and Doc.
In Auto, we were pretty impressed with the image quality, especially in good lighting conditions. You get sharp, color-accurate pictures with a lot of detail. Lights or highlights will sometimes overexpose. But generally, we got some shareable photos from this handset. It produces 12-megapixel images by default. But you can take advantage of its full 48-megapixel resolution to get more detail in your shots.
Zooming in: 1) 1x; 2) 2x zoom; 3) 5x zoom; 4) 10x zoom; 5) 1x; 6) 2x zoom
The V20 SE lets you quickly zoom in to 2x; you'll need to pinch to zoom beyond that. The best zoom quality you will get is at 2x. There's still a lot of detail while you get up close. It's also a favorite trick of ours to use when taking closeup shots. Super Macro gets the job done, too. But since you're using the better primary sensor, your photos turn out better.
Speaking of macro, images taken in this mode seem to come out a bit darker. Focusing is also troublesome when you're not in a well-lit area. The Super Macro feature uses the 8-megapixel sensor, which is also used for the Super Wide-Angle photos. So, this feature works best in bright environments, too.
Macro shots
Wide-angle pictures come out less detailed than those taken with the primary lens. But again, the focus of this sensor is getting more into your picture.
Auto mode vs Ultra-wide mode
We enjoyed tinkering and using Bokeh mode on this phone. You can adjust the aperture and amount of blur as you shoot. But it can't be adjusted after the fact. You can add on more artificial blur through the Edit feature in Albums, but changing the blur you applied while taking the picture isn't possible.
Auto mode vs Bokeh mode
If you know what you're doing, tinkering around in Pro mode is fun, too. Vivo's Camera app offers a short explainer in this mode for what the settings can do. The company also includes a histogram here, although, you can't save images in RAW. We like using it to try out long-exposure shots at night.
Now, if you're not confident playing around with Pro mode, the Vivo V20 SE comes with a dedicated Night mode. Like the Night mode for the selfie camera, this feature tries to temper overexposure of highlights while boosting the dark areas. We like using it indoors, too, to get some interesting shots. Generally, you get better photos in the dark with this mode than just sticking to Photo/Auto.
Pro mode vs Night mode
Auto mode vs Night mode
If you want to record videos in 4K, use a tripod. Videos are just a bit shakier than those shot in 1080p at 30 frames per second. You can shoot at 60fps, but you're limited to either a 720p or 1080p resolution. The V20 SE also lets you record time-lapse and slow-motion clips.
With Time-Lapse, there are speed suggestions, so you can get the exact clip you want. Time-Lapse also lets you use the wide-angle camera to record. You can shoot in 1080p and 720p. Slo-mo videos record in those resolutions, too, but you can't use the wide-angle lens. It can record 240fps at 720p or 120fps at 720p or 1080p.
Performance
The Vivo V20 SE is powered by a Qualcomm Snapdragon 665 chip mated to 8GB of RAM and 128GB of storage. Found in devices like the OPPO A9 2020, the chipset is a tried-and-tested midrange processor, so we weren't concerned that the phone wouldn't perform well. We wished it did pack a newer chip, though.
Multitasking is an easy affair. Gaming with medium to high settings enabled is possible. We have no crashes or issues to report. It offered stable performance throughout our test.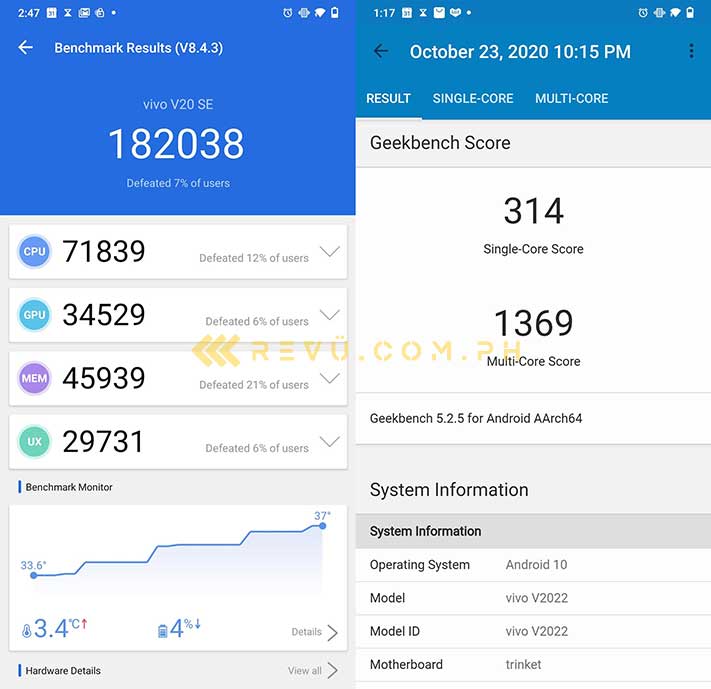 The V20 SE runs on Android 10-based Funtouch OS 11, which ditches the iOS-like swipe up for its Shortcut Center. Instead, we get the conventional pull-down option for Settings and notifications. It also offers an app drawer, which we always look for. And it even has multi-user, which will come in handy for people like parents or guardians who often lend out devices to kids.
Battery
This handset comes with a slightly-small-capacity 4,100mAh battery. But it still manages to give us around seven hours or so of screen-on time. A full work-from-home day will leave us between 10% to 15% at the end of the day.
A full work-from-home day will leave us between 10% to 15% at the end of the day
The upside is the V20 SE supports 33 watts of fast charging with the included power brick. Vivo claims its FlashCharge technology is "now 50% faster and comes with eight safety protections." The promise is getting from 0% to 62% in a mere 30 minutes and up to 100% in less than one hour. We usually achieve around 50-plus percent in 30 minutes and between 55 minutes to one hour and 10 minutes for a full charge.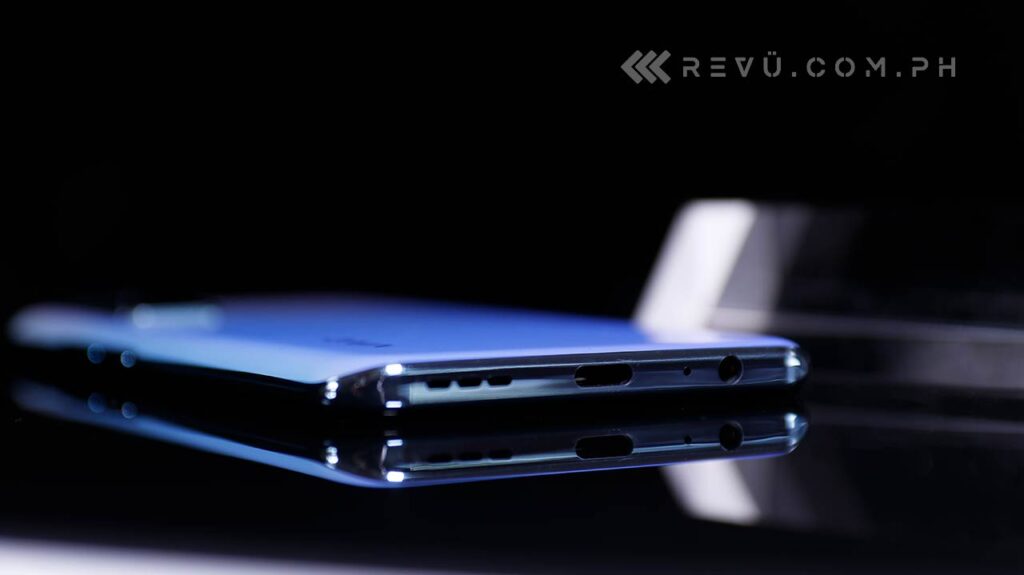 At the time of this review, we had a bit of trouble running the PCMark benchmark test. But we're working on it. So, if you don't see it now, keep checking back for its score.
Final thoughts
The Vivo V20 SE offers a lot of phone in a slim and sleek package. It's a promising selfie-centric device, but it's more than that. It performs smoothly in different use cases, offering the average smartphone user plenty to work with. And when you run out of battery, it charges up quickly, too.
Things we wish made the grade given its price? A slightly bigger battery capacity, a newer processor, and a 90Hz display.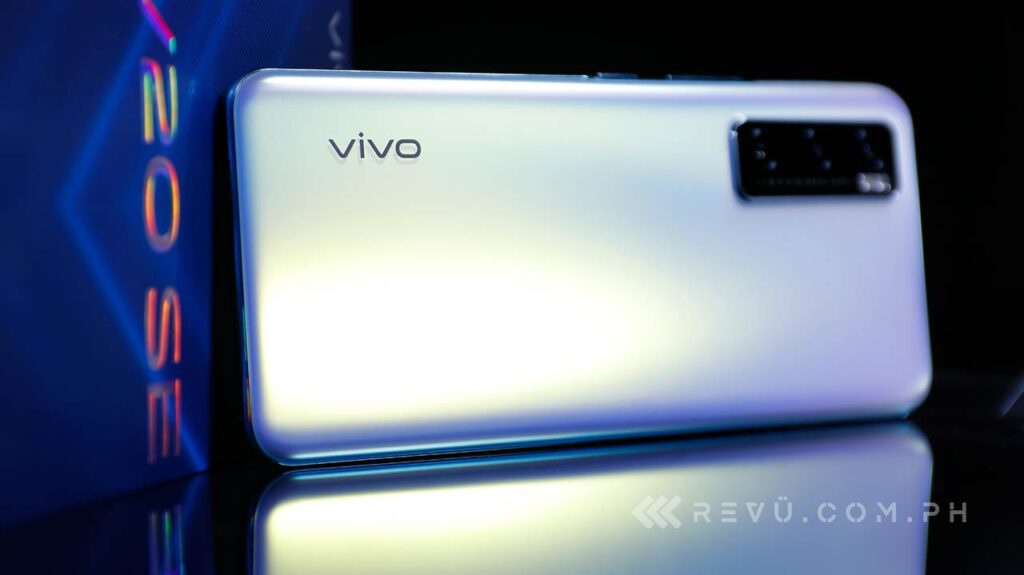 Vivo V20 SE specs
6.44-inch AMOLED display, 2,400 x 1,080 resolution (20:9), 60Hz refresh rate
Octa-core Qualcomm Snapdragon 665
8GB RAM
128GB storage
Triple 48-megapixel, f/1.8 (main), 8-megapixel, f/2.2 (ultra wide), 2-megapixel, f/2.4 (depth) rear cameras
32-megapixel f/2.0 front camera
Fingerprint reader (under display)
4,100mAh battery with 33-watt fast charging
Android 11
Colors: Oxygen Blue, Gravity Black
---