With the holiday season just around the corner, you may be looking for a laptop that's perfect for the whole family. We can't blame you. At a time when many people are forced to work or study from home because of the pandemic, it is indeed a great idea to invest in something you and your loved ones need and not just want. And we may just have the perfect gift suggestion for you.
As part of Huawei Philippines' early Christmas promo for the MateBook D 14, every purchase of the notebook until November 25 already comes with free Huawei FreeBuds 3i TWS earphones worth P5,990 plus a sleek-looking Huawei Backpack that's great for everyday use. What's more, you can pay for it through a major credit card's installment plan.
Available in a premium Space Grey finish, the Huawei MateBook D 14 with an AMD Ryzen 5 3500U processor is priced at P39,990. The Ryzen 7 variant, on the other hand, retails at P42,990.
Sharing and collaborating made easier
The Huawei MateBook D 14 is already an attractive proposition as it is, but if your family owns other Huawei devices, it becomes an even better one.
Thanks to Huawei Share, the laptop has the ability to conveniently share big files with a compatible device like a P or Mate series phone using a combination of Wi-Fi, NFC, and Bluetooth technologies. Think 4K videos and high-resolution pictures you'll take over the holidays — stuff you'd like to share with other loved ones who can't travel to visit your family because it's risky for everyone.
The proprietary feature not only allows your household to do away with wired connections, it's also far easier to set up. Just one tap, and you're good to go.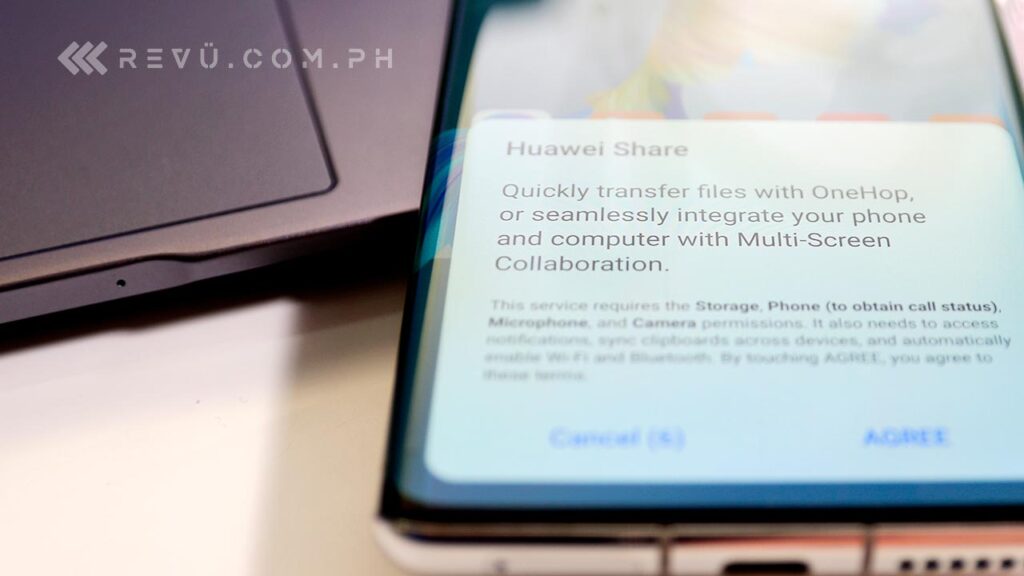 Huawei Share likewise brings the Multi-Screen Collaboration function, which is exclusive to the company's smart ecosystem of products. With Multi-Screen Collaboration, you'll be able to operate your phone from the laptop screen using a keyboard and a trackpad or mouse. This will be especially useful for multitasking on the MateBook D 14's well-sized display. Or for checking messages, alerts, and notifications without unlocking your handset or tablet, like when you're busy following a video guide for cooking a particular dish for Noche Buena.
Seamless collaboration and integration between Huawei devices are hallmarks of every MateBook, and the MateBook D 14 is indeed no exception. So, if you own a pair of true wireless earphones like the Huawei FreeBuds 3i, which are bundled with the laptop for a limited time and work great for private listening and study sessions, pairing should be fast and as easy as opening the charging case near the notebook after the initial connection.
Everything in full view
One thing you'll probably notice at first glance is that the Huawei MateBook D 14 doesn't look like your typical black slab with ugly bezels and the thickness of a book spine when closed. This laptop features a modern design with an upscale metallic finish, Huawei's FullView Display with small bezels at the top and on the sides, and dimensions that allow for comfortable carrying.
The first thing you'll probably notice is that the Huawei MateBook D 14 doesn't look like your typical black slab with ugly bezels and the thickness of a book spine when closed. It features a modern design with a metallic finish, thin bezels at the top and on the sides, and dimensions that allow for comfortable carrying
You can easily close it up and slip it into an average-sized backpack without feeling like you're lugging around a bag of bricks. While that might sound trivial, if you're someone who takes long walks and even longer rides in public-utility vehicles for days when you do need to go out, a lighter load can go a long way for comfort. We know we'd appreciate it.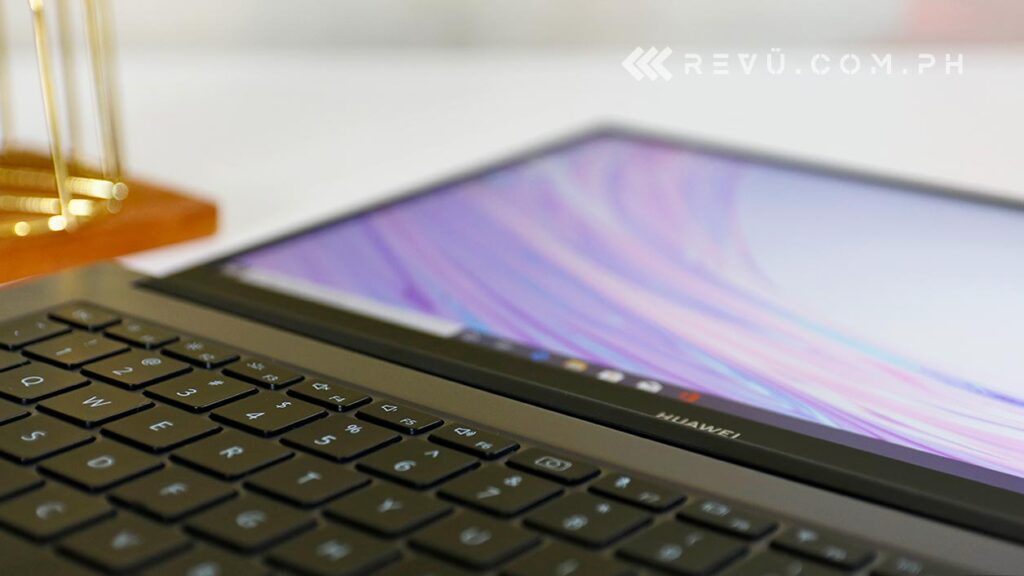 The Huawei MateBook D 14 has a 14-inch FullView Display with 84% screen-to-body ratio, 1080p resolution, and anti-glare protection for improved visibility especially at weird angles. It's great for web browsing, video streaming, and casual gaming. Its aspect ratio of 16:9 and 178-degree viewing angle also make the screen ideal for displaying cinematic content. Binging movies and specials — family-bonding sessions that will be made even more special on your first "quarantined" Christmas together — should prove to be an enjoyable experience for the whole family.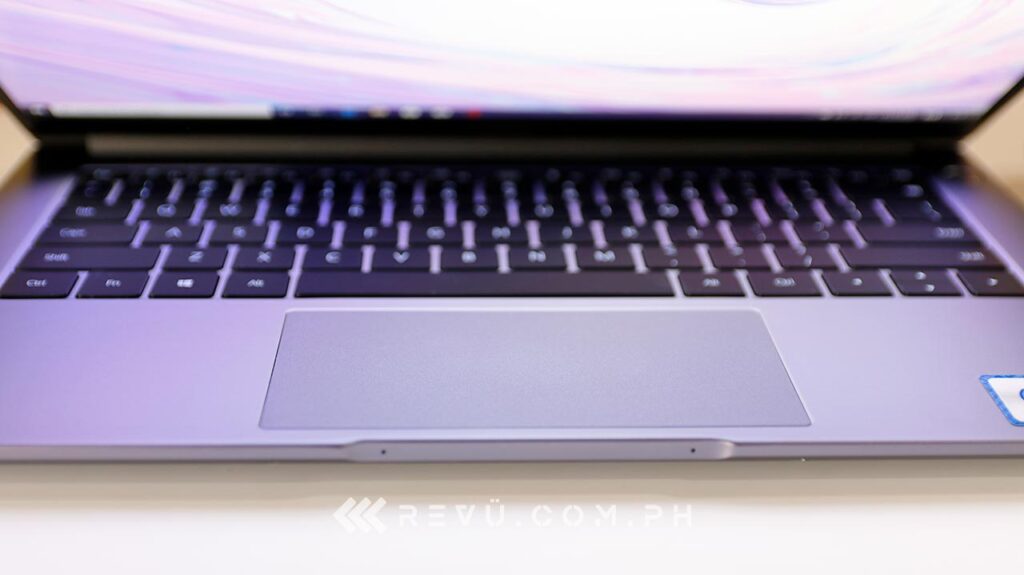 The display is TÜV Rheinland-certified for lower blue-light emission. The wavelength of blue light has been found to cause eye strain and even potential damage to your retina. Low blue light improves eye comfort in dark environments, too. We're sure it's something everyone will appreciate because of the toll that hours in front of a laptop screen can take on our bodies. Somehow, getting the D 14 is like getting the gift of health this Christmas.
Power up
The Huawei MateBook D 14 packs a 56Wh battery backup that gives the laptop enough mileage for a full work day — or a day of catching up on shows your family missed the past few months. Better battery life is always desirable, particularly in today's COVID-19 reality, where people are expected to work or attend classes remotely wherever possible. It's also essential for people who need to frequently travel.
When the battery needs recharging, it can be topped up in a little over an hour via a 65-watt USB-C fast charger. Even 30 minutes of charging can get it to almost 50%. The bundled power brick can also be used to recharge your other USB-C devices, such as smartphones, tablets, and wearables.
The charging voltage is high enough to fast-charge compatible power banks for later use. We found this feature relevant when Typhoon Ulysses hit the Philippines, when we used the MateBook D 14 charger to fully recharge all our power banks at home in preparation for power outages before the typhoon hit.
All the other features your family will love
The Huawei MateBook D 14 has a fingerprint reader embedded in the power/wake button. It supports Windows Hello, which is a passwordless login system that's both convenient and secure. We certainly don't miss typing in our long passwords whenever we boot up our MateBook D 14 unit. Windows Hello can also be used to quickly access some Microsoft services like Dropbox and OneDrive, which are good cloud-storage options for professionals and students alike.
Cloud storage lets you store and access files online securely, making it an indispensable tool for storing the many pictures and videos we're pretty sure you and your family will take over the holidays. For work and school files, such as departmental presentations and school reports, cloud storage allows for convenient file sharing, so everyone can work on the same document or presentation and see all the versions.
Staying on this note, it's worth mentioning that the Huawei MateBook D 14 is equipped with a 2×2 MIMO antenna for better Wi-Fi speeds and coverage. This is particularly useful if a room is too far away from the router or there are too many walls or obstructions separating you from it, which is a common reason for poor Wi-Fi service at home.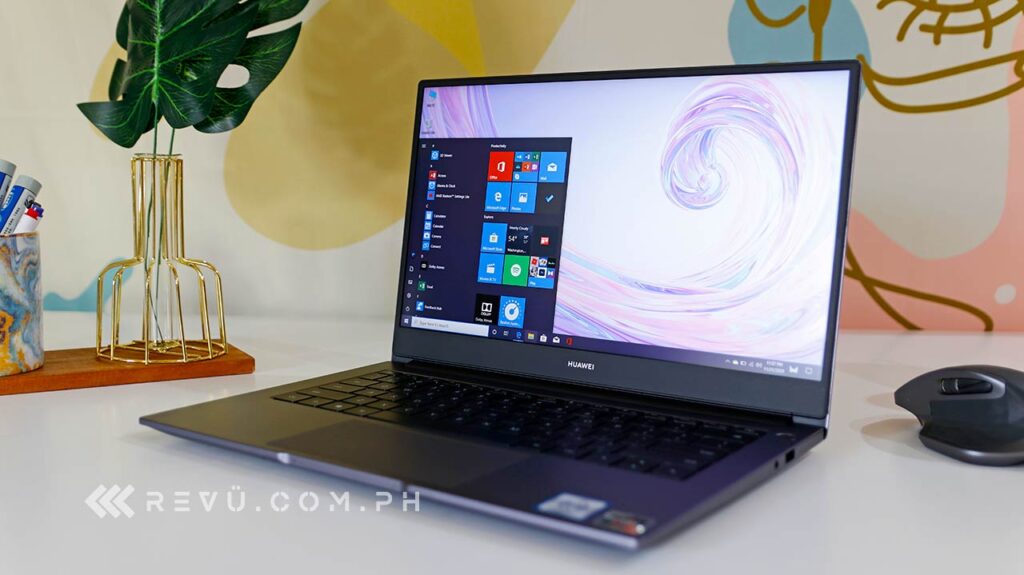 The port selection here is quite generous, unlike on some laptops with a similar price tag. The MateBook D 14 has a USB-C port for charging, two USB-A ports, an HDMI port, and a combo headphone and mic jack for wired audio. The two USB-A connections are great, because you won't need to use adapters to plug in peripherals, such as external hard drives, wired mice, and headsets with sound cards, while the HDMI interface can be used to connect a secondary monitor, ideal for dual-screen presentations.
When it comes to most chores, the Huawei MateBook D 14 is no slouch, thanks to its capable AMD Ryzen 5 or Ryzen 7 CPU, depending on which model you get. It's fast and responsive when running everyday apps, and multitasking is seamless. We've edited some 1080p videos on our unit and have consistently seen smooth frame rates and great responsiveness across the timeline. So if you have plans on making one as a reminder of this unusual Christmas season — and you should! — we say do it; the D 14 won't let you down.
Wrap it with a bow
With the Huawei MateBook D 14, you get a premium-looking-yet-mean Windows 10 machine that, in a way, brings a family together. It combines power with a good screen size for online learning, work, and entertainment in a sleek and portable package — just about everything a modern laptop should be. With or without Huawei Philippines' limited-time offer for it, the MateBook D 14 is still something we'd recommend as a Christmas gift for the family.
With or without Huawei Philippines' limited-time offer for it, the MateBook D 14 is still something we'd recommend as a Christmas gift for the family
---