Earlier this month, we at Revü shared an exclusive on research firm Canalys' latest quarterly findings on the Philippine smartphone market, where we saw Realme took the top spot in the third quarter of 2020.

This time, we have the International Data Corporation's report on our hands. And we find that its findings were quite different from Canalys'. For instance, one vendor, Xiaomi — which happens to be the world's No. 3 globally — did not get into the top 5 despite being a consistent bestselling mobile brand every major monthly sale events of ecommerce sites Shopee and Lazada.
One reason could be because of Xiaomi's offline presence. The company has considerably fewer offline stores nationwide compared with those of the other vendors. Two-year-old Realme, for example, already has 465 kiosks, 119 concept stores, and more than 5,200 partner shops in key areas across the country.
We asked IDC Philippines client devices market analyst Angela Jenny Medez about the research firm's take on Xiaomi, and we're updating this report if and when we get a reply.
(Update, November 26: We got this reply from Medez: Realme has very aggressively expanded in cities outside Manila using online channels, but even more through retail stores across the country, while Xiaomi's expansion is relatively slower even though it posted strong YoY and QoQ growth. Unlike Xiaomi, other vendors in the top 5 have more offline channel reach especially outside of Manila. Huawei's success can mostly be attributed to the Y6p model, which offered very competitive specs in the budget price segment.)
Based on IDC's mobile phone tracker, instead of Xiaomi at No. 5 in the Philippines last quarter, Samsung actually occupied the fifth spot with a market share of 10.1%.
The Korean manufacturer fell 19.5% compared with the same period a year ago, but launching multiple handsets at different price points — such as the Samsung Galaxy A01 Core and Galaxy A11 in the bargain basement and the Samsung Galaxy Note 20 in the flagship segment — drove its shipments up quarter on quarter.

IDC also noted Samsung's increased shipments sold online from July to September, both through third-party online retailers as well as directly.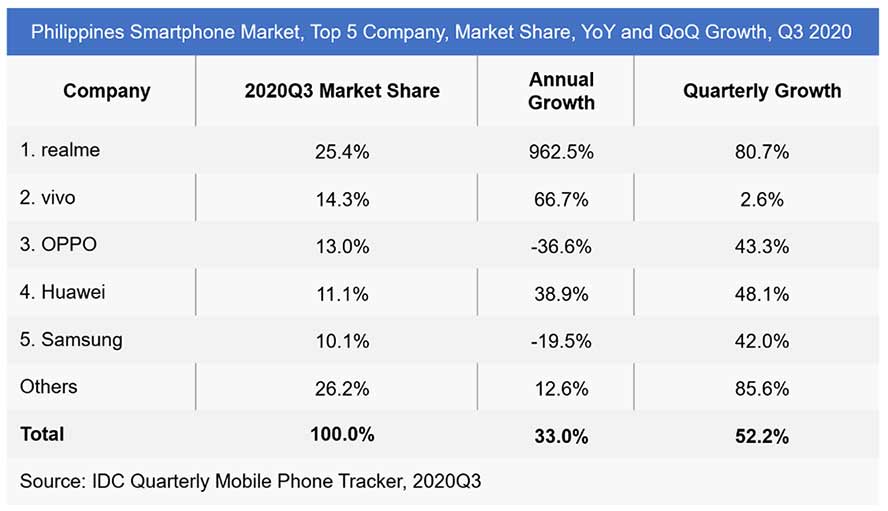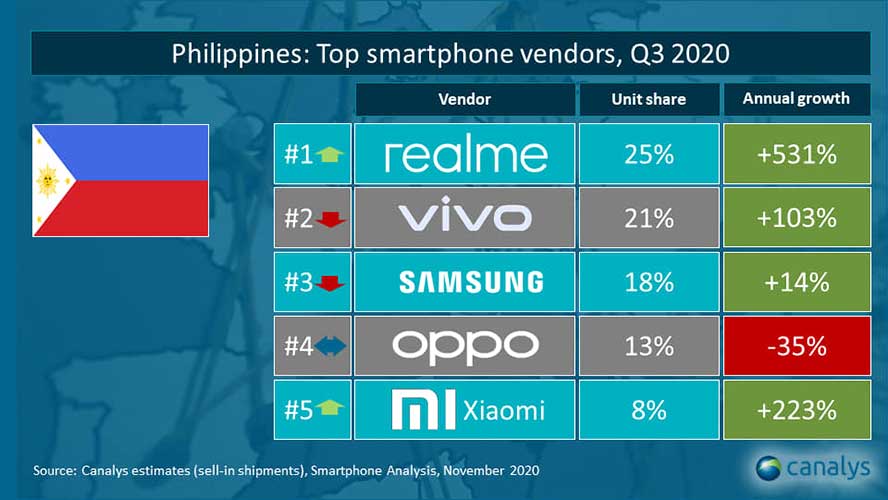 Huawei, which didn't figure in Canalys' report, landed fourth as it focused on the "$100 (around P4,813) to $200 (P9,627)" price segment. More than 60% of the vendor's total shipments in the quarter came from that price range, with the Huawei Y6p and Huawei Y7 2019 driving the volume. IDC also said the brand's "online channel continued to grow as Huawei launched its online store in September."
In third place last quarter was OPPO, which was the fourth smartphone vendor in Canalys' ranking. While its shipments decreased 36.6% year on year, IDC pointed out that it regained some momentum in the mid-level category with the launch of the OPPO Reno 4. The company's bestsellers remained to be the OPPO A12 and A12e budget phones, though.
Where IDC and Canalys agreed were on the first two largest smartphone vendors in the Philippines. In IDC's tracker, Realme was the top handset brand locally, with 56% of its shipments coming from the entry-level C series models: the Realme C11, Realme C12, and Realme C15. It experienced a whopping 962.5% annual growth.
According to IDC, "Realme owed its success to its products' competitiveness and marketing campaigns that included a month-long promotion for young fans." It added that the brand is expected to bring 5G phones starting this quarter, as soon as they receive 5G certification from the Philippine government.
Second-placer Vivo, on the other hand, captured 14.3% of the market with an annual growth of 66.7%. The brand from BBK Electronics — the conglomerate that also owns Realme, OPPO, OnePlus, and iQOO — had the Vivo Y11 as its bestselling smartphone. The said model has been a Vivo chart-topper since its launch a year ago.
You can see more of research firm IDC's report on this page.
---