We've come to expect a lot from Realme, particularly in the budget segment. So when the world's fastest-growing smartphone brand introduced its Narzo lineup of devices earlier this year, we had high hopes.

And now that the Realme Narzo 20 has been officially launched in the Philippines, we can finally see firsthand what the buzz is all about. There's obviously much to like at first glance, not only because the Narzo 20 is one of the most affordable Realme phones in the country, but also because of its notable key selling points, which include a capable processor, a pixel-binning main camera sensor, and a long-lasting battery.
SEE ALSO: Realme now PH's No. 1 phone brand. See the top 5 in Q3 2020
The handset is pretty eye-catching in person, too. Perhaps more importantly, the Narzo 20 promises a midrange gaming experience for much less money than what most midrange devices go for. How well does it deliver, though? Read our full review of the Realme Narzo 20 to find out.
Price and availability
In the Philippines, the Realme Narzo 20 sporting 4GB RAM and 64GB of local storage has a suggested retail price of P7,990, which translates to $165 in U.S. currency. It will be sold as an online exclusive on Lazada on November 11, just in time for the platform's biggest online-shopping event of the year.
Its initial sale price will be P7,490 ($155), down P500 ($10) from its usual cost during the 11.11 sale. Lazada Wallet users can also use a voucher to get P400 ($8.29) off the discounted price, dropping the price to P7,090 ($147) for a limited time. The Narzo 20 is available in blue and silver colors.
What's in the box
Realme Narzo 20 unit
18-watt power brick
USB-C cable
User guide
Warranty card
SIM-eject tool
Hardware
The Narzo 20 resembles other similarly priced Realme releases in size and build. That means it's a sizable handset that makes up for its dimensions with a pretty ergonomic design and comfortable feel. Surprisingly, despite its battery rating of 6,000mAh — one of the highest in the category — the Narzo 20 isn't too bulky and will slide into jean pockets and the like quite easily.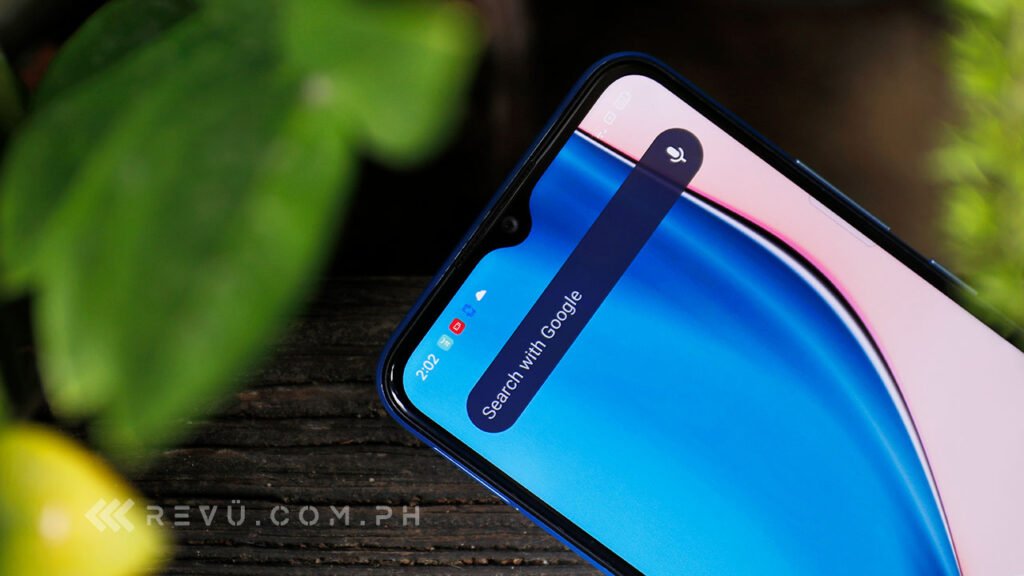 The curvature to the rear panel, in addition to the design, also adds to the feeling that the phone isn't large or hefty, as its high-capacity battery would have you believe. On the back, the Realme Narzo 20 incorporates what the company calls the Victory design, which is supposed to stand for the good performance users will get out of the phone that may very well determine the difference between winning and losing in competitive online games.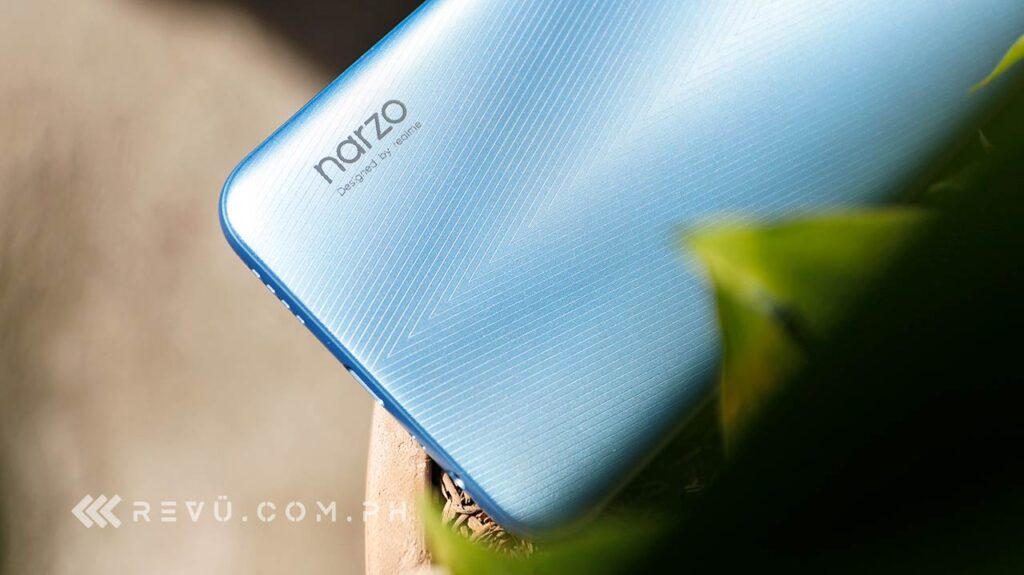 It's a fancy name for a rather fancy aesthetic. The V pattern on the plastic rear is visually interesting, and we like how different it can look depending on the light and angle at which it's viewed. As a bonus, the finish on the plastic doesn't pick up fingerprints easily, which is a big relief for us who take photos of devices for our site and social channels. We wish there were no back-facing fingerprint reader to break the design up a bit, though; Realme could have put one on the side of the handset instead.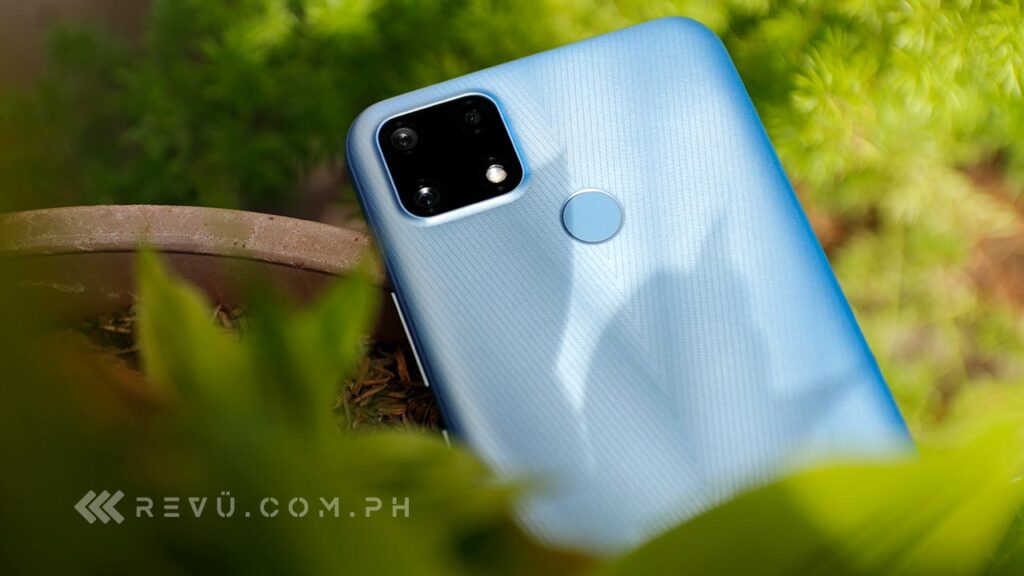 You might say that's nit-picking, but we think it's something to think about. Not to mention, a side-mounted fingerprint scanner would be easier to reach for most people, including us. Another thing worth mentioning here is the camera module, which is square with rounded corners and fits three sensors and a flash. The camera hump is unusually minimal and barely protrudes outwards.
Realme doesn't ship a silicone case with the Narzo 20, so it's a good idea to purchase some protection if you're not confident about how you take care of your devices. You may also want to avoid peeling the pre-installed screen protector from the panel, unless you plan on replacing it immediately.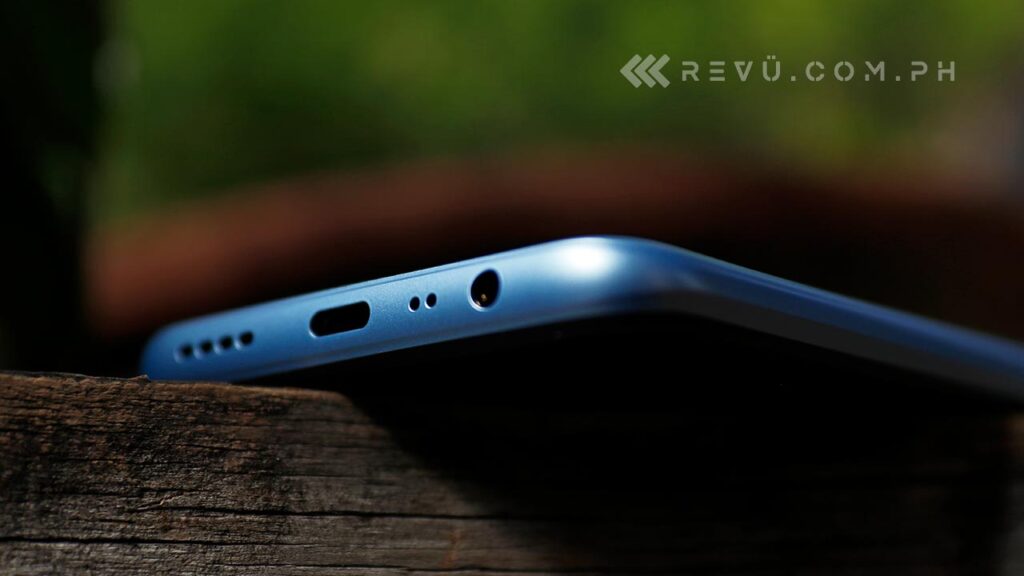 All the physical buttons are on the right-hand side, and as usual, the power/wake key is located below the volume rocker. Taking a look at the bottom, you get your usual mix of ports — a USB-C and standard headphone jack — plus a speaker grill for the mono speaker.
The audio quality is not as technically impressive as on Realme's higher-end devices, but most buyers in this price range probably wouldn't mind the disparity. It's decent for streaming, as well as voice and video calls. For gaming, we still recommend plugging in wired earphones, which, unfortunately but expectedly, are not included in the retail box.
Screen
The Realme Narzo 20 rocks a 6.5-inch LCD display with a 1,600 x 720 resolution and 60Hz refresh. It's comparable to the screen on the Realme 7i in terms of size and picture quality, except the 7i offers a superior 90Hz refresh. The latter is smoother, especially when it comes to navigating areas in the general user interface of the Android 10-based Realme UI skin or scrolling up and down menus.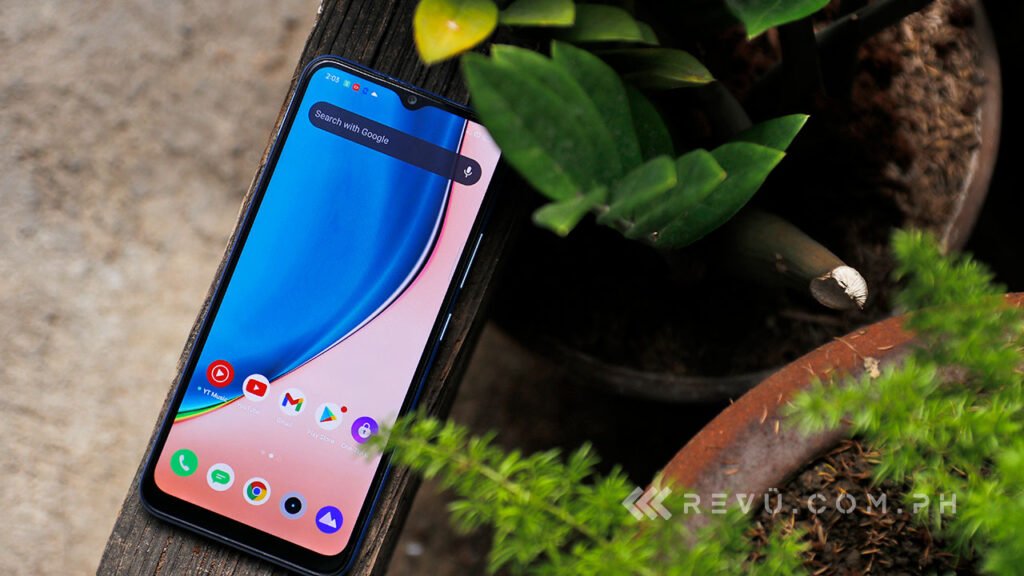 While the panel of the Narzo 20 could indeed be sharper, its vibrancy and black levels are good given the technology and price point. As a result, enabling Dark mode in the Settings app to change the entire system theme is satisfying. Not only does it complement the user experience, it looks well-implemented.
And, in case you're wondering, the Smooth Scrolling feature, which is applied in some Realme models via Realme Lab, is not available here. You do get Super Nighttime Standby, which helps the phone conserve battery power at night when idle by reducing background activities.
Camera
A triple-camera setup is typical for a budget phone these days, so it's not surprising to see one on the back of the Realme Narzo 20.
What pleasantly surprised us is how good the main camera is for its price, provided you are shooting in favorable lighting. It's a 48-megapixel unit that captures 12-megapixel binned images by default to get better colors and detail especially in low light. The 8-megapixel secondary option has ultra-wide-angle lens and produces decent pictures as well, though it isn't as good as the 48-megapixel primary camera.
Pictures captured on the Realme Narzo 20: 1x, 2x zoom, macro, auto, ultra-wide, auto, Night mode, auto, Night mode, auto/ultra-wide, Night mode/ultra-wide, auto, portrait, auto, portrait
The 2-megapixel macro unit is useful for closeup shots in well-lit environments, but outside of ideal scenarios, it is practically useless. Video performance is not bad, either. The Narzo 20 can even shoot full-resolution video at 60fps, while the front-facing camera can do 1080p or 720p at 30fps, which is more sensible than cropped 4K videos at slow frame rates.
In low light, both rear and front cameras perform sluggishly, and auto-focus is too slow to really put them to work in the field. There's a dedicated Night mode for the rear camera; just remember to hold the phone steady for three to four seconds to take a picture.
Performance
The MediaTek Helio G85 promises a reasonably good gaming experience for budget devices like the Realme Narzo 20. If you recall, it's the same chipset that powers the Redmi Note 9. It also offers slightly better graphics performance compared to the Helio G80, which is used in the Redmi 9 and plenty of other devices.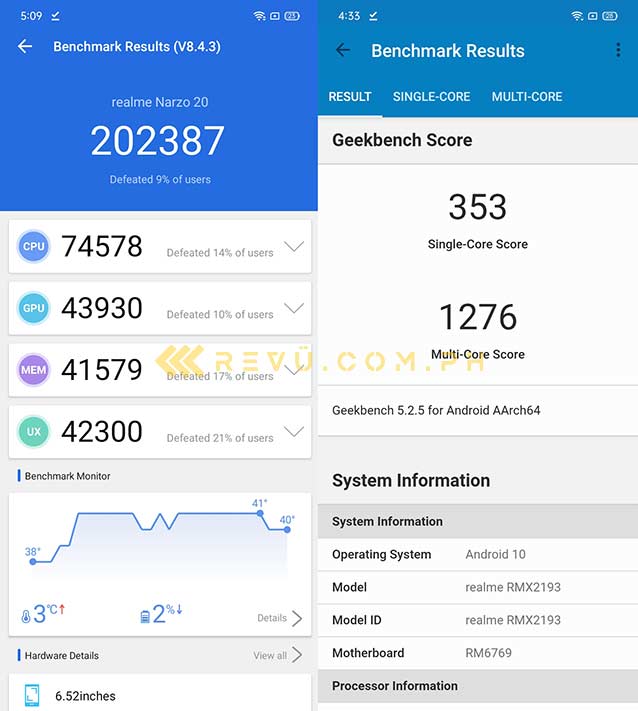 Our unit is equipped with 4GB RAM and 64GB storage. While not the best, this configuration is sufficient for most smartphone tasks, and it doesn't miss out on expandable storage if you need more space for your apps and files.
Playing games for extended periods or using the camera continuously didn't heat up the phone by much, if at all. And the heat was never enough to make the Narzo 20 uncomfortable to use. We've tested the Helio G85 in gaming with high-quality games, such as League of Legends: Wild Rift, NBA 2K20, and Call of Duty: Mobile. We managed to play them at medium to high settings without much of a problem.
Gameplay: League of Legends: Wild Rift, Call of Duty: Mobile (5:00 mark), and NBA 2K20 (8:00 mark)
This device isn't going to blow away serious gamers who expect super-smooth frame rates. But if you temper your expectations, you can get a decent experience out of it.
Like other current Realmes, the Narzo 20 ships with Android 10-based Realme UI. It's not the latest version of Android; however, Realme UI looks a lot like stock Android, but offers more options for visual customization, along with several useful features. There are a few apps we wish weren't included out of the box, but with a relatively decent amount of local storage, we can ignore them.
The battery life is excellent in general, as expected, allowing us to use the phone without needing a recharge for 48 hours. Enabling Super Nighttime Standby will improve idle efficiency further, and there are other power-saving functions in the Settings that can improve battery life.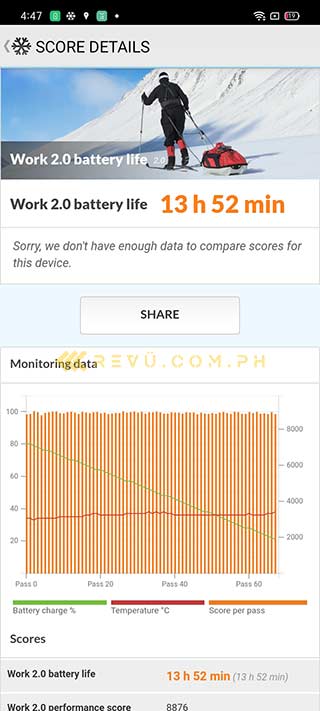 As a backup phone, the Realme Narzo 20 gave us five days of light usage consisting of web browsing, social media, and occasional gaming. When we ran the PCMark Benchmark test, the Narzo 20 got a respectable 13 hours and 52 minutes.
We played two grueling League of Legends: Wild Rift matches on our unit and found that its battery level was reduced by only 12%. We set most of the graphics settings to Medium, while some were changed to High. The 60fps option was also enabled for smoother gameplay. With lower graphics quality, you should see better efficiency numbers at the cost of slightly decreased detail.
We played two grueling League of Legends: Wild Rift matches on the Realme Narzo 20 and found that its battery level was reduced by only 12%
The Realme Narzo 20 supports fast wired charging up to 18 watts out of the box using the included power adapter. In our tests, the 6,000mAh battery backup required almost four hours — 3 hours and 52 minutes was our best result so far — to get from zero to full capacity. That's completely understandable. Then again, you probably won't need that much time for a full day of use.
Final thoughts
The Realme Narzo 20 is one of the company's best budget smartphones to date and presents a real threat to devices like the Xiaomi Redmi 9 and its higher-end stablemate, the Redmi Note 9. Its MediaTek Helio G85 processor is capable of running most graphically intensive games at medium settings, while the triple-camera setup on the back and the 6,000mAh battery backup with 18-watt fast charging are worthwhile features that upgraders will appreciate.
The exterior design and Android-based user interface notwithstanding, it really comes down to whether you prefer the bigger battery inside the Narzo 20 or the Redmi phones' sharper displays. But either way, you end up with a quality handset that has most of the features you need at a compelling price. Most users on a strict budget would get a lot out of the Realme Narzo 20.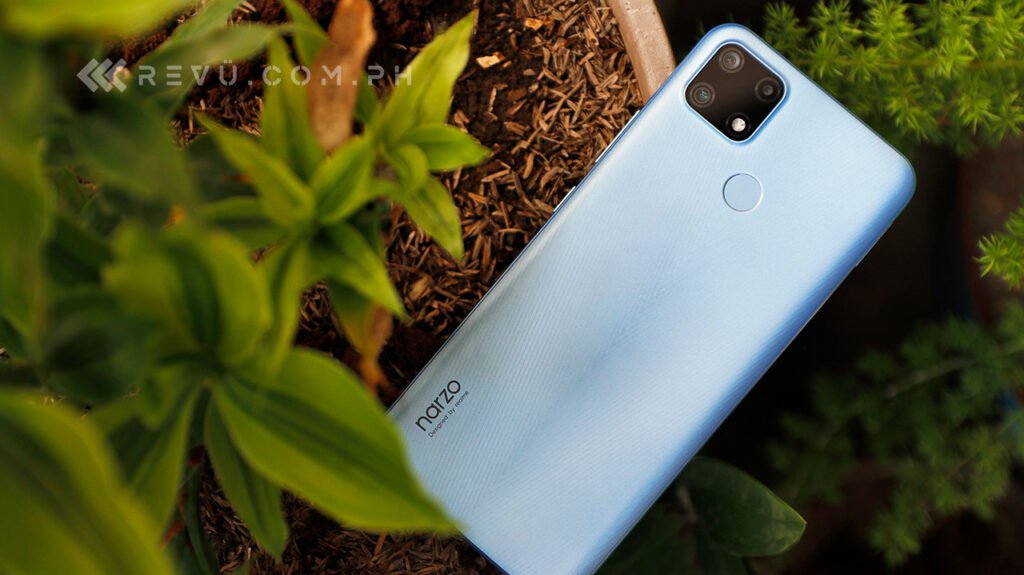 Realme Narzo 20 specs
6.5-inch LCD display, 1,600 x 720 resolution, 60Hz refresh rate
Octa-core MediaTek Helio G85 processor
Mali-G52 MC2 GPU
4GB RAM
64GB storage
Triple 48-megapixel, f/1.8 (main), 8-megapixel, f/2.3 (ultra-wide), 2-megapixel, f/2.4 (macro) rear cameras
8-megapixel, f/2.0 front camera
Fingerprint reader (rear-mounted)
6,000mAh battery with 18-watt USB-C charging
Realme UI based on Android 10
Color options: Glory Silver, Victory Blue
---