One market-research firm's most recent report on the local smartphone market is in, and we're basically seeing the same players in the rankings as the last time — only their spots changed.

(Update, November 25: Compare Canalys' top 5 with that of IDC!)
According to Canalys, former No. 2 Realme toppled Vivo to become the top vendor in the Philippines in the third quarter of 2020. It captured 25% of the market, with a growth of a whopping 531% year on year.
Realme, recently revealed also as (still) the world's fastest-growing smartphone brand, has just introduced its sub-brand Narzo in the country with the launch of the Realme Narzo 20. The handset is priced at P7,990 (around $166 converted) and will go on sale starting November 11.
Vivo may have settled for second place with its 21% market share, but it still grew at a fast rate of 103% annually.
The BBK Electronics brand recently unveiled its second 5G phone in the Philippines after the Vivo X50 Pro with a gimbal-like camera system, the Vivo V20 Pro. The unit was launched alongside the V20 and V20 SE about two weeks ago.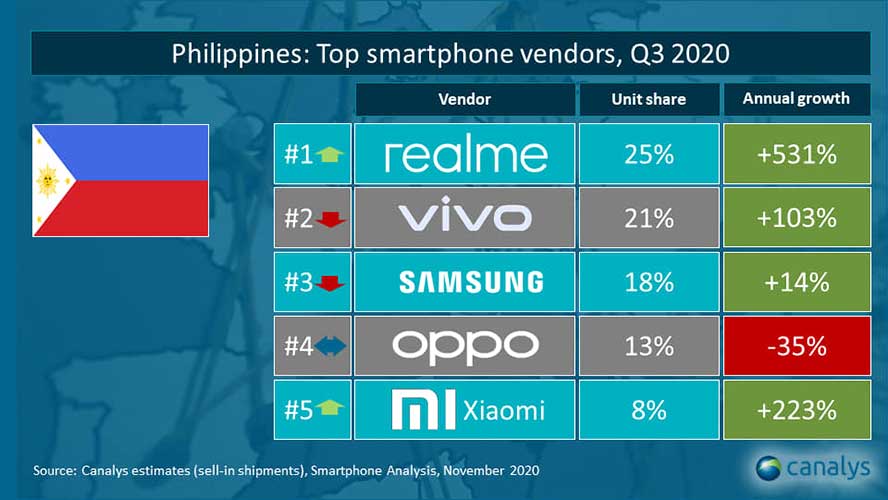 Hot on Vivo's heels was Samsung, which took 18% of the Philippine market. It experienced a modest 14% year-on-year growth.
The South Korean manufacturer's most recent release is the Samsung Galaxy S20 FE, whose Cloud Navy, Cloud Lavender, Cloud Red, Cloud Mint, Cloud White, and Cloud Orange color variants are currently selling for P35,990 ($747) here.
In fourth place with a 13% market share was OPPO, another BBK Electronics brand like Realme, Vivo, and OnePlus. It was the only company whose shipments fell 35% from last year.
The vendor just announced the availability of the OPPO Reno 4 Z 5G, its first 5G smartphone in the Philippines, which also happens to be the first unit powered by a MediaTek Dimensity chip locally.
SEE ALSO: In Q3 2020, Xiaomi enters top 3 for 1st time in global phone rankings
Xiaomi landed fifth in the third quarter, marking its entry into the top five — at least based on Canalys' estimates. Recall that Xiaomi was fifth in the second-quarter rankings of another market-research firm, Counterpoint Research. The Chinese brand's 223% annual growth in the country was the second-highest after Realme's 531%.
In mid-October, it launched the Xiaomi Mi 10T and Mi 10T Pro 5G phones with powerful processors in the Qualcomm Snapdragon 865.
How will the local smartphone scene play out from October to December of 2020, which have traditionally been the busiest months of the year? That's an interesting thing to look forward to early next year.
---