Samsung may be at the top of the smartphone rankings, but it's a different case for its mobile application processor, based on market-research firm Counterpoint's report.
In the second quarter of 2020, the market share of Exynos dropped from 16% to 13% year on year. It was tied with Apple for fourth place, after Qualcomm, MediaTek, and Huawei's HiSilicon. But that may soon change if its plans for next year push through.
According to South Korean publication Business Korea, Samsung Electronics' System LSI business division will be supplying Exynos chipsets to Xiaomi and OPPO in 2021. Xiaomi and OPPO, of course, are two of the largest smartphone vendors in the world, so doing business with them should help boost Exynos' market share.
SEE ALSO: In Q3 2020, Xiaomi enters top 3 for 1st time in smartphone rankings
The report also says Samsung will continue to work with one of its current partners, Vivo. Recall that the latter got the Exynos 980 for the Vivo X30 series phones and the Exynos 880 5G for the Vivo Y51s.
We expect Vivo to use the Exynos 1080 as well — probably for the Vivo X60 lineup. The 5G chip is already confirmed to be launched November 12 in China. It is based on a 5nm process, just like the A14 Bionic and Kirin 9000, and is said to feature ARM Cortex-A78 CPU cores and a Mali-G78 GPU.
The Exynos 1080 was already spotted in Antutu Benchmark sporting a high score of 693,600. That many not be close to the Qualcomm Snapdragon 875's purported mind-blowing rating, but that's better than the recent high 663,752 average score of the Snapdragon 865. Remember that we're talking about a midrange SoC here. Then again, we'd still like to see how it performs in real-world tests.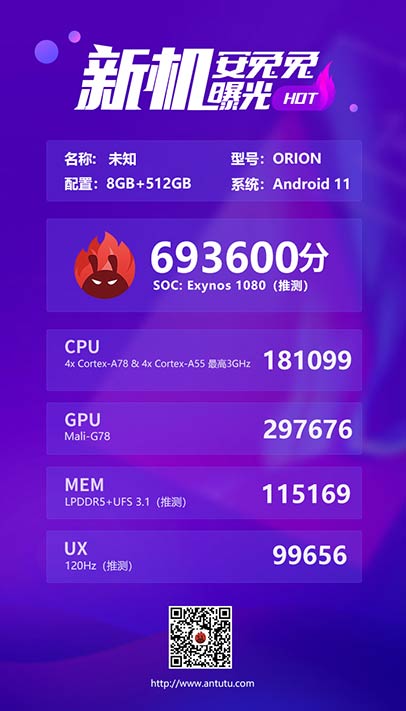 ---