You may have heard that Globe Telecom has launched one of the most recognizable pop acts on the planet, Blackpink, as its newest ambassador. But the local telco made a series of announcements that might have eluded your attention.

READ ALSO: With coverage expansion, Globe 5G now up in these areas
Not to worry. Here's our best effort to recap yesterday's fully digital Wonderful World of Globe press conference, where key executives from the company, including Globe president and CEO Ernest Cu and Globe chairman Jaime Zobel de Ayala, looked back at the company's 2020 highs and unveiled some of its big plans for next year and beyond.
Surf4All, a shareable data plan
Arguably, the most important announcement Globe made yesterday (to us at least) is Surf4All. The data plan includes two price points — Surf4All99 and Surf4All249 with 9GB and 20GB of shareable data, respectively, and the entire allocation can be shared by up to four users or devices. Globe prepaid and postpaid customers, as well as Globe At Home Prepaid WiFi and TM users, can access the data. Both Surf4All offers are valid for seven days.
PureGo
There are plenty of online-grocery-shopping platforms around, but one more certainly can't hurt, right? Globe has partnered with Puregold to launch PureGo, a service that lets you buy groceries online with a next-day-delivery promise. As of now, there are only a few locations supported by PureGo, but the good news is that the service already has multiple payment options, including Globe's own GCash.
Content, content, and more content
During the livestream, Globe surprisingly revealed a partnership with Riot Games for League of Legends: Wild Rift in the form of exclusive data offers for mobile League players with a Globe prepaid SIM card. As many of you know, Wild Rift is still in its beta phase in the Philippines and in other countries, but that could change soon in early 2021.
SEE ALSO: League of Legends: Wild Rift review: MOBA players should be excited
Globe was also named the first Southeast Asian telco member of the Niantic Planet-Scale AR Alliance, which is said to drive bigger and more immersive gaming experiences powered by Niantic's AR platform and super-fast 5G data. Niantic is an American software company that is best known for creating Pokémon Go and Harry Potter: Wizards Unite.
Globe also announced partnerships with YouTube VR, HBO Go, and live-streaming app Kumu, which will soon incorporate game-streaming channels into its content package.
GLife
A recent addition to the GCash mobile-money service, which is claimed to be the biggest of its kind in the country, is GLife. It's a page within the app that allows you to conveniently access online merchants and platforms that accept GCash payments.
Currently, there isn't much to see here, but once more stores are added, we might see the potential and value of GLife, especially since it allows you to quickly create accounts and shop on different webpages without opening a web browser or installing an app. For instance, we were able to create an account and purchase groceries from Puregold within the GCash interface.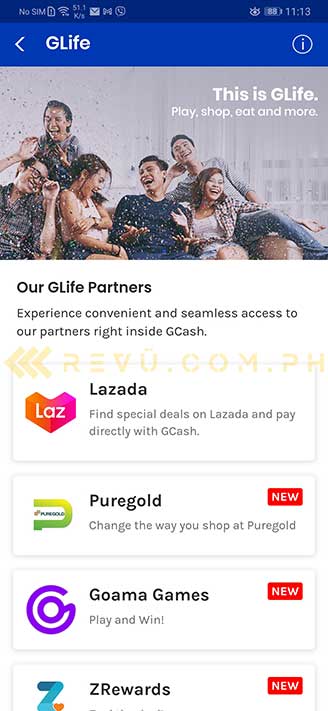 MMFF goes online
For obvious reasons, the Metro Manila Film Festival or MMFF has decided to go the digital route and stream entries instead of showing them at cinemas. This year, the annual film festival includes 10 full-length entries from a variety of genres. All 10 films will be streamed on Upstream, a local streaming service, beginning December 25, while tickets can be bought on GMovies, Globe's cinema-ticketing platform.
MMFF 2020 goes digital. Here are the films that are part of this year's festival
---