At a time when people are spending more time at home; when there are different ways to stream or purchase music online; and when many mid- and high-end smartphones lack a headphone jack for wired audio, we see the rise of the true wireless earphones.
In this category, Huawei has contributed quality personal devices aimed at professionals with its extensive FreeBuds line. The company's latest, the Huawei FreeBuds Pro, offer premium features and next-generation technologies, such as dynamic noise cancellation and Awareness mode, which give them a leg up on the competition. And the good news is the earbuds are already in stores the Philippines with a suggested retail price of P7,999 (around $167). They are available in Ceramic White and Silver Frost colors.
If you're a professional looking to score a top-performing pair of TWS earbuds without burning a hole in your wallet this holiday season, you may want to stick around and read the rest of the article. Below, we list several features of the Huawei FreeBuds Pro that people in the "new normal" workforce will find appealing whether they work from home or a cafe, or at the office like in the good ol' days.
Excellent 'home buds'
Ask anyone working from home for years, and they'll tell you: Portability matters when it comes to devices used daily. Just because you're working remotely doesn't mean you should be tethered to a desk, too. We've worked exclusively out of an office environment for nearly half a decade, and one of the best pieces of advice we can give to those who are new to the reality of "work from home" is that a change of scenery every now and then can do wonders for productivity and motivation.
That doesn't necessarily mean you have to step out to get work done elsewhere, especially with the pandemic going on. You can go to a different area in the house and set up a temporary work station there. You can make a lot of big and small changes to your environment, such as moving your work desk near a window or anywhere with a good view.
Or you may want to watch this video to see for yourself why we recommend the Huawei FreeBuds Pro
The Huawei FreeBuds Pro allow for great mobility around and outside the house, as they're small and lightweight, coming in at around 60 grams with the charging case. The buds themselves weigh 6.1 grams each and are about two-thirds the size of traditional wireless earphones. The charging case isn't the smallest, most pocketable out there, and yet we can easily slip it into our jeans pocket or purse. It has a compact, pebble-like design, same as the earbuds.
With silicone tips that help create a seal for the active noise cancellation or ANC and are designed to keep the buds in your ears, the Huawei FreeBuds Pro are comfortable, too — which is an important but heavily underrated aspect of finding the right pair of true wireless earphones.
SEE ALSO: Huawei FreeBuds 3i review: Wireless but not powerless
The touch-sensitive short stems not only allow you to use gestures to skip and pause music, and more, they also make the FreeBuds Pro easier to remove and tuck away in the charging case after use. On top of that, they house what Huawei calls a Bone Voice sensor, which identifies and amplifies human voices by interpreting the bone vibration for clear sound delivery. This helps when you're doing a virtual presentation for work, or in a video meeting or an audio call with another person.
The stems incorporate a Dual Anti-wind Noise design that can eliminate the whistling sound in the background caused by air friction. That way, you'll be able to listen to music coming out of the earbuds while walking, running, or cycling with less wind noise — ideal if you plan on taking the Huawei FreeBuds Pro with you for walks, jogs, or bike rides around the neighborhood on stressful workdays.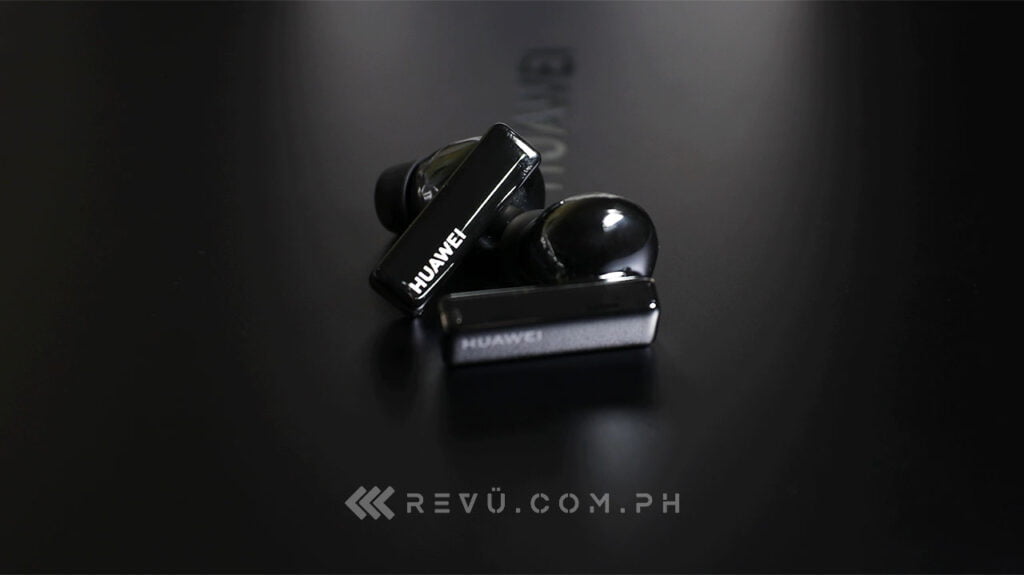 There's also the Huawei AI Life app, which you use to pair the FreeBuds Pro with your phone and unlock certain features you might find valuable. For instance, Find My Earphones, as the name suggests, makes it easier to locate the buds if you misplace or lose them. This has saved us a lot of time on many occasions and allowed us to focus on finishing projects during particularly hectic workweeks.
Tip fit test, meanwhile, is a software feature found in the AI Life app that helps you find the right set of eartips for your ear shape (Huawei includes two extra sets of ear tips in the retail package) and adjust the position of the buds for optimal sound quality. If you're just starting out using the FreeBuds Pro, we highly recommend you do a fit test for each ear canal first. You'll thank us later.
When it comes to sound quality, the Huawei FreeBuds Pro deliver and provide loud, balanced sound with good bass weight through their 11mm drivers. It's nice for all genres of music — whether you're into Beethoven or Blackpink, Future or Fiona Apple.
Great for those traveling to and from work, too
Besides the convenient design and size, which make the Huawei FreeBuds Pro easy to carry around and take everywhere including the office, the most appealing reason to own the buds among professionals is their ANC feature. The FreeBuds Pro use a triple-microphone system to reduce external noise. Two outward-facing mics pick up the sound from the direction of the user, while a single microphone is designed to catch and further amplify the user's voice during a voice or video call.
The Huawei FreeBuds Pro's noise cancellation lets you fully immerse yourself in your music or Netflix or YouTube content outside the quiet of your personal space at home. It allows you to focus on the excellent sound quality of the earphones in noisy environments, like when you're on a train platform or in a fairly loud office with an open-floor plan.
The most appealing reason to own the buds among professionals is their ANC feature, which lets you fully immerse yourself in your, say, music outside the quiet of your personal space at home. You also get Voice and Awareness modes here, perfect for people who drive or commute to work
You also get Voice and Awareness modes here, perfect for people who drive or commute to work, or wear earbuds while engaging in physical activities outdoors.
Awareness mode lets background noise seep in, giving you the option to hear the outside world when needed. It allows you to keep an ear on traffic as you're driving or biking to work without removing the FreeBuds Pro. Voice mode, on the other hand, allows for pass-through audio when you want to have a casual conversation with a workmate or are waiting for a PA announcement at the airport or train station, where it is usually noisy.
With Huawei's HiSilicon Kirin A1 chip with Bluetooth 5.2, you can enjoy better coverage and seamless pairing with Android or iOS devices. The latest version of Bluetooth brings with it support for dual antennas, which the FreeBuds have, as well as signal-modulation technologies for improving range and avoiding disconnections.
One practical use case is that the dual antennas of the FreeBuds Pro let you connect each earbud to a different device. That's so you can have the right bud connected to your smartphone for calls, while the left earphone is paired with your tablet for streaming music or video wirelessly.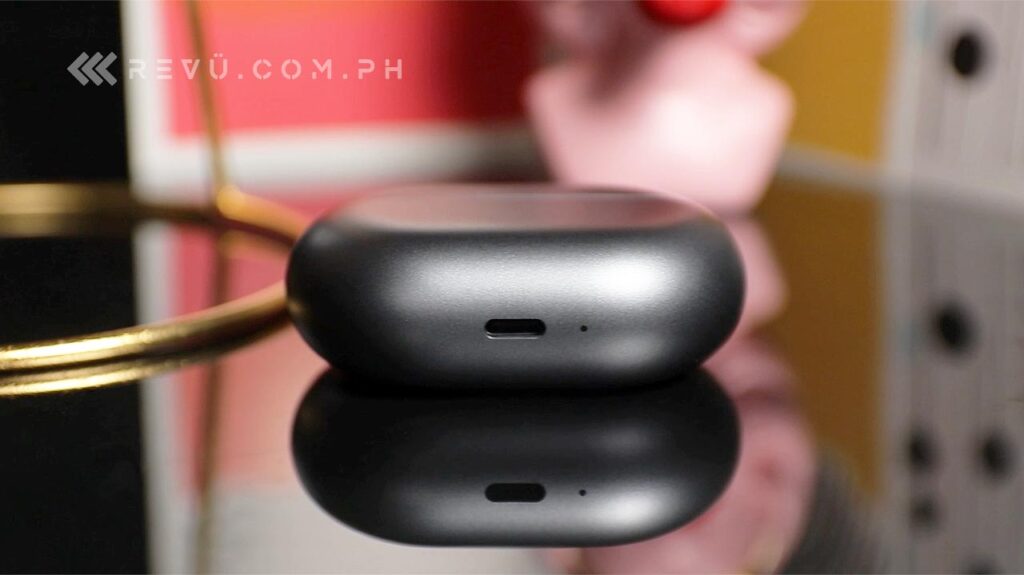 Finally, the Huawei FreeBuds Pro offer up to 36 hours of battery life with the charging case. Not only is that more than enough for all-day listening, you'll get plenty of power to spare for the following day provided you don't drain the buds at the same time. You don't have to feel panicked if you accidentally leave your charger at home, or some place else, on a workday.
Pro-grade TWS earphones for professionals
With intelligent dynamic ANC, fast pairing, flexible listening modes, and long battery life all in a portable package you can literally take anywhere, the Huawei FreeBuds Pro are a fantastic set of buds for professionals in today's pandemic-hit world. They also won't put a huge dent in your finances, too, especially at a time when the future is more unpredictable than ever.
You can look at your purchase as a nice reward for yourself, a gift this holiday season, after a difficult 2020. Whatever the case, the FreeBuds Pro are certainly worth the money if you're looking to jump into the wireless-audio space and want an uncompromising listening experience.
---