Well, this is quite expected. After climbing the top of DxOMark's smartphone-camera rankings with the Huawei Mate 40 Pro, the technology giant has outdone itself in the imaging department. Once again.

DxOMark has recently crowned the Huawei Mate 40 Pro Plus (which isn't sold in the Philippines, unfortunately) as the best smartphone for taking pictures and video, awarding the penta-camera flagship with an unprecedented score of 139 points. The top-end model of the Mate 40 series notched a photo score of 144, as well as 98 and 115 points in the zoom and video categories, respectively.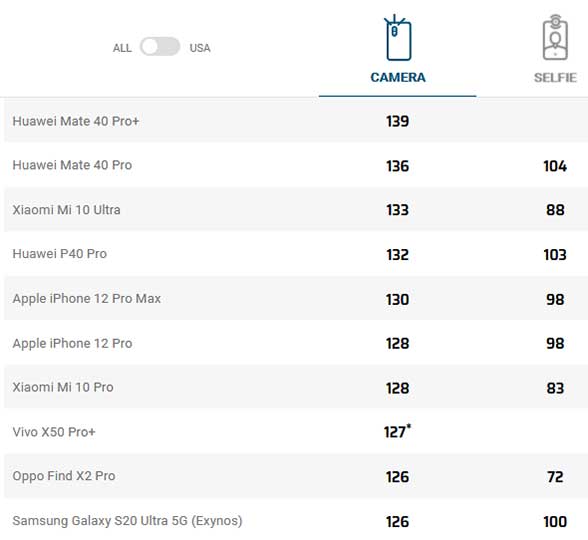 Putting those numbers in perspective, consider that the next non-Huawei phone in DxOMark's smartphone charts is the Xiaomi Mi 10 Ultra. Xiaomi's most specced-out handset achieved scores of 133 and 110 for photo and video. The Apple iPhone 12 Pro Max and Exynos 990-powered Samsung Galaxy Note 20 Ultra 5G saw aggregate scores of 130 and 120, respectively.
DxOMark has yet to hang a number on the front-facing unit of the Huawei Mate 40 Pro Plus. But then again, it's likely to share the same score as the regular Mate 40 Pro, which pairs a 13-megapixel selfie camera with a 3D biometrics/depth sensor, just like the Mate 40 Pro Plus.
The Huawei Mate 40 Pro and Mate 40 Pro Plus share many things in common, but the latter upgrades the ultra-wide camera to a wider lens and throws in a secondary telephoto camera, in addition to optical image stabilization on the main one.
SEE ALSO: Samsung Galaxy Note 20 Ultra vs Huawei Mate40 Pro: Big-flagship showdown and Best-performing flagship, midrange phones in Nov 2020
Per DxOMark, the Huawei Mate 40 Pro Plus excelled in stills and "generally leave very little to complain about." It captures wide dynamic range and accurate exposure, as well as good highlight and shadow detail in difficult, high-contrast environments. The Plus variant is remarkable in low light, too, offering high dynamic range in situations where rival phones tend to struggle. When it comes to zoom, the Huawei flagship continued to impress, achieving the second-highest zoom score DxOMark has ever given to a smartphone at 98.
Whether the Mate 40 Pro Plus' dominance in the DxOMark rankings is short-lived remains to be seen. But considering its significant lead over competing flagships, we might have to wait until early next year for a worthy challenger to Huawei's segment-leading handset. Our money is on the successor to Huawei's P40 series.
Video you may want to watch
From our We show you why the Huawei Mate 40 Pro is made for vlogging story
---