The Huawei FreeBuds Pro are a significant leap from the company's other TWS offerings — not just in terms of price but also in features. They're premium yet they still keep a relatively budget-friendly price. There's a lot more to uncover with the FreeBuds Pro that those with Android devices looking for a more robust functionality don't have to look any further.
Scroll down to find out our thoughts on these Huawei wireless earbuds. There are many things to go through.
Our video preview before thoroughly testing the earbuds
Price and availability
In the Philippines, you can purchase the Huawei FreeBuds Pro for P7,999 (approximately $166 converted). While it launched in three colors, we're only getting the Ceramic White and Silver Frost variants.
Hardware
It's easy to tell the Huawei FreeBuds Pro apart from Huawei's other TWS products. They have a stouter charging case that's more oblong. We're not sure what the latter is made of, but it feels great and sturdy in hand. Its texture reminds us of the MateBook's surface, which is a nice touch to unify this accessory with Huawei's other products. There are two light indicators on it — one inside the case to let you know of the earbuds' battery health and another at the bottom to inform you of the case's battery health.
The FreeBuds Pro's case is also designed to support wireless charging, so you can simply place it on wireless charging pads or phones that support reverse charging (like some of the new Huawei phones) to top it up.
The earbuds themselves are like the case, with shorter, wider stems that support gesture control. We tested the Silver Frost variant that amps the premium look and feel of these earbuds.
They ship with silicone ear tips and an in-ear fit. The silicone tips come in three sizes, so you can find the pair that fits your ears. The design allows the earbuds to sit comfortably in your ears while offering a better seal. There wasn't any discomfort for us at all when we had the FreeBuds Pro in. We could use it for the 5+ hours its battery lasts without feeling like we needed to take them off because they were uncomfortable. We could even take naps with them without the earbuds getting dislodged.
They have a pretty secure hold when you have them on, but too much movement can dislodge the buds, of course. Huawei doesn't mention any water resistance, so this pair might not be the best thing to do intense workouts with or take out during a rainy day.
The FreeBuds Pro come with three mics all in all — an internal one plus two outward-facing mics. The former can make your voice be heard clearly, while the latter pick up the sound from the direction of your voice.
What's in the box
Earbuds
Silicone ear tips (three sizes)
Wireless charging case
USB-C charging cable
Quick start guide
Safety information
Warranty card
We especially like that the USB-C charging case seems to be the standard length of cables used to charge smartphones. We're not fans of the too-short cords that truly wireless or TWS earbuds usually come with, so kudos to Huawei for adding a longer charging cable.
Setup and operation
As with other TWS earbuds, the pairing process with the Huawei FreeBuds Pro is simple enough. You can connect them as you would any other Bluetooth-enabled device through the Bluetooth page on your phone's settings. We will admit we had a bit of a struggle initially looking for the charging case's pairing button. It's hidden into the side of the case, so make sure you look for it in a well-lit room. (Our initial attempt at pairing was in a poorly lit environment.)
A better way to pair and manage these earbuds, though, would be to use the Huawei AI Life app. Huawei users can find it in the AppGallery store. Other Android users will need to use the QR code on the box your FreeBuds Pro came with to get the software's latest version. We found that the app available on the Google Play Store isn't updated, so you can't pair the FreeBuds Pro through it. Downloading the .apk though will require sideloading. That should be a simple process for some users, but others might need to ask for help from their more tech-savvy family or friends.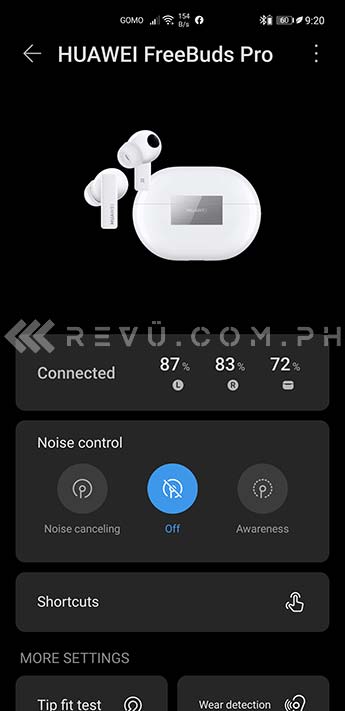 You will want to pair these earbuds with the app because of the additional features it offers. It lets you get a more detailed look at the battery percentage of both earbuds and the case. It's also where you can customize the gestures, toggle between noise-control options, and access other functions we'll discuss later. It's also where you can update the earbuds' firmware. Unfortunately, iOS users don't have access to the application, so the FreeBuds Pro might not be your best TWS option.
Once you've paired the Huawei FreeBuds Pro with your smartphone, they will automatically connect when Bluetooth is on and the charging case is open.
One of our favorite things about the FreeBuds Pro is that they support two devices at once, allowing us to switch between devices without trouble. So, if you're watching a video or listening to music on one device, you can receive the call on the other by just pinching the stem, no fumbling to change connections necessary.
One of our favorite things about the Huawei FreeBuds Pro is that they support two devices at once, allowing us to switch between devices without trouble. They also have a dual-antenna design that promises broader signal coverage
They also have a dual-antenna design that promises broader signal coverage. Each earbud has two Bluetooth antennas. Even when we move through rooms (with relatively thin walls, we should add), the earbuds continue to play the music without any connection drops. We can also attribute this to the Bluetooth 5.2-certified chipset that cuts down latency to 180ms.
There aren't any audio-transmission delays, even when we play a quick round of Cooking Battle. Disconnection isn't much of an issue, especially if you connect them to a Huawei or Honor device. We noticed they would occasionally disconnect with another Android phone we had on hand, but they were still usable. We were also able to connect these earbuds with a smart TV just fine without any disconnection troubles.
Wear detection is excellent on the FreeBuds Pro. They instantly recognize when we've pulled out or placed the earbuds back in our ears. They work seamlessly even with the Huawei MateBook 14.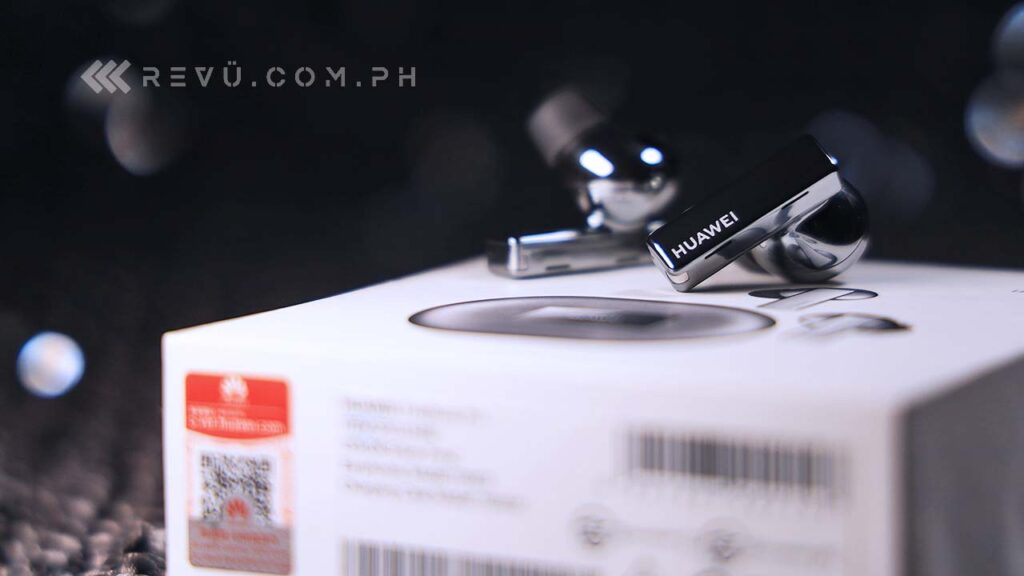 We briefly touched on the AI Life app earlier, but now, let's talk about it more. It is what you'll need to customize the gestures the Huawei FreeBuds Pro supports, which include options to answer and end calls, reject calls, play and pause music, play the previous or next track, toggle between the noise-control options, or call up your phone's voice assistant.
Except for controlling noise controls or your phone's voice assistant, the other gestures are set. You can pinch the stems to get to perform the action you want. But we admittedly find this gesture to be a bit cumbersome. You have to get used to applying the right amount of pressure to get it right. So, we find it easier to toggle controls on our devices instead. But we love that volume control is available on the earbuds. It's the simplest gesture since you just swipe up and down the stem.
SEE ALSO: Huawei FreeBuds 3i review: Wireless but not powerless
Other features offered in the Huawei AI Life app include the Tip Fit Test, which analyzes how the earbuds fit in your ears to let you know if you're wearing the right-sized silicone tips. There's also a Find My Earphones option, but this feature is limited to Huawei devices running EMUI 11 or later. It requires you to log in to your Huawei ID, enable the Find Device feature, and the FreeBuds Pro to be paired with the searching device. The app will show you a map with the left and right earbud's locations separately and the earbuds in the case. You can also use the software to make the earbuds ring a beeping sound to indicate their location.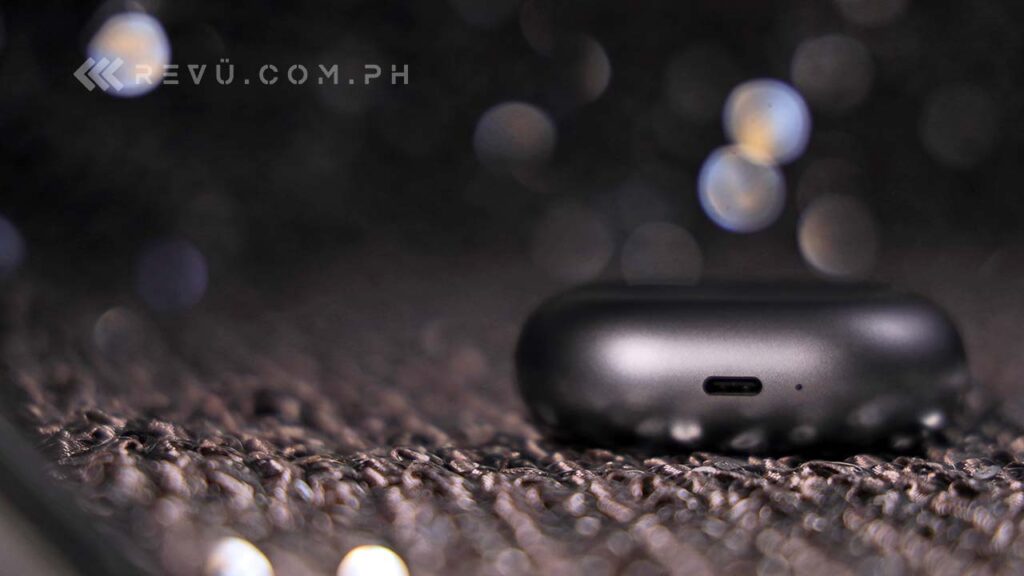 Huawei promises up to 36 hours of use with the FreeBuds Pro. This is achievable if you don't have noise cancellation turned on. We've kept it on during our testing, and the earbuds have been able to surpass the promised 22 hours. With each charge, we get around five to six hours max. We can top them up quickly in the case for a total of three times before the case itself needs to be charged, too. It usually took us around 30 minutes to recharge the earbuds in the wireless charging case, and around an hour and a half if we charge the buds with the case using the supplied charging cable.
Sound
The FreeBuds Pro are equipped with Huawei's HiSilicon A1 chip and powerful 11mm dynamic drivers that promise to pump out loud, high-quality audio. They deliver on that claim, much to our delight. For those who care about the bass, this pair offers that. We heard it prominently while listening to The Kindness' song, The Warning. There's excellent sound separation, allowing us to hear voices and the instruments playing in the background with ease.
The earbuds' construction with its silicone tips already allows for some passive noise canceling, but Hybrid Active Noise Cancellation takes it a step further. They use the three mics to detect in-ear and out-of-ear noise and then uses the dynamic drivers to generate accurate anti-noise signals. They achieve up to 40dB noise-canceling effect.
The TWS earbuds' Intelligent Dynamic ANC technology gives you the option to choose noise-cancelation levels, which you can toggle through the AI Life app
This Intelligent Dynamic ANC tech gives you the option to choose noise-cancelation levels, which you can toggle through AI Life. There are three modes you can toggle in the app: Ultra, Cozy, and General. Ultra is meant for really noisy places, Cozy for areas or rooms with little noise, and General is for that spot in the middle. The Dynamic part comes in where you will let the earbuds automatically choose what noise-canceling option works best for your surroundings.
Their noise-cancelation capabilities are admittedly not perfect. But when we think about what price segment they are in, they punch above the competition. They won't completely keep all the sound out, but they can keep out the little things like the hum of an electric fan, idle chatter, and the like. ANC also allows us to keep the volume at around 70%, as we don't need these earbuds to be too loud to hear the music we're listening to clearly.
If you want to hear what's going on around you, you can use the Awareness mode. You can toggle this feature via a gesture on the stems or through the AI Life app. Awareness mode will let the ambient sounds in, allowing you to converse with people or walk around outside without having to take off the earbuds and listen to what's happening.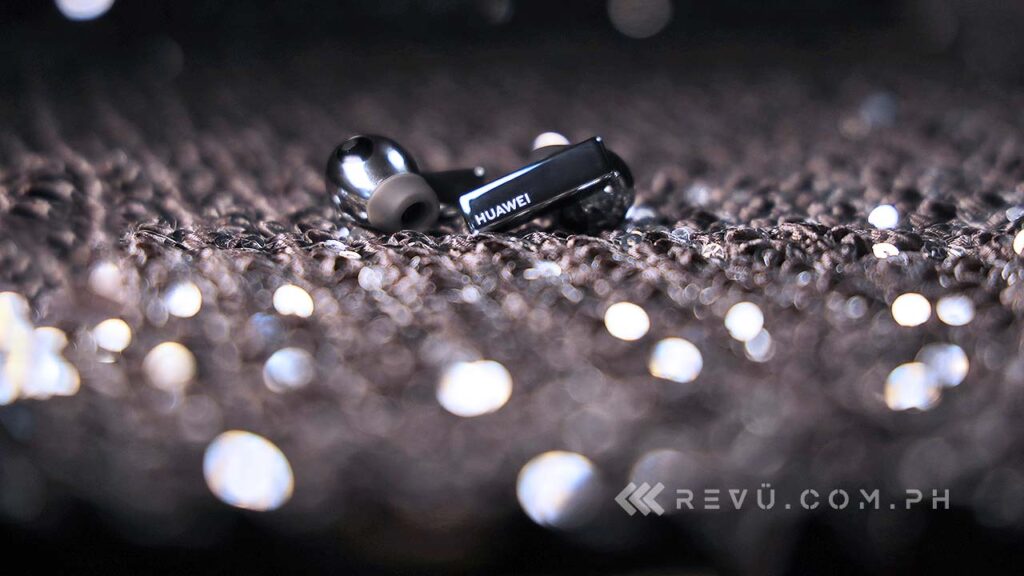 The Huawei FreeBuds Pro use their three-mic system for your voice calls, too. Their Hybrid Noise Cancellation tech, paired with bone voice sensor, reduces background noises you hear while focusing on human voices. The bone voice sensor detects and strengthens voices by interpreting the bone vibration. If you want to make yourself heard better, you can even take out one earbud and pinch the stem twice within five seconds to use it as a microphone. You add on the dual anti-wind design of these earbuds to help keep the wind noise out.
We were able to hold a video call clearly with other people in the room, and those on the other end could hear us as well as we could hear them.
You can even use the FreeBuds Pro's mics for recording audio while you are shooting video on supported Huawei devices. With a frequency range of up to 20Hz, they can pick up sound easily and reproduce what they hear in your surroundings.
Final thoughts
The Huawei FreeBuds Pro are poised to take on the more premium wireless earbuds while undercutting them by offering this pair at a lower price. They're an easy audio accessory to recommend.
You get excellent audio quality, more options for noise cancelation, and a long-lasting battery that's all wrapped up in an attractive package. If you want more from your wireless audio experience, but can't or won't shell out too much cash, look no further than this pair.
Huawei FreeBuds Pro specs
11mm driver
Intelligent dynamic noise cancellation
Voice and Awareness modes
180ms low latency
USB-C charging port
580mAh battery (case) with 36-hour battery life (earbuds with case; 8 hours per bud with ANC disabled)
HiSilicon Kirin A1 chipset
Bluetooth 5.2 (dual Bluetooth)
Color options: Ceramic White, Silver Frost
---