Ookla recently published the January 2021 data of its Speedtest Global Index, and the local results are quite interesting, to say the least.
According to the latest data, the Philippines' mobile download speed improved by 37% compared to last year's figure during the same period. In January 2021, the Philippines averaged 25.77 Mbps for mobile downloads, good enough to move 10 spots to rank 86 from 96 the previous month. A year before, it was 16.15 Mbps, and the country ranked 113th among 140 participants.
Perhaps more impressively, the Philippines' mobile download speed has been steadily moving up the rankings since April 2020 and inching towards achieving the same speed offered by fixed-broadband connections. The latest numbers show the country averaging 32.73 Mbps for terrestrial broadband. Of 175 countries, the Philippines is currently at number 100, the same as the previous month.
Of course, in terms of latency, the numbers of fixed-broadband technology is superior to that of mobile connections, so while the downloads are indeed impressive for the latter, the higher lag won't appeal to certain types of users, including gamers.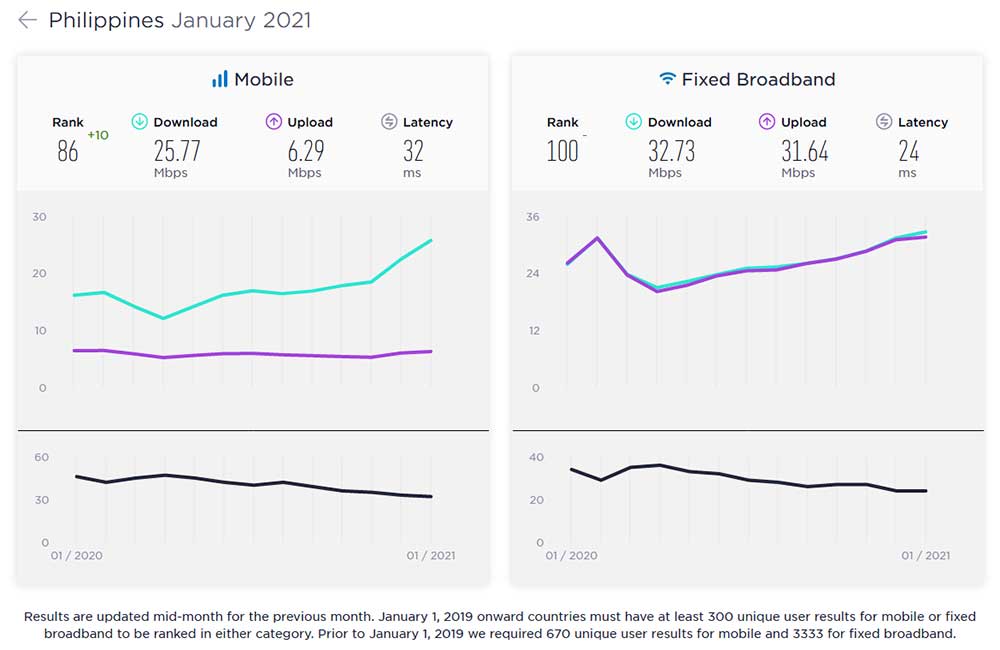 Globe Telecom, one of the major telecom operators in the Philippines, credits the improved mobile speeds to the industry's infrastructure development — in particular, the rapid deployment of new cell sites all over the country.
The company built 1,300 towers last year, an increase of 18% compared to 2019, and has led new cell-site builds based on a report by the National Telecommunications Commission. Data from the NTC also showed that as of end-December 2020, Globe had 10,395 towers compared to Smart's 10,079 and DITO's 2,360 cell sites.
According to Globe, around 90% of its cell towers are now equipped with 4G technology, while its 5G rollout is ongoing and on schedule. Its 5G network is already available in 17 key locations in Metro Manila, Visayas, and Mindanao.
Just one of the many 5G speed tests we have already done on different 5G-ready smartphones. The most recent one we published can be seen in our Xiaomi Redmi Note 9T 5G review
---