Estimated reading time: 13 minutes

Though the Redmi 9T has been out for a while, we've yet to hear from Xiaomi Philippines about the official release of the Redmi Note 9T 5G in the country. It's probably coming sooner rather than later, judging from its appearance on Xiaomi's brand stores online.
In case you didn't know, the Note 9T is an entry point to Xiaomi's growing 5G roster, an aggressively priced 5G unit powered by a MediaTek Dimensity 800U and one of the cheapest 5G devices you can get your hands on today, so truly, it has a lot going for it. But is it the best-value buy? Read our review of the Redmi Note 9T 5G to find out.
Price and availability
Xiaomi Philippines has yet to announce the Redmi Note 9T's official local pricing and availability. However, you can get the base 4GB/64GB version for around P9,990 (about $207), while the higher-end variant with 128GB UFS 2.2 storage is usually priced at P10,990 ($227) on Lazada and Shopee. The decision ultimately comes down to whether you need more native storage for your apps and files, because there's always the option to upgrade via a microSD card or cloud service — or both.
Hardware
Like many phones in Xiaomi's lineup, the Redmi Note 9T 5G uses a plastic casing with a textured finish for better handling and grip. The company says the back has a water-repellent coating, too, so it can withstand accidental water splashes.
The ergonomics are good, as usual, although the body is a bit wide for its screen size, making one-handed usage less practical with the bundled silicone case on. Our unit comes in a predominantly solid purple color scheme (it's called Daybreak Purple), but you can also get the phone in Nightfall Black, which is black all over.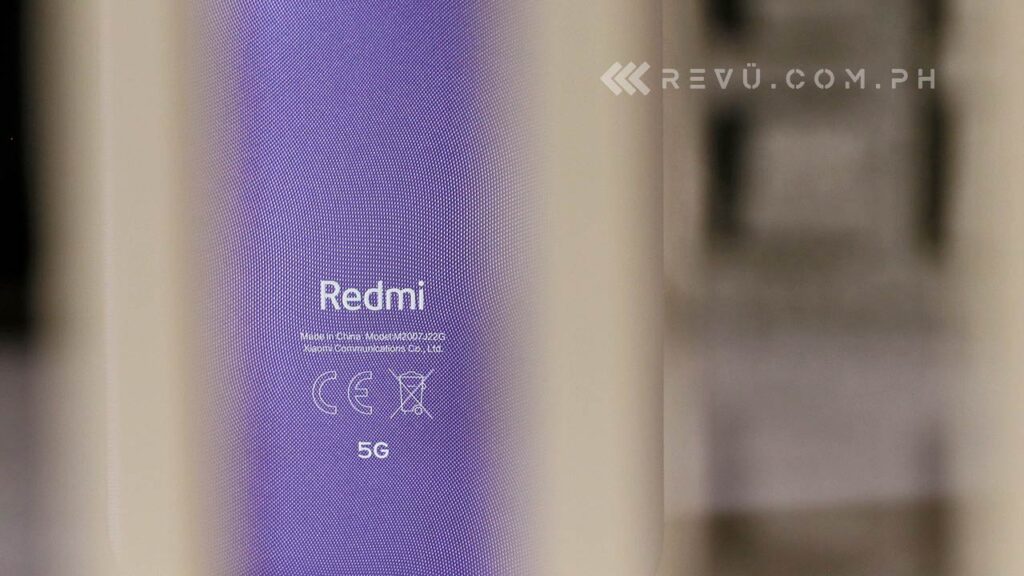 For a size comparison, the Redmi Note 9T 5G is a little shorter and thinner but also wider than the POCO X3 NFC. It's somewhat a surprise, especially considering the latter has a bigger and taller (and faster, if we're talking about performance) LCD display. Coming in at 199 grams, the Note 9T is noticeably lighter compared with its cousin, though. We likewise prefer its dotted matte surface, and we think it's less prone to scratching and marking, too.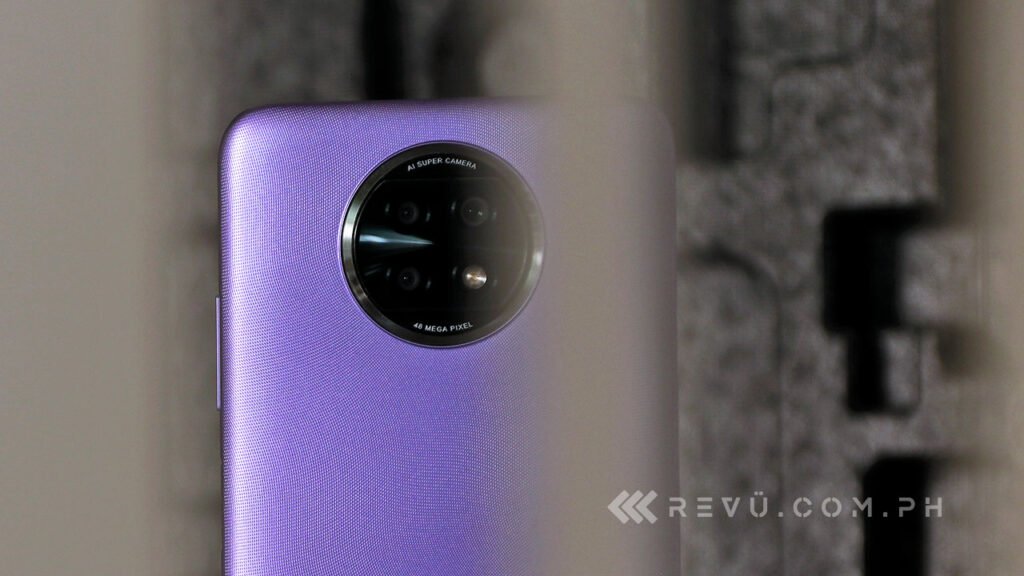 The Redmi Note 9T 5G sports a similar rear camera module as the POCO X3 NFC, except it's much less prominent — thank goodness — and comes with one less sensor, which is not a good thing for us. Not to mention, it packs fewer megapixels in its main sensor and skips a dedicated ultra-wide shooter. We'll discuss the impact of that omission in a moment.
The rest of the hardware is standard Xiaomi stuff. IR blaster up top, useful if you want to control home appliances, including TVs and air conditioners, with your phone; dual-SIM card tray with a dedicated microSD card slot for storage expansion on the left-hand side; volume keys and a power button with an embedded fingerprint sensor located on the right; and USB-C port flanked by speaker cutouts and a headphone jack at the bottom.
It's worth mentioning that even though this handset doesn't have two evenly matched speakers, the sound setup is still stereo, with the earpiece doubling as a weaker second channel. In speaker mode, the overall sound quality is quite good, though we noticed distortions at higher volume levels. Vocals sound clear and easy to pick out, meaning you should have no problems using the phone for binging Netflix and casual gaming.
Screen
The Redmi Note 9T 5G is equipped with a 6.53-inch, 2,340 x 1,080 panel that, like most smartphones today, uses IPS technology to deliver a more consistently accurate picture. Xiaomi advertises it as being capable of 450 nits of brightness, while the refresh rate is pegged at an industry-standard 60Hz.
Most of the specs are perfectly reasonable at this price range — exceptional even — but not going all in with a dynamic 90Hz refresh rate or higher is a bit of head-scratcher considering the current budget-handset landscape. The brightness isn't top-end either, so outdoor use can be a little tricky depending on the conditions and where you are. It's not unusable, as some budget screens are, but you may find yourself looking for a nice spot in the shade.
The panel is protected by a sheet of Corning Gorilla Glass 5 — one of the toughest out there based on experience — so it should hold up pretty well against scratches and bumps. We haven't dropped our unit yet onto the ground, nor do we plan to. If the Redmi Note 9T 5G is anything like Xiaomi's other hard-plastic phones, it should be durable and robust enough to survive at least one minor accident.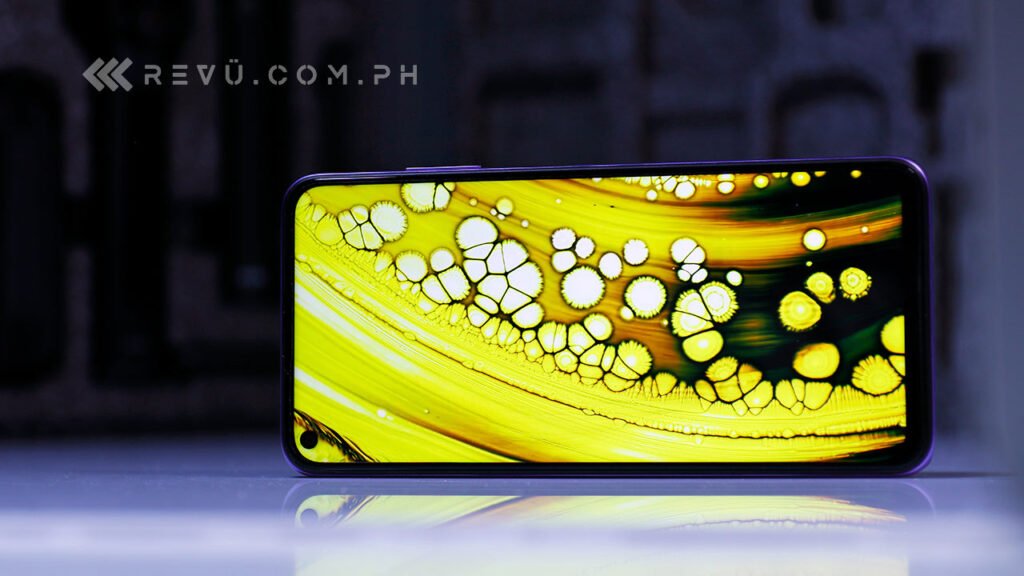 By default, the color profile of the screen is slightly cooler than we're used to. Thankfully, Xiaomi includes Standard and Saturated color modes, with a manual color-temperature adjustment and Cool and Warm presets, in addition to an Auto setting that tries to adapt to ambient light.
Though not the best or brightest LCD on the market, with some adjustments, it should look pleasing to the eye and decent to look at for long periods. Even just setting the color profile to Saturated makes everything on the panel appear much more alive and vibrant. The display settings also include a dark theme, which you can turn on all the time or schedule during certain hours, and Reading mode, if you prefer warmer tones while reading an ebook or long-form article online.
Camera
Xiaomi has equipped the Redmi Note 9T 5G with a triple-camera setup consisting of a 48-megapixel Quad Bayer sensor from Samsung (if you're wondering, the exact unit is a Samsung ISOCELL Bright GM1) that has a size of 1/2.0″ and 0.8µm pixels behind an f/1.8 aperture lens with a 26mm equivalent focal length.
Many budget-friendly smartphones, including the Redmi Note 8, Redmi Note 9, and, more recently, POCO M3 have used the same sensor. And like the M3, the Note 9T sees a pair of 2-megapixel sensors rounding out its camera specs at the back — one for adding depth information in Portrait mode and the other for macro shots.
Unfortunately, you don't get a dedicated ultra-wide camera here. Of course, you can stitch photos into a panorama, if you and your subject have the patience for it, but shooting group shots and landscapes is still a whole lot easier with a wide-angle lens. You can't also snap high-quality pictures with any of the secondary rear cameras, which leaves you with one serviceable shooter on both sides.
Pictures taken with the Redmi Note 9T 5G: 1) Auto; 2) Cyberpunk filter; 3) Lime filter; 4) Travel filter; 5-8) Auto; 9) 2x zoom; 10) 5x zoom; 11) 10x zoom; 12) Auto; 13-15) Portrait; 16) Auto; 17) Night mode; 18-20) With filters; 21-23) Auto (selfies); and 24) Portrait mode (selfie)
The rear-facer is the only one that supports Xiaomi's handheld Night mode, which captures multiple images at different exposure levels to create a brighter, clearer picture. The only caveat is that you need to hold the phone steady for three to four seconds to take a shot in Night mode.
The rear camera performs well in daylight conditions, offering a good amount of detail and minimizing noise in shadow areas while keeping colors close to real. The dynamic range is a touch broader than we're used to seeing in the segment, but that's expected given the sensor and Xiaomi's improved camera algorithms.
The selfie camera features a 13-megapixel sensor that sits behind an f/2.3 lens. It is surprisingly capable, especially when it comes to taking portrait-style selfies with a natural-looking background blur, but not as good at dealing with low-light scenes as the main camera.
Meanwhile, the native camera app is straightforward and easy to use. You get a good amount of filters, too, for creative effects. It even supports Google Lens to help you search what you see while the app is open.
More notably, the Redmi Note 9T 5G includes a Vlog mode that adds background music and video effects and combines shots together to create a short yet stylized video. It's a fantastic feature for content creators who regularly upload on social media, especially since they can simply replace the background music with any song of their choice using a video-editing app.
Performance
When it comes to day-to-day smartphone tasks, including gaming and productivity work, the Redmi Note 9T 5G shines among the best in the segment, both in terms of raw performance and efficiency. MediaTek's Dimensity 800U is a capable 5G chipset that, in general, doesn't sip battery power, even when using the phone heavily to take pictures and as a 5G hotspot for multiple devices.
If you want to get technical, it's built on the same 7nm process as the Dimensity 800 and Dimensity 820 and features two Cortex-A76 big cores running up to 2.4GHz and six 2GHz Cortex-A55 small cores alongside Mali-G57 MC3 graphics. However, unlike the vanilla Dimensity 800, the Dimensity 800U can be mated to UFS 2.2 storage. It's a pretty important distinction, but only for those who are interested in the pricier 4GB/128GB storage variant of the Redmi Note 9T; the base model offers 64GB of UFS 2.1 storage instead.
The Dimensity 800U also supports dual 5G SIM, so it has the ability to house two 5G SIMs in the same device and connect to two different 5G networks without physically swapping out SIM cards. Our experience on Globe's 5G network wasn't particularly impressive during our testing. We got slower speeds and worse coverage than the Qualcomm Snapdragon 765G-based OPPO Reno 5 5G in the same area while connected to the same network. Besides dual standby 5G, other notable connectivity features here include Bluetooth 5.1, dual-band Wi-Fi ac, and NFC. The FM radio function requires headphones to work.
Doing some random 5G speed tests again, this time on Xiaomi's #RedmiNote9T.#RevuDotComDotPH #ReadySet5G pic.twitter.com/TQh66LHEtx

— Revü Philippines (@RevuPhilippines) February 17, 2021
5G speed tests on the Redmi Note 9T 5G. Results should vary depending on the area
Even on Android 10-based MIUI 12, which is easily one of the heaviest and most bloated Android skins around, the Dimensity 800U is plenty responsive and will run most apps you throw at it without slowing the system down entirely. Multitasking is adequately fast, too, but don't expect a lot of apps to stay in the background for most of the time; the paltry 4GB RAM fills up quickly and, coupled with MIUI's aggressive RAM management, can feel lacking.
Gameplay: Genshin Impact, NBA 2K20 (3:01 mark), and Titan Quest (6:01 mark)
Gaming performance is solid overall. Genshin Impact, Titan Quest, and NBA 2K20 all ran well at low to high settings depending on the title. We ran into sluggish frame rates in Genshin Impact at Medium detail, so lowering the settings is not only recommended but necessary for smooth gameplay. If you want the best experience out of any game you have installed, we suggest opening it using the Game Turbo feature under the Settings app. You can also place a Game Turbo shortcut on the homescreen for easier access.
With Game Turbo, you can enable performance mode for supposedly higher frame rates, prioritize memory allocation for certain games, restrict buttons and on-screen gestures during gameplay, and many more. What's most impressive is that you can set up specific profiles for each game, allowing you to tweak the touch response and sensitivity, as well as the touch-resistant area for titles that will benefit from it.
Battery and charging
The Redmi Note 9T 5G has a pretty beefy 5,000mAh battery that the included 22.5-watt power brick is perfectly capable of charging up to 18 watts. It takes about 30 minutes to get the battery capacity to around 30% and another 80 minutes to charge it to full, bringing our usual charging time from 0% to 100% to 110 minutes.
While not lightning-quick by any means, it's fairly decent and still convenient for a lower-tier model, since you can basically charge the phone for a full workday in the time it takes for you to finish an episode of a series.
Draining the handset is an entirely different story. The Note 9T's battery life is superb, easily lasting more than 36 hours between charges with normal use. In the PCMark battery-rundown test, our unit managed 18 hours and 41 minutes at half brightness and with Wi-Fi active. That's a commendable result and just goes to show how efficient the 7nm MediaTek Dimensity 800U actually is.
Final thoughts
With the Redmi Note 9T 5G, Xiaomi wraps up a well-performing chipset, dual standby 5G, impressively long battery life, and more, in a budget-friendly package. Is it a better value than the POCO X3 NFC? We don't think so, especially at the X3's currently discounted price. The POCO has a faster screen, a more versatile set of cameras, more RAM, and faster wired charging.
However, for the money, you do get a 5G-ready model that punches above its weight in several areas. For this reason, it is something you simply cannot ignore if you're in the market for a new — and future-proof — phone.
Redmi Note 9T 5G specs
6.53-inch LCD display, 2,400 x 1,080 resolution, 90Hz refresh rate
Octa-core 7nm MediaTek Dimensity 800U processor with 5G
Mali-G57 GPU
4GB RAM
64GB/128GB storage
Triple 48-megapixel (main), 2-megapixel (depth), 2-megapixel (macro) rear cameras
13-megapixel front camera
Fingerprint reader (side-mounted)
Dual speakers
5,000mAh battery with 18-watt USB-C charging
MIUI 12 based on Android 10
Color options: Daybreak Purple, Nightfall Black
---