Estimated reading time: 13 minutes
Vivo Philippines' first local smartphone release for 2021 is finally official. The Y31 is here and brings a bevy of youthful energy to Vivo's Y lineup.
This time around, the emphasis seems to be on the design because it isn't every day that you see an affordable smartphone that looks way more expensive than it actually is. There are other highlights beyond the aesthetics, though, with the Y31 flaunting a tall LCD, a Qualcomm Snapdragon 600 series processor running the latest Android operating system, and a beefy battery that supports fast charging, among other things.
We spent a couple of weeks with the Vivo Y31. Here's our full review of the smartphone.
Price and availability
The Vivo Y31 is available in the Philippines with a suggested retail price of P12,999 (around $270 converted) for the lone configuration with 8GB RAM and 128GB storage.
You can already buy the handset online and offline starting today, with freebies up for grabs till February 12. If you want to pay for it in monthly installments, Home Credit offers up to an 18-month plan at 0% interest, while major credit cards are offering 0% installment plans up to 12 months.
Get yours for only P12,999, available in-store and online.
🛒Lazada: https://t.co/zm0plLLjqx
🛒Shopee: https://t.co/gg2SpHV8ao
Learn more: https://t.co/xM0mhWq58H

— vivo_phil (@Vivo_Phil) February 5, 2021
Vivo announces the Y31's availability in the Philippines
Hardware
One way to describe the Vivo Y31 is that it combines Vivo's new and old hardware design cues, sporting a waterdrop screen on the front and a matte-finish rear with rounded edges, a vertical Vivo logo, and a slightly protruding camera module reminiscent of the Vivo X50 Pro 5G's. When looking at the phone from the back with its triple-lens camera system, it's nearly indistinguishable from the company's 2020 sub-flagship. The Y31 is really attractive, to say the least.
And it feels great in the hands, too. The screen isn't too wide for comfortable one-handed operation in Portrait mode, plus the plastic housing makes the phone lighter and doesn't feel cheap at all. Vivo pushed the length of the screen to an aspect ratio of 20:9, though, so stuffing the phone in your pocket might not be the best way to carry it around.
SEE ALSO: Vivo X60 series with Zeiss cam coming to PH soon, post indicates
The color variant we have is called Ocean Blue (there's also a Racing Black colorway if you're not a fan of gradient finishes). It's the more eye-catching colorway between the two available options, and, fittingly, it mixes different shades of blue.
The physical buttons are located on the right-hand side. Per usual, you get a power/lock key and a volume rocker. They're pleasantly clicky and responsive and also use a matte texture that feels smooth to the touch and won't easily pick up scuffs or fingerprints.
Like most modern handsets in this price range, the Vivo Y31 integrates a fingerprint reader into the power/wake key. Fast and accurate, it is right up there with the best in the budget category. More importantly, it's located where your thumb might naturally rest when holding the device in portrait orientation.
The top of the phone carries a hybrid card slot for two nano SIMs and a microSD card for storage expansion. On the flip side, the bottom is where you'll find a headphone jack, a USB-C port for charging and file transfer, and cutouts for the average mono speaker. The Y31 supports fast wired charging up to 18 watts using the included cable and compact power brick.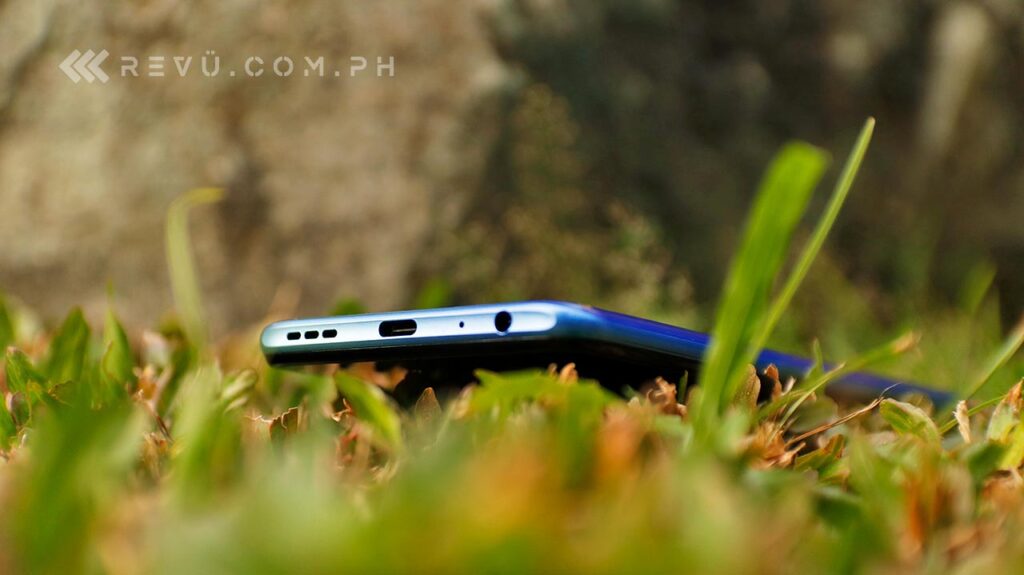 Overall, we found the hardware to be likable, with the exception of the waterdrop cutout at the top for the selfie camera, which can get in the way of the user experience, mostly when viewing content and playing games optimized for wide-screen devices. And though the Vivo Y31's form factor is a bit primed for single-handed usage, occasionally, you may need to use both hands to reach the top of the panel.
Screen
The Vivo Y31 has a 6.58-inch LCD display with 2,408 x 1,080 resolution, 60Hz refresh rate, and, as mentioned earlier, a tall aspect ratio of 20:9. On paper, it doesn't stand out — which isn't surprising given its price — but, visually, it is one of the better panels out there in the category. A higher refresh rate would have been nice, especially since rival companies like OPPO, Realme, and Xiaomi have launched similar entries to the Y31 in the sub- and slightly above-P10,000 ($208) range, but, otherwise, the screen is decent.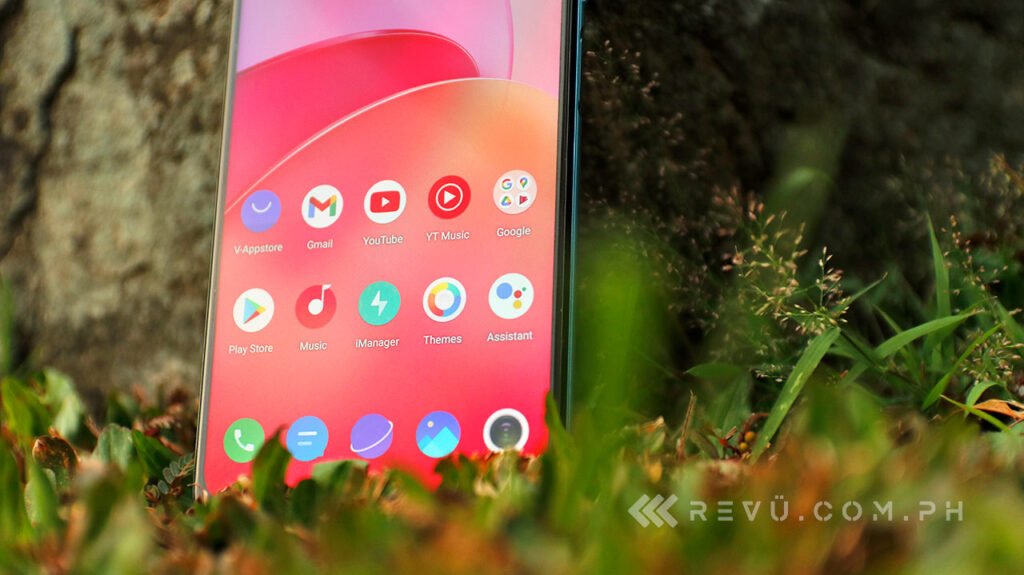 Colors look reasonably rich and well-saturated, not too pale; there is little color variation as you tilt the display; and the sharpness is on a respectable level as well. Though outdoor visibility can be a struggle at times, the Y31's auto brightness does an excellent job of managing output levels in bright and dim environments.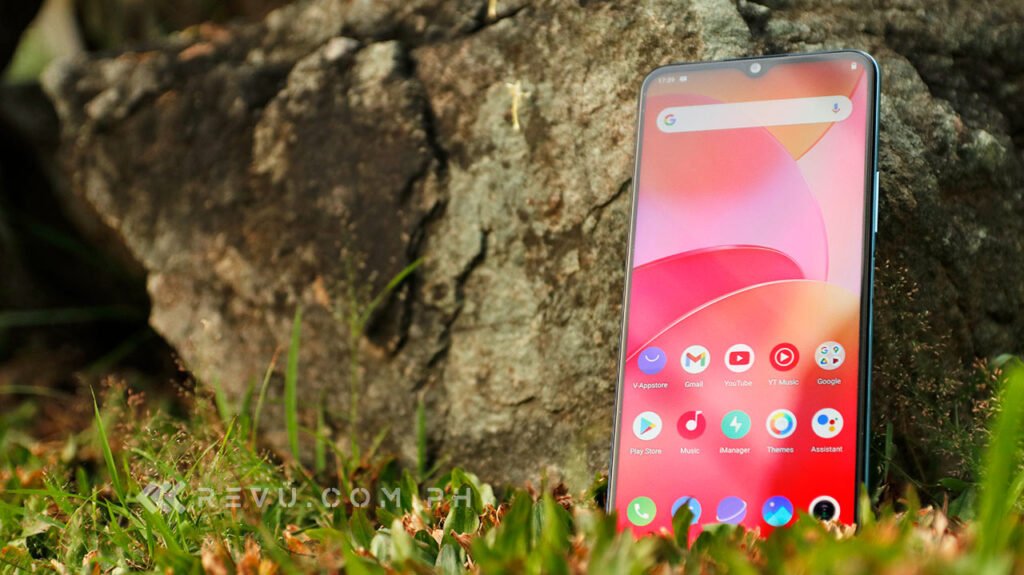 The combination of taller aspect ratio and somewhat surprisingly good picture quality is Vivo's nod to anyone who streams videos and plays video games regularly on their smartphone. However, the center cutout that houses the selfie camera does bring the Y31's appeal as a media device down a notch.
To help take care of your eyes and preserve a bit of the battery life, the Vivo Y31 comes with Dark and Eye Comfort modes, as well as an adjustable screen color temperature setting.
Camera
At the back, the Y31 is equipped with a 48-megapixel main camera with f/1.79 aperture lens, alongside 2-megapixel depth and macro sensors for portraits and closeups, respectively.
There is no ultra-wide-angle option here that's best suited for landscapes and group shots. You won't find a dedicated telephoto lens either, but you do get up to 8x digital zoom and a respectable 2x zoom in Photo (read: Auto), Portrait, and Pro modes. Up front, you get an 8-megapixel shooter with f/1.8 lens for taking selfies.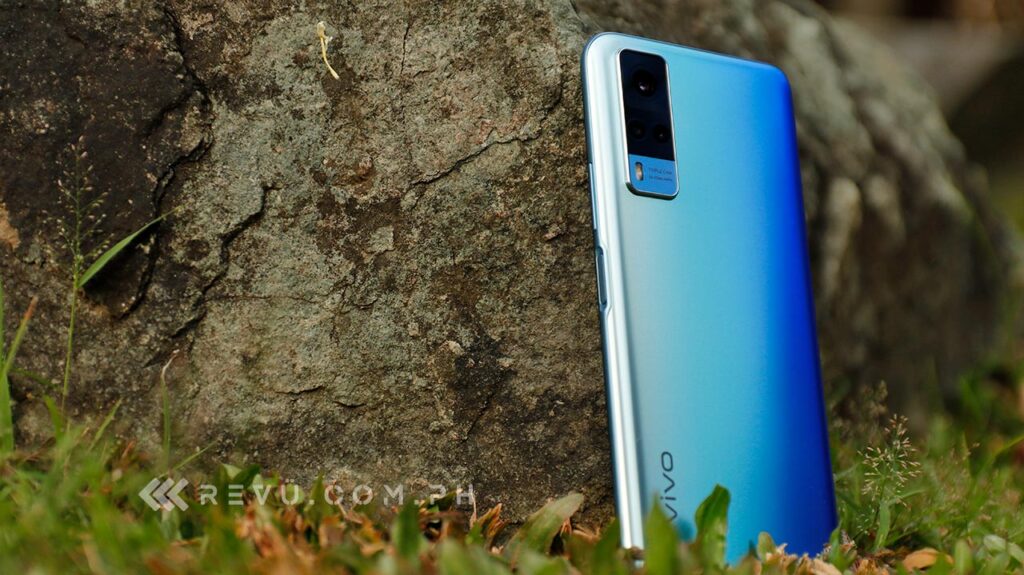 With just a single standalone camera on both sides, taking pictures with the Vivo Y31 is about as straightforward as it gets in the modern smartphone space. That doesn't mean the Y31 is disappointing compared with others in the same price bracket. It's definitely not the best and most versatile in its group, though.
For the price, the inclusion of an ultra-wide camera would have been a nice perk, especially considering how often we use our phones to take pictures of scenic locations and family gatherings. The Y31 does come with a panorama mode and can detect multiple faces in the frame, as long as they're close enough to the camera to be recognized.
It also includes Manual mode in the native camera app. This allows you to adjust exposure, ISO, shutter speed, white balance, and focus on demand. It's great for beginner users who want to take things a little further, or those who already know their way around a DSLR.
This set of pictures was from our unboxing of the Vivo Y31: 1-6) Auto; 7) 8x zoom (the maximum); 8-9) Auto; 10) Night mode (understand that this, as the ninth image, was captured in a dark room with the only source of light coming from the room next door); 11-15) Night mode (no style applied, with the other four getting filters: Black and Gold, Blue Ice, Green Orange, and Cyberpunk). Please click on a thumbnail to launch the slideshow
Additional sample photos: 1) Auto; 2) Night mode; 3-4) Backlight HDR; 5) 1x; 6) 2x zoom; 7) 8x zoom; 8) Auto; 9) Portrait; 10) Auto (selfie); 11) Portrait (selfie)
We found that the rear-facing camera performed well in most environments, resulting in mostly accurate colors, plenty of detail around the focus area, and good dynamic range. Vivo's Backlight HDR feature also helps a lot when shooting outdoors in bright, sunny conditions. Night mode does an excellent job in low-light environments and lets you play around with four different filters for a more dramatic look to your picture.
The front-facing camera produces flattering selfies with warm skin tones in daytime settings. Beautification features are abundant to digitally enhance your looks.
Video mode supports 1080p at 30 frames per second, as well as AI scene recognition if shooting with the main camera. Vivo's software stabilization needs more work, however. Usually, we would tell you to turn it off, but that's not possible on the Vivo Y31.
Performance
The Vivo Y31 runs on the midrange Qualcomm Snapdragon 662 chipset that debuted last year. It's the same chip that's in the POCO M3 and Redmi 9T. Additionally, the Snapdragon 662 is fabricated on Samsung's 11nm process, incorporates Qualcomm's Kryo 260 cores running up to 2GHz, and is paired with an Adreno 610 graphics chip.
Unlike in some other markets, the Snapdragon 662 in the Y31 is paired with 8GB RAM and 128GB of internal storage for the variant sold in the Philippines, which is good news for heavy multitaskers, as having more RAM generally leads to a smoother user experience and faster app-loading times. Of course, the extra RAM has driven the price of the phone higher than competing models using the same chipset, among other reasons.
The Snapdragon 662 is no slouch when it comes to everyday tasks and even casual gaming, so, as expected, it performed well throughout our test. Vivo's latest Android 11-based Funtouch OS 11 looks pleasingly smooth on the 60Hz panel. Apps don't crash even as we have a number of them sitting idly in the background. While certainly not the best for recent, demanding games, such as Genshin Impact, the Snapdragon 662 actually delivers good frame rates at lower settings. We also noticed some delay when it processes portrait-style pictures and night shots.
The Vivo Y31 won't score high when it comes to benchmarks, as shown in our test results, but what matters is that it handles real-world situations well enough and is about as efficient as they come without falling into the bargain basement. It doesn't feel sluggish when faced with day-to-day tasks, including messaging, calls, browsing, and media streaming.
Funtouch OS 11 on the Y31 looks great, as always; the user interface is uncluttered, very user-friendly yet beautiful. Does it also come with a boatload of bloatware? Yeah. But then again, you can uninstall most of them if you want to. While we're on the topic, it's worth mentioning, too, that the Y31 is the first non-flagship Vivo handset in the Philippines that ships with Funtouch OS 11 out of the box. Even though it's 2021, there are still plenty of smartphones being launched on the market now that don't run Android 11, Android's latest and most secure OS update.
Battery and charging
Thanks to an efficient processor and a rather beefy 5,000mAh battery, the Vivo Y31 can easily provide more than a full day's use — even if you're always glued to the screen. We generally enjoy around nine hours of screen-on time with the Y31 on a single charge.
Battery life just isn't something you have to worry about on this handset, especially with power-saving options that should help you squeeze more juice out of the battery. There's Battery Saver, which reduces performance and most background data to make the phone last longer. Background Power Consumption Management, on the other hand, intelligently manages the power consumption of background apps.
We ran PCMark's battery-rundown test several times on our unit and achieved an average of 18 hours and 30 minutes. That's hardly surprising given the 5,000mAh cell, but it is telling of how efficient the Y31 is, nonetheless.
In our experience, it normally takes two hours and 40 minutes to fully recharge the Y31 from flat using the included charger. You get about 30% at the 30-minute mark, so it's only really good for midday top-ups.
Final thoughts
There is obviously plenty to like about the Vivo Y31. But most of all, what has impressed us so far is its design, display quality, and longevity coupled with decent fast charging. It's an appealing all-rounder that won't put a huge hole in your wallet, even if it's pricier than a couple of other Snapdragon 600 series-based devices in the country.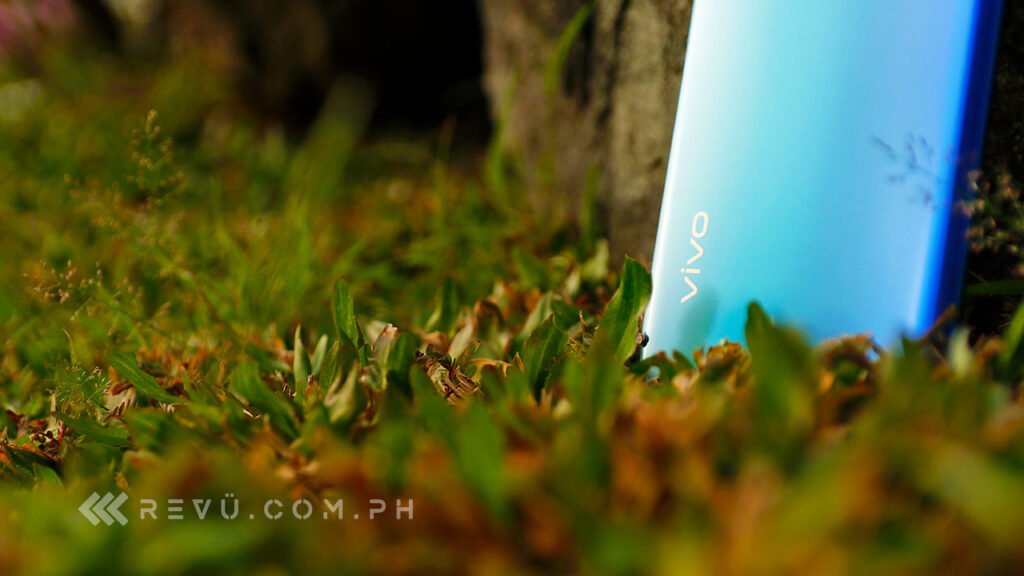 Vivo Y31 specs
6.58-inch LCD display, FHD+ resolution, 60Hz refresh rate
Octa-core 11nm Qualcomm Snapdragon 662 processor
8GB RAM
128GB storage
Triple 48-megapixel (main), 2-megapixel (depth), 2-megapixel (macro) rear cameras
16-megapixel front camera
Fingerprint reader (side-mounted)
5,000mAh battery with 18-watt fast charging via USB-C
FunTouch OS 11 based on Android 11
Colors: Racing Black, Ocean Blue
---