Estimated reading time: 8 minutes

The latest iteration in the ROG Phone series is here, much earlier than usual. But hey, you can say that about almost all smartphone flagships that launched the past couple of months. And if you ask the people at ASUS, they don't see any problem with their newest gaming phone getting pushed out the pipeline earlier than what we're used to.
(Update, April 12: Overrated or not? Find out in our review of the ASUS ROG Phone 5 gaming phone!)

(Update, April 10: The ASUS ROG Phone 5 series has been launched in the Philippines! See the prices and introductory offers here.)
The Taiwanese manufacturer will release three models for international markets this year: the ASUS ROG Phone 5, ASUS ROG Phone 5 Pro, and limited-edition ASUS ROG Phone 5 Ultimate, which boasts the highest specs, including 18GB of RAM. We're guessing all variants will be available in the Philippines, same as with previous iterations of the gaming phone.
We certainly have no qualms with the release schedule, even though you could argue that the ASUS ROG Phone 5's biggest claim to fame has every bit to do with vanity rather than all-around upgrades, adding what ASUS calls the ROG Vision — a customizable, dynamic matrix display — to the ROG Phone 5 Pro and ROG Phone 5 Ultimate's rear panel. Unfortunately, the regular ROG Phone 5 doesn't sport a fancy backlit grid and gets lesser memory than its Pro and Ultimate counterparts.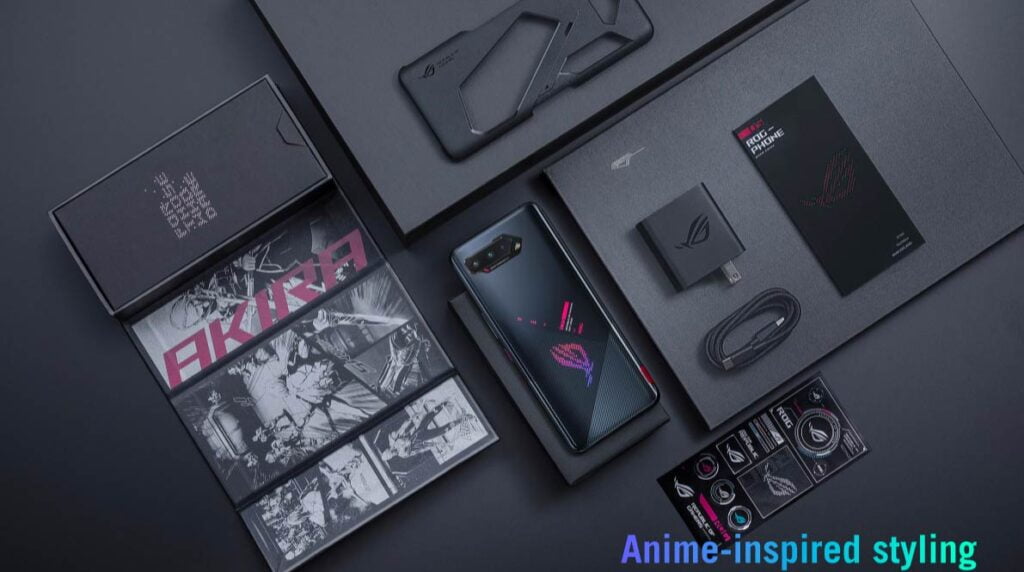 Don't get us wrong. The ROG Phone 5 series should be wicked fast — perhaps even the fastest Android on the market today courtesy of a Qualcomm Snapdragon 888 chipset coupled with Android 11, a serious cooling system, and up to 18GB of LPDDR5 RAM and 512GB of UFS 3.1 storage when you max out the specs.
And it sounds excellent, too, at least according to Dxomark's glowing audio review, which puts the phone at the top section of the charts with a healthy lead over the Xiaomi Mi 10 Pro and its predecessor, the ASUS ROG Phone 3, and behind only the Xiaomi Mi 10S.
ASUS ROG Phone 5 series price and availability
The international pricing for the full lineup is as follows:
ASUS ROG Phone 5

8GB/128GB: €799 (around P46,149 or $949 converted)
12GB/256GB: €899 (P51,925 or $1,068)
16GB/256GB: €999 (P57,701 or $1,187)

ASUS ROG Phone 5 Pro

16GB/512GB: €1,199 (P69,253 or $1,425)

ASUS ROG Phone 5 Ultimate

18GB/512GB: €1299 (P75,029 or $1,543)
The ROG Phone 5 will be available this month depending on your location, while the ROG Phone 5 Pro and ROG Phone 5 Ultimate are expected to hit stores sometime in April and May, respectively. It bears mentioning that ASUS won't be shipping the AeroActive Cooler 5 accessory with the ROG Phone 5. Both the ROG Phone 5 Pro and ROG Phone 5 Ultimate are bundled with the updated active cooler clip-on. In addition to that, the latter will be packaged together with an ROG Ultimate gift collection.
Phantom Black and Storm White are your color options for the vanilla model; the Pro will only arrive in Phantom Black, while the top-of-the-line Ultimate edition will get both Phantom Black and Storm White colorways.
ASUS ROG Phone 5 series specs and features
On the outside, all three models look identical, except, as mentioned earlier, the base unit won't have ASUS' ROG Vision rear matrix. Additionally, the ROG Phone 5 Pro has a color ROG Vision display, whereas the ROG Phone 5 Ultimate features a monochrome version.
Besides displaying a variety of animations while charging, when there's an incoming call or when X Mode, ASUS' performance setting, is enabled, ROG Vision can be customized to show user-generated animations for system notifications and status. This is something we've seen used in ASUS' gaming-focused line of laptops, so it should be interesting to see how a smaller-scale version of it translates to smartphones.
The back of the ROG Phone 5 series also gets Corning Gorilla Glass 3, whereas the front panel is protected by stronger — and newer — Gorilla Glass Victus, which is an upgrade over the ROG Phone 3's Gorilla Glass 6 in terms of drop protection.
The AMOLED panel is bigger this time around, coming in at 6.78 inches as opposed to recycling the same 6.59-inch screen size. The resolution remains at 1080p, with a 144Hz refresh rate, 300Hz touch sampling (up from the ROG Phone 3's 270Hz), 1,200 nits of peak brightness when auto brightness is enabled, plus a taller aspect ratio of 20.4:9. ASUS claims to deliver a 1-millisecond of response time, the same as with the ROG Phone 3. Touch latency is said to have been reduced to as low as 24.3 milliseconds, a slight improvement from last year's figures.
You might recall that Nubia's RedMagic 6 series of gaming phones debuted with a higher refresh rate of 165Hz and up to 500Hz touch sampling, so it's interesting that ASUS decided against going guns blazing on the display front this year. The screen on the ROG Phone 5 is HDR10 and HDR10+ compliant, too, and has always-on HDR functionality.
To keep the lights on the front and back, the ASUS ROG Phone 5 adopts a 6,000mAh dual cell that charges at up to 65 watts using the included proprietary HyperCharge power brick and cable. It is not a GaN charger, though, so don't expect it to be as compact as possible.
The company's AirTrigger control system has also been upgraded to give users four different ways to interact with their ASUS ROG Phone 5, plus hidden rear touch sensors on the back of the ROG Phone 5 Pro and ROG Phone 5 Ultimate to simulate the L2 and R2 triggers of a modern console controller. Additionally, the AeroActive Cooler 5 comes with two physical buttons for more precise gameplay.
Meanwhile, the ROG Phone 5's GameFX audio system, which has been optimized in collaboration with audio specialist Dirac, now incorporates dual speakers with symmetrical seven-magnet speakers to provide a more balanced stereo sound. The phone also has a standard 3.5mm jack out with an ESS DAC for lossless audio processing.
SEE ALSO: Best-performing midrange, flagship phones in Feb 2021
In terms of optics, the ASUS ROG Phone 5 lineup shares a triple-camera setup led by a 64-megapixel Sony IMX686 sensor, the same Quad-Bayer sensor used by the ROG Phone 3. The main camera is joined by a 13-megapixel ultra-wide shooter and a 5-megapixel macro option for extreme closeups.
It's déjà vu, really; this is basically the same setup we saw on the previous model. Thus, we couldn't help but think that ASUS could have and should have done better knowing what the competition is like on the high-end market right now. A dedicated telephoto camera would have been a great start.
We'll have more about the ASUS ROG Phone 5 in our full review, so check back with us later for benchmarks and our thoughts on Android's latest gaming smartphone.
ASUS ROG Phone 5 specs
6.78-inch Super AMOLED display, 2,448 x 1,080 resolution (20.4:9), 144Hz refresh rate, 300Hz touch sampling 1ms, 1,200 nits peak brightness, HDR10+ and DCI-P3 support
Octa-core Qualcomm Snapdragon 888 with 5G
Up to 16GB LPDDR5 RAM
Up to 256GB UFS 3.1 storage
Triple 64MP main (Sony IMX686), 13MP ultra-wide, 5MP macro rear cameras
24MP front camera
Fingerprint sensor (under display)
6,000mAh dual battery with 65-watt USB-C fast charging
Android 11 with ROG UI
ASUS ROG Phone 5 Pro specs
6.78-inch Super AMOLED display, 2,448 x 1,080 resolution (20.4:9), 144Hz refresh rate, 300Hz touch sampling 1ms, 1,200 nits peak brightness, HDR10+ and DCI-P3 support
Octa-core Qualcomm Snapdragon 888 with 5G
16GB LPDDR5 RAM
512GB UFS 3.1 storage
Triple 64MP main (Sony IMX686), 13MP ultra-wide, 5MP macro rear cameras
24MP front camera
Fingerprint sensor (under display)
6,000mAh dual battery with 65-watt USB-C fast charging
ROG Vision rear display
Android 11 with ROG UI
ASUS ROG Phone 5 Ultimate specs
6.78-inch Super AMOLED display, 2,448 x 1,080 resolution (20.4:9), 144Hz refresh rate, 300Hz touch sampling 1ms, 1,200 nits peak brightness, HDR10+ and DCI-P3 support
Octa-core Qualcomm Snapdragon 888 with 5G
18GB LPDDR5 RAM
512GB UFS 3.1 storage
Triple 64MP main (Sony IMX686), 13MP ultra-wide, 5MP macro rear cameras
24MP front camera
Fingerprint sensor (under display)
6,000mAh dual battery with 65-watt USB-C fast charging
ROG Vision rear display
Android 11 with ROG UI
Video: Livestream of ASUS ROG Phone 5 series global launch
---