Dedicated gaming phones are a relatively new thing to the smartphone market, with some presenting themselves as compelling alternatives to do-it-all flagships that cost about the same.
ASUS, one of the biggest names in the PC and mobile-gaming industry, is no stranger to handsets built for gamers with money to burn. The ASUS ROG Phone 3 is the Taiwanese manufacturer's third attempt, and it has improved in some ways compared with what came immediately before.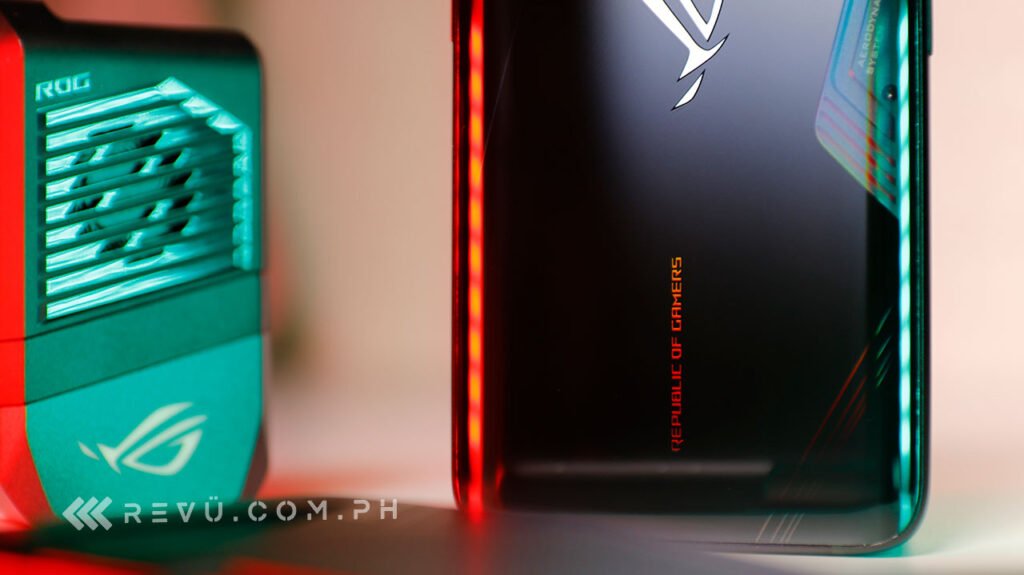 Importantly, the unit boasts a higher refresh rate and a faster processor, in addition to a third camera made exclusively for macro shots. There are a number of gaming-centric software improvements as well, but for the most part, the notable upgrades are on the hardware side.
If you are on the hunt for a flagship gaming smartphone, then read our review of the ASUS ROG Phone 3 to find out how it performs in the real world.
Pricing and availability
In the Philippines, the ASUS ROG Phone 3 is available in three variants, with the cheapest model being the ROG Phone 3 Strix Edition that comes with a regular Qualcomm Snapdragon 865. The local prices are as follows:
ASUS ROG Phone 3 16GB/512GB (Classic Edition): P54,995 (about $1,134 converted)
ASUS ROG Phone 3 12GB/512GB (Classic Edition): P49,995 ($1,031)
ASUS ROG Phone 3 8GB/256GB (Strix Edition): P39,995 ($825)
Regardless of which model you choose, you'll receive an Aero Case, an AeroActive Cooler 3, and a Type-C-to-3.5mm dongle inside the box.
Hardware
We'd like to point out two things here. First, the ROG Phone 3 is quite huge and bulky, as you can probably tell by looking at the pictures. And it's not entirely because of the new 6.59-inch OLED screen built specifically for a better gaming experience. The bezels along the top and bottom are large — some of the biggest you'll see at this price point — to accommodate the two front-facing stereo speakers, which deliver loud, punchy audio quality and are less likely to be muffled when the phone is gripped with both hands in landscape mode.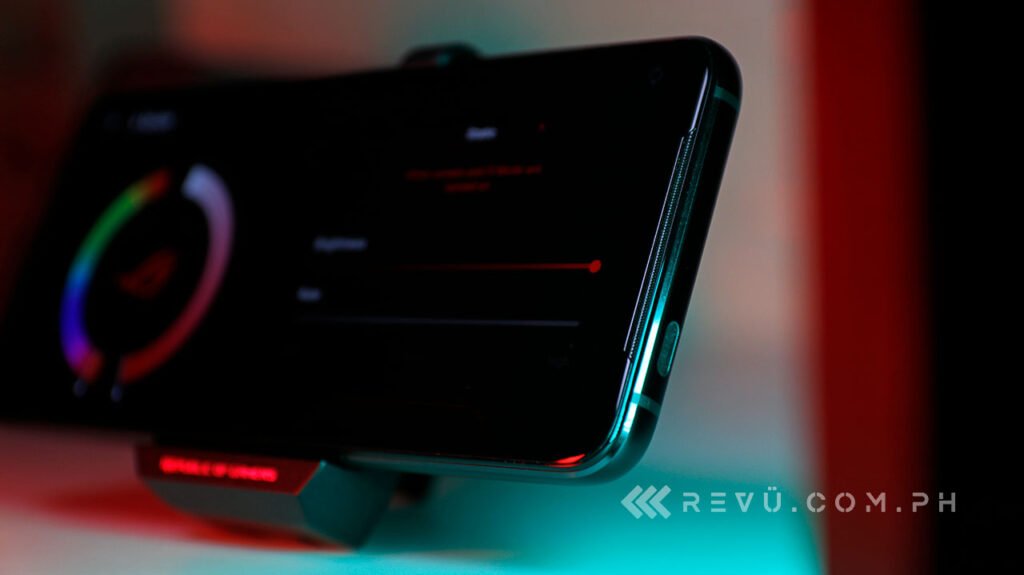 We're no audio experts, but we can tell that this ROG provides higher-quality sound from the loudspeakers than most smartphones, and the volume is loud enough to skip connecting to a Bluetooth speaker if all you need to hear are some ambient tunes to write to. This gaming phone also records consistently good audio for many different use cases, such as shooting video and doing a livestream using the device's internal microphones.
The bulk is expected, as the ASUS ROG Phone 3 carries a massive 6,000mAh battery that can also be used to charge other devices. Among the recent crop of gaming phones that have been released on the global market, the latest ROG Phone boasts the highest battery capacity and should last longer than its competitors when used under the same conditions. For context, the Xiaomi Black Shark 3S and Nubia Red Magic 5S are powered by batteries with a sub-5,000mAh capacity, while the Lenovo Legion Phone Duel has a 5,000mAh cell.
Depending on the settings on your phone, this ROG Phone 3 should have enough juice to get you through a full day of varied use or many hours of intense gaming, but keep in mind that enabling X Mode and the 144Hz display option will eat through the battery relatively quickly.
The second thing that we want to point out is that the hardware of the ROG Phone 3, including its dimensions and size, is purposefully built for gaming and the idea of playing games at an extremely high level. In other words, gaming comes first; everything else comes second or third, or worse. And that's fine; the ASUS ROG Phone 3 isn't being marketed as anything other than a gaming-focused smartphone that can pretty much blast through the entire Android catalog. For many, that alone is enticing.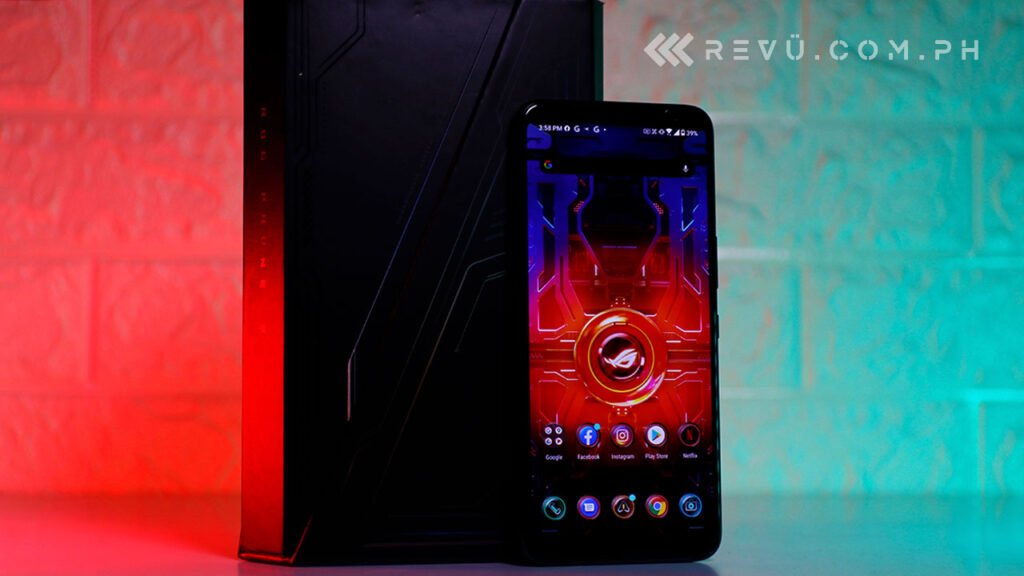 There's the big 144Hz screen for those with large hands or those who are serious about mobile gaming and consume a lot of media on their devices. The extra-thick bezels provide added grip when playing in landscape and prevent the speakers from being easily blocked.
The physical power and volume buttons are located near the center of the frame of the right-hand side for convenient access and to give way to the touch-sensitive shoulder triggers that can be customized to act as a shortcut to any action or button on the screen. You can even customize how they're triggered — with a tap or swipe — and split a button into two parts for a total of four shoulder buttons.
They work pretty well across the wide variety of games we tested them on, but we still prefer tapping the screen with our thumbs, as opposed to using our index fingers to access the capacitive shoulder buttons. Or perhaps we just need more time (and patience) to learn new control schemes.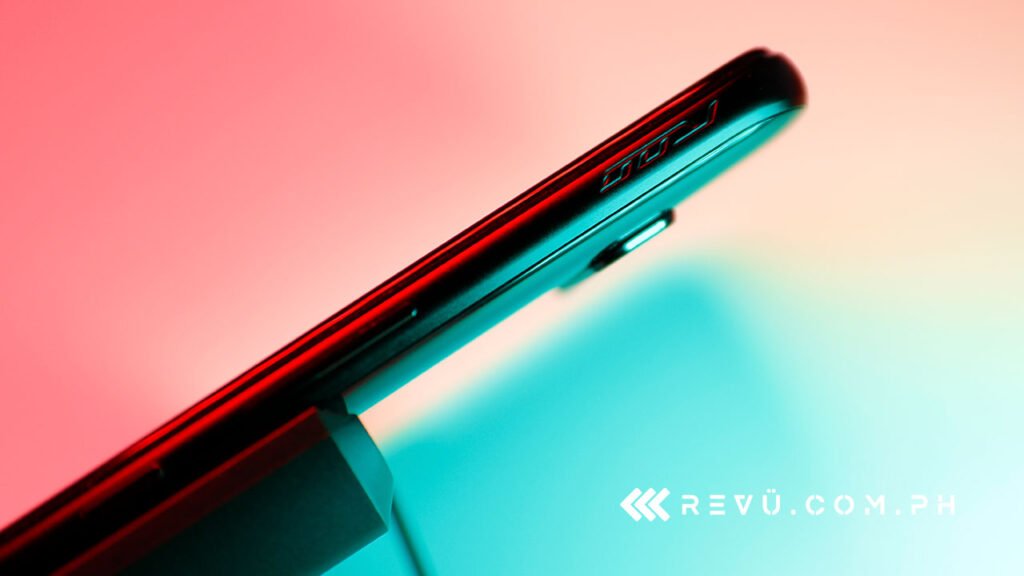 The left side of the ASUS ROG Phone 3 features an extra pair of USB-C connectors, conveniently hidden by a rubber cover, for charging and peripherals. This will allow you to charge the device while playing in landscape mode. There's also a USB-C interface at the bottom of the handset, which is exposed for easier access.
Unfortunately, the ROG Phone 3 does not have a headphone jack despite the multitude of ports and extras on the hardware side. According to ASUS, adding a 3.5mm audio connector will only make the unit bulkier than it needs to be, as the internals are already packed to capacity with the huge battery and other components.
There's a workaround, though. When you absolutely need to plug in an analog headset, you must attach the included AeroActive Cooler 3 to the back of the ROG Phone 3, and then connect the headset to the 3.5mm jack at the bottom of the cooling fan. It's still plug-and-play, but you'll just have to go through a couple of extra steps. Not a biggie.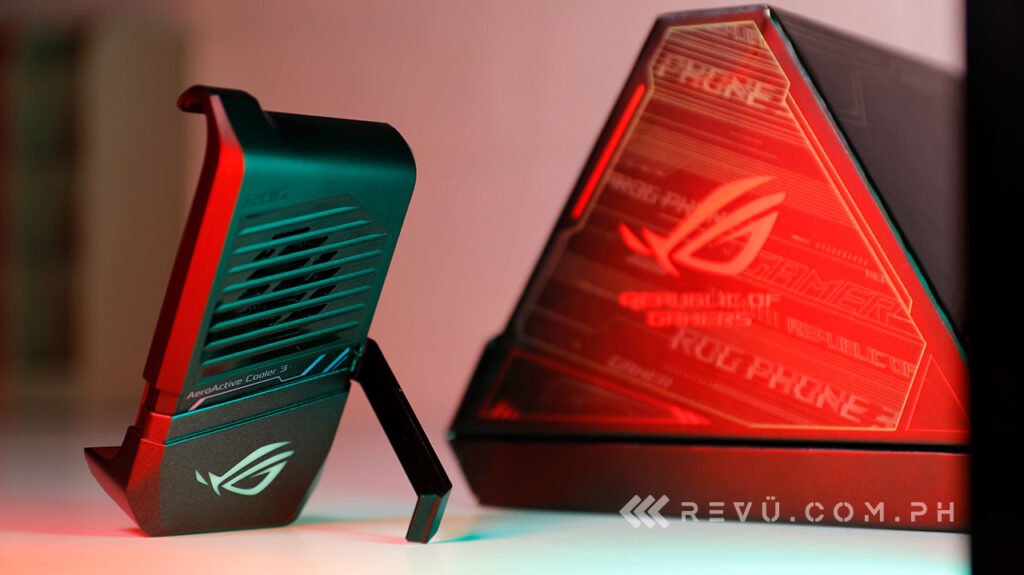 Then there's the design. The ASUS ROG Phone 3 features Corning Gorilla Glass 3 and a backlit ROG logo that can be configured to show different colors and light effects. The latest ROG design also takes on aggressive lines that tie the phone to ASUS' gaming laptops and accessories.
Meanwhile, the transparent window on the right side of the rear panel chamber partially reveals the device's copper vapor chamber, which ASUS claims is the largest ever put in a phone. The chamber acts as a passive cooling solution and ensures optimal temperatures when gaming. More importantly, it does seem to work very well. In our experience, the phone stays in the mid-40 degrees Celsius even while playing for hours at a stretch.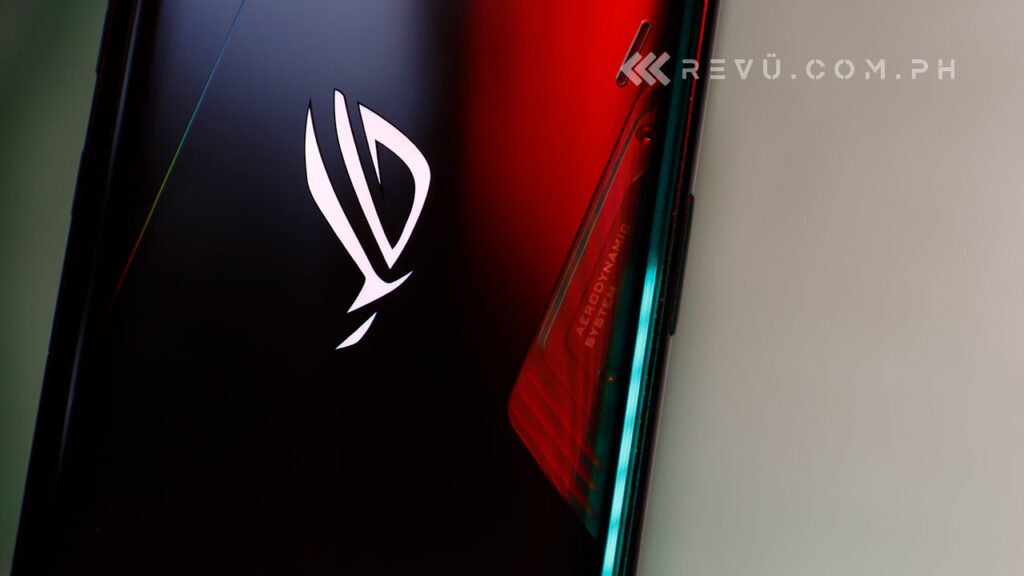 With the mini fan accessory attached for active cooling, we would normally see the temperatures knocked down by a degree or two, so it's nothing game-changing unless the temperatures in the area you are playing at are too extreme.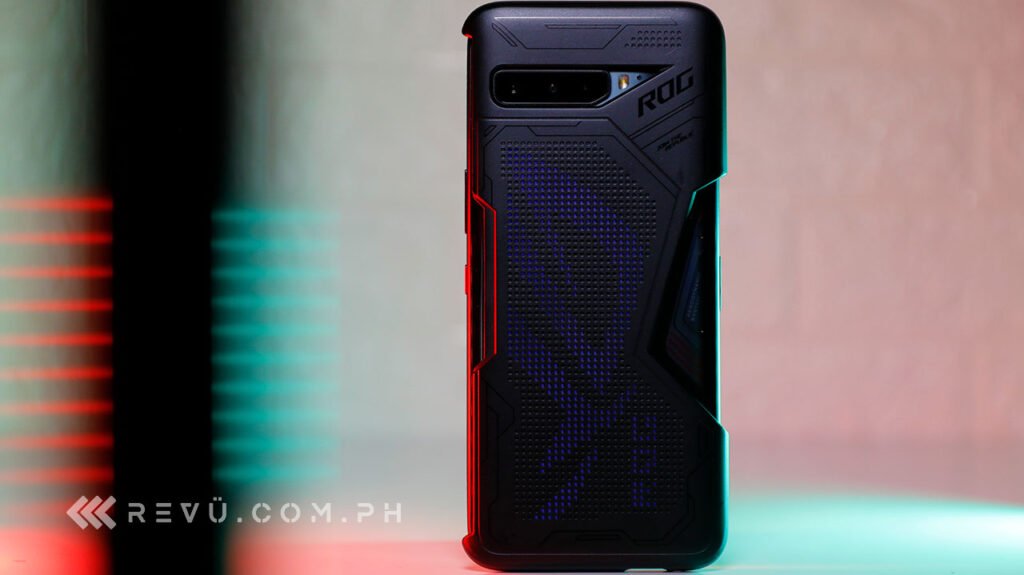 Another accessory we got to try out in our review is the ROG Phone 3's Lightning Armor Case, which is sold separately and features a customizable ROG LED grid. It will also unlock an exclusive theme for your device. We think it actually looks nice, especially if you're into the ROG Phone's unique aesthetic.
Unfortunately, the case doesn't offer any protection to the front of the handset. We accidentally dropped our ROG Phone 3 and ended up with a broken display (hence, our delayed review). That being said, if you're getting this phone, it wouldn't hurt to pair it with a case that provides all-around protection for your pricey gaming device.
Screen
Moving to the front, ASUS has equipped the ROG Phone 3 with a 6.59-inch, 2,340 x 1,080 OLED screen, which is similar in size and resolution to last year's model. It's also flat and comes with Corning Gorilla Glass 6 protection, although we wouldn't put much faith in it based on what happened to our previous review unit.
The biggest upgrades this year include support for HDR10+ content and a faster 144Hz refresh rate. You'll recall that the ASUS ROG Phone 2 comes with a slightly slower 120Hz display. The average smartphone has a 60Hz screen.
Refresh rate indicates the speed at which images are shown. A 144Hz refresh rate means that the screen updates 144 times per second. This results in smoother animations and visuals, and the 144Hz panel on the ROG Phone 3 is one of the highest on offer today, matching the likes on Lenovo's Legion Phone Duel and the Red Magic 5S gaming phones.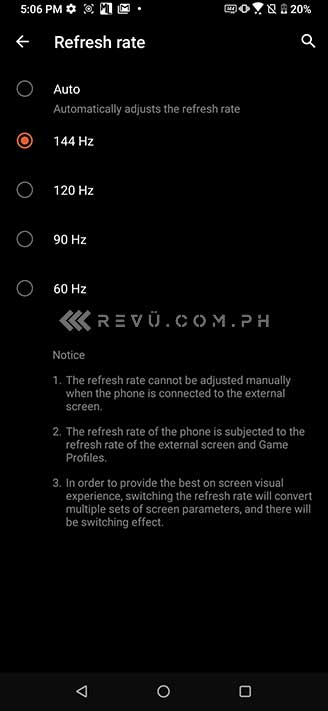 You can let the system choose its refresh rate automatically depending on the content being viewed or manually select between the 60, 90, 120, and 144Hz options if you prefer. Keep in mind that a higher refresh will drain the battery faster, though.
Personally, we like to set the display to 120Hz, as it provides the best balance of smoothness and battery consumption. ASUS also claims a rated maximum brightness of 650 nits, but the ROG Phone 3 is also capable of up to 1,000 nits in certain areas.
In terms of picture quality, our unit seems to have a well-calibrated display out of the box. Because the phone has an OLED screen, the colors appear vibrant and mostly accurate. It's bright enough for outdoor use, too, and the viewing angles are generous. There are four color profiles to choose from in the Settings, along with a slider for adjusting the color temperature, but you can also customize the color space on the phone to get a more accurate color representation.
For viewing content on streaming platforms like Netflix, Amazon Prime, and YouTube, the ASUS ROG Phone 3 is Widevine L1-certified, meaning it supports full HD playback, as well as HDR for certain videos on YouTube.
Camera
Gaming phones are not expected to have great camera systems. While the latest ROG Phone doesn't break the mold, it has a decent primary camera that serves as an incremental update over the ROG Phone 2, with the addition of a sharper, better-performing sensor and a dedicated macro camera for extreme closeups.
On the back of the ROG Phone 3, you'll find three cameras near the center of the panel. The main camera sports a 64-megapixel, Quad-Bayer Sony IMX686 sensor with 0.8 µm individual pixels in a binned 16MP mode. The sensor sits behind an f/1.8 lens. There is no optical image stabilization either, so the setup is nothing too fancy. There are other affordable options out there that offer greater functionality in the camera department.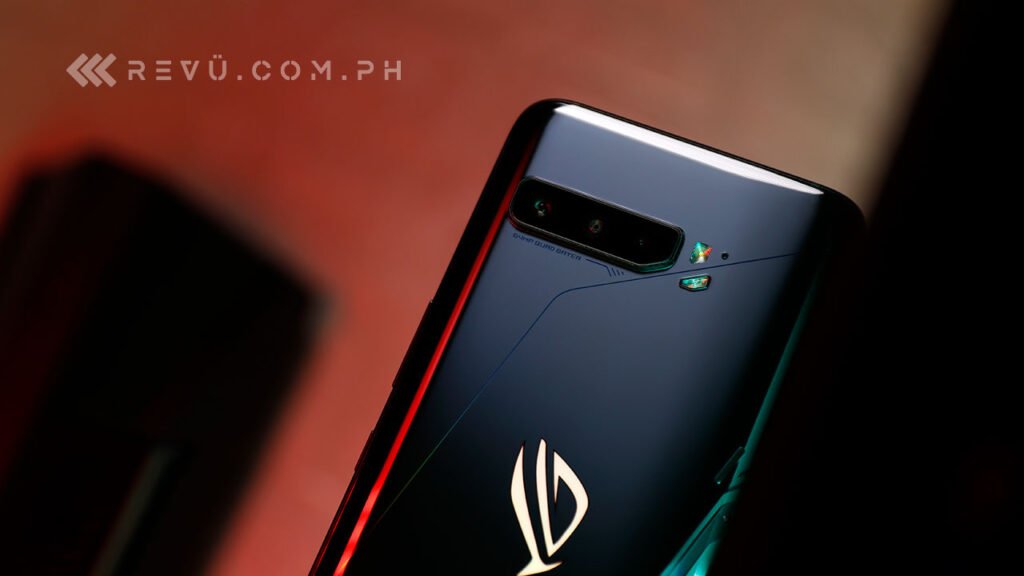 The secondary cameras include a 13-megapixel, f/2.4 ultra-wide shooter and a 5-megapixel macro sensor. As expected, you'll lose a good amount of quality when shooting in ultra-wide and macro modes, but thankfully, you don't have to use them if you don't want to. You can take several steps back to capture a wider view and squeeze more scenery in the frame. You can also pinch-zoom your way through a closer view of a subject without having to physically move closer.
The 64-megapixel camera is good in daylight, but produces much lower-quality shots as the scenes get darker. Night mode will help you get usable pictures in poor lighting conditions. Unfortunately, it's only available when using the main back camera.
Video quality is also not the best, especially since there is no OIS to support the primary sensor and compensate for camera movement. You can shoot 8K video, although it's gimmicky at best, with the frame heavily cropped and the footage looking soft.
Probably the most interesting video mode here is Motion Tracking, which is a callback from previous models and allows the user to lock onto a subject while physically moving the phone around. The camera will automatically adjust the focal distance — zooming in when necessary — to keep the subject in the frame.
Pictures taken with the ASUS ROG Phone 3. 1-4) Auto, 5) Ultra-wide, 6) Auto, 7-8) Ultra-wide, 9) 1x, 10) 8x zoom, 11) Auto, 12) Macro, 13) Night shot, 14) Night mode enabled, 15-16) Pro, 17-18) Selfies (sorry, we forgot the decent selfies were shot on the first unit we damaged)
The front-facing camera is 24 megapixels and comes with f/2.0 lens. It produces a decent amount of detail, and the HDR performance is not bad when taking selfies against the light. Again, it's not the best compared with other selfie shooters at this price point.
Performance
The ASUS ROG Phone 3 is one of the first phones on the global market to launch a Qualcomm Snapdragon 865 Plus chipset. In the Philippines, it's the first device to use the chip giant's latest and greatest mobile offering. The Snapdragon 865 Plus boasts a 3.1GHz prime CPU core, which Qualcomm says delivers up to 10% improvement from the regular Snapdragon 865.
Couple that with 16GB of LPDDR5 RAM and 512GB UFS 3.1 storage on our Classic Edition unit, plus plenty of performance options in the Settings, and you're looking at the most powerful smartphone in the country now. And that power translates directly into unprecedented territory.
Our review unit, for example, posted a ridiculous score of 644,000 in Antutu Benchmark. To put that into context (and borrow what we said in a previous article), most flagship phones struggle to break the 600,000 mark, let alone get close to the ROG Phone 3's total score. High-end midrange devices typically get around 300,000 points. Any other benchmark of your choice is likely to yield crazy-high numbers, too.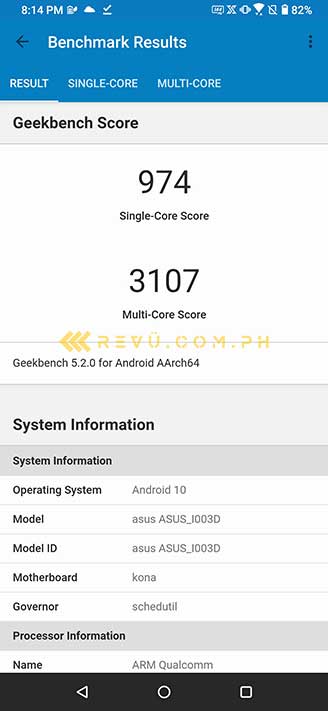 And as far as real-world scenarios are concerned, the ASUS ROG Phone 3 doesn't let up one bit. With 120Hz or 144Hz mode enabled, it's easily one of the smoothest and most responsive devices we've used so far; there's no lag at all when we're scrolling through menus and navigating the home screen. Naturally, that slick performance extends to gaming.
When it comes to playing games, the ASUS ROG Phone 3 is a beast that will chew up anything you put in front of it
When it comes to playing games, ASUS' latest gaming phone is a beast that will chew up anything you put in front of it. In the X Mode performance setting, all the games we tested — with the surprising exception of Mobile Legends, which doesn't have the Ultra graphics preset available on our device — ran smoothly at the highest detail levels and resolutions, with the super-fast OLED screen making a tangible difference in apps that supported it.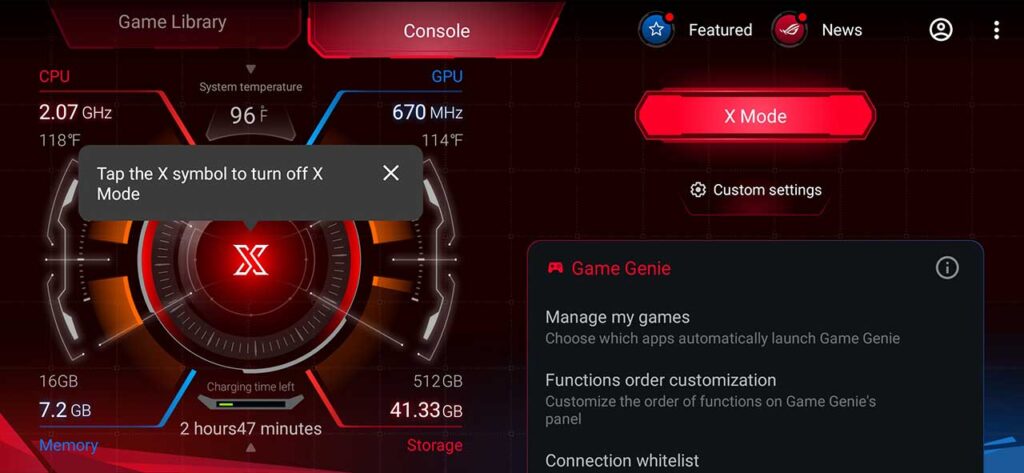 The only question left — as we found out — is whether the game supports a higher refresh rate than 60Hz. Because most games don't, and some don't even run at 60 frames per second.
Of the 16 games we played, the only ones that took advantage of the ROG Phone 3's 144Hz screen was Real Racing 3 and Alto's Adventure. Dead Cells maxed out at around 60 fps on our unit; it was previously reported that the Android port could take full advantage of 144Hz displays. Shadowgun War Games makes 144Hz support available through its settings menu, but for some reason, the ROG Phone 3 can't hit 144 fps in actual matches.
Our gaming-test video, which we earlier shared here
To recap, here's the summary of our ASUS ROG Phone 3 gaming test (X Mode turned on):
0:00 – 2:00: Mobile Legends (60 fps)
2:01 – 4:00: PUBG Mobile (60 fps)
4:01 – 6:00: Call of Duty: Mobile (60 fps)
6:01 – 8:00: GRID Autosport (30 fps)
8:01 – 10:00: Asphalt 9 (60 fps)
10:01 – 12:00: Real Racing 3 (144 fps with screen recording off)
12:01 – 14:00: Honkai Impact 3 (60 fps)
14:01 – 16:00: Black Desert Mobile (45 fps)
16:01 – 18:00: V4 (30+ fps)
18:01 – 20:00: The Last Remnant (60 fps)
20:01 – 22:00: Brawlhalla (60 fps)
22:01 – 24:00: NBA 2K20 (120 fps with screen recording off)
24:01 – 26:00: NBA Jam (120 fps)
26:01 – 28:00: Alto's Adventure (144 fps)
28:01 – 30:00: Dead Cells (60+ fps)
30:01 – 32:00: Shadowgun War Games (120+ fps)
Bear in mind that activating X Mode and 144Hz mode at the same time will not only drain the battery much faster, these options will warm up the back of the device much faster and put a strain on the battery in the long run.
As for 5G connectivity, ASUS Philippines told us that the ROG Phone 3 should be compatible with the 5G networks of Globe Telecom (sample speed test here) and Smart Communications (several tests here). We can neither confirm nor deny this claim, and it remains to be seen whether local telcos will bundle the device with any of their existing data plans.
You'll recall that ASUS wasn't able to secure a telco partnership for the ROG Phone 2, but then again, given both operators' push for 5G, they might consider the allure of a flagship gaming phone that can deliver fiber-like speeds over their next-gen networks.
Battery life and charging
Battery life is quite exemplary — as you'd expect from a phone with a massive battery. The 6,000mAh cell inside the ASUS ROG Phone 3 typically lasts us at least two full days of normal usage. The Qualcomm Snapdragon 865 Plus and 144Hz display setting will, of course, eat up battery life faster if you use them to play intensive games, but unless you're a heavy gamer or mobile streamer, or a very demanding user, the device should hold up just fine in between days.
ASUS also offers a ton of customization when it comes to battery consumption and charging in the Settings, even allowing you to limit charging to your own preference, which is particularly useful if you want to save on battery wear.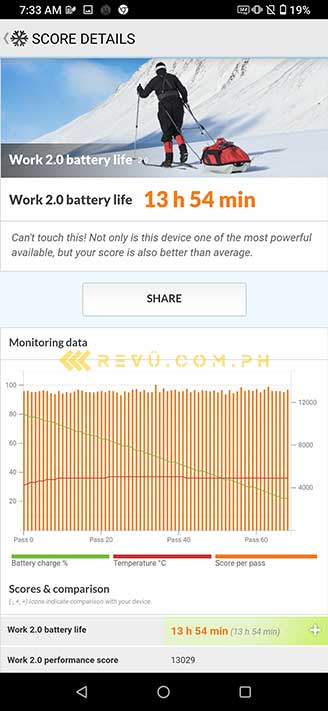 Fast charging is supported out of the box, with ASUS opting for a max charging speed of 30 watts, as opposed to aiming for a faster standard. The decision, ASUS says, came down to providing users with the best experience without compromising on the battery's life expectancy, which would be shortened by higher charging speeds.
Based on our testing, it takes about one hour and 40 minutes to bring an empty battery back up to full capacity, but that's only because the phone will slow down charging as it gets closer to 100%. It's certainly not the quickest in the category — some phones under P15,000 ($309) are actually equipped with faster charging. But then again, the ROG Phone 3's extra-long mileage should make up for the slower charging tech. Wireless charging is another nice feature this gaming phone, unfortunately, lacks.
The bundled power brick uses a separate cable with a USB-C plug on both sides, so standard USB-C cables won't work with the charger. You need to be mindful of this, especially if you travel a lot.
Final thoughts
The ASUS ROG Phone 3 is definitely the most powerful phone you can get your hands on today. And the lack of gaming phones officially available in the Philippines means it basically has a monopoly in the niche segment of consumers who are looking for a flagship with serious gaming potential and the looks to match.
Not everything here is spectacular, yes. Those who are after a strong camera performance might be disappointed. And ASUS could have brought some flagship staples, such as wireless charging and faster wired charging, to boost the device's gaming-focused feature set.
However, if gaming is what you're after in a phone, then look no further than the ASUS ROG Phone 3. This is the device to beat.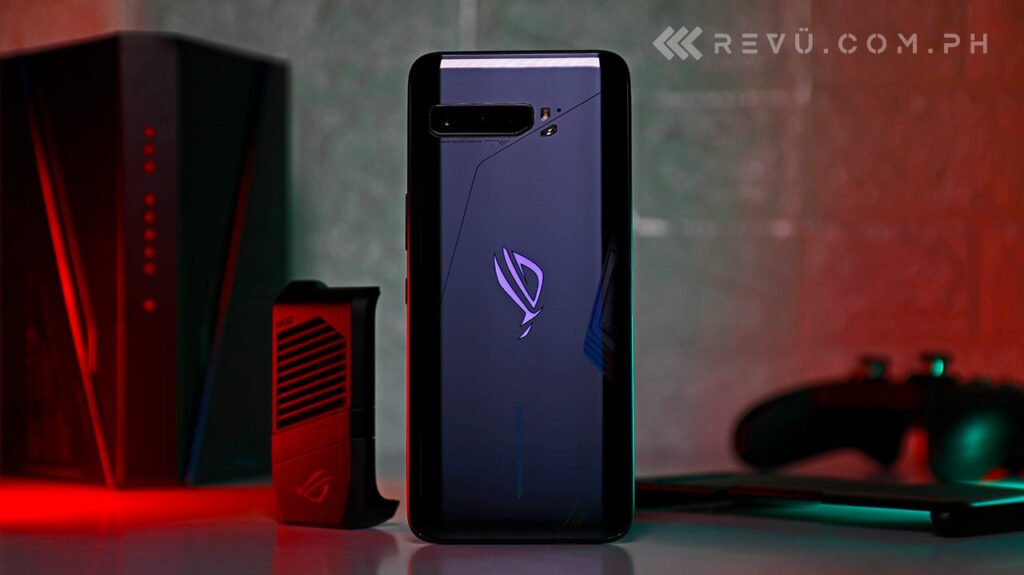 ASUS ROG Phone 3 specs
6.59-inch AMOLED display, 2,340 x 1,080 resolution, 144Hz refresh rate, 1ms, 650 nits brightness, HDR10+ and DCI-P3 support
Octa-core Qualcomm Snapdragon 865 Plus processor (up to 3.1GHz)
5G connectivity
Up to 16GB LPDDR5 RAM
Up to 512GB UFS 3.1 storage
Triple 64MP main (Sony IMX686), 13MP ultra-wide, 5MP macro rear cameras
24MP front camera
Fingerprint sensor (under display)
6,000mAh battery with 30-watt USB-C fast charging
Android 10 with ROG UI (upgradeable to Android 11)
ASUS ROG Phone 3 Strix Edition specs
6.59-inch AMOLED display, 2,340 x 1,080 resolution, 144Hz refresh rate, 1ms, 650 nits brightness, HDR10+ and DCI-P3 support
Octa-core Qualcomm Snapdragon 865 processor (up to 2.84GHz)
5G connectivity
Up to 8GB LPDDR5 RAM
Up to 256GB UFS 3.1 storage
Triple 64MP main (Sony IMX686), 13MP ultra-wide, 5MP macro rear cameras
24MP front camera
Fingerprint sensor (under display)
6,000mAh battery with 30-watt USB-C fast charging
Android 10 with ROG UI (upgradeable to Android 11)
---