Vivo Philippines will be launching a new smartphone in the country soon. And no, it's not the Vivo X60 series, which will also debut locally sometime later in the year. We're talking about the Vivo Y20s (G), which debuted in Africa and Indonesia earlier this year. Yet, unlike other variants announced so far, the local model of the Y20s (G) will include 6GB of RAM and 128GB of storage.
[Update, April 9: The Vivo Y20s (G) goes official in the Philippines with a special promo! Ready to #SpeedUpYourGame?]

[Update, April 4: Vivo Philippines has announced when the Vivo Y20s (G) will go up for preorder in the Philippines.]
In case the model name sounds familiar, that's because Vivo debuted a non-G model of the Y20s last year, sporting a Qualcomm Snapdragon 400 series chipset. This time, though, the Y20s (G) is backed by a MediaTek Helio G80 under the hood, same as the Samsung Galaxy A32 4G and many other value-for-money bets in the segment.
Otherwise, the two smartphones are very much identical, except the latter, owing to its slightly gaming-skewed silicon, is aimed at budget-conscious users who are after smoother frame rates but don't have the cash or the appetite for midrange options.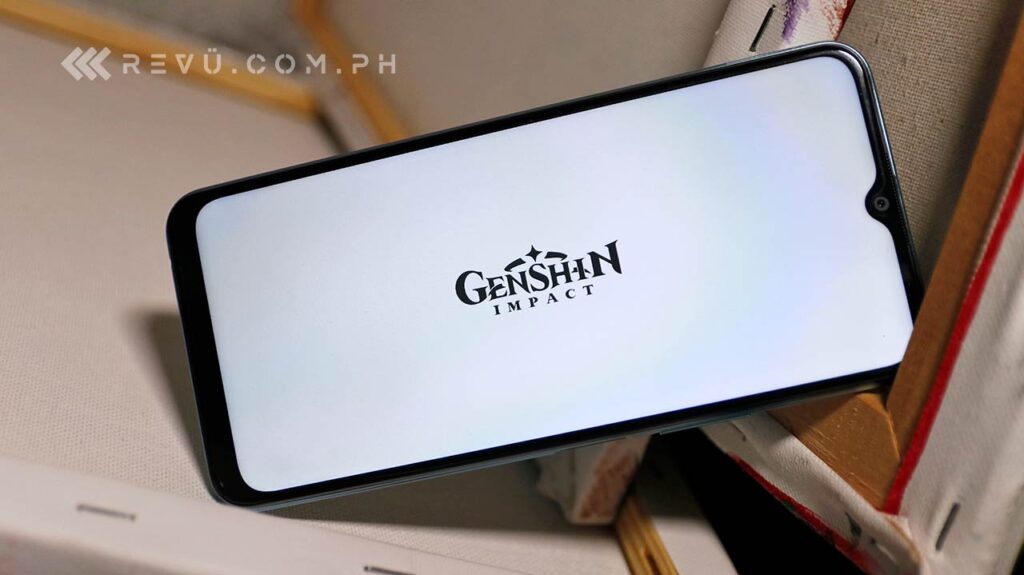 Vivo Philippines has yet to reveal the local pricing and availability details for the Y20s (G), but based on how much it costs in Indonesia, it's fair to suggest that it may be priced between P9,000 (around $186) and P10,000 ($206) for the 6GB/128GB storage option. As for color options, the handset will be available in two colors — blue and black.
We expect Vivo to announce the release date of its latest smartphone early next month, so check back for more information soon. In the meantime, you can read our performance review of the Vivo Y20s (G) to get an initial idea of whether this device is the right one for you.
What's the day-to-day performance like?
As mentioned earlier, the Vivo Y20s (G) packs MediaTek's Helio G80, which is a lower-end chip boasting the same architecture as the Helio G85, although the latter promises a slight boost in graphics performance. The G80 incorporates a pair of Cortex-A75 performance CPUs operating up to 2GHz and six Cortex-A55 processors running at 1.8GHz in two clusters. There's also a Mali-G52 MC2 GPU, which is decent for gaming.
Beyond that, we found the Y20s (G) to be pretty capable when it comes to multitasking and handling most smartphone tasks, including web browsing on multiple browser tabs, video and audio streaming, and casual gaming. Occasionally, we saw some stuttering while switching between apps, but nothing too bad, or don't get from bargain-basement smartphones. We didn't experience anything that completely ruined our experience.
The 6GB of RAM is a pretty big deal, as it allows the system to keep more apps in the background and spend less time reloading apps you previously opened. The Y20s (G) runs Android 11-based Funtouch OS 11, making it one of the few Vivo devices in the Philippines to launch with Google's latest operating system update on tap. Funtouch OS 11 looks great and feels very responsive to the touch.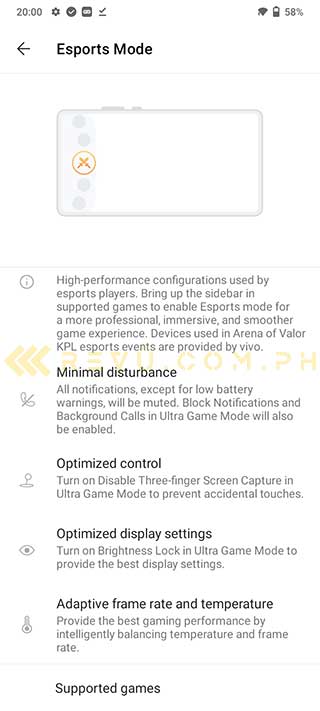 We'll probably do a deep dive of the company's proprietary software sometime in the future, but based on the preliminary eye test, Funtouch OS 11 seems to be right up there among the smoothest Android experiences you can get on a budget phone right now. Another bright spot is the improved Ultra Game mode, which comes with its own Esports mode and dedicated sidebar with shortcuts for a number of immersion improvements, including Reject Calls, Mute Notifications, and Lock Brightness. And finally, there's Game Space under the GameCenter app, which lets you customize your gaming experience on the device.
The battery life from the built-in 5,000mAh cell is excellent, as expected, allowing us to use the Vivo Y20s (G) for days without needing a nightly recharge. So whether you go on a gaming marathon or a Netflix binge, it'll take a serious effort to deplete the Y20s (G)'s high-capacity battery backup. A quick aside: This phone boasts Widevine L1 certification, meaning you can stream HD content on its high-resolution 6.51-inch LCD.
As expected, the Helio G80 offers low power consumption, especially in idle, but you can enable Funtouch OS' native battery-saving feature in the Settings app to improve efficiency further by limiting the device's performance and background data. There's also the option to automatically adjust the background activities of apps according to your usage habits to save battery. For quicker charging times, the Vivo Y20s (G) supports fast wired charging up to 18 watts out of the box.
Synthetic benchmarks
The Vivo Y20s (G)'s synthetic performance is quite impressive for a handset of its market segment, thanks to the MediaTek Helio G80. We downloaded some benchmark apps online and tested our unit in room conditions at around 25 degrees Celsius.
Antutu Benchmark (V9.0.1)
Our unit achieved slightly higher numbers compared to the recently announced MediaTek Helio G85-based Realme Narzo 30A. Though to be fair, the Realme has less RAM and a lower price point. Still, you won't see a lot of sub-P10,000 ($206) devices on the local market easily breach the 200,000 mark in Antutu Benchmark.
Geekbench 5
Single-core test: 384
Multi-core test: 1,328
The Geekbench scores of the Vivo Y20s (G) are, once again, among the highest out there in the bargain basement. Only MediaTek's low-end Dimensity SoCs and newer Qualcomm Snapdragon chips perform better at around the same price. Unsurprisingly, the Helio G80 holds up well against the Helio G85.
3DMark
Wild Life: 689
Sling Shot Extreme: 1,356
Sling Shot: 1,765
3DMark is a graphics-intensive cross-platform benchmarking tool, and the Vivo did well enough here to give us confidence that it can play most modern games at decent frame rates without compromising too much on graphical fidelity.
CPU Throttling Test
5-minute mark: 88% of max performance
15-minute mark: 82%
30-minute mark: 80%
60-minute mark: 72%
The CPU Throttling Test is a free app you can download from the Google Play Store that gives you a good idea of how your device handles performance throttling over time. We use this app to determine if a unit has the potential to overheat frequently during gaming or under a heavy workload.
Up to the 30-minute mark, the Vivo Y20s (G) ran without problems, showing minimal signs of stuttering and slowing down. However, after a full hour of torture, our unit throttled to 72% of its peak performance, which wasn't a result we expected given the Helio G80's (and Helio G85's) typically efficient numbers. We repeated the one-hour run several times and got a similar result, suggesting that the Y20s G needs better optimization or a more aggressive hardware solution to cool its internals more effectively — or both.
Gaming test
We used Vivo's built-in screen recorder to record all our gameplay footage on our unit. Unfortunately, Funtouch OS doesn't offer a native FPS counter in-game.
NBA 2K20
NBA 2K20 is no longer the demanding game it once was at launch, but it can still put a lot of pressure on many budget handsets. The Vivo Y20s (G) clearly isn't among them, as this handset is more than capable of running the game smoothly with the graphics settings set to High/Ultra High.
Mobile Legends: Bang Bang
Mobile Legends: Bang Bang is one of the most popular online games in the region, and the Philippines is no exception to a strong Mobile Legends following nationwide. The Y20s (G) doesn't support Ultra detail, but delivers smooth frame rates with the High graphics preset. Mobile Legends players will be happy to note that High Frame Rate or HFR mode is supported on the phone.
Genshin Impact
Genshin Impact is easily the most graphically demanding title we've ever played on an Android device. The game combines striking, console-quality visuals with solid action-RPG gameplay and addictive character and loot progression.
Our unit is able to run the game at reasonable frame rates with the lowest settings. The game remains playable after switching to the Medium preset, but we don't recommend it if you're after the smoothest experience possible.
Gameplay video: Genshin Impact, NBA 2K20 (3:01 mark), and Mobile Legends: Bang Bang (6:01 mark)
Initial thoughts
Built around the Helio G80 and paired with enough RAM for smooth multitasking, the Vivo Y20s (G) is a capable smartphone that will suit most gamers on a budget. It can run the most demanding games on Android, though performance throttling could be a concern during particularly long gaming sessions. From a performance standpoint, the Y20s (G) doesn't disappoint. Hopefully, Vivo Philippines nails the pricing on the local market. Stay tuned for our announcement article when the embargo lifts.
Vivo Y20s (G) specs
6.51-inch LCD display, 1,600 x 720 resolution, 60Hz refresh rate
Octa-core MediaTek Helio G80 processor
Mali-G52 GPU
6GB RAM
128GB expandable storage
Triple rear cameras: 13-megapixel, f/2.2 main; 2-megapixel depth; and 2-megapixel macro
8-megapixel front camera
Fingerprint reader (side-mounted)
5,000mAh battery with 18-watt fast charging via microUSB
FunTouch OS 11 based on Android 11
Colors: Purist Blue, Obsidian Black
---