Estimated reading time: 4 minutes
What an exciting day it is to be in Apple's ecosystem. The American tech giant today said hello to the all-new colorful Apple iMac with color-matched accessories and Apple Silicon inside, but it also rolled out a huge refresh for the iPad Pro lineup, which is now built around the M1 processor.
(Update, May 27: The M1-powered Apple iPad Pro 2021 is finally available for purchase in the Philippines! Details here.)
The 11- and 12.9-inch Apple iPad Pro models cost from P45,990 (roughly $951 converted) in the Philippines. Here are the prices of each variant:
11-inch iPad Pro

128GB Wi-Fi: P45,990
256GB Wi-Fi: P51,990
512GB Wi-Fi: P63,990
1TB Wi-Fi: P87,990
2TB Wi-Fi: P111,990
128GB Wi-Fi + Cellular: P54,990
256GB Wi-Fi + Cellular: P60,990
512GB Wi-Fi + Cellular: P72,990
1TB Wi-Fi + Cellular: P96,990
2TB Wi-Fi + Cellular: P120,990

12.9-inch iPad Pro

128GB Wi-Fi: P62,990
256GB Wi-F: P68,990
512GB Wi-Fi: P80,990
1TB Wi-Fi: P104,990
2TB Wi-Fi: P128,990
128GB Wi-Fi + Cellular: P71,990
256GB Wi-Fi + Cellular: P77,990
512GB Wi-Fi + Cellular: P89,990
1TB Wi-Fi + Cellular: P113,990
2TB Wi-Fi + Cellular: P137,990
In the U.S., the 11-incher starts at $799 (P38,656), and the 12.9-inch tablet is priced at $1,099 (P53,170) for the base model. Both will be available in the second half of May, with preorders going live April 30.
As was the case with the recent MacBook additions, the improvements here are mostly based on Apple's desktop-grade silicon — but what a difference that could make not just in terms of raw performance over the previous generation.
The new iPad Pro should change the way we look at tablets and their utility in the workplace. For us, personally, they've always represented the next evolution of laptops. And now, Apple has given its prosumer tablet the upgrade it needs to fully realize that potential. Now, if only it could run desktop apps, that would really be revolutionary.
As far as general computing and productivity are concerned, the M1 iPad Pro is basically a full-fledged computer with as much power as the newly launched iMac. Its M1 chip actually has more GPU cores than the Apple Silicon in the base iMac. Apple claims the M1 iPad Pro's graphics performance is 1,500 times faster. That's bonkers, we know.
Besides the size advantage, the 12.9-incher now boasts a Liquid Retina XDR mini-LED screen with over 10,000 LEDs across the entire back of the panel. According to Apple, the 2,732 x 2,048 display offers up to 1,000 nits of full-screen brightness, 1,600 nits of peak brightness, and a 1 million-to-one contrast ratio, delivering a stunning viewing experience comparable to a high-end television. The 11-inch iPad Pro, on the other hand, has a regular Liquid Retina screen, which maxes out at 600 nits of brightness.
Official product video
On the imaging front, the 2021 Apple iPad Pro has dual rear-facing cameras with 12- and 10-megapixel sensors, while the front-facing shooter for selfies and FaceTime packs a 12-megapixel unit as well. Apple says the front-facer also arrives with a feature known as Center Stage, which combines the camera's 122-degree field of view with machine learning to recognize people in the frame and keep them in view, even when they're moving around during a video call.
In terms of battery life, expect about 10 hours from the Wi-Fi variants, while the Wi-Fi + Cellular versions should last nine hours on a full charge. On a related note, the iPad Pro refresh comes equipped with millimeter-wave 5G connectivity that Apple claims will offer "the broadest 5G coverage worldwide" and can reach speeds up to 4Gbps. It has the ability to support eSIMs, too, and sports Thunderbolt 3 and USB 4 ports for high-performance external storage and secondary displays.
As with previous iterations, the new iPad Pro will support Apple Pencil and Smart Keyboard Folio, as well as Apple's Magic Keyboard for iPad, which now comes in white. It is also compatible with Sony PlayStation 5 and Microsoft Xbox controllers for a better gaming experience.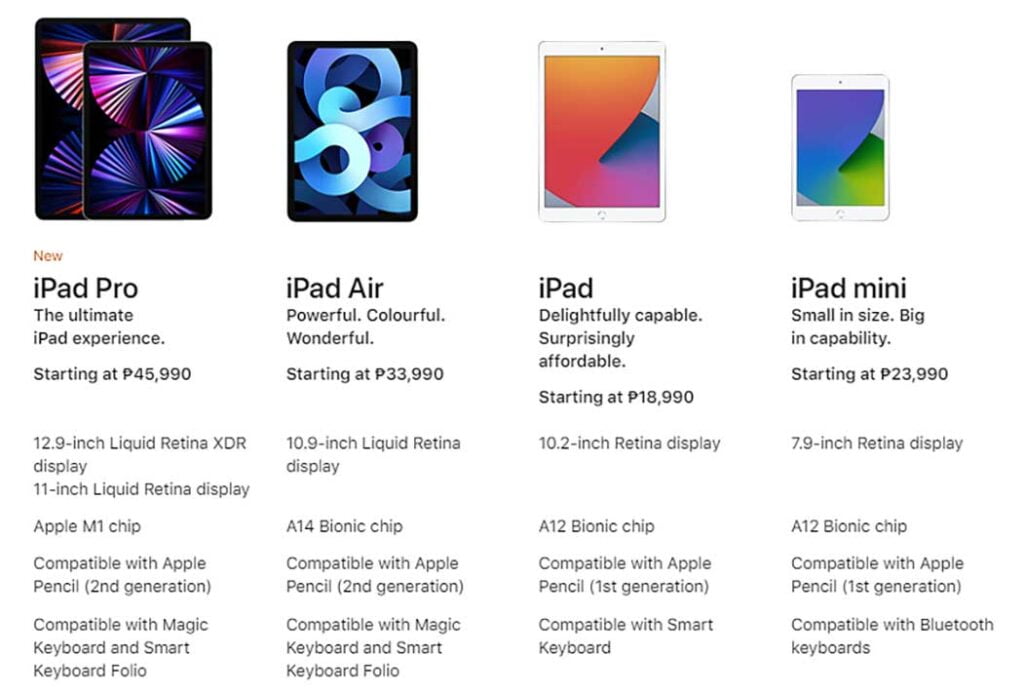 ---