Estimated reading time: 11 minutes
Tecno Mobile Philippines has taken the wraps off its newest smartphone on the market with the local announcement of the Tecno Spark 6 Air. But don't let the name fool you. This is, by far, the company's biggest release so far, and there is nothing lightweight about it.
The Spark 6 Air boasts a gargantuan IPS-LCD screen and a beefy battery that lasts very long to match. It's also pretty capable, sporting an octa-core processor plus enough RAM and storage for a smooth and responsive Android experience.
In the Philippines, the Tecno Spark 6 Air has a suggested retail price of P4,690, or about $97 converted, at Tecno's official brand store on Lazada. That's an amazingly low price considering this phablet's specifications. You can read our review of the Tecno Spark 6 Air before deciding if it's the right product for you.
Phablet revival
Remember several years ago when smartphones with tablet-sized displays were so popular that almost every manufacturer had at least one in its lineup? Most of us called them phablets, or phone-tablet hybrids. But the trend didn't last long and eventually dissipated with the industry's bezel-free movement and the increasing consumer preference for more manageable, more pocketable devices.
Obviously, that didn't stop some manufacturers from still coming out with new and improved phablets year on year, and the Spark 6 Air is Tecno's latest entry in the now-niche segment. This phone-tablet hybrid sports a giant 6.95-inch panel in glossy plastic housing, but its overall footprint isn't as massive as its screen size suggests.
In reality, the Spark 6 Air is about the same size as the ROG Phone 5, which we reviewed recently, and it's actually lighter than ASUS' fourth-generation, supercharged gaming powerhouse with a 6.78-inch display. Oh, it's still a huge, bulky handset that doesn't allow for one-handed use at all, but its dimensions and weight can be exaggerated a bit.
The physical power and volume keys on the right are quite accessible, while the fingerprint scanner at the back could have been positioned lower on the panel or elsewhere for easier unlocking. Like most budget phones, the Tecno Spark 6 Air has a 3.5mm headphone jack at the bottom and a microUSB charging port for the 10-watt power brick. Unfortunately, the 6,000mAh cell doesn't support fast charging, so it will take a while to get the battery back up to full from zero.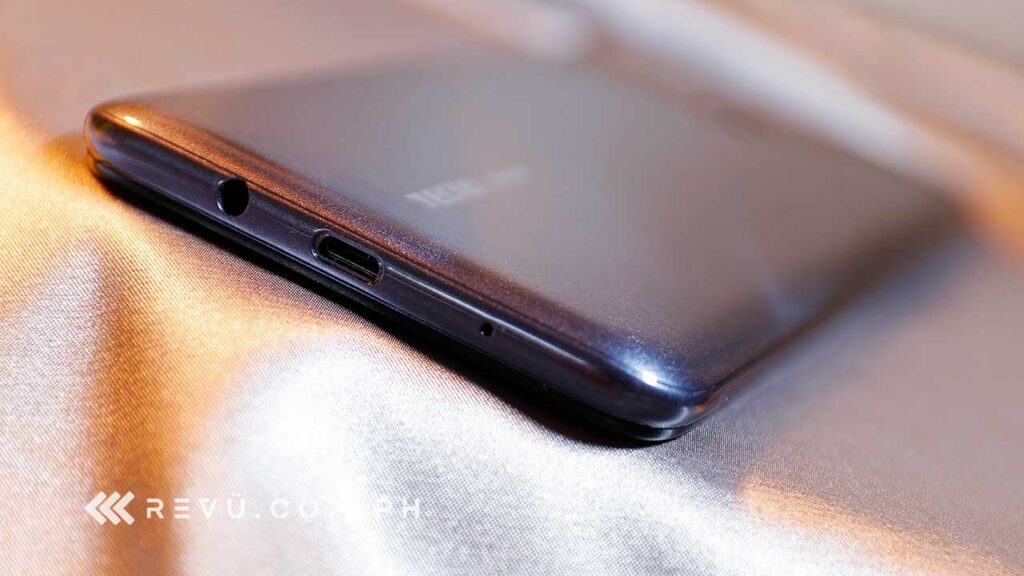 Curiously, the company decided against a downfiring loudspeaker, opting instead to place the speaker in the earpiece to prevent users from blocking it while holding the device in landscape orientation. We know it's a small detail, but it's commendable nonetheless considering the Spark 6 Air's bargain price point. The loudspeaker produces enough volume for hands-free listening, while the audio jack is nice to have on a phone with a giant display, because the extra screen real estate will give you a more immersive gaming and viewing experience.
As for the rear-mounted fingerprint reader, it's mostly accurate, although it can be a bit hard to reach without adjusting your grip or using both hands. Not a fan of the fingerprint scanner? You can enable face unlock in the Settings app and use the phone's dual front flash in low-light scenarios. Win-win. We found both options to be reasonably fast and reliable, regardless of the available light.
Big entertainment value
There's no denying the Tecno Spark 6 Air's hallmark feature: its giant LCD. The 6.95-inch IPS-LCD display sports 1,640 x 720 HD+ resolution and has a waterdrop notch at the top to house the selfie camera. If size matters to you, the Spark 6 Air offers one of the biggest screens we've seen in the segment.
The compromise is that its pixel density isn't quite as good as the competition's, but that really didn't bother us as much as we thought it would. The picture quality is surprisingly good, though, with the Spark 6 Air capable of displaying high-fidelity color and contrast as well as wide viewing angles with acceptable color distortion. Switching to the user interface's dark theme produced decent blacks for an LCD in certain areas of the interface. The Netflix app icon on our unit will tell you all you need to know about its black-level performance.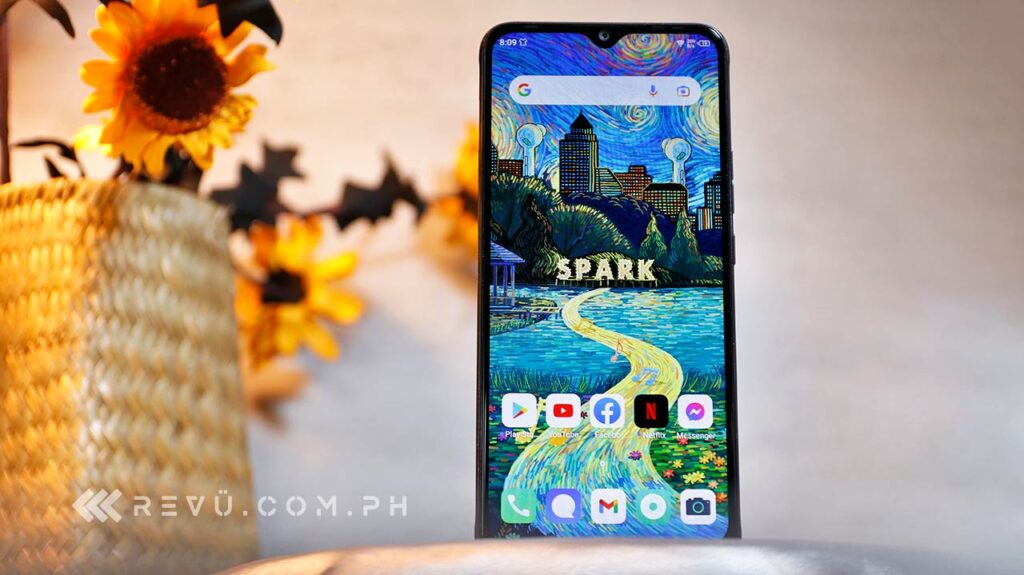 But how does this all translate when it comes to gaming, streaming videos, and productivity? Mostly well. The Tecno Spark 6 Air delivers a better gaming experience than its rivals in the segment, because size matters when you're playing an online shooter or any mobile game with full touchscreen controls.
For video playback, a bigger screen translates to a bigger image, plus the ability to share it with someone else. When it comes to productivity apps, a tablet-sized display means you can read more and do more work than on an average smartphone. If there's one nitpick, we'd say the panel could be much brighter and easier to see outdoors. It's almost impossible to see anything under strong sunlight, even at maximum brightness.
Impressively, the Spark 6 Air includes a built-in FM tuner, so you don't have to plug in the included wired headset to listen to your favorite radio station. Simply open the preinstalled FM Radio app, select your desired frequency, and you're good to go.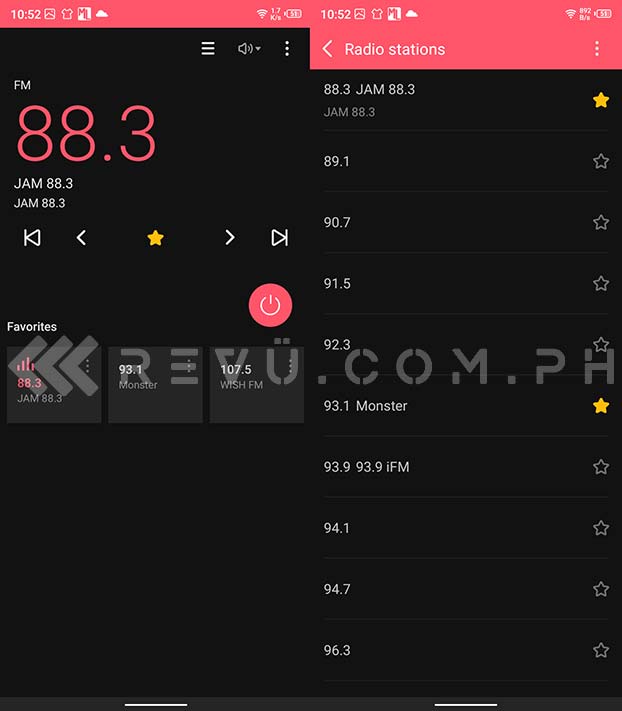 When active, an app widget will even appear on your notification panel, allowing you to quickly shuffle between stations without relaunching the app. Besides using the loudspeaker to listen to FM radio on the go, Tecno also gives you the option to record radio playback on your device's storage, so you never miss out on songs or conversations you might want to keep listening to. We wish more manufacturers would follow Tecno's example; wireless FM radio will always be a welcome feature in our books.
Another notable software feature is Audio Share, which lets you connect up to three Bluetooth speakers or two Bluetooth headphones to the phone for an uncompromised listening experience in the same room. This is especially useful if you like watching movies or shows on your smartphone, but don't like the fact that you have to split earphones when someone else watches them with you.
Extra long-lasting
Keeping the lights on is a 6,000mAh non-removable battery, which is especially huge but not at all surprising given this phablet's overall footprint. Anything less would have been a missed opportunity for the company. The battery life is exceptional despite the Spark 6 Air's gargantuan display, with Tecno quoting 743 hours or 35 days of standby time, upwards of 14 hours of straight gameplay, and 21 hours of web browsing over Wi-Fi.
In our PCMark battery test, our unit managed 18 hours and 24 minutes with the screen at half brightness — an excellent result regardless of specs or price. Moving over to our video-loop test, our Spark 6 Air delivered 22 hours and 44 minutes of continuous YouTube playback at 720p resolution on a full charge. Again, that's an impressive outcome for this phone-tablet hybrid.
In normal usage, we consistently managed at least two full days of use with ample screen-on time before our unit needed plugging in. You can enable battery-saving options in the Settings app that disable specific functions and background data to get more mileage out of a charge. You can even schedule when your device switches to Airplane mode, preventing you from making calls, receiving texts, and connecting to a Wi-Fi network, in exchange for longer battery life.
Surprisingly good performance
The Tecno Spark 6 Air is powered by an octa-core MediaTek Helio A25 chipset, which is a rebadged Helio P22 and uses a 12nm process and pairs eight Cortex-A53 cores operating at up to 2GHz with PowerVR GE8320 graphics. The Helio A25 is also a three-year-old chip, although it's still a good performer even by today's standards. It can run modern games, including Mobile Legends, Call of Duty: Mobile, and NBA 2K20, but not more graphically intensive titles like Genshin Impact.
Benchmark results: Antutu, Geekbench, 3DMark, and CPU Throttling Test
For gamers, the phone is equipped with Game mode for improved CPU, GPU, and memory performance when playing. There's also the Game Assistant panel, which you can access by swiping from the sides. Game Assistant includes shortcuts for messaging, taking a screenshot as well as screen recording.
Gameplay video: Mobile Legends, Call of Duty: Mobile (3:01 mark), and NBA 2K20 (6:01 mark)
But the big feature here is Magic Button, which lets you customize the function of the volume up and down keys for games. You can, for example, assign a volume key to fire your weapon in a shooting game. You can still adjust the volume in-game by bringing up the Game Assistant panel and swiping up or down the volume slider.
Outside of gaming, the Tecno Spark 6 Air feels smooth, thanks to its HiOS 6.2 custom overlay based on Android 10. And while it's not the latest version of Google's operating system, our unit has received the March 2021 security update, which fixes a number of security flaws on Android. Considering that not a lot of manufacturers deliver timely security patches to their devices, it's pleasantly surprising to see that Tecno Mobile seems more serious about software updates than others.
The Spark 6 Air has three lenses at the back and an 8-megapixel shooter for selfies. The main camera packs a 13-megapixel sensor alongside secondary cameras for portrait and AI shooting modes. You won't find a dedicated Night mode here, unfortunately, although the rear and front cameras have multiple flash units — four at the back and two on the front — for brighter pictures when the subject is within close proximity to the phone. Video recording is capped at 1080p on both ends, as expected.
Sample 'quarantine' pictures shot on the Tecno Spark 6 Air: 1) 1x; 2) 2.5x zoom; 3) 4x zoom (maximum); 4) 1x; 5) 2x zoom; 6) 2x zoom; 7) Bokeh; 8-10) Auto; 11) Auto; 12) Bokeh
Final thoughts
The Tecno Spark 6 Air offers big value in a big body for not a lot of money. The phablet's extra-large touchscreen performs well enough for the price, while the battery life can last you days, not hours, and the Helio A25 under the hood delivers a mostly fluid experience and can play many modern games smoothly.
There aren't too many phablets on the local market now, unlike in previous years when stores had them in piles and in rows, but the Spark 6 Air is as good a proof as any for their competence. Don't be surprised if phone-tablet hybrids make a comeback — and soon. The Spark 6 Air is a unique proposition compared to others in its price class, and yet, this heavyweight with a lightweight price tag may surprise you in a good way.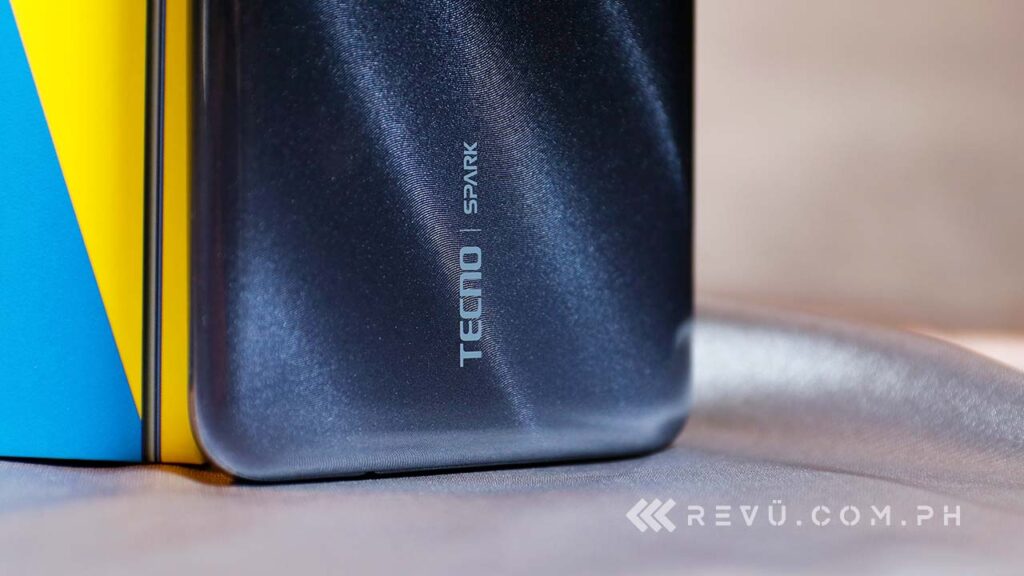 Tecno Spark 6 Air specs
6.95-inch LCD display, 1,640 x 720 resolution, 60Hz refresh rate
Octa-core MediaTek Helio A25 processor
PowerVR GE8320 GPU
3GB RAM
32GB storage
Triple 13-megapixel, f/1.8 (main), 2-megapixel (depth), and AI rear cameras
8-megapixel, f/2.0 front camera
Fingerprint reader (rear-mounted)
6,000mAh battery
HIOS 6.2 based on Android 10
Color options: Comet Black, Ocean Blue, Cloud White
---