Estimated reading time: 13 minutes
It isn't every day that one of the biggest global brands is seen as an underdog in a category, but this is the situation Huawei finds itself in, following the announcement of the Huawei Vision S Series TV in Malaysia and, most recently, in the Philippines.
Yes, Huawei is done dipping its toes into China's audio-visual pool and will be taking a dive into international waters with its new mainstream TV lineup. Its slim bezels and upscale design, coupled with formidable specifications, including a 4K LCD VA panel with 120Hz refresh plus HDR10 support and a 13-megapixel detachable magnetic camera for photos and video calls, make it ideal for those seeking a high-end TV experience without spending a fortune.
In the Philippines, the Huawei Vision S comes in 55- and 65-inch screen sizes, with the smaller, more economical model getting a suggested retail price of P36,999 (roughly $772 converted), or P32,999 ($688) for cash or straight-card payments. Meanwhile, the 65-inch model will set you back P56,999 ($1,189) — or P49,999 ($1,043) for cash/straight transactions. Those are aggressive prices for what this television series offers.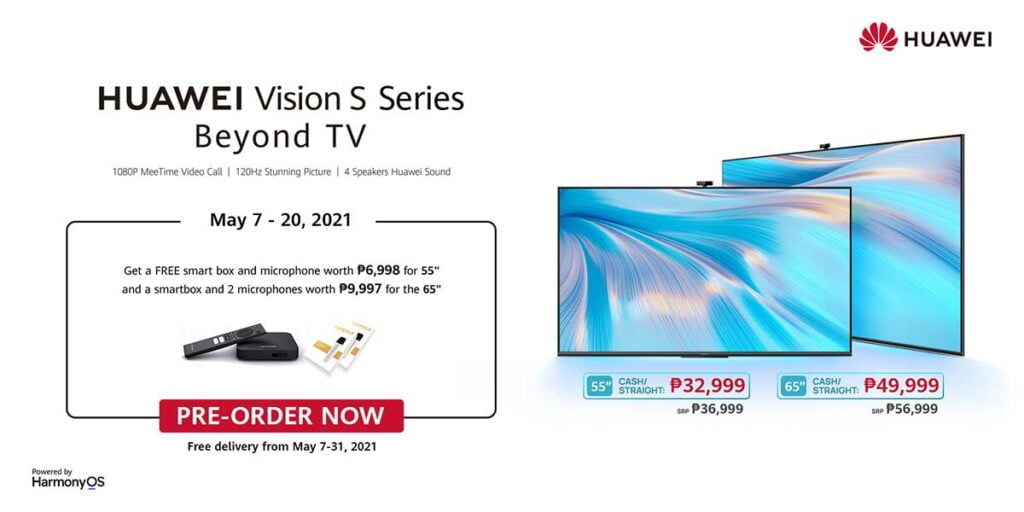 The Huawei Vision S is already available for preorder locally through online and offline stores, with shipping from May 17. Customers who'll pre-purchase it until May 20 will receive a free Android set-top box plus a wireless microphone — or two, if you opt for the 65-incher. Besides those freebies, Huawei's latest TV offering will be eligible for free delivery in select areas until May 31.
For your peace of mind, the Huawei Vision S Series comes with a limited two-year warranty for the unit and its main parts, while accessories, such as the remote control, power cable, RCA cable, and camera, have a one-year coverage.
So, should Samsung, Sony, and the rest of the competition at the top feel threatened by Huawei's expansion? And should you buy Huawei's big-screened television for your home? Read our review of the Huawei Vision S, and check out our thoughts on this product.
What's inside the box:
Huawei Vision S Series TV
Voice remote control with Bluetooth and NFC
Magnetic 13-megapixel camera
Metal base x 2
Screw x 4
Quick start guide
AV adapter cable
Two-prong power cable
Warranty card
AAA battery x 2 (for remote)
Hello, big guy!
It's interesting that Huawei opted for 55- and 65-inch models for its mainstream offering. Clearly, the reasoning here is, "Hey, since we're rolling the dice on a new product category, we might as well push our chips to the middle and go all in." If you want your TVs big — and pretty sleek — that's exactly what you get.
We think this is the right move for a newcomer like Huawei, especially as PC monitors continue to get bigger and more powerful. The company sent us the 55-inch Vision S, although we now somewhat regret passing up on the 65-incher, because we thought the bigger and heavier variant would be "too much" for our living-room/work-space setup.
However, after seeing the specs of both 55- and 65-inch TVs on paper, we now know we were wrong. We didn't take into account how small the bezels on the Vision S Series are, especially at the top and on the sides, and the fact that the back of this television set is pleasingly slim for the kind of features it offers. It's both a 4K TV and a room centerpiece, yet it looks more expensive than it actually is.
The Huawei Vision S has an aluminum-alloy frame and can be propped up on any flat surface, thanks to a pair of sturdy metal legs with rubber feet to prevent slipping. By the way, the legs are spaced far apart from each other, so the TV doesn't wobble when laid flat on a hard surface. Unfortunately, there are no clips and grooves at the back here for proper cable management.
While the bezels on the front are minimal, the Vision S is a bit chunk in the back-midsection. That's where the internals of the TV are located, and that's where you'll find all the IO ports, which are located on the right-hand side, opposite the detachable power-cord input on the left.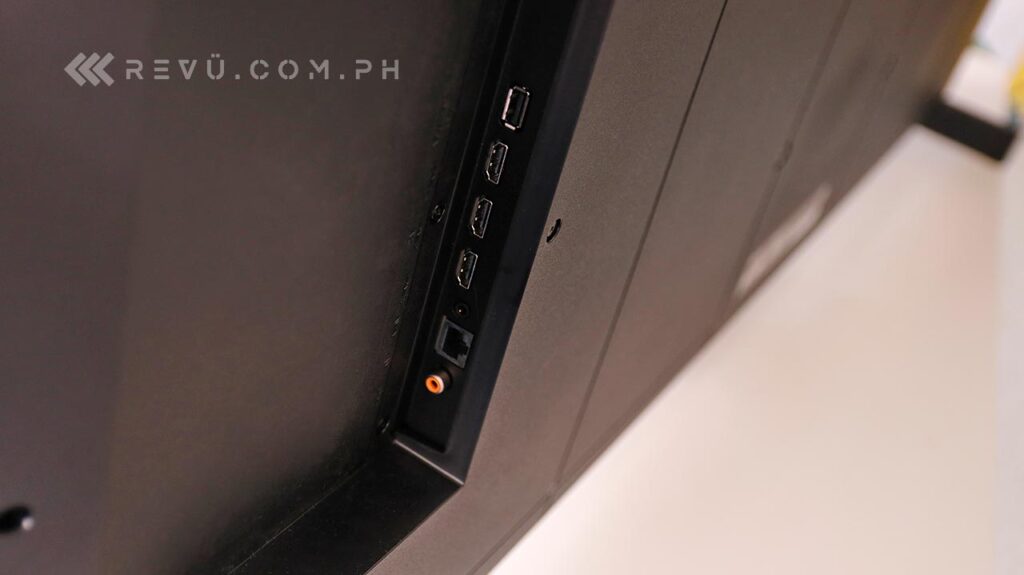 You get three HDMI 2.0 ports, one USB 3.0 port, one S/PDIF port, a LAN Ethernet port, and an AV port — that's it. They're all fitted to one side, so it's easier to plan where to put your game console and other home-entertainment devices you might own. None of the ports are facing backward, making them easy to access if you choose to mount this TV on your wall.
Speaking of which, the Huawei Vision S can be used with a VESA mount. If you decide you want to hang it on a wall, you'll need to buy the mount and brackets separately. As much as we like the legs Huawei ships with the Vision S Series, we personally think this TV, with its all-black aesthetic and minimal bezels, would look better framed on a wall than sitting on a rack or console table.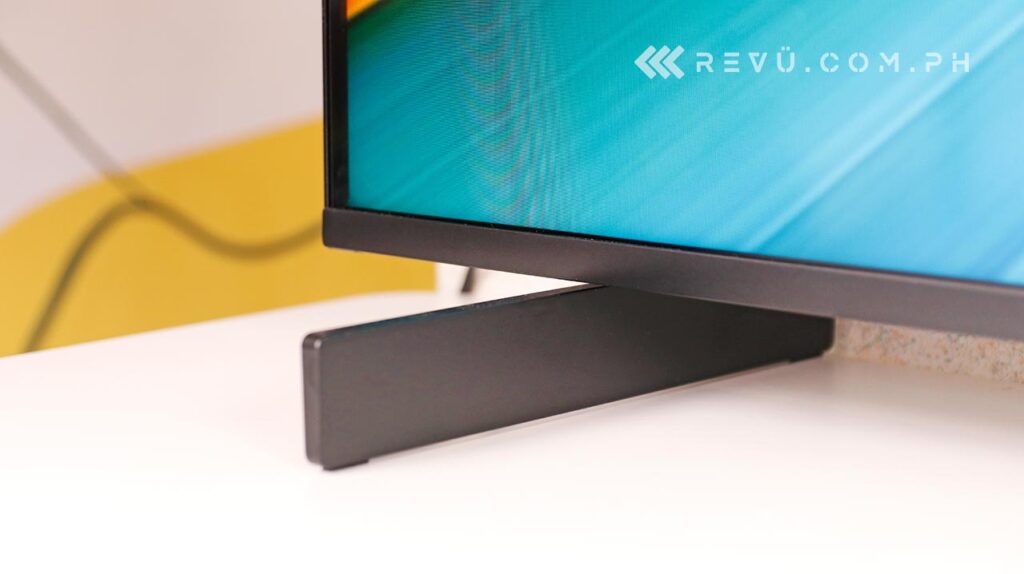 For wireless connectivity, you get dual-band Wi-Fi and Bluetooth 5.1, which the TV uses to connect to the bundled remote control. The remote of the Huawei Vision S doesn't look all that different from the typical smart TV or set-top box unit, except for two notable features.
As we mentioned, it supports Bluetooth, and this gives you more range when navigating the television. It's also nice that the remote comes with an NFC pad located right above the Huawei logo, allowing you to instantly pair a compatible Huawei device with the TV minus the hassle of going through several menus.
The initial setup is fairly quick and straightforward, but if you want to enjoy everything this TV has to offer, you must create or log into your Huawei ID and install the Huawei Vision app, the link to which will be provided to you during the first setup process. You can install the app onto non-Huawei devices, too, and we highly suggest you do that on every daily driver running Android in the household, as it lets you use your phone or tablet as a remote, quickly change the TV's picture and audio settings, and access the MeeTime video-call app, among others.
The Vision S Series remote has rounded edges and clicky buttons. It also sports a dedicated key that can summon Huawei's Celia voice assistant from any screen, though Celia isn't available in the Philippines yet. Long-pressing the home key on the upper-left side of the remote brings up app previews in the multitasking overview.
Visionary entertainment
So, what are we looking at here? The Huawei Vision S packs a 4K UHD VA LCD panel with a resolution of 3,840 x 2,160 pixels. It's a direct-lit LED set, so the backlight is behind the panel lighting it up, allowing for better black and backlight uniformity and helping reduce backlight bleed. Though it is compatible with HDR10 and HLG formats, the panel doesn't get bright enough to show off the vibrant HDR imagery of some of today's shows, movies, and video games.
In terms of color accuracy, the Vision S Series is said to cover 92% of the DCI-P3 color space. It can be incredibly responsive, too, with a response time as low as 8 milliseconds only, rivaling that of the latest gaming monitors and phones. The screen-to-body ratio for the 55-inch model is 94.49%, while it's 95.26% for the 65-incher.
The refresh rate, notably, is bumped up to as high as 120Hz to offer a super-smooth experience, crucial when playing certain games that really take advantage of the powerful specs of current-gen consoles. We can confirm that the Vision S supports frame rates of up to 120 fps at 1080p on the Xbox Series X.
Those extra frames should make motion and movement look much more fluid. First-person shooters like Call of Duty: Warzone, Battlefield 5, and Titanfall 2 stand to benefit most when playing at higher than 60 fps. Of course, higher frame rates can be helpful elsewhere. Racing games like Dirt 5 look and play better with double the frames (and half the load times) than usual.
Some more important concerns: What do we think of the Huawei Vision S Series as a primary media-consumption device? Are the built-in speakers any good? How is the performance of the 13-megapixel unit, and can we actually rely on this TV for video calls?
We found the picture quality to be great for mixed usage and performs admirably in bright rooms. Its viewing angles are also wide, making it well-suited for wider seating arrangements. While there is no local dimming here, the contrast ratio is alright, so blacks don't look like different shades of gray in low light. Additionally, the Vision S doesn't have any issues upscaling lower-resolution content, at least based on what we've seen so far.
We'll normalize doing MeeTime video calls on this TV
Talking about sound quality, the Huawei Vision S Series delivers a balanced sound profile that's suitable for listening to a wide range of media. The 20-watt quad-speaker system, which consists of 10-watt dual speakers and 10-watt dual tweeters, can get plenty loud on their own in a mid-sized room. You're not likely to feel the need to hook up a pair of headphones or a sound bar either. The voice pickup is excellent, too, thanks to the TV's six-mic array. For MeeTime video calls, whether alone or with the family seated around the TV, the built-in mics will probably get the job done.
If we have to nitpick, the brightness could be higher — or at least high enough to be great at bringing out HDR highlights when watching movies and gaming. The high-refresh screen might also be a distraction if you're playing content captured at 24 or 30 fps if the picture mode is set to Auto. This is easily remedied by changing the setting to Movie, or another option of your choice that doesn't prioritize pushing frame rates.
As for the camera that allows you to shoot photos and videos and do MeeTime video calls through the TV, we found it easy to install and use, and the magnetic connection is strong enough to hold the camera upright when folded completely outwards.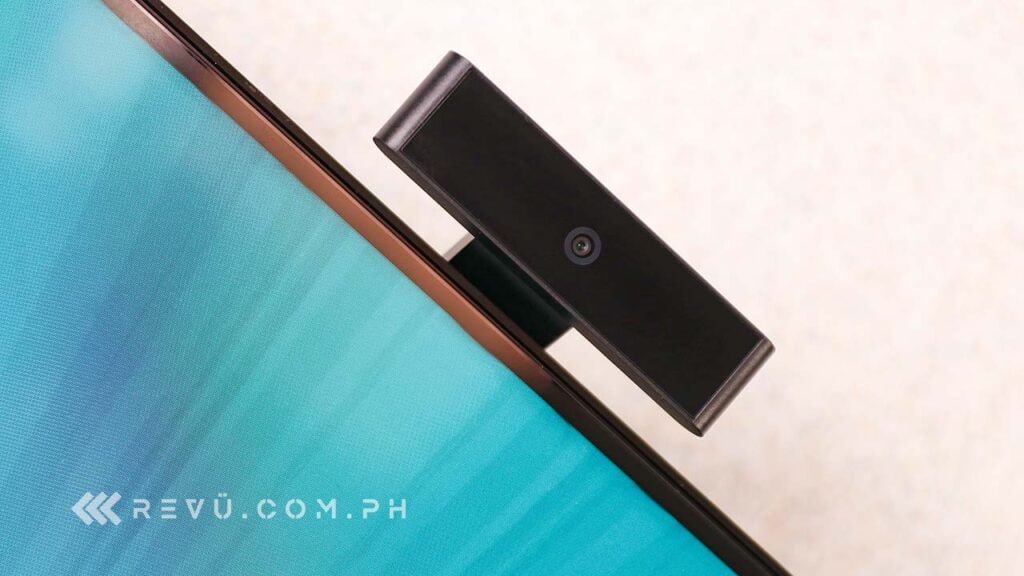 Pictures look reasonably detailed and well-saturated in good lighting. On the downside, the lack software bells and whistles here is surprising considering the postcard-making potential the camera has. We wish there were more filters and frames you can add to your photos and videos, but perhaps more will be included at a later date. The quality of the video is sharp, and we also liked that the focal length of the camera is wide enough to fit several people in the frame without any noticeable distortion around the edges.
HarmonyOS is genuinely promising
As you might know, the Vision S Series uses Huawei's own HarmonyOS operating system, which was built from the ground up — yet is fully compatible with many existing Android applications and third-party app stores. You even have access to Huawei AppGallery and Petal Search right out of the box to make installing your favorite Android apps a breeze. And yes, this is the first time that we're seeing the in-house system on a retail product, but color us impressed nonetheless.
Similar to Google TV, HarmonyOS on the Huawei Vision S has been streamlined to let you access all your content through a single hub. The interface is smooth, relatively bug-free, and easy to navigate. What you'll find is that scrolling is fluid, and launching and switching between apps feel snappy. HarmonyOS is just generally a delight to use, probably in large part owing to the TV's internals.
The Vision S Series is powered by a quad-core chipset with a pair of Cortex-A73 and Cortex-A53 cores operating at 1.5GHz, 3GB of RAM, and 32GB of base storage onboard, which is double than what competing TVs at this price level offer. There should be enough room for all your go-to streaming platforms — though some apps like Netflix require a mouse to navigate while others can be controlled via the arrow keys on the remote control.
Screenshots of the TV's UI
But personally, what stands out most is how convenient the user experience is, especially once the Huawei Vision app is installed on your phone or tablet. With the Vision app, Huawei device owners can also access the exclusive OneHop feature, which lets them quickly cast their device's screen to the Vision S Series; all it takes is a tap on the NFC pad on the remote to begin screen sharing.
Desktop mode can be enabled via OneHop, and this allows you to use the TV as an external monitor and interact with apps in a PC-like environment, with your device acting as a touchpad — though you're free to use a mouse and keyboard as well. Huawei Share, on the other hand, lets you connect with devices on the same network as your TV for faster file sharing over your home Wi-Fi.
Should you buy the Huawei Vision S?
Though not perfect, the Huawei Vision S Series is an easy recommendation to anyone in the market for a big screen with loads of high-end features, including a nice LCD screen that supports 4K and up to 120 frames per second (at 1080p), loud quad speakers, a built-in camera and mic array for video calls, and a smooth and smart experience made possible by Huawei's new HarmonyOS. For the price, we think this TV is an excellent deal regardless of panel size.
Huawei Vision S Series specs
55 or 65 inches, 4K resolution, HDR10 and HLG
VA LCD panel with direct LED backlighting
Up to 120Hz refresh rate (1080p)
350 nits brightness
94.49% screen-to-body ratio for 55-inch model; 95.26% for 65-inch model
92% DCI-P3
Blue-light filter
20-watt quad-speaker setup (10W speakers and 10W tweeters)
Honghu 818 chipset with 3GB RAM
3x HDMI 2.0 ports
1x USB 3.0 port
1x AV
Bluetooth 5.1
Dual-band Wi-Fi
Harmony OS
VESA compatible
---