Infinix Mobile Philippines recently announced its Zero X Pro flagship alongside its first laptop, the INBook X1, just a month after the handset's global launch.
Locally, the Infinix Zero X Pro carries a suggested retail price of P14,990, or roughly $296 converted. It is available in Nebula Black, Starry Silver, and Tuscany Brown color variants.
No doubt, the most enticing aspect of the Infinix Zero X Pro — on the outside , at least — is its design. Our Nebula Black review unit features an attractive, galaxy-inspired dual-glass back finish that feels durable and uses "high-precision nanolithography technology" to achieve its unique look. It's quite a view in person, especially when light hits the back of the phone at certain angles.
The bulging camera bump on the rear provides a break from the flat, slab-like form of the Zero X Pro; however, as a downside, it also protrudes far enough to make the handset wobbly when laying on a flat surface. But then again, that's par for the course for any modern smartphone with an ambitious camera system.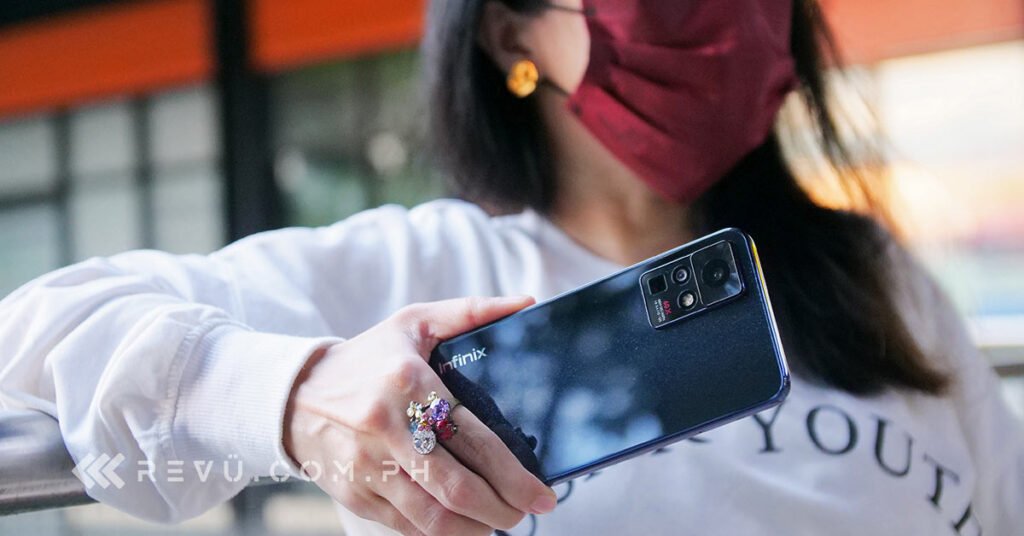 The rectangular camera module has a practical design and positions the 108-megapixel main shooter at the topmost portion while the periscope telephoto option sits at the bottom of the array, next to the "60X" (the maximum zoom distance of the Infinix Zero X Pro) marking in red. The attention to detail here is impressive for the price.
A metallic plastic frame with flat sides and rounded corners holds the internals firmly in place and provides a secure grip that makes keeping hold of the phone easy. The Infinix Zero X Pro measures 7.8mm at its thickest point and weighs 193 grams, somewhat on the heavy side despite the plastic sides due to the glass rear panel and generous battery inside.
At the bottom edge, you get a single loudspeaker, which is fairly decent; a USB-C port for file transfer and fast charging up to 45 watts; and a standard headphone jack for legacy audio. The Zero X Pro doesn't have a physical fingerprint reader; there's an optical scanner built into the display for biometric security instead. We found the fingerprint sensor to be pretty reliable, but we wish it were located a little higher up on the screen to make it easier to find and use.
You can also set up facial recognition to unlock the device using the selfie camera, but it's not the best option if you want to quickly access the smartphone, especially while wearing a mask or when in a dark environment.
Notably, the Infinix Zero X Pro arrives with a 6.67-inch AMOLED FHD+ display that offers a high contrast ratio and is rated for 700 nits of peak brightness in Auto Brightness mode. More impressively, it boasts a 120Hz refresh rate, which is double the industry standard, and a 240Hz response rate, meaning it's more responsive to touch inputs.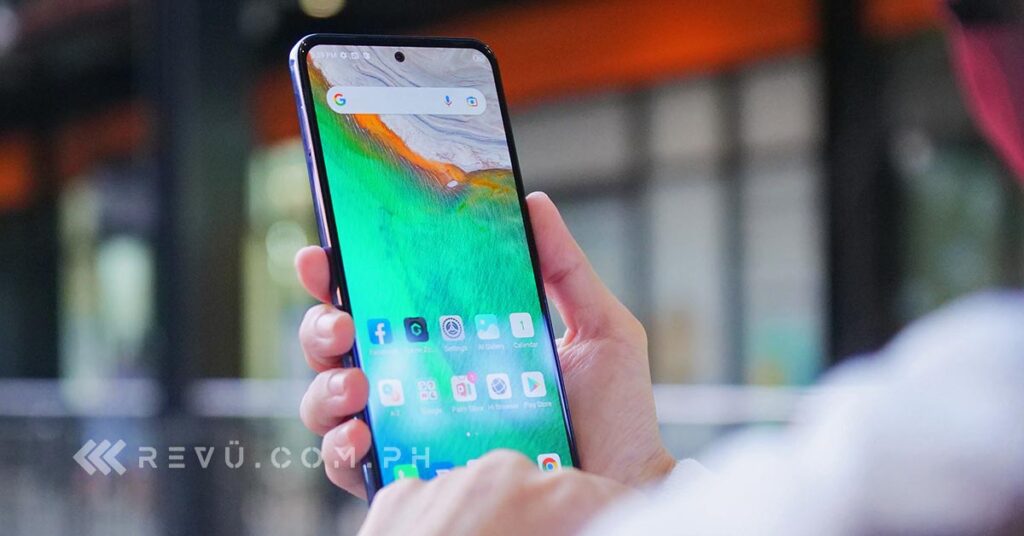 A higher refresh rate, meanwhile, allows the handset's screen to keep up with a game's smooth visuals and reduces motion blur on video. It also makes the Android 11-based XOS 7.6 user interface feel smoother and more intuitive. Of course, there are plenty of displays out there that are capable of operating higher than 60Hz in this price range, but there aren't many that use AMOLED technology and even fewer run natively at 120Hz.
Does that matter when gaming on a mobile device, especially considering the lack of AAA Android games that can play well above 60 fps? It really varies from user to user, but after going through some of your favorite apps on the Zero X Pro, you will definitely have your answer. It's also worth noting that not all games with 120 fps support will run as smoothly as possible on this Infinix. More on that in a bit.
The display itself is fine and shows vibrant colors and contrast while keeping the viewing angles wide, without showing much color shift. As expected, the black levels are rich and deep for an AMOLED, too, so movies and TV shows look nicer on this panel than on most LCDs. Just don't expect to match the vibrancy and color accuracy of high-end Samsung screens.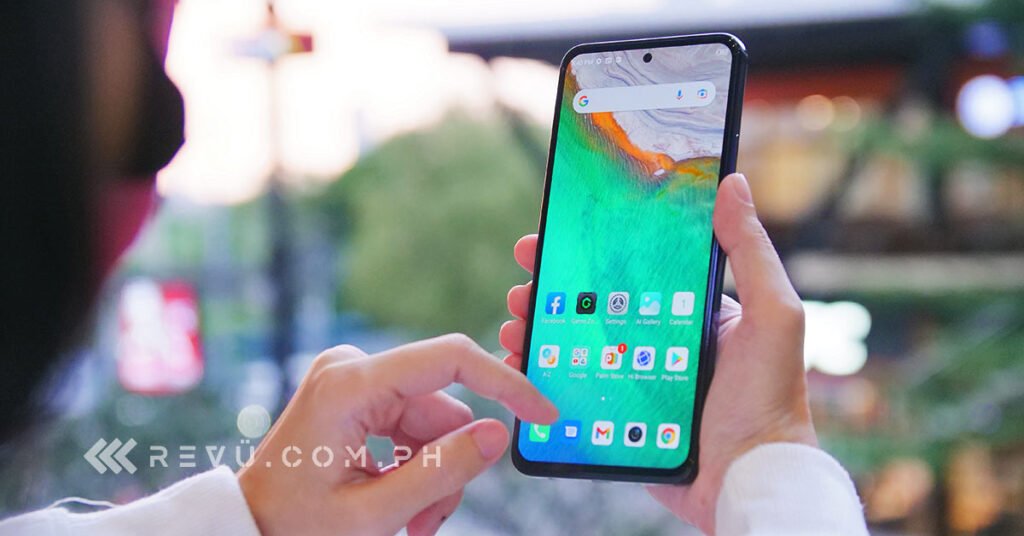 For nighttime viewing, the Infinix Zero X Pro gets the TÜV Rheinland certification for low blue light. If there's one feature we should expect from a modern handset with an OLED panel, it is AOD or always-on display. The Zero X Pro offers several presets to choose from; unfortunately, there are no options that let you adjust when your AOD lockscreen will be shown. You can't, for example, choose to turn on AOD only after receiving a new notification or alert.
To deliver a satisfyingly smooth performance given its asking price, Infinix has equipped its latest flagship with a MediaTek Helio G95 chipset that you'll also find on a number of contemporary devices, including the Realme 7 and Realme 8. In case you're not familiar, the Helio G95 is the successor to the G90 series and packs two Cortex-A76 performance CPUs and six Cortex-A55 power-efficient cores.
The processors are paired with Mali-G76 graphics that can punch above its weight class from time to time, and its GPU power is one of the biggest reasons some manufacturers find the Helio G95 so appealing even today. Unfortunately, not everything about this chipset has aged well.
Two years after its debut, the most notable issue with the G95 at launch remains: It's still nowhere as efficient as the competition, and the heating issue that has plagued other Helio G95-based devices we tested also spoils the Infinix Zero X Pro's gaming performance and mileage per charge. Don't get us wrong; for daily use, the phone is mostly responsive and smooth, unless you're outdoors under a hot sun.
Benchmarks
Once you get to gaming, running benchmarks, and taking lots of pictures and videos during the daytime, though, the phone tends to throttle more often, leading to fps loss, or worse, apps forcefully closing. Our CPU Throttling Test results revealed the handset dropping to 76%, 69%, and 64% of its max performance over 15-, 30-, and 60-minute runs, respectively.
Like other Infinix devices of late, the Zero X Pro is preloaded with the company's proprietary Game Zone app and Dar-Link Engine 2.0, which aims to bring down the operating temperature of the device particularly during long gaming sessions. However, our experience suggests neither is overly helpful in cooling the internals of the device.
We were able to play Genshin Impact at the Medium preset with the frame rate set to 60 fps; higher settings showcased severe frame drops especially when recording in-game footage. Marvel Future Revolution, another console quality-level mobile game that supports high frame rates, ran smoothly most of the time and hardly gave us any frame-rate issues at the highest graphics preset.
The Helio G95 doesn't support 5G data, which is fine if you don't care about getting faster internet speeds when you're away from a Wi-Fi network. 4G reception is great on local networks in our area, but, as always, your experience will vary depending on where you live.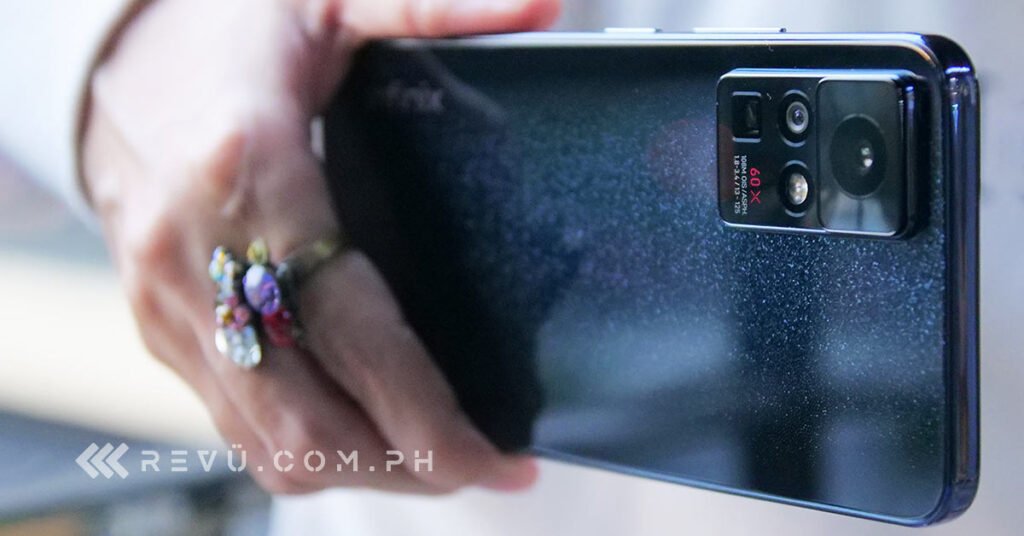 On a more positive note, the camera system at the back figuratively — and literally — shoots for the stars, and largely succeeds. It is easily the most exciting thing about the Infinix Zero X Pro. The triple-lens setup comprises a 108-megapixel primary camera that has optical image stabilization, an 8-megapixel ultra-wide shooter, and an 8-megapixel periscope telephoto option for all the zoom it needs.
The 108-megapixel, 1/1.52-inch sensor is a first for Infinix and boasts optical image stabilization to go along with EIS for smoother results and better nighttime shots. If you need brighter and sharper pictures in low light, Super Night mode is available on the main camera as well and does a nice job of capturing detail with less noise and reducing blown-out portions of an image, such as street lights and signages.
The ultra-wide camera gets an f/2.25 aperture lens and can be used specifically for macro shots. It even has auto-focus, which pricier handsets often lack. The tele snapper, on the other hand, is a 125mm equivalent and uses an f/3.4 lens. Like the primary camera, it's optically stabilized, too, to help reduce shake at extreme zoom lengths.
Sample shots
Also, the Infinix Zero X Pro comes with a 16-megapixel selfie camera with dual-LED flash. Mercifully free of gimmicks, you won't find 2-megapixel macro or depth sensors here.
As far as battery life is concerned, the unit offers a day of mixed use, but struggles to stretch the 4,500mAh battery backup to cover more mileage per charge. If your typical usage involves gaming for long periods and keeping the screen running at 120Hz, be sure to keep a power bank nearby.
The Zero X Pro supports fast charging up to 45 watts using the included power brick and cable. Even better, it has been certified for safe fast charging by — you guessed it! — TÜV Rheinland. Based on our tests, it takes about 58 minutes to fully recharge our unit from 20% and 73 minutes to fill up the battery to 100% if it is completely drained.
Final thoughts
The Infinix Zero X Pro is a flat-out gorgeous phone, especially the Nebula Black variant we've been using. And its screen and cameras are sure to impress as well, perhaps more so the latter than the former. The phone's 108-megapixel primary camera can take consistently excellent photos in all kinds of lighting conditions and from all sorts of distances, with colors that look natural. Filling up the battery is also a quick affair using Infinix's 45-watt tech that can recharge the Zero X Pro from zero to full in just a little over an hour.
It's hardly perfect, of course, but it really does try to tick the boxes that matter most at this price point. It's ambitious, and that's what's been missing from many of Infinix's (and many other challenger brands) offerings for too long. If you can forgive the uneven performance and the occasional frame drops when playing certain demanding titles at high settings, then this phone might be the right option for you.
Infinix Zero X Pro specs
6.67-inch AMOLED screen, FHD+, 120Hz refresh rate, 240Hz touch-sampling rate
12nm octa-core MediaTek Helio G95 processor
Mali-G76 MC4 GPU
8GB RAM
128GB storage
Triple 108-megapixel main, 8-megapixel ultra-wide, 8-megapixel periscope telephoto rear cameras
16-megapixel front camera with dual flash
Under-display fingerprint sensor
4,500mAh battery with 45-watt USB-C fast charging
XOS 7.6 based on Android 11
Colors: Nebula Black, Starry Silver, Tuscany Brown
In case you'd want to watch our Infinix Zero X unboxing video, which we embedded in this article
---