The Realme GT 2 series, the company's latest flagship release, will debut January 4, 2022, in China with the global launch yet to be disclosed (update: It's on the 4th, too). The lineup is said to include the vanilla Realme GT 2 and the Realme GT 2 Pro.

(Update, January 4: The newly launched Realme GT 2 series ushers in 2022 with aggressive pricing and flagship performance!)
Recall that Realme announced three new technologies coming to the GT 2 series two days ago. The said technologies are "world's first innovations" in the industry and comprise the GT 2 Pro's camera, communication, and design features.
SEE ALSO: Realme GT Master Edition review: Flying high on design
Speaking of the latter, Realme has confirmed the design of the top-end GT 2 Pro. Co-designed with Naoto Fukusawa, whom you might know from his work with Japanese retail company Muji and Realme's Master Edition handsets, the upcoming flagship will debut as the world's first smartphone with a bio-based polymer design.
Bio-based polymers are made from renewable or organic materials, such as pulp or paper dissolved in water, and can reduce carbon emissions by up to 63%. Expect the device to ship in an eco-friendly packaging as well.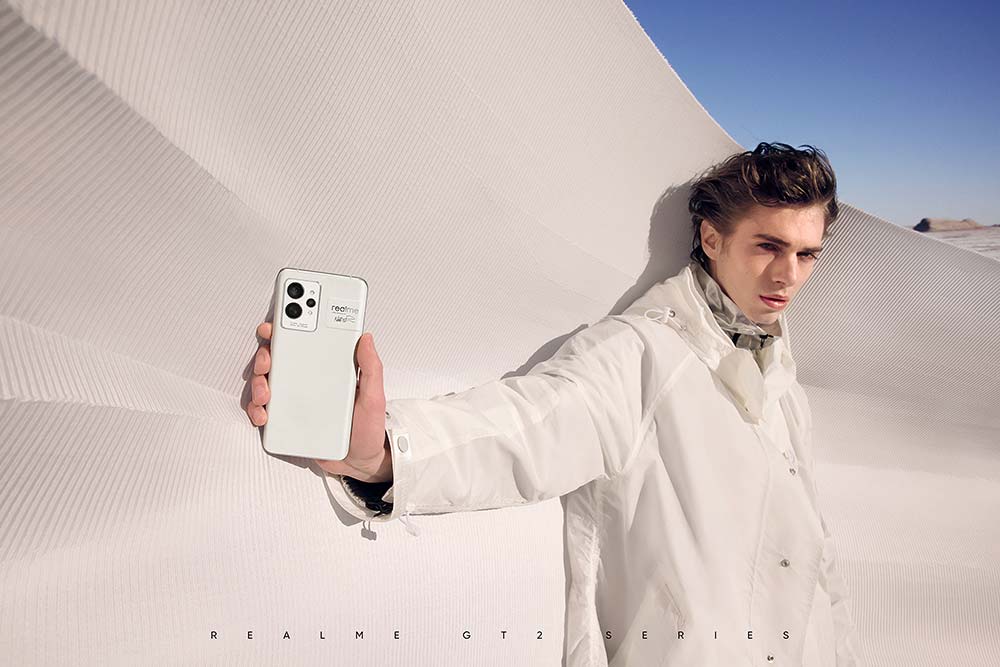 The world's fastest-growing brand previously confirmed that the Realme GT 2 Pro would be built around Qualcomm's latest and fastest Snapdragon 8 Gen 1 SoC. Additionally, it will be the first phone to feature a 150-degree super-wide-angle camera coupled with a fisheye mode that promises an "ultra-long depth-of-field effect."
Communications-wise, the GT 2 Pro will feature the first "Ultra Wide Band HyperSmart Antenna Switching" system, which consists of 12 antennas covering all sides of the smartphone. It is claimed to support global frequency bands in nearly all directions with a similar signal strength. The phone comes with 360-degree NFC support, too.
---