The vivo T1 5G is one of the company's most popular smartphone releases this year — and it's easy to see why. This gaming-oriented handset arrives with the hardware to match and retails at a budget-friendly price for a 5G-enabled device built around Qualcomm's Snapdragon 778G platform.
Not only that, the vivo T1 5G is also quite the capable camera phone, as we noted in our review. It likewise supports vivo's flagship-grade 66-watt fast-charging standard, to go along with a 4,700mAh battery that can keep with a whole day's work, or several hours of intensive gameplay.
In the Philippines, the vivo T1 5G with 8GB RAM and 128GB of internal storage carries a suggested retail price of P16,999 (roughly $308), making it a solid choice if you're looking for an excellent all-around phone that can also handle today's most demanding games. If you're still on the fence, though, you may want to read our deeper dive into the vivo T1 5G's gaming potential in this article, where we highlight the unit's performance in certain benchmark apps and games.
Benchmarks
While not as new or shiny as some other 5G chipsets in the segment, the Snapdragon 778G inside the vivo T1 5G is one of the faster and more efficient mid-tier processors around, featuring a 6nm process technology and an Adreno 642L GPU that easily outperforms the Adreno 619 found in smartphones powered by Snapdragon 600 series chipsets like the Snapdragon 695 5G. It also brings eight Kryo 670 CPUs with a Cortex-A78 prime core operating at up to 2.4GHz, as well as a Snapdragon X53 5G modem, which can deliver downlink speeds of up to 3.7 Gbps.
By that alone, you can already see that the Snapdragon 778G is a pretty powerful SoC that can go toe to toe with the best of them in the midrange category. And the benchmarks agree: Antutu puts the vivo T1 5G at 542,254 points, whereas the Geekbench and 3DMark results for the phone are way above the averages we saw for devices powered by the Snapdragon 680 and 695 5G.
It's worth mentioning that the CPU Throttling Test app, despite putting an unrealistic CPU load on our review sample in 15-, 30-, and 45-minute intervals, didn't raise its operating temperature too much, nor did it throttle the processor to alarming levels even after running the app for a good 45 minutes. At worst, it bogged down the performance of the CPU to 83% of its max capabilities.
You can check out the rest of our T1 5G benchmark results below.
Evidently, the vivo T1 5G has passed with flying colors as far as synthetic benchmarks are concerned. But what about gaming? Does the vivo T1 5G also deliver when put through a gauntlet of gaming tests? Yes it does. Impressively, playing high-quality games at 60 fps (or close to it) is where this phone truly shines as a mid-level option that punches above its weight.
We've already seen what the Snapdragon 778G is capable of, gaming-wise, but for this round, we're doing a closer scrutiny of the vivo T1 5G's performance, particularly when it comes to running Mobile Legends: Bang Bang, Genshin Impact, Dead Cells, and Titan Quest.
Gaming on the vivo T1 5G. You can find more tech-related videos on our YouTube channel
Mobile Legends: Bang Bang
A game that needs no introduction, especially to the local gaming community, Mobile Legends is arguably the most popular mobile game in the country and the most successful MOBA title on this side of the world, even far surpassing League of Legends: Wild Rift.
The game runs particularly well on the vivo T1 5G, maintaining a solid 60 fps during gameplay, with the graphics set to High and HD Mode enabled. More impressively, we didn't experience any heat-related issues while playing Mobile Legends for over three hours.
Genshin Impact
Easily the most demanding game in this test session, Genshin Impact puts a strain on most devices we review — and the vivo T1 5G is no exception. Thankfully, the phone can still run the game rather smoothly, hovering between 40 and 50 fps with the graphics preset set to Medium and the fps set to 60. Even with the reduced graphics options, Genshin Impact still looks great on our review unit, with a high-quality cell-shaded art style and hero designs that are bursting at the seams with personality.
Something worth noting: The game is compatible with vivo's Frame-rate Priority setting, which reduces the resolution of the game to ensure smooth gameplay. We highly suggest that you enable it if you frequently encounter frame drops or laggy performance.
Dead Cells
Although not as demanding as the other titles that we're featuring here, Dead Cells is one of our favorite rogue-like action-platformers on any system, and it translates so well to the mobile platform. Plus, it looks great on the vivo T1 5G's AMOLED display and even supports the smartphone's higher refresh rate once you unlock the 60 fps cap on the game in the settings menu.
Our unit was able to run Dead Cells above 70 fps while opting for its max resolution. Even with continued gameplay (about an hour), it didn't suffer from any heat issues, and the device stayed reasonably warm without any noticeable frame-rate drops.
Titan Quest
While not quite the same as any of the recent Diablo games, Titan Quest is probably the next best thing if you're looking for a good-looking action-RPG that takes place in a fantasy world. It runs great on the vivo T1 5G, too, and we were able to maintain a particularly stable 60 fps throughout our playthrough. Best of all, Titan Quest is a one-time purchase on the Google Play Store and doesn't have any ads or any of the pay-to-win elements that have soured our Diablo Immortal experience.
Power consumption
As we mentioned in our review, we've come away utterly impressed with the vivo T1 5G's battery life, which places it a cut above the rest of competing models with a score of 17 hours and 26 minutes in PCMark's battery-endurance test. Wired charging is a delight as well, with the phone taking just 55 minutes to reach a full charge from zero.
The T1 5G actually comes bundled with an 80-watt wall adapter, although it maxes out at 66 watts of power delivery. Nonetheless, rapid-charge support will deliver 100% capacity in under an hour, so it's feasible to boost battery power while you grab a cup of coffee or a snack at a café.
Looking at our most recent battery stats, you'll see that three hours of Mobile Legends gameplay only consumed 11% of our unit's battery power. After an hour of playing Genshin Impact, we had the battery down by 6%. Playing Titan Quest for an hour and 54 minutes reduced the battery by 5%. Finally, we found that 38 minutes of playing Dead Cells knocked the battery by just 2%, which is impressive, to say the least.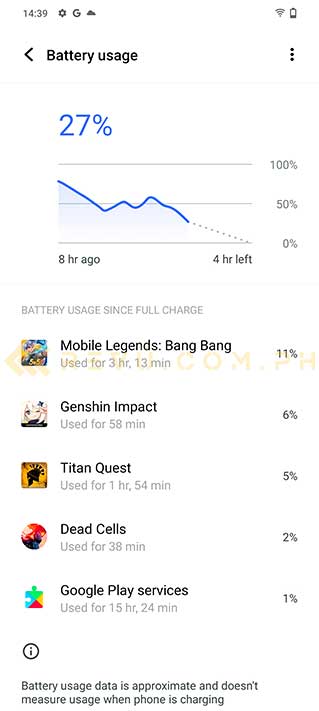 Battery usage
Our vivo T1 5G's most recent battery stats
Still impressed
Armed with a Qualcomm Snapdragon 778G inside, the vivo T1 5G has proven to be a genuinely remarkable smartphone, especially when it comes to gaming. It delivers a high frame-rate experience when playing games like Dead Cells and Titan Quest, while those that require more graphics power, such as Genshin Impact, will run at around 40 fps at least.
And there's the software, which we really like, as it perfectly complements the hardware vivo has on offer. Similar to the company's top-end models, the T1 5G ships with gaming-centric software features, such as the Game Center app, Game Space, and Game Assistant overlay. The latter will allow you to switch between the Battery Saver, Balance, and Performance modes conveniently on the fly in real time.
It also includes the clever Esports mode, which will basically turn off distractions like notifications, alarms, and incoming calls, in addition to locking the brightness of the screen and enabling Eagle Eye View, which adjusts the display's output to provide a more vivid and immersive viewing experience.
Without a doubt, the vivo T1 5G should be at the top of every budget gamer's to-consider list, if it isn't yet. Pass the word around.
Vivo T1 5G specs
6.44-inch 1080p AMOLED display, 90Hz refresh rate
Qualcomm Snapdragon 778G 5G processor
8GB RAM
128GB storage
64-megapixel main, 8-megapixel ultrawide, 2-megapixel macro rear cameras
16-megapixel front camera
Under-display fingerprint reader
4,700mAh battery
66-watt charging
Funtouch OS 12, based on Android 12
Color options: Turbo Black, Turbo Cyan
---