Earlier this month, OPPO launched the 2022 edition of the A57 in the Philippines, adding yet another quality A series smartphone to its local portfolio.

After spending weeks with the device, let's take a closer look at its pluses and minuses in our review, in case you're on the fence about this particular model, or if you just want to keep up with OPPO's latest entry-level offering.
So, how much is it? In the Philippines, the OPPO A57 2022 is priced at P8,999 (roughly $162) for the lone 4GB/64GB memory configuration. The phone is now available at offline and online stores nationwide. Is it worth the money? And is it actually a good buy? Read on to find out.
Getting the glow-up treatment
One of the things we like about the OPPO A57 2022 is also the most obvious: its design. The A57 proudly flaunts the OPPO Glow Design, which uses the company's unique process to produce a subtle, glittery appearance, unlike that of most smartphones in this price segment.
The handset is available in Glowing Black and Glowing Green designs, and both look elegant in pictures and in person. If we had to choose between the two, our vote would likely go to the latter, if only because we rarely see a green phone look this good in the budget category.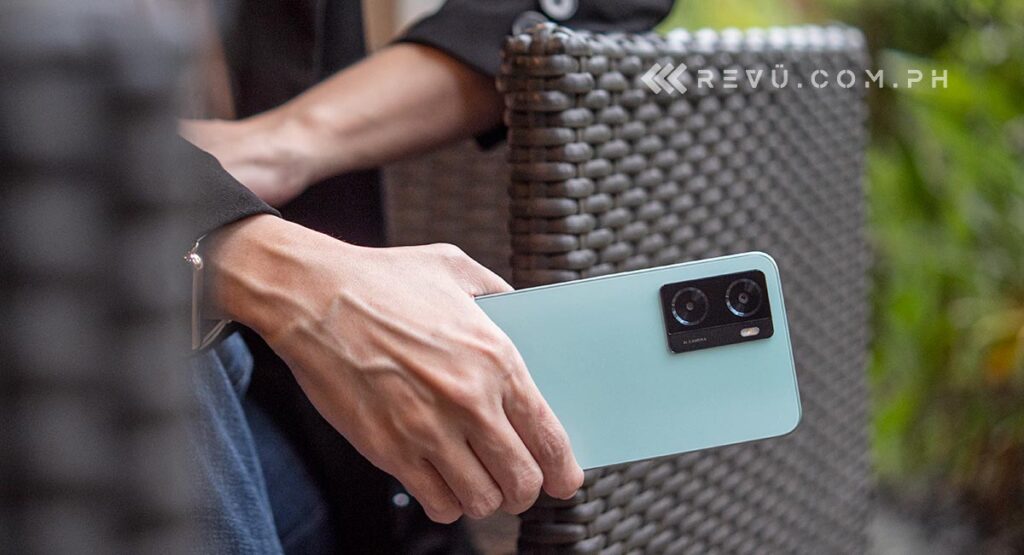 And just because it doesn't look cheap, that doesn't mean OPPO compromised on the build quality either. In fact, the A57 is quite resistant to scratches and has been rigorously quality-tested to meet stringent standards. It even comes with IPX4 water resistance, which means it should be able to withstand water splashes, and it's officially dust-resistant as well, thanks to its IPX5 rating.
It's not often that you come across a wallet-friendly handset that can withstand the elements — even if it's only a bit — that also delivers on the aesthetic front. But, of course, that's not all.
Colorful view
The OPPO A57 sports a 6.56-inch HD+ LCD screen that covers 100% of DCI-P3 and 96% of NTSC, so it's a pretty color-rich panel. We wish the resolution were higher, though, and the bezels, a tad slimmer especially at the top and on the chin. Plus, the waterdrop notch doesn't do the phone any favors aesthetically.
The A57 2022 arrives with OPPO's AI Eye Comfort software feature and "blue light reduction" technology to give you a more comfortable viewing experience, especially in low light. Eye Comfort mode can be scheduled according to time, allowing you to automatically turn it on as soon as it's time for you to hit the sack. How convenient!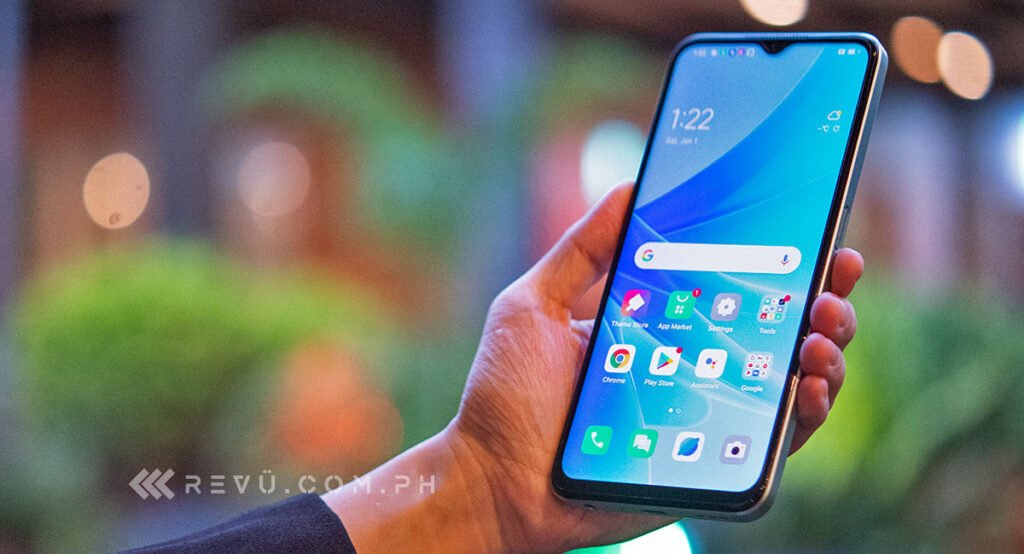 Like the brand's other smartphones, the OPPO A57 can switch to a monochrome display to make it more suited for reading documents and websites. You can adjust the color temperature manually, or you can toggle between the Vivid and Natural presets. In the said Natural mode, we found the colors to be just right for everyday use.
As expected, there's no under-display fingerprint reader here; the side-mounted scanner works as advertised, though, and it's conveniently located along the right edge, exactly where our thumb rests when holding the device in portrait orientation.
Pump up the volume!
A dual-speaker setup is something you normally wouldn't expect from a device in this price range, but then again, the OPPO A57 2022 is not your typical budget blower. Hence, the extra speaker in the earpiece to help the bottom-oriented main speaker produce relatively loud and clear audio.
On top of its stereo speakers, the A57 uses Dirac 3.0 to switch between different sound scenarios and apply the optimal tweaks to the sound. There are four sound modes to choose from, including Smart — which is the default option — Movie, Game, and Music. There's also the Ultra Volume mode that can increase the max volume level significantly while adding little distortion.
We normally don't use our device's built-in speaker for playing music, but it's good to know that the A57 is up to the task if the situation presents itself.
Long-lasting, fast-charging battery
Thanks to its modest specs and 5,000mAh battery backup, the OPPO A57 2022 delivers long-usage times on a single charge. It's actually one of the longest-lasting phones we've used in the segment, able to last comfortably days in between charges as our backup device. A full charge usually gives us two and a half days of battery life when using it primarily for everyday tasks.
If you're not a heavy screen and data user, you could potentially use the handset over the weekend without ever reaching for the charger or external battery pack. Unfortunately, we can't say how many hours and minutes the A57 pulls off in the PCMark battery-rundown test, as our unit couldn't complete the said test after numerous tries.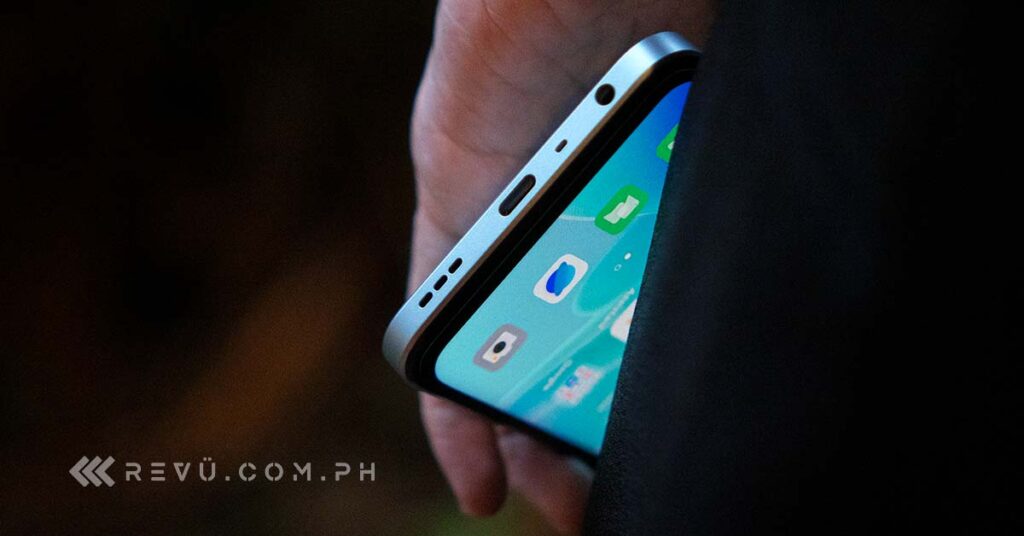 Charging the smartphone doesn't take a long time either. OPPO ships the new A57 with a USB-C pocket charger that can take full advantage of the company's 33-watt SuperVOOC fast charging. Think 50% from zero in just 30 minutes and a full charge after 75 minutes plugged in, based on our testing. That's quite impressive, considering the A57 is an entry-grade model.
Underpowered, unfortunately
Obviously, not everything is great about the OPPO A57 2022. By far, the biggest compromise here is the chipset and the performance you will get out of it. The phone is powered by a MediaTek Helio G35 4G chip, which has been around since 2020 — and its age has shown for a while now. Granted, the A57 isn't a mid-tier offering, but the brand could have opted for a newer and faster entry-level SoC from MediaTek, or Qualcomm or Unisoc for that matter. Even the Snapdragon 480, which a lot of manufacturers skip nowadays, would have been a much better choice for day-to-day tasks and gaming.
Which brings us to our next point: We can't recommend the A57 for playing modern games with high-end graphics like Genshin Impact and Diablo Immortal. If you consider yourself a pretty serious gamer, you'll find plenty of similarly priced but better-suited alternatives on the local market.
Smile for the cameras
Last but definitely not the least is the camera system. OPPO has fitted the A57 2022 with a dual-camera array on the back with a 13-megapixel main sensor and a secondary 2-megapixel monochrome sensor, which comes in handy when shooting portrait-style pictures with a crisp subject against a blurred background. On top of that, there's an 8-megapixel selfie camera that is decent even in dim environments and can shoot portraits, too.
One obvious nitpick is the lack of a tertiary unit for ultrawide or macro shots, although that can be forgiven considering the modest pricing. In good lighting, the results from the primary camera — especially in Night mode — are satisfying, while the selfie shooter is capable of delivering decent snaps, with pleasing skin tones and colors. Check out these camera samples taken with our A57.
Sample shots
And these, too…
Final thoughts
The OPPO A57 2022 is a pretty good all-around performer. Despite its underpowered processor and lack of FHD+ visuals, the handset makes up with its looks, punchy speakers, amazing battery life coupled with fast charging, and decent camera system. However, if speed is your top priority, you might want to look elsewhere.
Links to where you can buy the phone online can be found here.
OPPO A57 2022 specs
6.56-inch LCD display, HD+ resolution, 60Hz refresh rate
Octa-core MediaTek Helio G35 processor
PowerVR GE8320 GPU
4GB LPDDR4X RAM
64GB eMMC 5.1 storage
Dual 13-megapixel main, 2-megapixel mono rear cameras
8-megapixel front camera
Side fingerprint reader
5,000mAh battery with 33-watt USB-C charging
ColorOS 12.1 based on Android
Color option: Glowing Black and Glowing Green
---