The Philippines' tablet market grew by 40.1% year-on-year and 22.4% quarter-on-quarter in the second quarter of 2022 due to big tenders from local government units and different division offices of the Department of Education, according to the International Data Corporation's Worldwide Quarterly Personal Computing Device Tracker.
But when more schools started holding physical classes as part of DepEd's expansion of its face-to-face program, the market declined by 11.6% QoQ in the third quarter. And Cherry Mobile, which got catapulted into the top spot among all tablet vendors in Q2 2022 largely because of the education segment, dropped to third place as well. Recall that the local brand accounted for more than 60% of the category that posted a 92% growth YoY and 89.2% QoQ in Q2.
Samsung climbed its way from No. 3 to No. 1 with a whopping 43.5% market share. The Korean technology giant more than doubled its shipments compared to the previous quarter, thanks to the Samsung Galaxy Tab A7 Lite budget tablet, which comprised almost 80% of the company's shipments.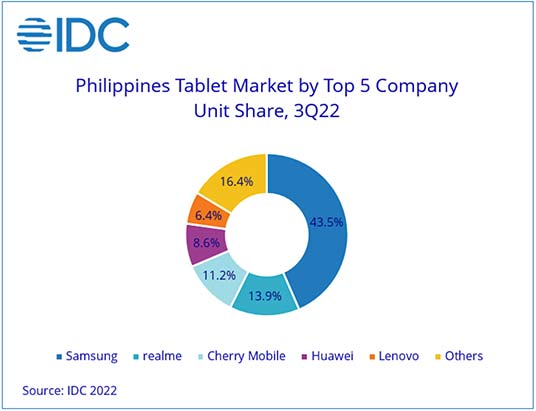 Realme was a far second with a 13.9% unit share. Huawei and Lenovo rounded out the top 5 in the Q3 ranking of the biggest tablet vendors in the Philippines.
"With the DepEd's mandatory in-person classes for public schools beginning in November as well as global headwinds hurting consumers, we anticipate the tablet market to decline in 2023," IDC Philippines senior market analyst Angela Medez said. "Even though more Chinese vendors have turned up in the tablet space and sparked competition, we don't expect them to offset the slowdown of the overall tablet market."
---