Infinix Mobile Philippines offers its hottest products on sale, bringing up to 15% discount at the upcoming 1.15 Payday Sale on both Shopee and Lazada. The fast-growing smartphone brand offers its wide array of powerful mobiles and laptops, bringing great deals and discounts reaching up to P7,000 — or roughly $127 — off!

Included at the sale are phones like the Infinix ZERO 5G 2023, Infinix ZERO ULTRA 5G, Infinix HOT 20 Play, Infinix HOT 11 2022, Infinix NOTE 12 G96, and Infinix NOTE 10 PRO 2022.
Here's a rundown of the discounted products during Infinix's one-day sale on Shopee and Lazada: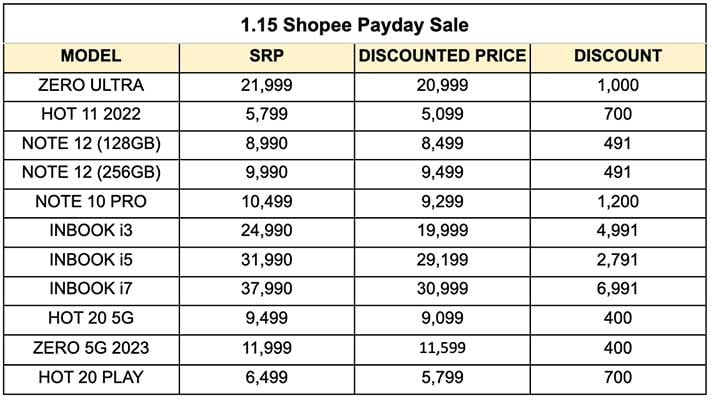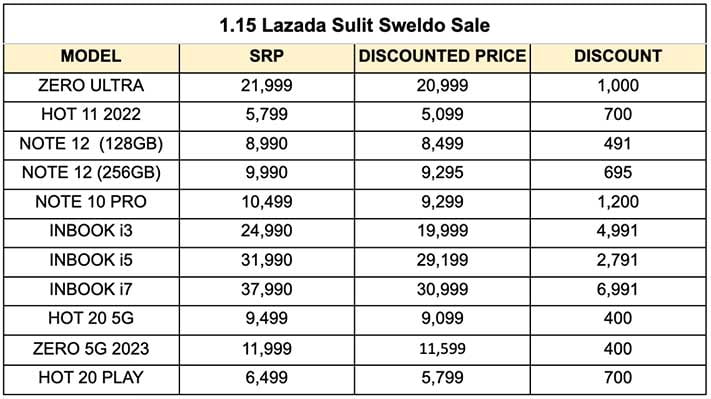 Be sure to get your hands on Infinix's best smartphones and laptops this year. What are you waiting for? Add to cart now!
About Infinix
Infinix Mobility is a rapidly emerging technology brand that designs, manufactures, and markets an expanding portfolio of smart devices worldwide under the Infinix brand, which was founded in 2013.
Targeting today's youth with first-in-class technology, Infinix creates trendy, powerful, and attainably priced smart devices that bring the latest technology on the market to users around the world at a time when they need it at a price that they want. For more information, please visit http://www.infinixmobility.com/.
(Release from Infinix Mobile Philippines)
---