MediaTek recently hosted an online press briefing attended by select members of the Philippine media to give some key updates on its business.

A number of MediaTek representatives joined the briefing to share insights, including Finbarr Moynihan, MediaTek's vice president of marketing; Chinlin Low, director of MediaTek Asia-Pacific region; and deputy director of corporate sales for Southeast Asia Cedric Chang. We thought we'd let you know how the world's leading mobile chipmaker is doing and give you a view of the most pressing challenges and opportunities the company is facing to sustain its growth.
MediaTek led the global chipset market in 2021 and 2022
First, some updates regarding its business performance and drivers of success: MediaTek is coming off recent banner years of profit and market-share growth. Taiwan's top chip-design company increased its revenue from roughly $8 billion in 2019 to more than double that — approximately $18.5 billion — by the end of 2022.
Its biggest driver is unsurprisingly the mobile segment, accounting for 54% of MediaTek's total revenue in 2022. Smart homes and platforms that take advantage of Edge-AI technology solutions came in second place with 39%, followed by power ICs with 7%.
In the first quarter of 2023, Smart Edge platforms led the revenue contribution with 47%, while mobile phones accounted for 46% of the manufacturer's entire revenue, estimated to be about $3.3 billion.
In its banner years, MediaTek was the top mobile chip supplier in 2021 and 2022 based on IDC numbers, despite losing significant shares in the 4G category in 2022. Two years ago, at the height of its dominance of the mobile segment, its market share was around 42% compared to about 28% for chief rival Qualcomm.
Challenges in supply and demand
MediaTek's growth has slowed in 2023 as the company faces setbacks caused by semiconductor shortages that have affected its chip inventory, as well as frugal spending from consumers who are still affected by the pandemic. These challenges have resulted in profits going down by 11% to $3.3 billion in Q1 2023 from the previous quarter.
MediaTek losing market share in the 4G segment last year posed another setback for its chip business. This rang true in the Philippines, where we saw a number of recently released smartphones adopt Qualcomm's 4G solutions, namely the Snapdragon 680 and Snapdragon 732G, as opposed to relying on MediaTek's Helio platform.
Amid all the challenges in the industry, MediaTek is positive that it can recover in the 4G market and retain its lead position in the chipset market this year and moving forward, especially as 5G adoption continues to scale globally. The company sees a bright future with plenty of opportunities for innovation and growth. Which brings us to what's next for the firm.
Looking ahead
During the briefing, Finnbar Moynihan spoke highly of MediaTek's second-generation flagship chip, the MediaTek Dimensity 9200, which was especially well-received in the Chinese market that it brought the firm its highest-ever market share in China's flagship segment at 20% in 2022 from having virtually zero market share two years ago. This development, among others, has pushed MediaTek to continue investing in its flagship line over the next few years.
The follow-up to the Dimensity 9200, the Dimensity 9200 Plus, made its debut in May. The new top-end chip will go head to head with the Qualcomm Snapdragon 8 Gen 2 and brings higher CPU and GPU clock speeds over the vanilla 9200, which should correspond to a 10% improvement in benchmark scores in apps like Antutu and Geekbench.
The first device to hit the market with a Dimensity 9200 Plus processor under the hood is the iQOO Neo8 Pro, and it debuted as the top-performing Android smartphone in Antutu's May 2023 rankings with an average score of 1,358,352.
In the Philippines, the only devices powered by a Dimensity 9000 series chip are the OPPO Find N2 Flip and TECNO PHANTOM V Fold, priced at P49,999 (around $903 converted) and P59,999 ($1,084) at launch, respectively. Both are built around the Dimensity 9000 Plus platform.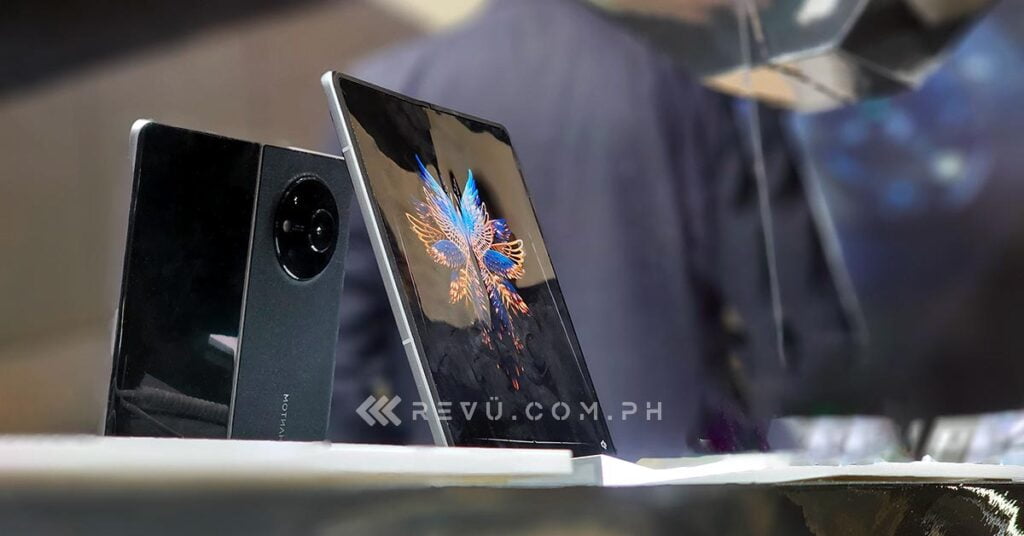 MediaTek is also optimistic about achieving growth with its midrange 5G chips that integrate smaller and more power-efficient transistors like the Dimensity 7200, which uses a 4nm process and second-gen Armv9 processors with high clock speeds.
The standard vivo V27 5G is the first phone we've tested that runs on a Dimensity 7200 chip. It didn't disappoint, posting good benchmark numbers in our Antutu and Geekbench runs. And while not a flagship-level model, the vivo V27 5G is more than capable of handling pretty much any modern game you throw at it.
MediaTek sees potential growth in the Chromebook segment with its Kompanio series processors, too, especially with more and more consumers focusing on cost and power consumption — two key areas where ARM-based solutions have an advantage over the x86 architecture.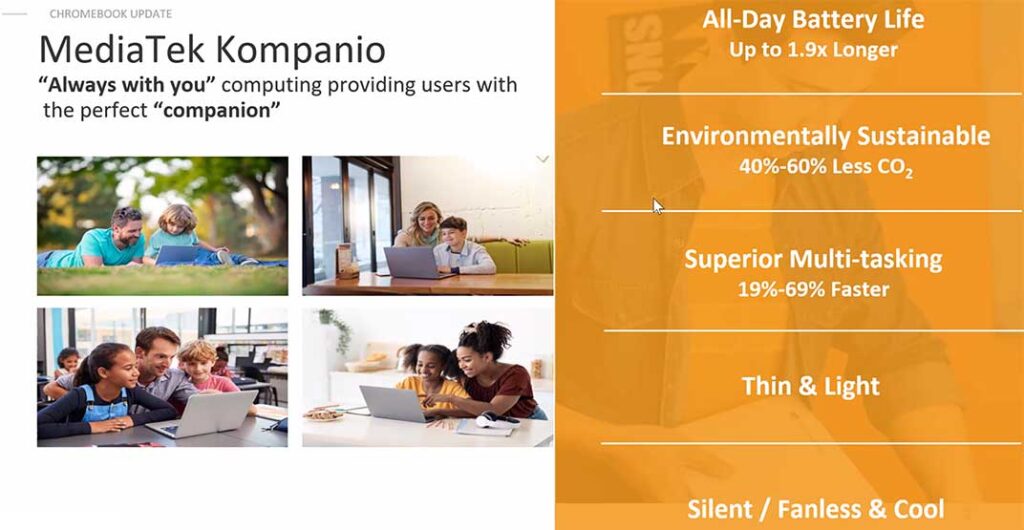 ARM-based Chromebooks offer longer battery life than their x86 counterparts, in addition to allowing for thinner, lighter, and fanless notebook designs. In the months to come, MediaTek will grow its Kompanio portfolio to offer a variety of processors for midrange and even premium Chromebooks.
Finally, MediaTek is also actively investing in other possible areas of growth, particularly in the IoT [internet of things] space, as well as the Dimensity Auto and Genio platforms. Armed with a diversified portfolio and continued investments across the mobile-device and 5G industries, MediaTek hopes to generate profits and growth in the pandemic era and beyond.
---