We're counting down the final hours of 2018, and what a year it has been for the industry, especially for OPPO. The Dongguan-based company has had a memorable year, with releases like the OPPO Find X and OPPO F9 making headlines and history.

And then there's the OPPO R17 Pro, which was launched in the Philippines in November with a price tag of P38,990 (around $743) and is the first OPPO unit to offer three rear cameras. It also arrives with a few interesting features, including an eye-fetching gradient design and SuperVOOC, which promises insane charging times.
But are these enough to warrant our recommendation? Read our review to find out.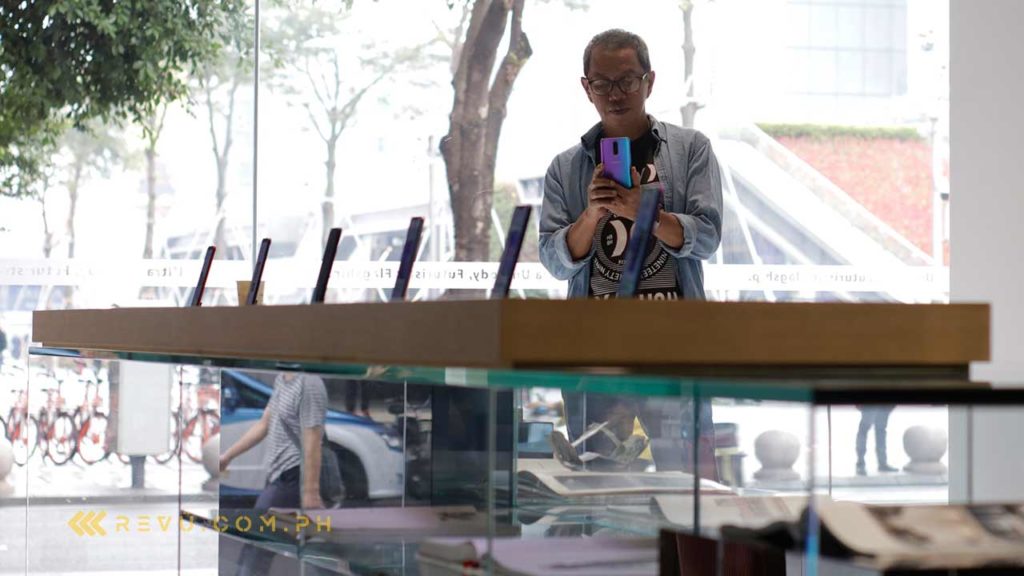 A few glances at the OPPO R17 Pro, and you'd realize that it's hard to argue that this isn't the most visually striking phone OPPO has ever built. Sure, there's the OPPO Find X, which has a motorized inner structure that slides out and might draws oohs and ahs from people who have never seen its party trick before.
But you'll need to unlock the phone, take a picture, or turn on the flashlight feature for the show, if you will, to start. The R17 Pro, on the other hand, simply draws attention to how captivating and instantly recognizable it is when viewed from the back.
SEE ALSO: Watch: OPPO Find X proves it's tough in torture tests
The Radiant Mist coloring on the back of our unit (and all units sold in the Philippines, for that matter — there are no other options here unlike in China) was made using a special surface-etching process to allow the blue and purple colors to shift dramatically in different light and show a vertical gradation between them, OPPO says. Our pictures might not do the effect justice; it's probably best to see it in person.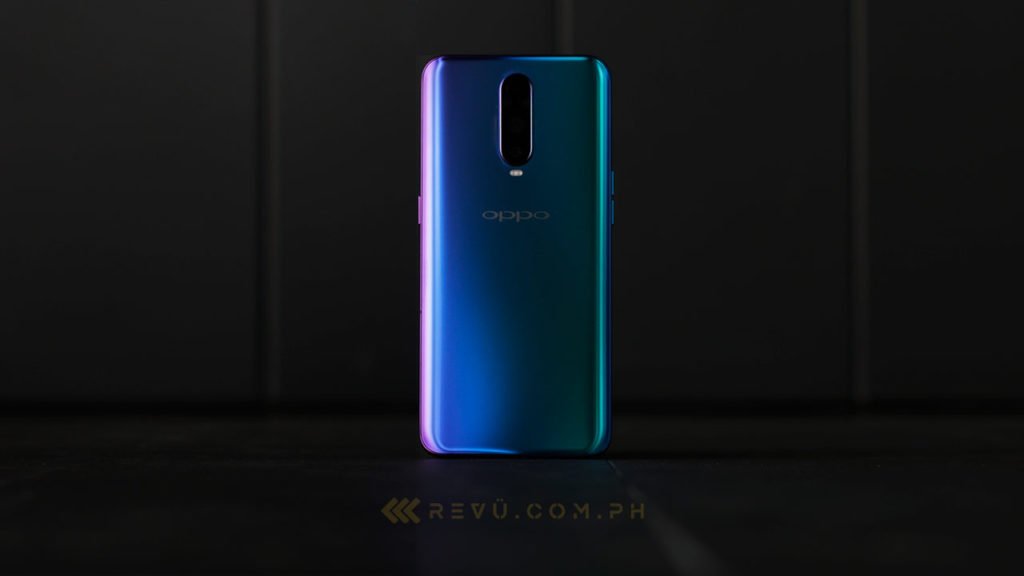 In this industry, it's important — to us especially — that a device not only looks attractive, but also different enough to stand out in a crowd of similar-looking, similar-performing, and similar-priced products. OPPO hit it out of the park with the R17 Pro in that respect.
But what about usability? That's important, too, right? Of course. So it's notable that the smartphone feels about as good in the hand as it looks. And it's not just because the metal framework that holds it together is solid and sturdy.
The back is made of glass that easily passes off as metal and features a soft-touch coating to cover up fingerprints and keep it from slipping out of your hand. It's also curved on the sides, making the OPPO R17 Pro even more pleasant to look at and less of a fuss to operate despite bearing a larger-than-average screen real estate.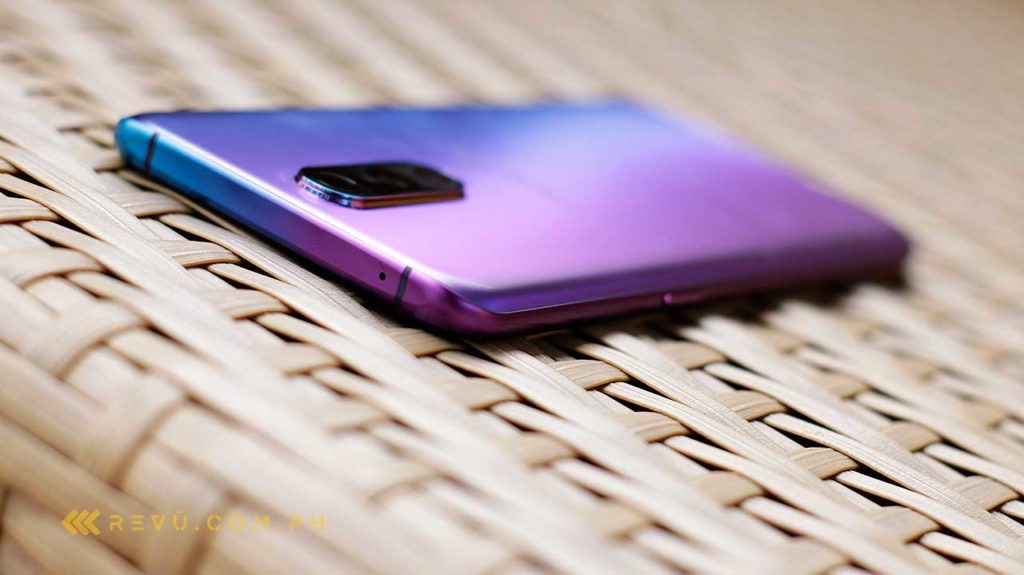 Our only major gripe — which we noted in an earlier article — is that OPPO opted against including a headphone jack for wired audio. The omission is particularly glaring especially since the R17 Pro doesn't have waterproofing, when many phones without an audio jack do. Not to mention this OPPO sits in the high end of the price spectrum where new features are being added, not taken away.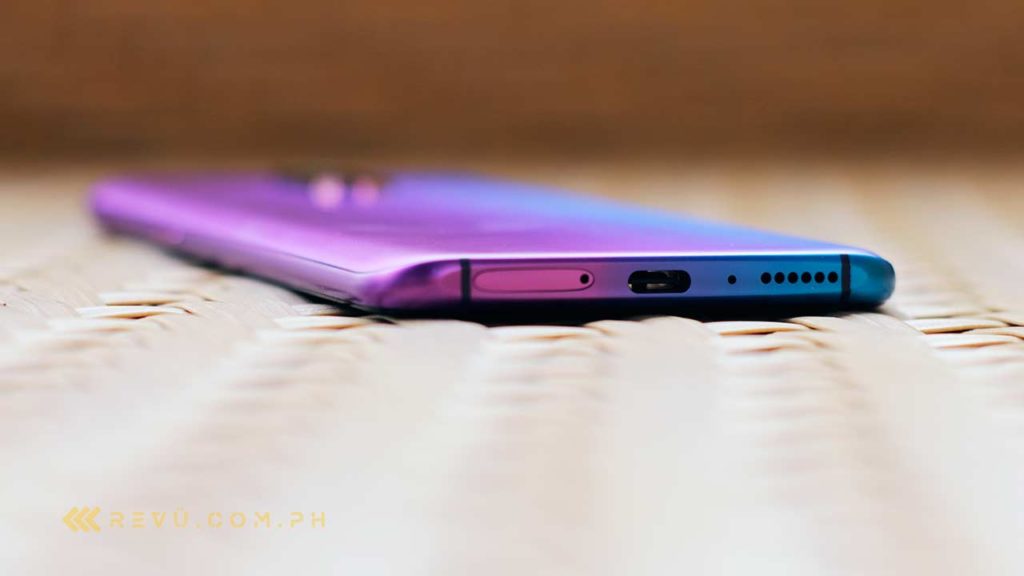 Another thing that sticks out but in a good way is the triple-sensor system on the back, which speaks volumes of OPPO's genuine attempt at innovation in the camera department. This is the company's first device with three rear cameras, though one of them isn't actually used for taking pictures or video.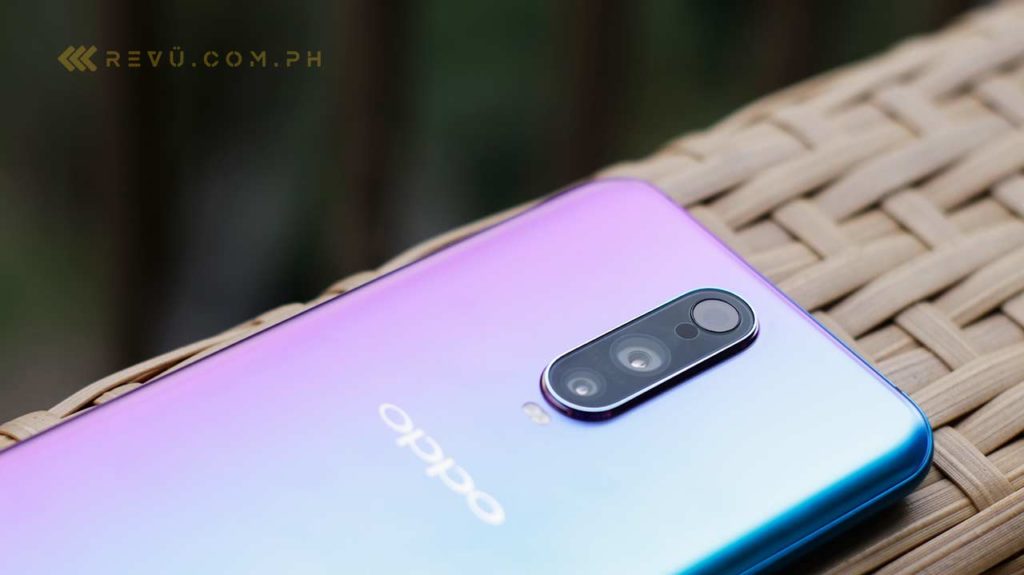 For normal use, there's a 12-megapixel primary camera coupled with a variable aperture lens that automatically switches between f/1.5 and f/2.4 depending on how much light is available. As any photographer will tell you, a lower aperture is better for low-light photography; it will open the lens up more to allow more light in, thus making pictures brighter and more detailed.
The OPPO R17 Pro is being marketed as a smartphone capable of outstanding night shots, and we'd have to say, honestly, it doesn't disappoint. Many of the photos we took at nighttime look punchy and bright enough in large part thanks to the impressive f/1.5 aperture of the main sensor.
Night shots taken with the OPPO R17 Pro
Photo we shared on Instagram earlier
And more proof that the OPPO R17 Pro is a pro at capturing moments when it's most difficult to take them
[sciba leftsrc="https://www.revu.com.ph/wp-content/uploads/2018/12/OPPO-R17-Pro-sample-picture-night-mode-review-Revu-Philippines-a.jpg" leftlabel="Night mode" rightsrc="https://www.revu.com.ph/wp-content/uploads/2018/12/OPPO-R17-Pro-sample-picture-auto-mode-review-Revu-Philippines-a.jpg" rightlabel="Auto mode" mode="horizontal" width=""]
Night mode vs Auto mode. Notice that you can read the establishment's signage when in the former
The secondary camera is 20 megapixels with f/2.6 aperture that acts as a zoom camera for 2x optical magnification. It also enables portrait or bokeh mode on the R17 Pro. The results are quite pleasing, particularly in daylight situations.
The third camera uses what is called an infrared TOF or time-of-flight sensor capable of 3D-mapping an object by measuring the distance between the sensor and object it is scanning. We've seen Sony handsets tout a similar feature in the past, but the OPPO R17 Pro is one of the first, if not the first, commercially available products with dedicated hardware devoted to capturing the likeness of an object or person in three dimensions.
READ ALSO: Inside OPPO's Super Flagship Store: A super retail experience
We've played around with an early version of the feature when we visited OPPO's headquarters in China last month. At the time, we found it charming but buggy and hardly functional.
However, the main intention here, according to OPPO, is to deliver more compelling augmented-reality experiences on supported apps, with AR (and super-speedy 5G internet) expected to explode in China over the next few years. Personally, we don't think it's something most users will find valuable.
Rounding out the camera package is a 25-megapixel front-facer that performs as well as any selfie camera on the market. It provides crisp detail, as expected, whereas skin tones are rendered realistically for the most part, sans OPPO's beautification setting in the camera app, of course. But even with beauty mode enabled, the R17 Pro does a decent job of automatically enhancing facial features with the help of in-device artificial intelligence.
Sample selfies we shared when we were in China
Though there are plenty of sharper displays out there, the 6.4-inch, 2,340 x 1,080 OLED here is great overall. Colors look full and vibrant, and contrast is pretty solid, too, with rich blacks and bright whites. Slap a black wallpaper on the home screen, and it'll get rid of the side and bottom bezels almost completely. Out in direct sunlight, the OPPO R17 Pro can get bright enough to be legible.
The smaller, less obtrusive notch at the top means a more immersive experience during gaming and video watching, as well as a higher screen-to-body ratio. OPPO says the display occupies 91.5 percent of the front panel.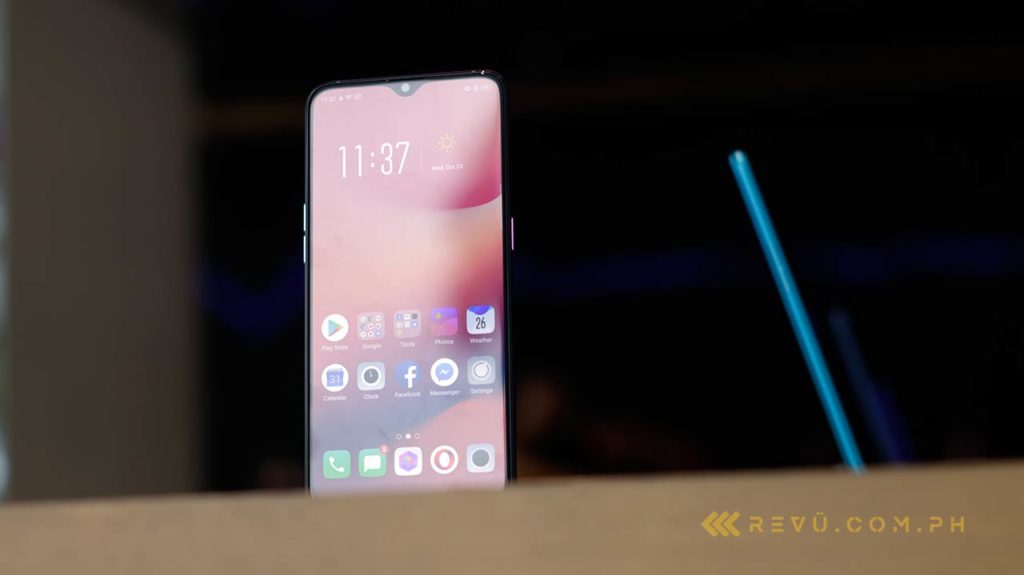 Notably, the R17 Pro uses Corning Gorilla Glass 6, which is claimed to provide two times the protection offered by Gorilla Glass 5. It's less prone to shattering if dropped from waist height.
But arguably the biggest highlight of the front is the fingerprint scanner embedded into the screen. It's pretty reliable and functions like a normal sensor though not quite as fast or accurate. Not to worry, as there's also face unlock baked into the system, which for us is actually among the fastest implementations of the technology we've ever experienced.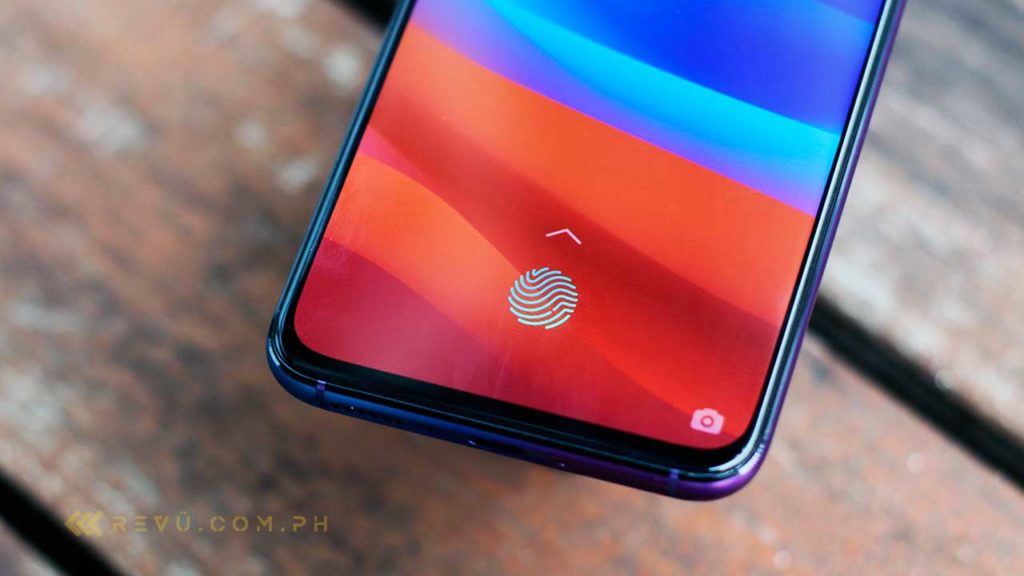 A Qualcomm Snapdragon 710 is the brains behind the assembly. The processor is mated to 128GB of native storage and comes with a whopping 8GB RAM for better multitasking. If you're not familiar, the Snapdragon 710 is a faster chip than the Snapdragon 660 and 670, but it's further behind the Snapdragon 835 and Snapdragon 845 in terms of computing and gaming performance.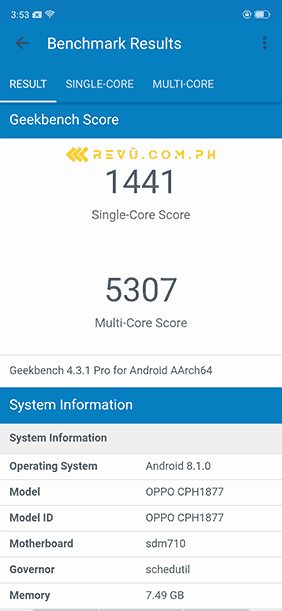 The benchmarks and real-world testing do show that. But it is only when you try to play heavier titles such as PUBG Mobile and NBA 2K19 that you get a sense that the OPPO R17 Pro is not in its element. For everyday use, actual speed might seem less important.
Gaming on the R17 Pro: PUBG Mobile and NBA 2K19 (5:18 mark)
Before we get into our battery-life observations, it must be noted that there are two 1,850mAh batteries inside the handset, for a total of 3,700mAh.
According to OPPO, having two batteries instead of one allows the R17 Pro to charge much faster via its proprietary SuperVOOC fast-charging technology using the provided 50-watt power brick. SuperVOOC also keeps the phone relatively cool to the touch while topping up the battery because it contains the heat in the power brick as opposed to transferring it to the phone.
That's well and good, but the question is: Is it fast? Absolutely. In fact, SuperVOOC is the fastest system we've used in any smartphone, period. Forty minutes plugged in can restore a juiceless battery to a full charge. No, that's not a typo. It's crazy fast. And once you use it, you'll never want to go back to anything else.
As for how long the 3,700mAh cell lasts on a single charge, if you use it for basic stuff and some gaming, you will likely be able to get a full day. Even at 80 percent, you can still get a full day's use without being compromised.
Final thoughts
It's not as affordable as the OPPO F9, but it's not expensive like the OPPO Find X either. And while it might seem like the middle ground, the OPPO R17 Pro is actually an upgrade over the pricier phone that preceded it in some respects.
It boasts a design aesthetic that is attention-grabbing and immediately recognizable; the camera on the back takes better night shots; and charging times are much quicker. If you don't mind not getting a flagship-grade processor at this price, then you might want to consider the R17 Pro for everything else it has to offer.
OPPO R17 Pro specs
null
6.4-inch AMOLED display, 2,340 x 1,080 resolution (19.5:9)
Octa-core Qualcomm Snapdragon 710 processor
8GB RAM
128GB storage
Triple 12-megapixel camera with f/1.5-f/2.4 aperture lens, 20-megapixel, f/2.6 camera, 3D depth-sensing camera
25-megapixel, f/2.0 front camera
Fingerprint reader (in-display)
3,700mAh battery
ColorOS 5.2-based on Android 8.1 Oreo 
Video you may want to watch
We talk about the OPPO R17 Pro on ANC
---