Introducing a third iPhone model in 2018 — the cheapest of the bunch — may have saved Apple from a further slowing of smartphone shipments.

According to IHS Markit Technology, the Apple iPhone XR was the bestselling handset in the first half of 2019. Total shipment worldwide was pegged at 26.9 million — or more than half the total number of units shipped of the second most popular device, the Samsung Galaxy A10. The Korean manufacturer sold 13.4 million units of the latter.
SEE ALSO: Apple iPhone 11, 11 Pro, 11 Pro Max: What we know so far
The market-research firm's research and analysis director, Jusy Hong, explained that Apple has been benefitting from its strategy of maintaining a small model lineup, unlike other brands that launch many smartphones annually.
"This means that Apple's total sales volume is divided among fewer models," Hong added. "As a result, each of Apple's iPhone models tends to generate higher shipment numbers than comparable Android smartphones."
READ ALSO: Top 10 smartphone brands in Q2 2019
One factor in the iPhone XR's dominance not mentioned by IHS Markit Technology could be Apple significantly cutting the price of the handset in select key markets, including India. In the Philippines, the 64GB, 128GB, and 256GB versions remain P50,990 (around $981), P53,990 ($1,038), and P60,490 ($1,163), respectively.
However, if you check the list of bestsellers below, you'll find that there are only three iPhones. Last year, five of them made it to the top 10, with even the iPhone X, iPhone 8, and iPhone 8 Plus making up the top three.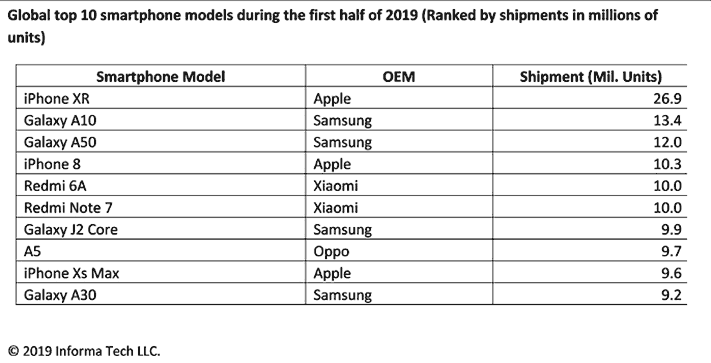 Other key details from the research company's latest Smartphone Model Market Tracker report include the following:
Four Samsung phones were in demand, but they were low- and mid-priced units. None of the flagship devices made the cut, which could be a significant challenge for Samsung, though overhauling its Galaxy A series proved to be a wise decision.
Of the five biggest smartphone brands worldwide, only Huawei didn't figure in the list. The closest it came to the top 10 was with the Huawei Y9, which shipped 8.7 million units in the first half.
Main image via iNews
---