Huawei has launched its latest Mate 30 and Mate 30 Pro flagship models with upgraded designs; big, bright OLED screens; and camera hardware that promises to be better than anything we've seen on a smartphone.

(Update, October 22: We have a date! Read Huawei Mate 30, Mate 30 Pro PH launch date revealed.)
(Update, October 18: Local pricing is out! Read How much the Huawei Mate 30, Mate 30 Pro will cost in the Philippines.)
(Update October 4: Our review is up! Read Huawei Mate 30 Pro review: An ideal mate?)
They also have 5G variants, with the world's first modem integrated into the chipset for blazing-fast mobile-data speeds. In other words, the Huawei Mate 30 and Mate 30 Pro are likely strong candidates for smartphone of the year — except they're using Huawei Mobile Services and missing the Google Play Store and Play Services out of the box. This, even though they both run Android 10, and apps like Gmail, Maps, and YouTube are not preinstalled on the phones.
SEE ALSO: Huawei Mate 30 Pro launched as product of rethinking possibilities and Unboxing the Huawei Mate 30 Pro flagship phone
Huawei previously said it has an over-the-air update ready to roll out as soon as it is allowed to do business with the U.S. technology company again, and this should allow the installation of Google Mobile Services applications on the Mate 30 and Mate 30 Pro units that are already in the hands of customers. Until then, Google apps and services are a no-go.
Or at least, that's the official story. Contrary to what has been reported in recent days, you can still install and run Google's full software suite on the Huawei Mate 30 and Mate 30 Pro. Even better, you won't need to jump through hoops like unlocking the bootloader (which Huawei no longer allows) and getting root access on your device; you simply need to download one app.
READ ALSO: Huawei Mate 30 launched, too. A comparison with the Pro here
The app is called Google Service Assistant, a package installer that will download and install the necessary files for your device to run the Play Store and Play Services. It's in Chinese, but getting it to work is pretty straightforward. You can follow our guide below to speed things up. You should be done in around 5 minutes, but make sure that you have a stable internet connection.
STEP 1: Download the Google Service Assistant APK.
STEP 2: Open the application and agree to the terms of service (the options on the right side).
STEP 3: Wait for the downloads to finish.
STEP 4: Log in to your Google account when asked to.
STEP 5: Don't close the app yet. Open the Play Store app on your home screen and sign in with your Google account.
That's it! You can proceed to download and install other Google apps via the Play Store.
Alternatively, you can watch our how-to video above.
It's important to note that this might not be the only way to get Google Mobile Services up and running on the Huawei Mate 30 and Mate 30 Pro. But it's the easiest method we've come across so far.
Huawei Mate 30 vs Huawei Mate 30 Pro: Specs comparison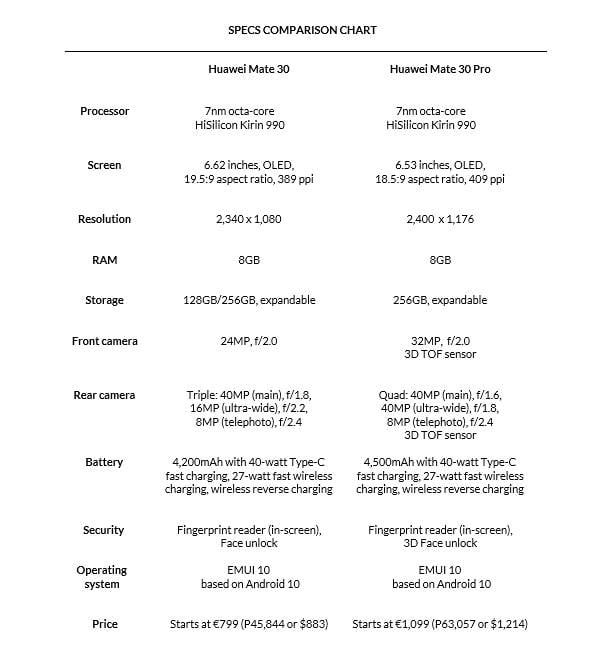 ---