Huawei has brought its A game to the Mate 30 Pro. The newly launched smartphone is currently sitting pretty at the top of DxOMark's list of best camera phones.
(Update, October 29: The series has been launched in the Philippines! See Huawei Mate 30, Mate 30 Pro now official in PH.Update, October 22: We have a date! Read Huawei Mate 30, Mate 30 Pro PH launch date revealed. Update, October 18: Local pricing is out! Read How much the Huawei Mate 30, Mate 30 Pro will cost in the Philippines.)
But does the company need to dial down what some say is hype? Or is it unfair to do so because the Huawei Mate 30 Pro truly delivers more than what's expected of it? How is it beyond photography and videography? In this article, we share with you what we think of the device after having used it for two weeks.
SEE ALSO: Huawei releases Android 10 update schedule and Huawei Nova 5T, Mate 20 series added to EMUI 10 beta in PH
Keep in mind that our unit is not a retail version; its software, particularly in recording videos in low light, is not even final yet.
In the Philippines, Huawei has already put up the preregistration page of the Mate 30 series, but it hasn't announced pricing for the lineup just yet. In Europe, where prices of consumer electronics are steep because of higher taxes, the Pro model starts at €1,099 (around P62,464 or $1,202).
Photography
Let's dive first into the feature that has the Huawei Mate 30 Pro hogging the headlines lately.
On the back of the phone is a circular quad-camera setup called Halo Ring that boasts not one but two 40-megapixel sensors. Both are physically large, with the primary sensor measuring 1/1.7 inches and getting an f/1.6 aperture plus optical image stabilization. It's the same as the one fitted into the Huawei P30 Pro.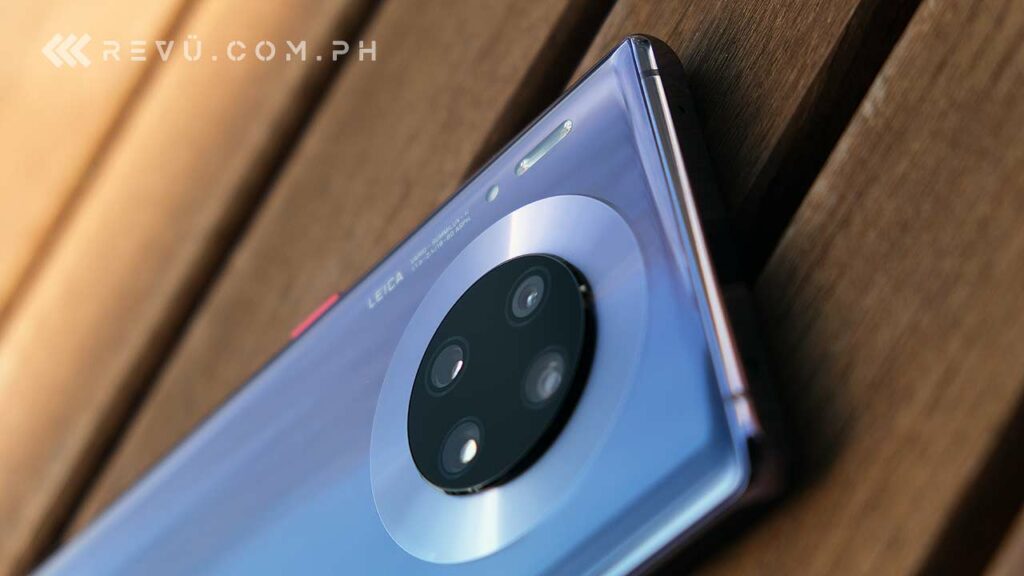 However, it seems that the Kirin 990 that powers this Mate, which we'll talk more about later, does wonders for the handset. Huawei's claim of the chip's enhanced image-processing capabilities translates into a real-world improvement on image quality.
The Huawei P30 Pro is already a camera beast — the main reason we're using it as our daily Android driver — but the Mate 30 Pro ups the ante in just about every category, from color reproduction to noise levels, whether they're captured on the main shooter, on the 40-megapixel Ultra-Wide Cine camera with 1/1.54-inch sensor size and super-wide f/1.8 lens, or on the time-of-flight sensor.
Check out these pictures taken with the new device. We've placed them side by side with those shot on the P30 Pro.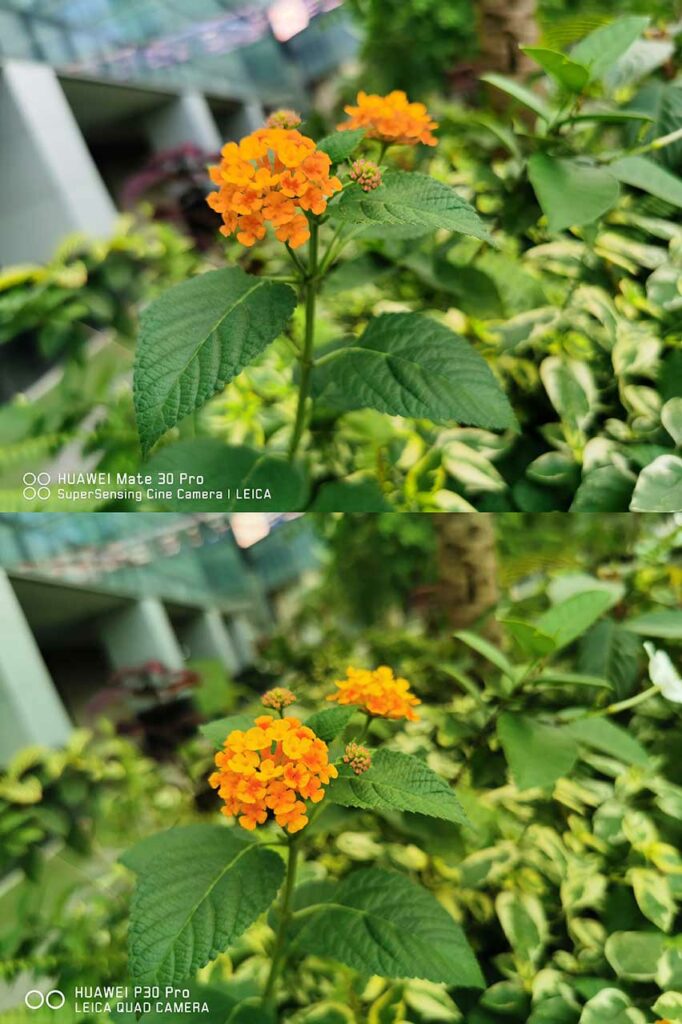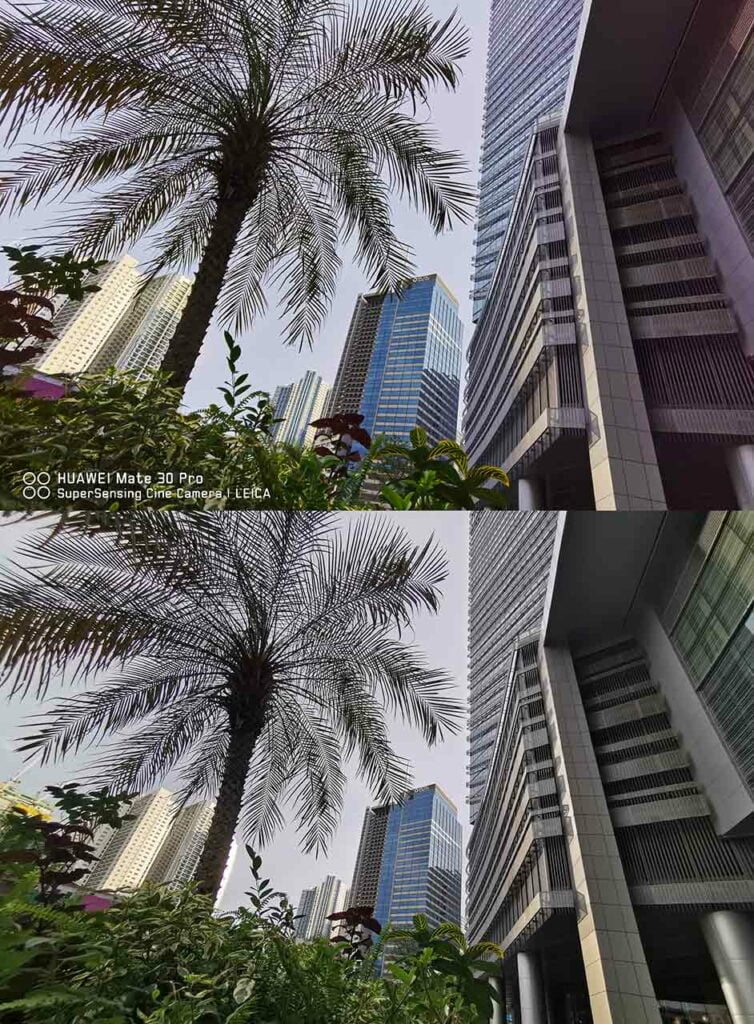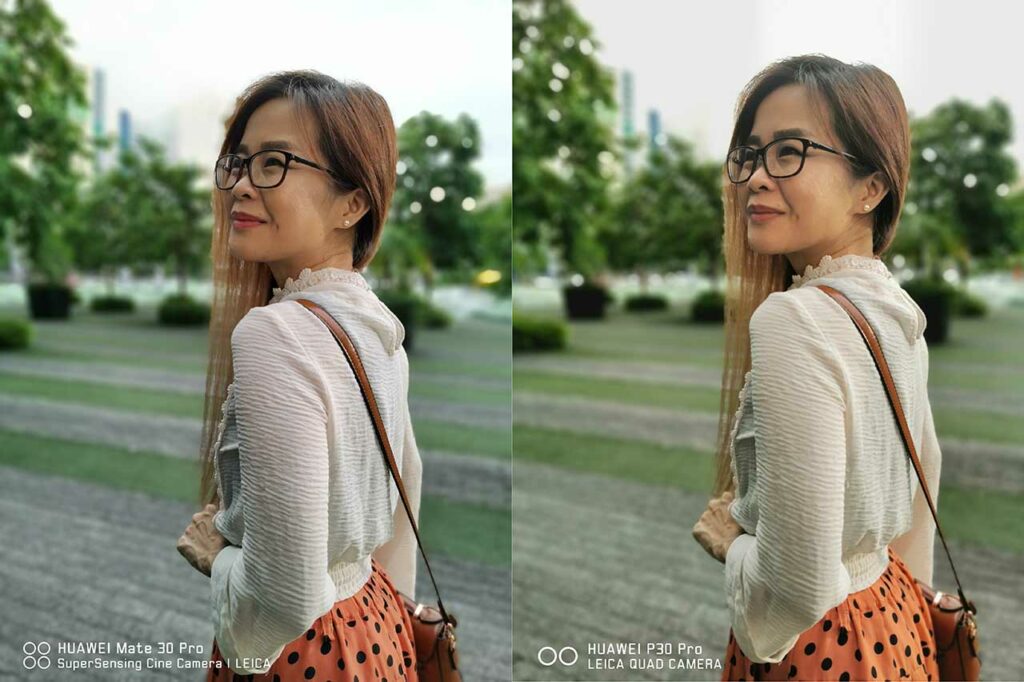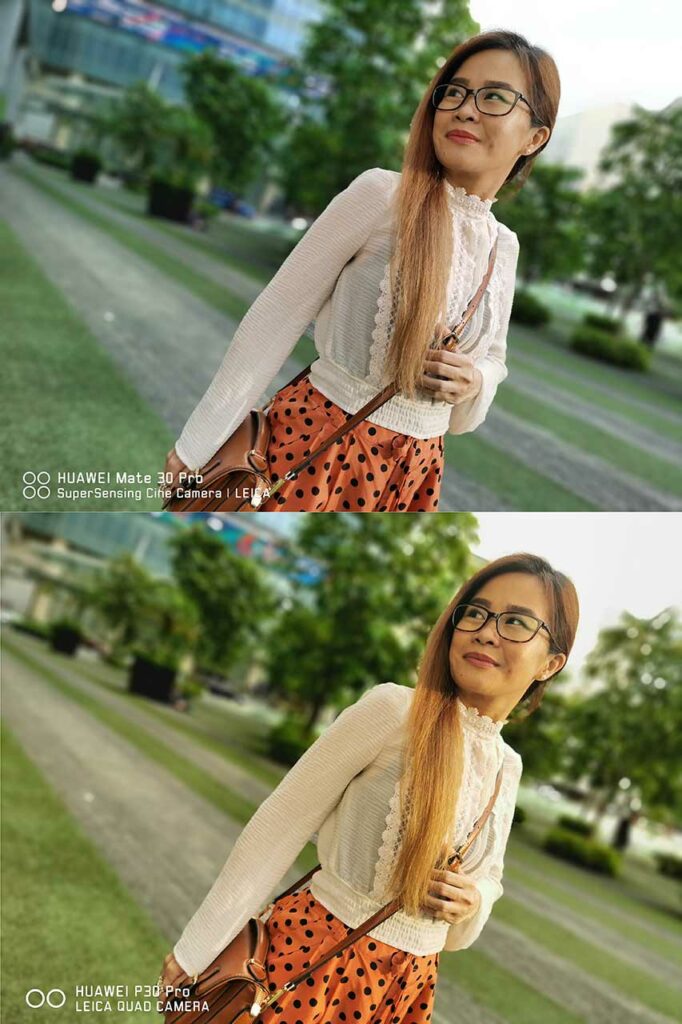 Even the selfies taken with the Huawei Mate 30 Pro's 32-megapixel front camera are noticeably crisper and brighter than those shot on the P series flagship.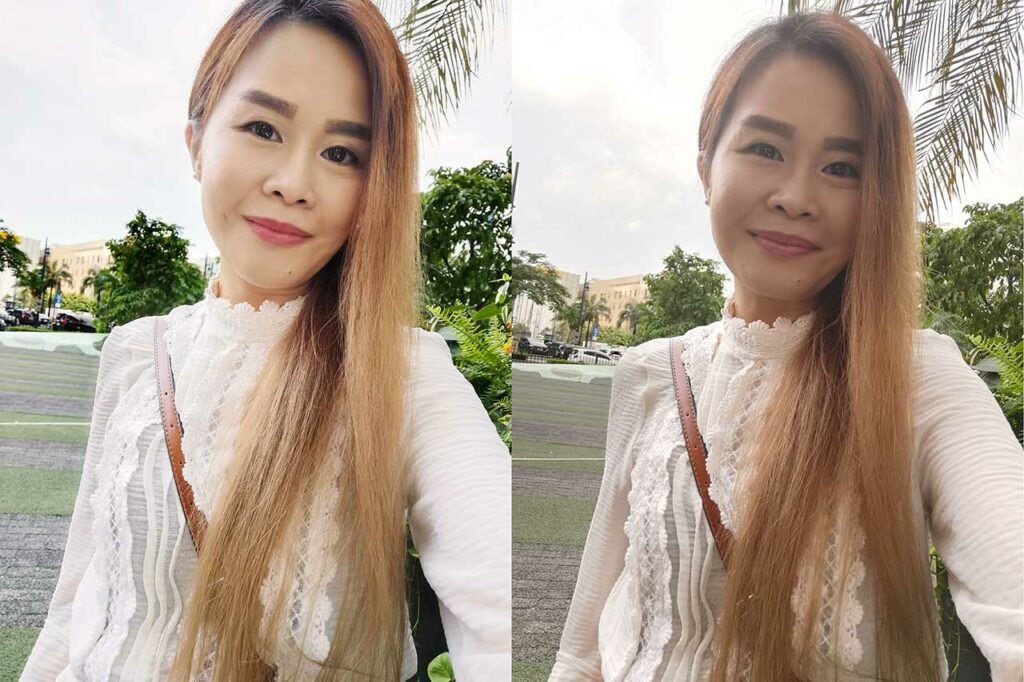 Take note that the Huawei P30 Pro still has the upper hand in zooming. It's capable of 5x optical zoom. The Mate 30 Pro's 8-megapixel telephoto lens? 3x. When it comes to sharpness of images shot below 5x, though, the latter actually almost always edges the P30 Pro.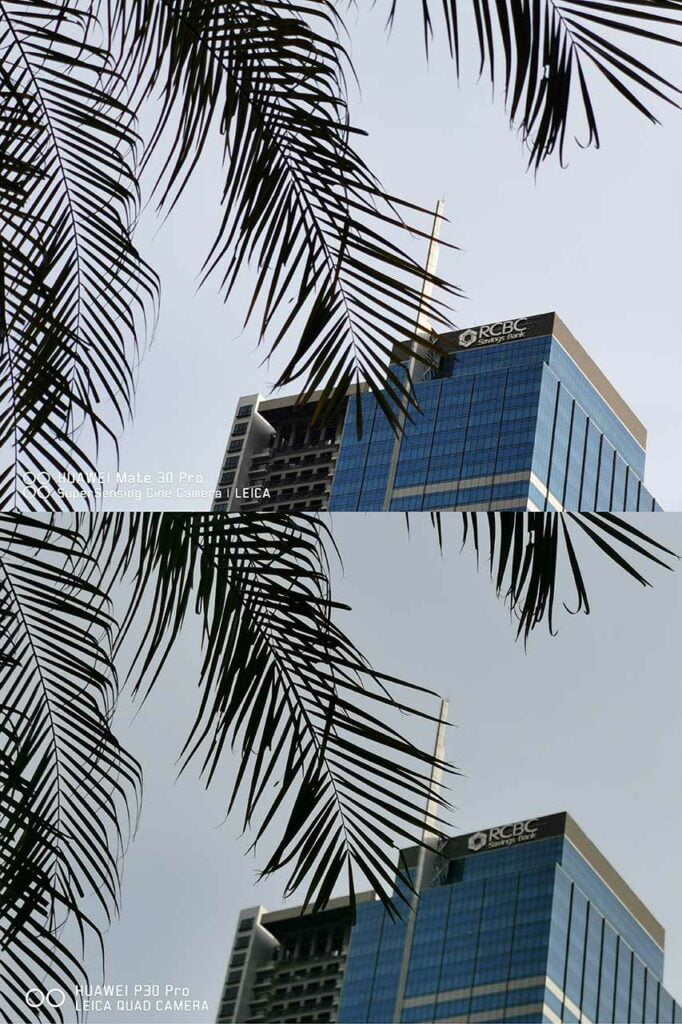 Again, the P30 Pro. Is. Already. A Camera. Beast. Can't stress that enough. But man oh man, Huawei — and its partner Leica — have outdone themselves with this Mate.
More sample photos: Our time in Munich, Germany, captured on the Huawei Mate 30 Pro
Videography
We won't beat around the bush: Huawei has made great strides in videography. Recording professional-looking videos on the Mate 30 Pro is 100% possible.
In the Philippines where shooting with a DSLR in public places is hard to do, we more often than not use a smartphone instead. Case in point: this Huawei Y9 Prime feature. So when we took the Huawei Mate 30 Pro for a spin the first time in Munich, Germany, we couldn't stop recording.
READ ALSO: Watch: Huawei Y9 Prime 2019 is contender for best pop-up camera phone in the midrange category and Huawei Nova 5T review: Shines like a supernova
Below is a short video compilation of our time in Europe, edited entirely by AI or artificial intelligence — not us! We only chose the clips — in the default Gallery app on the handset. We would have wanted a longer version, but in Gallery, most of the presets only last around one minute. Perhaps Huawei can look into providing more options for the user.
Sights of Munich: A compilation of videos shot on the Huawei Mate 30 Pro in Munich, Germany
We'd like to point out that this footage we included in the video is in slow motion, taken at 7,680 frames per second. That didn't stop time, but it did stop us in our tracks. Take note that the maximum fps other smartphones can reach is 960.

7,680fps slo-mo video shot in Marienplatz, Munich
Couple that with the ability to record ultra-low-light and ultra-wide-angle Time-lapse videos, plus the capability to shoot stable footage even without a gimbal — thanks to optical image stabilization — and we've got ourselves a powerful tool for content creators, most especially, in the Mate 30 Pro.
Performance
The Huawei Mate 30 Pro sees the new HiSilicon Kirin 990 chipset under the hood, making it, along with the rest of the models in the Mate 30 series, the first smartphone equipped with the company's latest and greatest silicon.
The Kirin 990 boasts Cortex-A76 and low-power Cortex-A55 cores, 16-core Mali-G76 graphics, and 7nm FinFET Plus process node to deliver higher performance and better battery efficiency compared with older products. For this review, we used the 4G variant with 8GB RAM and 256GB of expandable storage.
Huawei promised big things from its latest processor — and it mostly delivers on the performance gains we wanted to see. Last year's Kirin 980 has proved to be as powerful as anything you could find on the market, and the Kirin 990 puts Huawei in contention at the top once again.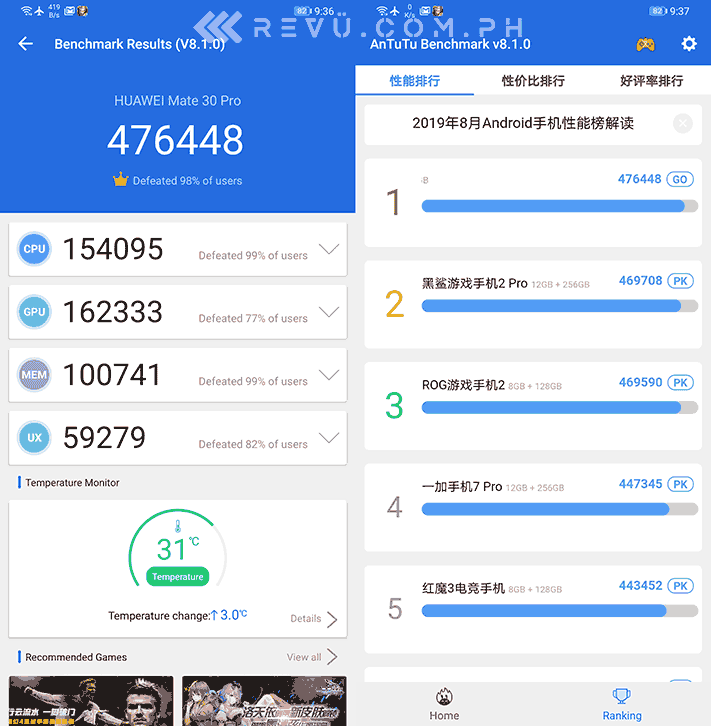 In fact, our review unit posted the highest Antutu Benchmark score we've seen so far, pulling in over 470,000 points in Antutu 8 and placing it above the averages of gaming phones like the ASUS ROG Phone 2 and the Black Shark 2 Pro.
When it comes to actual usage, the Huawei Mate 30 Pro absolutely blitzes through day-to-day tasks on EMUI 10 based on Android 10 and rarely gave us any technical issues during testing. The transitions and animations are as smooth as they come on an Android. We did not notice any lags in the interface, and multitasking performance is simply "flagship class."
Gaming, of course, is another bright spot, as this Mate handled every game we threw at it — Call of Duty: Mobile, PUBG Mobile, and NBA 2K20, among others — with ease, even at the highest settings.
Gaming on the Huawei Mate 30 Pro: Call of Duty, PUBG Mobile (3:01 mark), NBA 2K20 (6:30), and Mobile Legends (9:49)
In case you're wondering if the device supports high frame-rate mode in Mobile Legends, the answer is yes. The phone can get warm during fast charging and resource-intensive tasks like gaming, but it shouldn't get too hot to the touch nor should it overheat outside of those activities.
And you won't worry about using the Huawei Mate 30 Pro for longer periods. It sports a sizable 4,500mAh battery that supports fast charging via wired and wireless technologies.
Naturally, it charges the quickest when paired with a specific charger that goes up to 40 watts. The wireless-charging tech it uses maxes out at 27 watts. The new Mate also comes with 2x faster wireless reverse charging, allowing you to share that big battery with other devices that can top up wirelessly.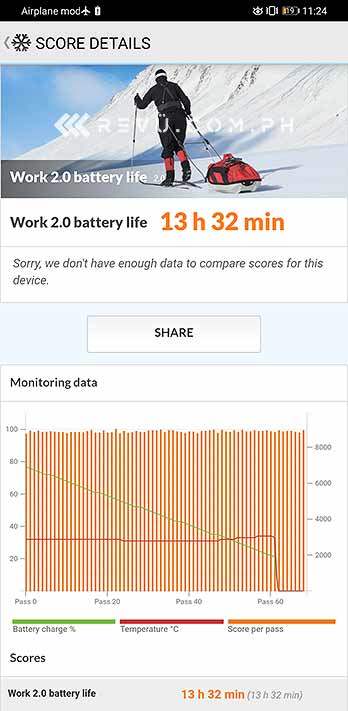 The battery life is excellent, thanks to the FHD+ resolution and efficient performance of the Kirin 990. This is a genuine 24-hour-plus phone. You can easily get it to last well into the second day with normal usage, including checking your email and social media accounts, video streaming, gaming, plus plenty of photography, among others.
Design
The first time we saw leaked renders of the Huawei Mate 30 Pro, we said we liked the rear design; it reminded us of a DSLR, not a washing machine, as a few now describe it. True enough, the inspiration is indeed a professional camera — apt because of the smartphone's insane photography and videography chops. We especially love our Space Silver unit. Yes, it says "silver," but it actually has a hint of purple.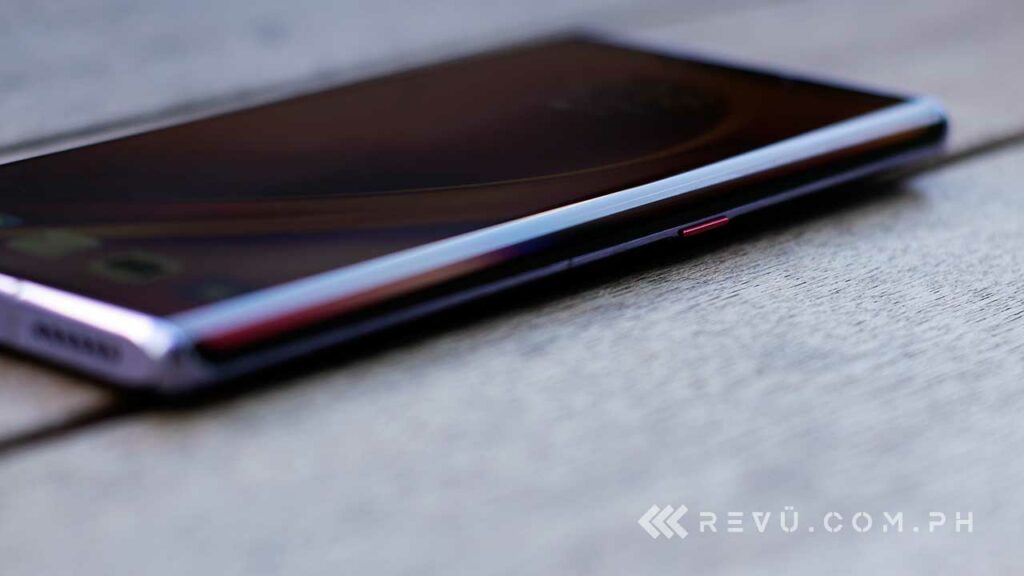 The front is all screen — 6.53 inches of it that go from edge to edge and curve at an 88-degree angle. We understand that it's not everyone's cup of tea, but we were fans of the Samsung Galaxy S6 Edge and Galaxy S7 Edge, so we're pumped that the look is back, and this time on a Huawei device, with the option to hide the edges.
But unlike on the Galaxy phones, we haven't had accidental touches on the Mate 30 Pro. If we want to turn up or lower down the volume, we tap on the left or right side of the display to activate the virtual volume keys.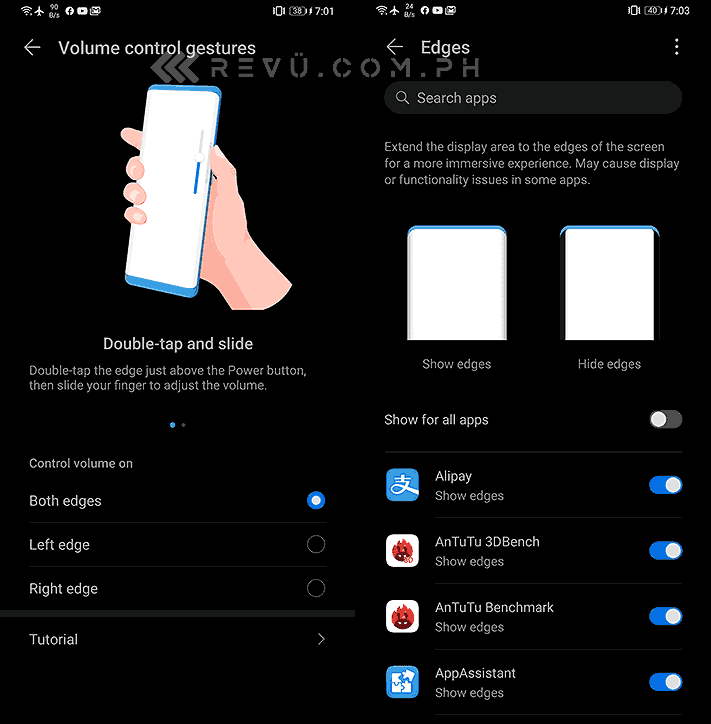 Our only problem is that the Space Silver, Cosmic Purple, and Black color variants are a bit slippery, so it's a must to protect them with a case immediately. A transparent cover comes with the box, anyway. Of course, you won't have that same issue with the Emerald Green unit, which has a matte finish at the bottom, and the options with leather on the back.
We had wanted a notch-less handset, but seeing how fast and accurate unlocking the Huawei Mate 30 Pro is when using face recognition, we're all in for the cutout at the top of the display. It houses the front and 3D depth-sensing cameras. There's likewise a gesture sensor to detect the movement of your hands, such as when taking a screenshot without touching the display.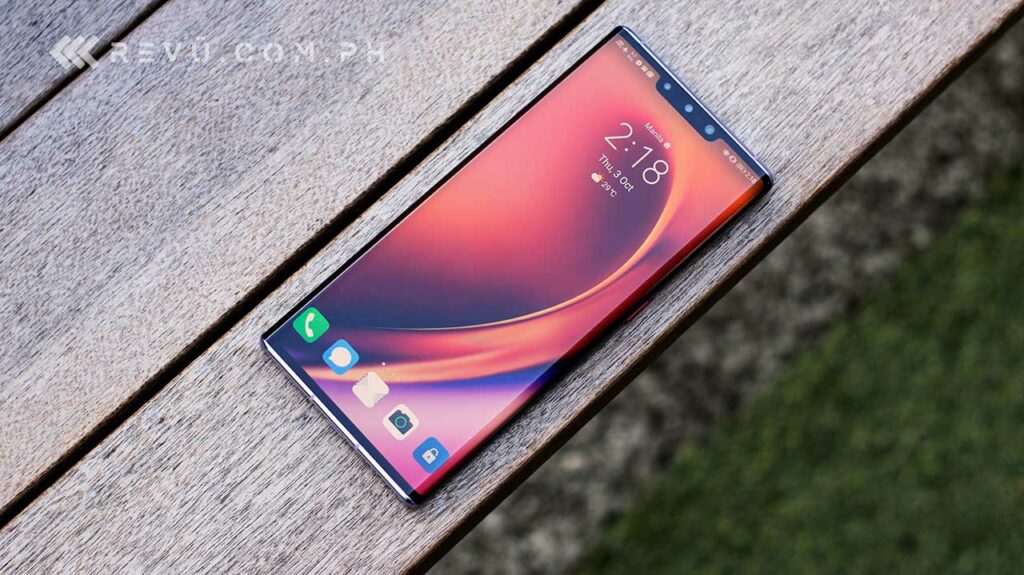 Android 10 with Huawei Mobile Services
The Huawei Mate 30 Pro runs EMUI 10 based on Android 10 out of the box, making this one of the first devices (if you include the rest of the phones in the Mate 30 lineup) to launch with Google's latest operating system.
It even beats the upcoming Pixel 4 series to the punch, although previous iterations of the first-party hardware have had access to Android 10 in beta form prior to the Mate 30 series' launch. But, yeah, it's still a pretty big deal in our view.
SEE ALSO: Android Q-based EMUI 10: What has changed
EMUI 10 brings a new software aesthetic, along with a revamped dark mode that paints over the whole system, including third-party apps, and a more intuitive camera app experience. It also adds a bunch of colorful always-on display options to the Mate 30 Pro.
It's extremely fast and responsive, and we didn't notice any lags or stutters while scrolling through menus and multitasking. It's more streamlined, way less complicated to navigate, and it looks great, too — visually, just a big step up from previous versions of EMUI.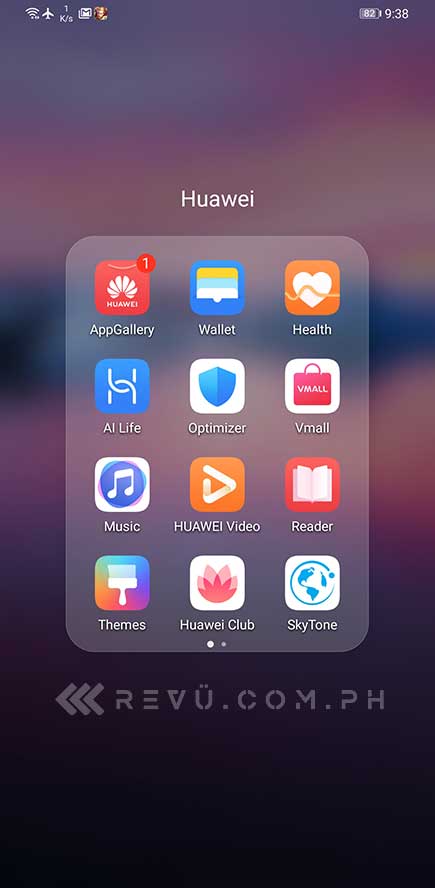 As you may know, the Huawei Mate 30 Pro won't have Google apps and services loaded onto it. Instead, there's Huawei Mobile Services or HMS, which includes the company's own app store called AppGallery.
However, this doesn't mean that you can download Google apps from AppGallery, but you can probably still get your hands on a working software installation package that will reunite your device with Gmail, YouTube, and other hugely popular apps that rely on Google's technology if you look hard enough. We were able to.
READ ALSO: Huawei Mobile Services as Google Mobile Services replacement
As it stands, the first-party app store is far from ideal, but it should get better with time. Huawei's currently in talks with developers to get more apps in its ecosystem before the Mate 30 Pro gets a wider release, and the technology giant said it will invest $1 billion in its developer program to compete with Android and Apple's iOS system.
Of course, there's also HarmonyOS, Huawei's proprietary OS not just for smartphones, but for other device categories, too. It's built on a microkernel, thereby allowing it to run faster and more efficiently. It should be easier for developers to work with. Of the two, it seems more likely that Huawei will stick to Android in an attempt to maintain one ecosystem. Or at least that's what the company says it will do.
Final thoughts
With the Mate 30 Pro (and its sibling, the Mate 30), Huawei has shown us what the possibilities are when smartphone manufacturers rethink design, performance, photography and videography, and interaction.
If you're not concerned about the company's issue with the United States or about Huawei Mobile Services not being robust enough just yet, then this device could just be your ideal "mate."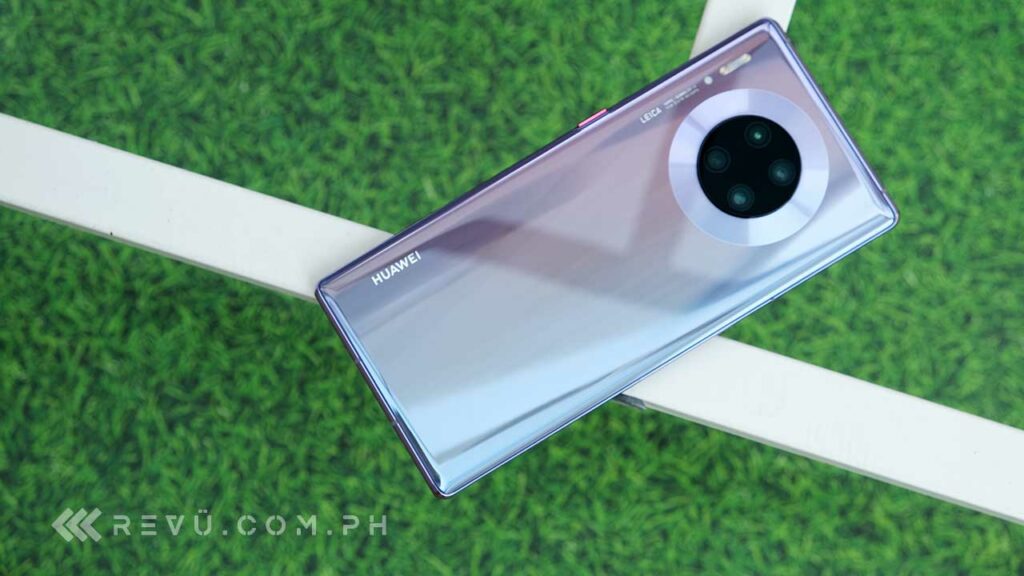 Huawei Mate 30 Pro specs
6.53-inch FHD+ OLED display, 2,400 x 1,176 resolution, 18.4:9 aspect ratio
7nm Octa-core Kirin 990 processor
8GB RAM
256GB expandable storage
Quad: 40MP, f/1.6 main camera (OIS); 40MP, f/1.8 ultra-wide-angle camera; 8MP, f/2.4 telephoto camera (OIS); 3D depth sensor
32-megapixel front camera
3D face unlock
Fingerprint sensor (in-screen)
4,500mAh battery with 40-watt fast wired charging, 27-watt wireless charging
EMUI 10 based on Android 10
4G/5G
Colors: Space Silver, Emerald Green, Cosmic Purple, Black, Vegan Leather Orange, and Vegan Leather Forest Green
---