A Huawei Philippines executive has informed us at Revü that their 2019 Mate smartphones are launching in the country soon.

(Update, October 29: The series has been launched in the Philippines! See Huawei Mate 30, Mate 30 Pro now official in PH.)
Not surprising considering that the company opened registrations for those interested in buying the Huawei Mate 30 and Mate 30 Pro about a month ago. But how soon? Next week — October 28, to be exact.
SEE ALSO: Huawei Mate 30 Pro review: An ideal mate? and You can use the Mate 30 or Mate 30 Pro as a WiFi repeater
Last week, Huawei announced that the regular Mate 30 is priced at P34,990 (around $685). The Pro model, on the other hand, is retailing at P50,990 ($998). Both are 4G, not 5G, variants.
Based on posters shared on different Facebook groups we belong to, each preorder comes with the following freebies, valued at P9,580 ($187) in total:
DJI Osmo Mobile 3
Huawei wireless charger
You can get additional free items, depending on which authorized dealer you will purchase the Mate 30 or Mate 30 Pro from.
We especially love that the company has thrown in a gimbal for handsets; the videography prowess of the devices is one of their main highlights, after all.
Of course, what's a Huawei flagship without serious photography chops? The Pro version trumped all other camera phones tested by image-quality ratings site DxOMark.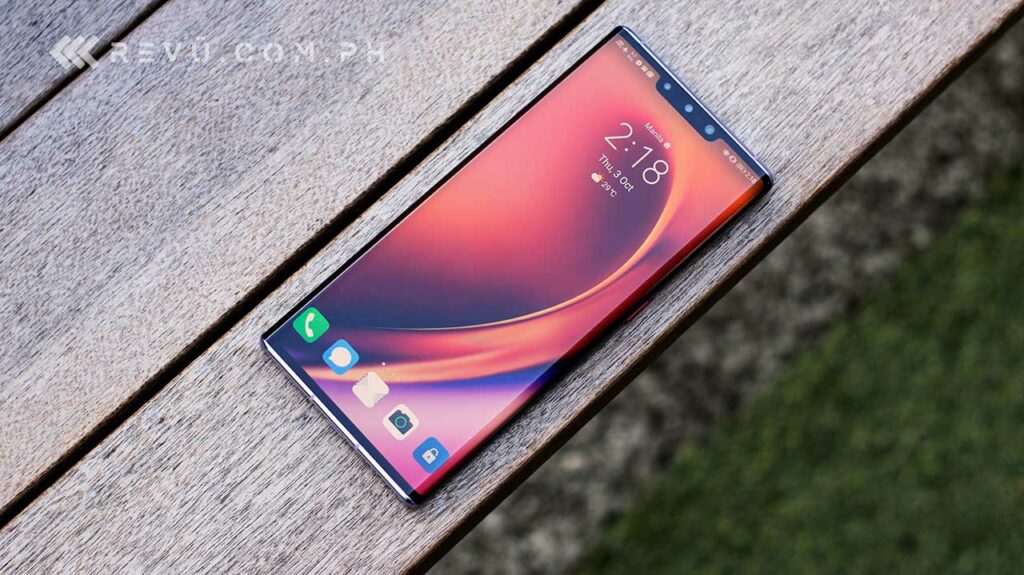 The Huawei Mate 30 and Mate 30 Pro were globally launched in Munich, Germany, September 19. They have since been unveiled in other places, including in China and neighboring country Malaysia.
READ ALSO: Huawei Watch GT 2, Band 4, Band 4e: PH prices, preorder info
They're as solid as flagships come. The only issue that we see for those based outside China is that they come with Huawei Mobile Services, not Google Mobile Services. There are workarounds to be able to install Google Play and apps like Gmail and YouTube, believe us, but some of you may not want to take that route.
Huawei Mate 30 vs Huawei Mate 30 Pro: Price (European pricing in this table, though) and specs comparison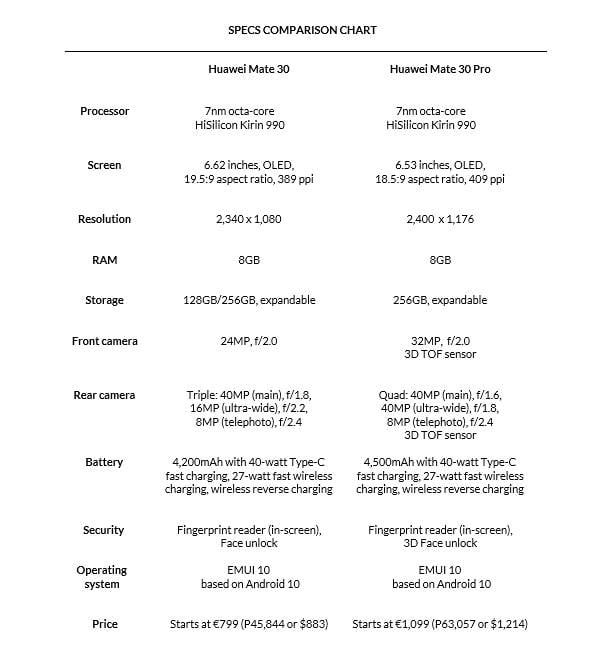 ---