Vivo has announced the NEX 3 in its native China. Shipping is scheduled to start September 21st, but Vivo is already taking preorders for the flagship smartphone. The base 4G version with 8GB RAM and 128GB storage costs ¥4,998 (around P36,990 or $707).

(Update, October 29: It's now official in the Philippines! See Vivo NEX 3 with 64MP circular triple cam launched in PH.)
There's plenty to like here — as you can probably tell from our pictures of our review sample (whose color is listed as "Glowing Night") — but one of the selling points the company highlighted during its keynote is the Vivo NEX 3's circular camera module on the back. So since we have the device in hand, we decided to take some photos and videos with it to see what the fuss is all about.
SEE ALSO: Vivo NEX 3 with 64MP circular triple cam, waterfall screen launched
But before we get to the results, let's take a minute to briefly discuss the phone's camera specs and features. Also, it should be noted that our unit isn't using the final version of the camera software, so the image and video quality can be improved further with some tweaks and corrections.
Vivo NEX 3 camera system
The NEX 3 has easily the most impressive camera Vivo has ever put in a smartphone. There are three rear sensors, and they're housed inside a circular module that protrudes slightly from the handset's glass back.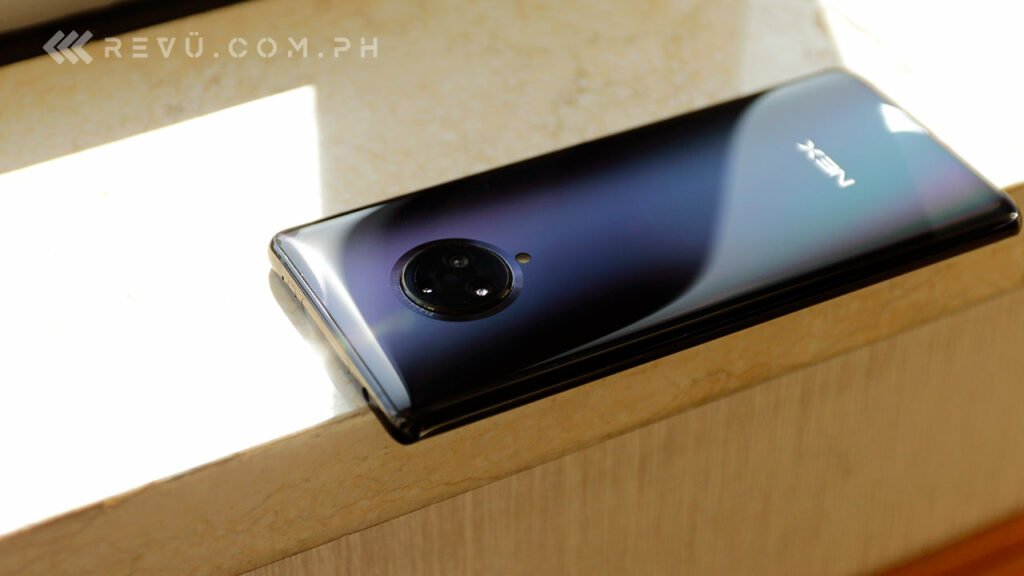 The main sensor, the one on the left, is a 64-megapixel Samsung ISOCELL Bright GW1 that's 1/1.7-inch in size, meaning it has a higher surface area than your average smartphone cam. A larger sensor will gather more light, allowing you to capture brighter and more detailed images. It sits behind a bright f/1.8 lens.
It shoots 16-megapixel images by default, but you can toggle the 64-megapixel shooting mode to get as much detail as possible in the frame. On the software end, too, there's Night, Pro, Portrait modes, and more.
READ ALSO: Vivo V17 Pro with dual pop-up selfie camera to debut Sept 20 and How Vivo helps move the smartphone industry forward
The Vivo NEX 3 also has a 13-megapixel telephoto camera at the top of the module. It has a 52mm, f/2.5 lens, which delivers 2x optical zoom and 20x digital zoom. The third camera is 13 megapixels as well and coupled with an ultra-wide-angle f/2.2 lens for a 120-degree field of view to get you a good shot of landscapes and interiors.
It also supports macro distance, letting you snap sharp photos of objects placed as close as 2.5cm from the lens. The implementation is similar to what Huawei has done with its recent flagships, where the ultra-wide camera pulls double duty as a macro shooter.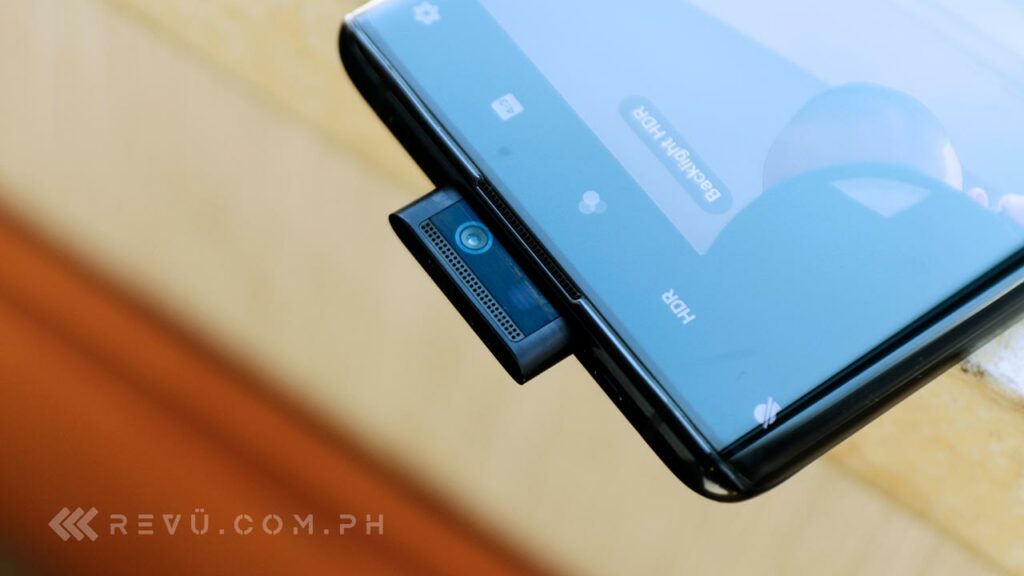 The front-facing camera is a pop-up type and packs 16 megapixels with f/2.0 aperture. Vivo has paired it with a fill light, which should be handy for shooting at night or in dark interiors.
For video capture, the Vivo NEX 3 720p, 1080p, and 4K footage at 60 frames per second and slo-mo at up to 480 fps in HD. Selfie videos, meanwhile, max out at 1080p and 60 fps.
Vivo NEX 3 sample photos and videos
Here are the pictures and videos we took using the NEX 3 in different scenes and lighting conditions. Again, bear in mind that our review unit wasn't running the final camera software at the time we shot these samples.
[sciba leftsrc="https://www.revu.com.ph/wp-content/uploads/2019/09/Vivo-NEX-3-sample-night-picture-auto-camera-review-Revu-Philippines_NightP_AM.jpg" leftlabel="Night mode" rightsrc="https://www.revu.com.ph/wp-content/uploads/2019/09/Vivo-NEX-3-sample-night-picture-night-mode-camera-review-Revu-Philippines_NightP_NM.jpg" rightlabel="Auto mode" mode="horizontal" width=""]

Night mode vs Auto mode
Ultra-wide vs 1x
Selfies captured on the Vivo NEX 3
This was taken with the Vivo NEX 3. (Our internet connection is not so stable, so we will add a new, 'proper' video as soon as it becomes stable – A.G.)
Early thoughts
The Vivo NEX 3 seems like an excellent deal for photo and video — on paper and in practice. It takes highly sharp 64-megapixel stills in JPG and RAW formats, shoots up to 4K with decent stabilization, performs well in the low-light department, and selfies look detailed, not soft at all, with nice colors.
We'll be posting our review of the NEX 3 soon, so stay tuned for that if you want to find out how the rest of the phone performs. Certainly, from what we've seen so far, we're impressed.
---