If you've been waiting to play League of Legends on your mobile device, the closest you'll be getting to that experience will be League of Legends: Wild Rift. While it won't come out until sometime in 2020, we're here to help you pre-register, so you'll get the game the moment it is released. Some of you asked for it, we're giving it to you.

(Update, October 12: Our review is up! Read League of Legends: Wild Rift review: MOBA players should be excited.)

(More updates today, May 30: LoL: Wild Rift: Alpha-test date, gameplay, updated requirements.)

(Update, May 16, 2020: Alpha test soon! Look: LoL: Wild Rift to launch alpha test; base requirements revealed.)
The game's developer, Riot Games, plans to roll out alpha and beta versions of the game in the next few months, starting in China. Bonus rewards are up for grabs in places like Southeast Asia, Taiwan, Hong Kong, and Macau if you sign up at launch.
So far, there are three ways you can pre-register for the game.
One is through the official site of Wild Rift. You will be asked for your email address and date of birth to get updates on the open beta.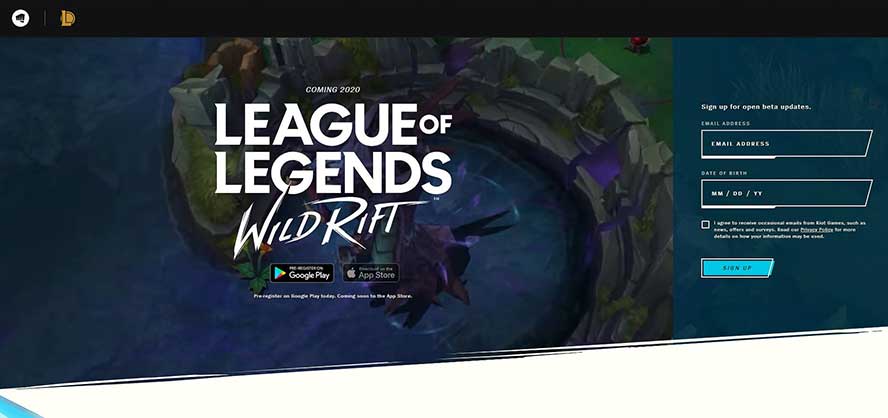 Another is through the Google Play Store, where you can click on the button to pre-register for the game. Google will notify you when it is available for your device.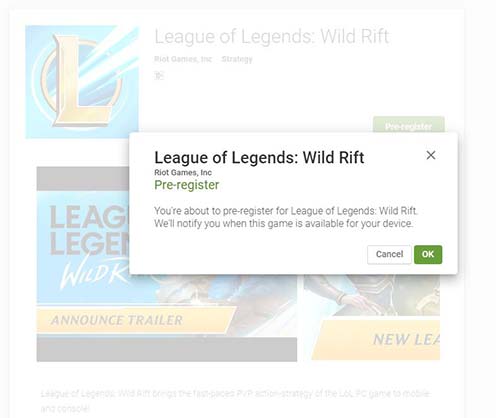 While the game is coming to iOS, there is no way to sign up early yet. According to Riot Games, it's "coming soon" to the App Store.
One other place to pre-register is through the TapTap app store, which is an excellent place to get Chinese or unreleased on Google apps.
Riot Games announced this near-identical port for smartphones and consoles during the 10th-anniversary celebration for LoL, a fitting addition in a world where mobile gaming is getting bigger. The developers say that they rebuilt the game "from scratch," so that the devices getting it will receive a polished version of Wild Rift.
SEE ALSO: Watch: New Mobile Legends on Unity 2017 engine runs better
This multiplayer online battle arena game is designed for faster matches and will have a dual-stick, thumb-friendly control scheme. It will also have a 5v5 map based on LoL's largest map, Summoner's Rift.
Wild Rift will feature 40 characters from the game's existing roster of champions, but more will be coming in the future. It will be free to download and play. The developers promise you can earn all your champions without having to pay, and that you won't have to pay for anything if you don't want to.
Video: Official announcement of League of Legends: Wild Rift
---