Just a day after Xiaomi officially announced the Redmi Note 8 series in the Philippines, we at Revü have received word that the Redmi 8 and Redmi 8A will also be available locally at the bargain-basement prices we've come to expect from the Chinese sub-brand.
(Update, 7:24 p.m.: Around 8 hours after we published this story, Xiaomi Philippines revealed that the phones are now available in the country! We have now changed the title from 'Redmi 8, Redmi 8A launching in PH — source' to 'Redmi 8, Redmi 8A budget phones now available in PH.' Pricing is as follows:
Redmi 8A, 2GB/32GB: P5,490 or around $106
Redmi 8, 3GB/32GB: P6,490 or $126
Redmi 8, 4GB/64GB: P6,990 or $135)
The Redmi 8 and Redmi 8A were launched in India this week as the company's latest budget smartphones, with a starting price of ₹6,499 (about P4,712 or $91) for the 2GB/32GB model of the Redmi 8A.
SEE ALSO: Redmi Note 8 Pro, Note 8 PH prices start at P7,990 ($155) and Redmi Note 8 with 48MP quad camera: Sample pictures
We're not sure yet how much exactly the handsets will retail for when they arrive here, but our guess is that the Redmi 8A will run you around P5,500 ($107) for the version with 3GB RAM and 32GB storage. The Redmi 8, on the other hand, might cost somewhere between P6,500 ($126) and P7,000 ($136), depending on the configuration. Both the 3GB/32GB and 4GB/64GB variants of the phone are expected to launch in the Philippines.
As for the specs, both handsets share a modest Qualcomm Snapdragon 439 processor, a decently sized 1,520 x 720 LCD notched screen, a 5,000mAh battery with USB-C fast charging up to 18 watts, an 8-megapixel selfie camera, and a main camera with a 12-megapixel IMX363 sensor from Sony and f/1.8 lens. They also run Android 9.0 Pie with Xiaomi's MIUI 10 software on top.
READ ALSO: Xiaomi Mi MIX Alpha priced like 4 iPhone 11 units and New Xiaomi Mi 9 Pro 5G is cheapest 5G phone so far
The Redmi 8 adds a depth sensor at the back for better portraits and gets a slightly larger 6.22-inch display. It has a fingerprint reader on the rear panel as well, unlike the Redmi 8A, which will rely on face unlock as the only option for quick access to the device.
Those wondering how the Redmi 8 and Redmi 8A compare on paper can check out the comparison table below.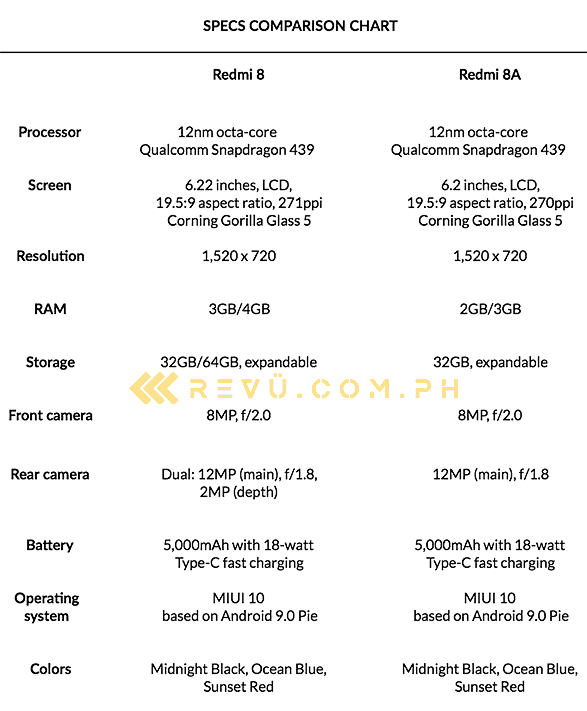 Videos you may want to watch
Redmi 8
Redmi 8A
---