Market-research firms Counterpoint and Canalys have released their respective reports on the world's top smartphone brands in the third quarter of 2019.
Both have the same companies listed in the top 3 — Samsung, Huawei, and Apple — with Huawei being the biggest winner. In Counterpoint's account, it achieved a 28.5% year-on-year growth, while in Canalys' report, it increased its shipments to 66.8 million, up 29% over the previous year. It's a surprising development amid its troubles with the United States government, thanks to a strong performance in China.
SEE ALSO: Xiaomi No. 7 on list of 50 firms with greatest growth potential
Counterpoint said that the last two spots in the top 5 are occupied by OPPO then Xiaomi. Canalys, on the other hand, had it in reverse: Xiaomi then OPPO.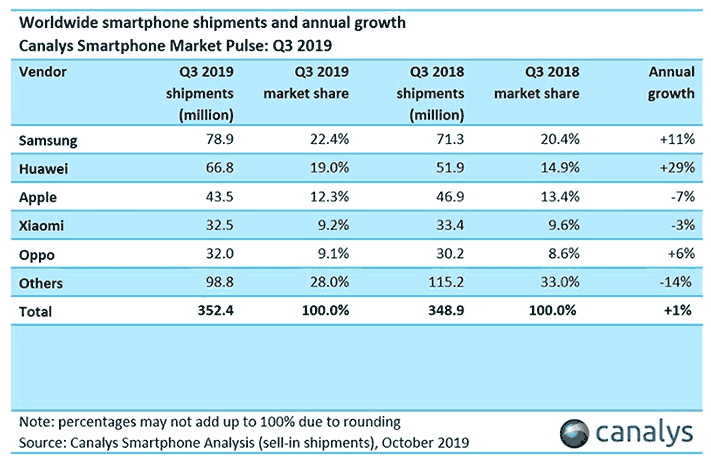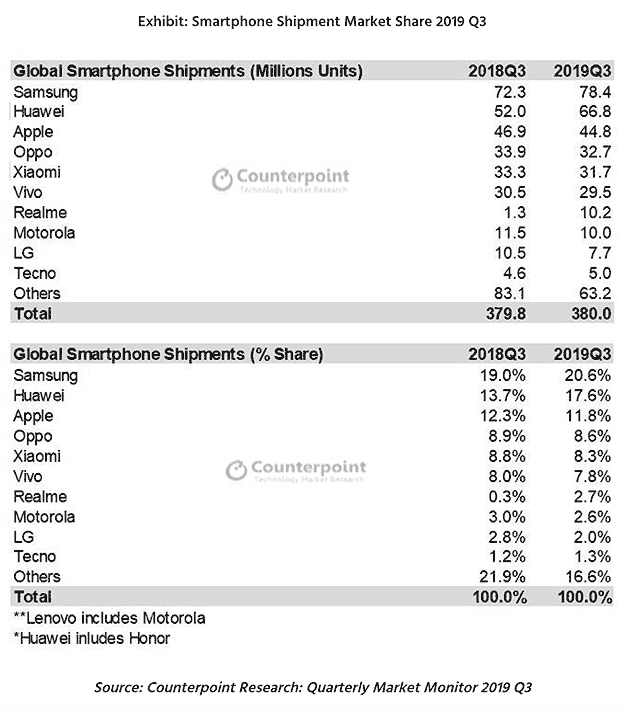 Counterpoint revealed more: that the sixth to 10th spots are taken up by Vivo, Realme, Motorola, LG, and Tecno. And as we reported earlier, Realme remained the fastest-growing brand for the second time, posting the highest annual growth of 808%. Its great performance from July to September this year catapulted it to the top 10.
READ ALSO: Realme posts 808% growth in Q3 2019, now No. 7 worldwide
According to Counterpoint, the BBK Group "is close to becoming the largest smartphone manufacturer globally, accounting for over 20% of the global smartphone market and three of its brands in the top 10."
In case you didn't know, BBK is behind brands like OPPO, Vivo, Realme, and OnePlus. All four have presence in the Philippines.
---